Home » All, Malaysia, Travel
Tourism Secrets of Kuala Lumpur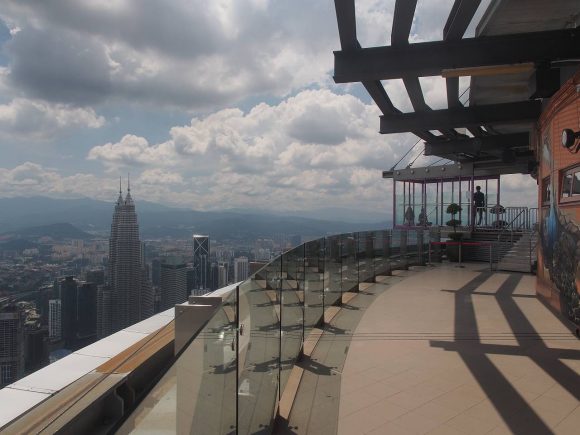 Everyone loves secrets, and I know lots of them about Malaysia's fascinating capital city, Kuala Lumpur.
My first secret is at the famous KL Tower. Every tourist knows this tower. At 421 meters, it is the seventh highest self-supported tower in the world. Ride the elevator to the upper decks for fantastic views of the city.
But just steps away, I discovered the KL Forest Eco Park. This park is absolutely free and offers a stunning Canopy Walkway through the top of the rainforest.
An easy way to reach the KL Tower is the ultra-convenient Hop-On Hop-Off bus. For a mere $11, this colorful, double-decker bus will whisk you to all the major sights. However, the savvy tourist knows how to get around Kuala Lumpur for nothing! The GO-KL system has four free bus lines, and riding them won't cost you even one hard-earned nickel.
No trip to KL would be complete without a selfie taken at KL's most famous landmark – the Petronas Twin Towers. All visitors indulge in that ritual. But the ones truly in the know go back after dark. They know the secret: the setting sun kicks off a beautiful light and music show at the water fountains.
Think I've run out of secrets? Not even close! I'm just getting started. The next gem is at the famous Batu Caves temple complex. Everyone knows about this massive limestone cave with its 140-foot-high gold statue and the natural beauty within. But while there, you shouldn't miss Dark Cave. Take a guided tour and encounter all manner of creepy-crawlies. It's a true caving experience.
After you've tasted life underground, it's time to acquire some culture through Kuala Lumpur's museums. The elegant Islamic Arts Museum provides a compelling study of Islamic art worldwide. The nearby National Museum illustrates the story of Malaysia's unique history. The secret? Kuala Lumpur has many wonderful free museums. I recommend the Bank Negara Malaysia Museum and the unusual Royal Malaysia Police Museum.
Few tourists leave Kuala Lumpur without sampling delicious food in Chinatown or Little India. In these lively neighborhoods, you can find many restaurants serving up the best of Chinese, Indian, and Malay cuisine. With English widely spoken, it's a breeze to navigate what's on offer and sample everything.
The secret I've learned, however, is that you don't have to go to any specific area to find great food. There are amazing restaurants all over town. Just take the LRT to any random stop and make it your own. You're sure to find delicious food just steps from the exit. Don't be shy. Join the crowds and dig in. Friendly Malaysians will help you order and tell you what's good.
The biggest secret of all might just be Kuala Lumpur itself. It has enough attractions to fill a dozen tourist maps. I haven't even mentioned KL Bird Park (the world's largest free-flight aviary), the Aquaria KLCC, Chow Kit Market, and many more.
Clearly, I haven't told you everything I know about Kuala Lumpur and its secret places. There is lots more for you to discover. Take a tour or wander around on your own to get to know one of Asia's most accessible and friendly cities.
For more information, click on these links to visit the official websites:
Tags: Malaysia