Home » All, Malaysia
New Passport at the Canadian High Commission in KL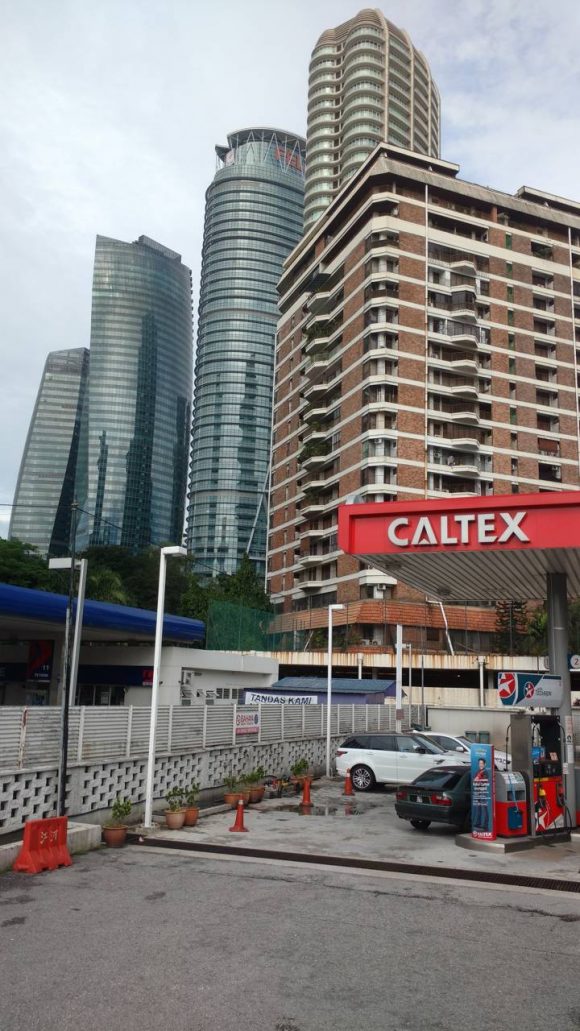 I've always had a strong interest in good customer service and good design, and I was pleased to find on my visit that the Canadian High Commission in Kuala Lumpur had both.
I went there because I needed to renew my passport, and I was a little bit nervous. I'm always nervous when I come face-to-face with officialdom. They ask me to fill out forms, and my rather erratic life never quite fits into the boxes on the form. I'm a perfectly law-abiding fellow, but I can't shake the feeling that I'm going to get in trouble whenever I go to embassies or high commissions.
I did my best to make sure that I had all the information they would require to renew my passport. This appears to have gotten easier in recent years. There is now a simplified process, and if you qualify for this process, you don't need a guarantor or a birth certificate or other ID or additional references. That makes things much easier. Plus, Canada now offers a choice between a 5-year and a 10-year passport. Previously, all Canadian passports were valid for only 5 years. Now, for an additional fee, you can double that to 10 years. Canada has also gotten rid of the options for a 24- or 48-page passport. All passports now contain 36 pages. That seems like a nice compromise to me. My only complaint, really, is the fee, which seems a tad high. Perhaps I'm out of touch with prices back in the real world, but $190 for a 5-year passport and $260 for a 10-year passport is a bit rich for my blood. And if you pay by credit card, you need to fill out a form and fork over an additional processing fee of between $6 and $8. Add to that the cost of the two passport photos and the month of waiting to get your new passport, and it's an expensive bureaucratic event in your life.
It's a simple matter to acquire the necessary forms. These are available online in PDF format. I used this link to get mine: Canadian Passport Application Pack . I downloaded the PDF to a flash drive and then brought the drive to a local self-serve printing shop. I only had to print out two pages for the simplified application process, and I was good to go. The form is well-designed and has sufficient space for the information it requires. A pet peeve of mine is forms that ask for your complete address and then give you a teeny-tiny minuscule box to write it in. (When you print out this PDF, you just have to be careful to select only the pages you need. If you just hit "print", you'll end up printing out the entire 132-page information package.)
I was a bit worried that I had to leave so many spaces on the form entirely blank. I have been traveling, so I don't have any regular addresses or employers over the past two years. Those giant blank spaces look very suspicious to me on a form. But there was nothing I could do about that. The very friendly officer at the high commission instructed me to write down "Traveling" in the employment section and fill in dates beginning with when I left my previous employment and ending with the present year.
And since I qualified for the simplified process, I only needed two references – two people who can be contacted by phone easily and who have known me for more than two years. Luckily, I still have a couple of people back in Canada who are willing to vouch for me and say that I am who I say I am. Hopefully, they will answer the phone when it rings.
The biggest stumbling block in getting to this point was getting the passport photos. I wrote about that in an earlier post. It was supposed to be simple. I knew about a professional shop where the clerks spoke very good English. I made sure to bring along a copy of the specific requirements for a photo for a Canadian passport. Each country has its own specifications as far as the dimensions and color and other attributes of the photos go. This shop had all of this information in their computers as well, and they could call up the requirements for any country in the world whether for passport photos or simpler visa photos. I don't know if this is unique to Canada, but one requirement is to have the photo shop put their name, address, and the date on the back of one of the photos. This has to be done in ink. It can't be a stick-on label. Unfortunately, photo paper is not designed to absorb ink. And the photo paper used at this shop practically repelled ink. On the first set of photos, the ink smeared so bady that all the photos were ruined and the address was unreadable. I had to get a second set made. The ink on this set was equally non-drying, but after endless blotting with paper and waiting for 72 hours, the ink was sort of dry. It could still smear if you rubbed your finger over it, but if you didn't touch it, the address was legible. The officer at the high commission commented on the poor quality of the stamp on the back of my photo, but since it was still readable, it was accepted. Hopefully, when the package gets to Canada, it will still be readable. I'd hate for my application to be delayed.
The Canadian High Commission in Kuala Lumpur is a breeze to get to – especially in this age of the Internet and smartphones and Google Maps. It is located just a short walk around the corner from the Ampang LRT station. I had the location pinned on Google Maps on my smartphone and I had no trouble locating the appropriate skyscraper. Not being a complete newbie, I made sure to dress as nicely as I could for this visit. I also removed everything from my knapsack that security might view with their evil eye. So I didn't take any cameras, and I took out the tiny little Swiss Army knife that I often keep in a small pocket. I also brought along all the ID that I could muster. It's happened before that building security required me to leave ID at the reception desk. If your only ID is your passport, and you need that passport to give to the embassy staff, then you are stuck. So it's a good idea to bring along at least one other piece of photo ID in addition to your passport when you go to any embassy.
Security at this building was fairly high. I did have to register at reception before I was allowed to approach the elevators. I did not have to leave ID there, but they did require my passport. The details from my passport were entered into a computer, and this information was then transferred to an electronic ID card, which they handed to me. This ID card had to be scanned at the gate before I was allowed to go to the elevators.
There was another security check at the entrance to the Canadian High Commission, of course. This security screening was much more serious, but the guards were extremely friendly and professional. I felt welcome and relaxed. I was asked to power off my smartphone and remove any other electronic devices from my knapsack or from my person. All of this had to be left with the guards. They placed it inside a small locker, locked it, and then gave me the key. This is something to be aware of because if you require information from your phone, you need to get it before you enter. You won't have access to your phone while you are inside the high commission offices.
I was very happy to see that the place was quiet. In fact, I was the only person there. There was some comfortable seating, and I sat down for a couple of minutes and reviewed my application form one last time to make sure I hadn't made a mistake. Within a brief amount of time, I was called up to the counter. I had to deal with the officer through bullet-proof glass, but it was fine. I could hear him easily, and he was very chatty and very friendly. I felt like I was on home turf, like I was being welcomed as a fellow Canadian. I was one of the club.
The officer helped me clean up a few missing bits of information on my form and make sure that everything was good to go. Then after signing a form, I took a seat again. Within one or two minutes, I was told to go to one of two special locked rooms. I remembered rooms like these from trips to other Canadian embassies. You go in there to do the important things, like pay the fee or make an official declaration. I remember in Taipei, I had to go into one of these rooms to swear in front of an official that my "Declaration in Lieu of a Guarantor" was true and correct.
Inside this room, I was greeted by a friendly young woman. She was also on the other side of bullet-proof glass, and we had to pass things back and forth through a special compartment. However, I could see and hear her just fine. Another pet peeve of mine is places that use this bullet-proof glass that you can't hear anything through. They drill a few tiny holes at the bottom, and I have to press my ear against those holes and strain really hard just to hear anything. But these rooms at the Canadian embassies are well-designed and comfortable.
My application for a new passport appeared to be going along swimmingly. I have a lifetime of bad experiences to make me feel that something will always go wrong. Something always does. But everything seemed to be in good order this time. I was asked for the fee of 780 ringgit for a 10-year passport. The official fee is listed in Canadian dollars, but you must pay in local currency or with a credit card. I had done some calculations in advance and had made sure to bring sufficient local currency and to bring exact change. I counted out the money and in return I was given a receipt. Now I need to wait a month. According to my receipt, I can return on July 18th and pick up my new passport. Fingers crossed.
I forgot to mention that I was careful to tick the box on the form that states that I want my old passport returned to me. This is important because my old passport contains my Malaysian entry stamp. The new passport will be completely blank, and this will certainly be a problem when I try to leave the country. I need to have my old passport to show them the original visa or entry stamp. The passport people will do something to invalidate the old passport (like punch a large number of holes through it) and then return it. It won't be valid as a travel document anymore, but Malaysian immigration will require it to allow me to leave the country and continue my travels. If I were in Canada, this wouldn't be necessary. There would be no reason to have my old passport returned unless I wanted to keep it as a souvenir.
All-in-all, my trip to the high commission was a pleasant and stress-free experience. I'm glad the people there were so friendly and chatty. I've been to other Canadian embassies around the world, and I've often felt unwelcome. I guess I'm naive and somewhat childlike in my outlook, but when I go to a Canadian embassy, I want to have that feeling of being home, of being among my people. This is often not the case, and I end up feeling like the enemy. But at the high commission in Kuala Lumpur I did feel welcome. And even though the modern world requires high levels of security, it was handled in a professional manner. They had good systems in place, and the design of the forms and the office itself helped a lot. It was a very small place, and I could see it being a bit overwhelmed if lots of people showed up. But it was perfect for just little old me – intimate and accessible.
Tags: Malaysia