Home » All, Lanyu Trip, Taiwan
Lanyu 005 – Practical Info for Visiting Lanyu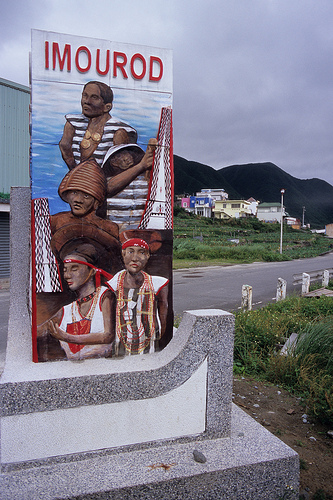 The Many Names of Lanyu
Lanyu has been known by many names. While the Ching Dynasty controlled Taiwan (1683-1895) it was known as Hongtou, which means Redhead Island. (This refers, by the way, to a mountain which turns red during sunsets, not to redheaded people.) During the Japanese occupation of Taiwan (1895-1945), it was called Kotosho, which also means Redhead Island but in Japanese. The Puyuma aboriginal tribe called it Botol, and the Ami knew it as Buturu. To the Yami (or Tao) people who call Lanyu home, the island is Ponso no Tao (Island of the People) or Irala. This last name, Irila, shows the importance of the sea and fishing for the Yami. Irala means land, but not in the sense of a concrete thing. It means land more as a direction for travel. You can take your boat out to sea to go fishing and then you turn your boat back towards land, or irala.
The island was given its current name of Lanyu (Orchid Island) by the ROC government in 1946. They named it after the butterfly orchid which once grew in great numbers on the island. Visitors still come across butterfly orchids on Lanyu, but these beautiful flowers are not as common as they once were. The story goes that the butterfly orchid won first prize at three international flower festivals in the fifties. The flower's sudden popularity made it profitable for people to pick them and sell them. They did this with a passion until there were almost none left.
Lanyu has been isolated for much of its history. During the Japanese occupation it was even declared off-limits to outsiders. It wasn't until 1967 that tourists were allowed to visit Lanyu. Even today, relatively few visitors come to Lanyu. Green Island, Lanyu's much smaller neighbor receives far more visitors each year. This is probably due to Lanyu's greater distance from Taitung (three hours by boat as opposed to one hour to reach Green Island) and to Lanyu's relative lack of tourism infrastructure. (This is changing fast, though, so if you've thought of visiting Lanyu, now is the time to go.)
Geography
Lanyu is located off the southeast coast of Taiwan about ninety kilometers from the coastal city of Taitung. At forty-five square kilometers, it is a small island but one with incredible beauty packed into its tiny area. It's a volcanic island with a rocky coastline and eight mountains reaching over four hundred meters in height. The highest is Mt. Hongtou at five hundred and fifty-two meters. In height, these mountains don't compare to the two- to four-thousand-meter peaks on the main island of Taiwan. However, they begin right at the ocean's edge, giving this tiny island a dramatic and rugged aspect. Throw in crater lakes, grassy plains, rugged cliffs, large caves, crazy rock formations, and coral reefs, and Lanyu stands out as one of Taiwan's must-see destinations.
Villages and Infrastructure
There are few roads and few cars on Lanyu. The main road meanders its way around the scenic edge of the island. It is very narrow and often little more than a friendly cement path.
A second, much shorter, road begins in Hongtou Village (I-mowrod), climbs up the steep mountains to the weather observatory, and then twists and turns its way down to Yeyin Village (I-valino) on the other side of the island. The only other road on Lanyu (other than those inside the villages) is an access road that climbs in a series of tight switchbacks ending at the Orchid Island Lighthouse.
Approximately 3,000 people live on Lanyu in six small villages. The villages can be a source of confusion, as they all have both a Chinese name and a Yami name. Which name is preferred for each village depends on which map or book you consult or who you talk to. The Chinese names are Yeyou, Yuren, Hongtou, Yeyin, Dongqing, and Langdao. The corresponding Yami names are I-mowrod, I-ratai, Yayu, I-raraley, I-ranmeylek, and I-valino
Here is a list of the Chinese names, their meanings, and the Yami names:
Yeyou Village coconut oil Yayu
Yuren Village fisherman I-ratay
Hongtou Village redhead I-mowrod
Yeyin Village wild silver I-valino
Dongqing Village east clear I-ranmeylek
Langdao Village bright island I-raraley
In addition to these six villages, Lanyu has a harbor, an airport, a lighthouse, a weather observatory, a health clinic, several churches, two hotels, many hostels and homestays, a few restaurants, a couple of dive shops, and, of course, a nuclear waste storage facility.
That last item is not a joke. Back in the 70s some brainiacs in Taiwan's Atomic Energy Commission decided that Lanyu, a beautiful and remote island with a thriving aboriginal culture, was the perfect spot to store nuclear waste. Construction on a harbor and the facility was begun, and by 1982 shipments of nuclear waste started arriving. It's commonly held that the leader of the Yami was tricked into approving the construction of the site. He was told that he was giving approval for a fishing cannery.
Kaiyuan Harbor
The main harbor on Lanyu is called Kaiyuan Harbor. It is on the west side of the island and is where the ferries from Taitung dock. The island's only gas station is situated right beside the harbor. This is important to know as the scooters for rent generally come with a nearly empty gas tank.
Yeyou Village
Just a kilometer or two south of Kaiyuan Harbor (going counter-clockwise around the island) is Yeyou Village. By Lanyu standards, Yeyou is a busy little place with some small businesses, eateries, and shops. It is also the site of the island's government offices, the Orchid Hotel (one of two hotels on the island) and, as several Internet sites claim, the Lanyu bus station. That there is a bus station could very well be true, but if there is a bus on the island, it is well hidden. And it's doubtful that it takes an EasyCard.
The airport is about two thirds of the way from Kaiyuan Harbor to Lanyu's other main village Hongtou. That there was enough flat land available for an airport was surely a stroke of luck. Either that, or the land was extended out into the ocean through construction.
I-ratay Village (Fisherman's Village)
Just beyond the airport is the pleasant little village of I-ratay. On some maps, it is marked as Fisherman's Village. It is much less busy than either Yeyou or Hongtou and boasts a funky and colorful restaurant called The Epicurean Café. The Epicurean Cafe can be a busy place, and reservations are recommended on weekends during the summer.
Hongtou Village
Hongtou, three or four kilometers past I-ratay, is another bustling little village. This isn't cause for concern, though. Bustling on Lanyu equates to laidback and tranquil anywhere else in Taiwan. The Lanyu Hotel and the health clinic are located in Hongtou, as are an assortment of shops, a scooter rental outfit, a roadside coffee stall, and a nice restaurant. The restaurant is tucked away behind the roadside coffee stall across from the health clinic. Look for the sign and follow the short path. The restaurant's bathroom – a portapotty – may or may not be functional when you visit. No worries. You can just hop across the street and use the bathroom at the health clinic. Things are pleasantly casual on Lanyu.
I-valino Village
Two of the island's six villages – I-valino and Dongqing – are located on the tranquil east coast. Both villages are beautiful places in attractive settings. I-valino boasts a number of traditional Yami underground houses still in good condition. A few of the elders still occupy these houses, and it is possible to take a tour and, if you are lucky, stay the night in one. This is rare, however, and most visitors prefer to stay in one of the many homestays.
Dongqing Village
Dongqing Village is situated three or four kilometers north of I-valino quite close to Lover's Cave. Lover's Cave is a wonderful spot to take in the spectacle of the ocean surging and crashing into a narrow gorge. Care should be taken when walking around Lover's Cave (or anywhere else on the coast). The lava rock is very uneven and very sharp. A stumble or slip could easily lead to a twisted ankle or a nasty cut. (Say hi to the goats for me if you go.)
Langdao Village
The last of the six villages, Langdao, is located on the island's scenic and wild north coast. Homestays are available here as well. There are also a couple of restaurants near the beach and a grocery store on the main road right beside the turnoff to the village.
The People
If the natural beauty of Lanyu convinces you to visit, the people of Lanyu will make you want to stay – and come back.
Most of the 3,000 people (population estimates for Lanyu vary considerably) on Lanyu are Yami (or Tao). According to most historians, the Yami migrated to Lanyu from the Batan archipelago in the Philippines eight hundred to a thousand years ago. They have their own language and culture quite distinct from that of the Chinese majority on Taiwan.
There is lots of information on the Yami culture and traditions online. The links below will take you to a couple of good articles that I found.
Extensive sociological and anthropological review of Yami society and culture: http://www.uga.edu/asian-lp/jpn_html/yami/chpt.1.html
Brief article on the Yami:
http://www.culture.tw/index.php?option=com_content&task=rdmap&id=861&Itemid=262
How Do I Get to Lanyu?
It is possible to get to Lanyu by air or by sea.
By Air
As far as I know, only one airline, Daily Air (089-362-489), serves the island. They have as many as eight flights a day between Lanyu airport and the pleasant Taitung airport.
From Taitung to Lanyu First flight at 8:50 Last flight at 15:35
From Lanyu to Taitung First flight at 9:35 Last flight at 14:30
Taitung Airport with Flight Information http://www.tta.gov.tw/en/en1.asp
The flight takes about 25 minutes and costs NT$1,345 one way. Weather can change quickly on Lanyu, and there is no guarantee that flights will depart as scheduled. You have to keep an open mind and a flexible schedule for a trip to Lanyu, particularly during typhoon season. It's not uncommon for people to be stuck on Lanyu for several days waiting for the weather to improve.
I read on a number of websites that Daily Air does not accept reservations because of the uncertainty of the weather. They say that the only way to get on a flight is to go to the Daily Air counter at the airports and put your name on a waiting list.
This doesn't make a lot of sense, but it's true that when I tried to book a flight they told me over the phone that I had to go to the Taitung airport to do so. I went there only to be told that all the flights were full. I also dropped in at the Lanyu airport just to check things out, and there was quite a long line of people waiting at the counter. They didn't have reservations or tickets, but were waiting for the counter to open up so they could get on flights that day. You'll have to call Daily Air and sort that out for yourself if you want to fly. (I'd recommend the boat anyway.)
By Sea
Facts and schedules for the ferries to Lanyu can be hard to nail down, but it all tends to work out in the end, so I wouldn't sweat it too much.
These are three of the ferry companies and their phone numbers that I called and had some success with:
Green Island Star 089-330-756
Victory Ferry 089-281-047
Gold Star Ferry 089-281-477
Ferries don't have a strict schedule and what schedules they do have change from day to day. They tend to leave when they have enough passengers to justify the trip. You may make a reservation and then be told later that the trip has been cancelled. They are very good about calling you, however, and will keep you informed. New ferry trips might be added at any point, too. It all depends on whether a large tour group suddenly calls and wants to go to Lanyu. So even if you can't find a ferry leaving at the time you want to go, keep calling and checking. One might be scheduled at the last minute, which is what happened with me.
The ferry costs roughly NT$1,000 one way. The smaller and slower boats take three hours to make the trip. The bigger and faster boats can do it in two to two and a half hours. The ferries all have comfortable seats – like airline seats – inside. Bring a jacket or a blanket, as they turn the air-conditioning up to Arctic levels. There are washrooms onboard, but there is nothing available in the way of food or drinks for sale. There is a well-stocked store at the Fugang Harbor building in Taitung where you board the ferry, and you can stock up on whatever you need there.
It is possible to stay out on deck on the boats, but depending on the size of the boat and the condition of the sea, it can be an exhausting (and wet) experience. The seas can be rough enough that you'll have to hold on tight to something to keep from being tossed to the deck or even overboard. I found myself lurching from handhold to handhold as I made my way around the boat keeping an eye open for flying fish and dolphins.
Don't forget your favorite seasickness remedy. Most of the conversations I overheard when my ferry arrived on Lanyu were about how many times and how violently each passenger threw up. I couldn't understand the Chinese, but the body language was unmistakable…
Where Can I Stay? What Can I Eat?
There are two hotels on Lanyu (that I know about).
Lanyu Hotel in Hongtou 089-731-611
Orchid Island Hotel in Yeyou 089-732-032
I didn't see inside either one of these hotels, but they don't strike me as the best options for foreigners wanting to experience Lanyu. There are numerous homestays in I-valino, Dongqing, and Langdao and I would recommend staying in any one of these places (or all of them). Yeyou, I-ratay, and Hongtou also have homestays and they would be preferable to the hotels.
I always like to just show up in a place and look around on my own, but I don't know that that is the best strategy for Lanyu. A quick Internet search will produce lots of phone numbers for homestays on Lanyu. Just start calling them and see what happens. Once you make a connection and feel good about a place and make a reservation, you're all set. You just stay in touch by cell phone, and they'll meet you at the dock when your boat arrives. They'll take you to their village and the homestay and can set you up with a scooter rental, information, tours, stories, and anything else you need.
I always thought of homestays like bed and breakfasts, but from what I saw of them on Lanyu, they are more like typical Taiwanese concrete houses converted to hostels. Your room will likely be quite simple but clean and comfortable. You will likely have to share a bathroom, and you will have access to the family's kitchen. Many people end up eating meals with the family along with all the other people staying at the homestay. It's a great way to meet people and learn about the island.
Homestays cost in the neighborhood of NT$400-NT$500 a night.
Traditional Underground House
There is also the option of staying in one of the traditional underground houses. I don't know how many of these underground houses are available to rent. I would guess only two or three if there are even that many. The one I stayed in was owned by a family who also ran a nice homestay in I-valino. The owner is a very nice man named Mr. Shih and his phone number is 0921-609-275. He doesn't speak English, however. You can see more pictures of the underground house in my previous blog posts.
Note that there are no bathrooms in these underground houses. You'll have to use the bathroom facilities at the homestay or at the house of the family that owns it. In my case, I could use a bathroom belonging to one of Mr. Shih's relatives who lived closer, or I could walk to Mr. Shih's homestay and use the facilities there. There was nothing in the way of bedding in the underground house when I arrived, but the family supplied a thin mattress and a quilt-style blanket and pillows. There was electricity and a couple of fluorescent lights in the house, but a flashlight certainly came in handy. I was worried about mosquitoes, but none made an appearance. It might have been because Mr. Shih spent much of the afternoon smoking fish in the back room of the house.
Food and Restaurants
As for food, there aren't a lot of choices on Lanyu, but you're not going to starve. There wasn't a 7-11 in sight (hard to believe, but true), but each village has a local grocery store or even two. You can buy snacks and noodles and whatever else you would want to eat or drink. There are also a number of restaurants ranging from the funky Epicurean Café in I-ratay to the Sunrise Breakfast spot in I-valino, where you can get a cup of coffee and an egg sandwich to start your day.
I was there on a long weekend, so my experience might have been unusual, but the restaurants were quite full. Some were booked in advance by large groups of students and you couldn't even get in. Other places actually ran out of food. Still, even on that busy weekend, I always found a place to eat, and I usually found somewhere very nice.
I got the feeling that tourism on Lanyu was increasing, and that the island was just starting to make an effort to catch up. I saw a number of cafes and roadside coffee shops and restaurants being built. Whether that ends up being a good thing for the island is hard to say. For the moment, it's still a very laidback and magical place, so it's a good time to go.
Scooter Rental
Scooters are an ideal way to see Lanyu and there are plenty to rent on the island. I called in advance to reserve one (NT$400/day), but I doubt that that was necessary. The fellow who rented me my scooter had a large number available. He doesn't speak English, but his phone number is 0963-165-258 (he's in the list below) and his shop is located in Hongtou Village. If you reserve a scooter through him, he might bring it to you at the dock and have it waiting for you. In my case, he picked me up at the harbor in his van and drove me to his shop. Many of the larger homestays also have scooters for rent for their guests. You can arrange that when you make a reservation or upon your arrival.
There are other scooter rental places on Lanyu. I found these phone numbers on the Internet:
LanTien (my guy) 0963-165-258
JiaJia 0933-107-460
MeiYingMei 0910-583-277
WenWen: 0937-603-294
I only called the first number, but the others could still be current.
Scooters come with helmets, so you don't have to worry about bringing one. In any event, I didn't see anyone on Lanyu wearing a helmet. No one asked to see a driver's license of any kind. If you've got one, great, but I don't think you need one. (In Taitung, on the other hand, the shop wouldn't rent me a scooter unless I had a Taiwanese driver's license.)
There is no system for topping up the gas tank when you return the scooter, so the scooter you get will probably be almost out of gas. Your first order of business will be to get a tank of gas. I only saw one gas station on Lanyu, and it is located right beside the harbor. I believe the larger and more organized homestays keep a supply of gas in containers for their own use and for the use of their guests. One tank of gas will get you around the whole island two or three times, so unless you drive like a crazy person, you won't have to worry about getting gas that often.
It wasn't explained to me, but I heard that it was common to simply drive your scooter to the harbor at the end of your trip and drop it off there. This makes it incredibly convenient, as I could keep the scooter until the last possible minute and then use it to drive to the harbor with my backpack. My scooter guy was waiting for me there and I handed over the keys and paid him and then hopped on my ferry back to Taitung. During my time on Lanyu, one of the blue trucks of death smacked into the back of my rented scooter while it was parked and knocked it over. It ended up with a smashed taillight and a bent brake handle, but my scooter guy waved off my attempt to pay him for the damage.
Bicycles on Lanyu
In keeping with the cycling craze sweeping Taiwan, lots of people were riding their bikes on Lanyu while I was there. In fact, I'd say that there were more people riding bicycles than scooters. The people who run the ferries are more than prepared for this and it's no problem to put your bike on the ferry and bring it with you. I don't know if there is an extra charge for this. I doubt it. And if there is a charge, it would likely be nominal.
The road around Lanyu is about 48 kilometers long, so it is quite feasible to circumnavigate the island in one day. The road is mostly flat, and unless you ride up to the lighthouse or up to the weather observatory (lots of people do), hills shouldn't be a problem. For me, driving a scooter was the better option simply because I didn't have a lot of time. Driving the scooter gave me a much greater range for exploring and left me with much more time to scramble around the rocks and spend time taking pictures and just absorbing the waves crashing on the rocks.
Diving and Snorkelling
I was told and I've read that there is excellent diving and snorkeling on Lanyu. I saw a couple of dive shops with the usual assortment of dive suits, flippers, masks, and tanks strewn about and drying on racks. So I assume you can rent everything you need on Lanyu. I don't have any phone numbers for the dive shops, but they should be easy to track down.
In the end, I didn't do any snorkeling at all. I simply didn't have enough time, and the weather wasn't cooperating.
To Sum Up
I haven't been to nearly enough places in Taiwan, but I've been to a few and Lanyu stands out as my favorite. On the face of it, it's hard to say exactly what made the place so magical for me. It's a beautiful island, but there are lots of beautiful places in Taiwan. The people are friendly, but everyone in Taiwan is friendly. The culture is interesting, but the same can be said for all of the aboriginal cultures and the Chinese culture.
Lanyu is simply one of those places that is more than the sum of its parts. The scenery, the people, the culture, the boat ride, and the slow pace of life all come together in a perfect package. Include some diving or snorkeling in your plans, and you could easily while away a week on Lanyu and still think it was too early to leave.
Tags: Hongtou Village, Kaiyuan Harbor, Lanyu Trip, Scooter Rental, Taiwan, Yami, Yeyou Village