Home » All, Taiwan
Houtong Coal-Mine Ecological Park – Taiwan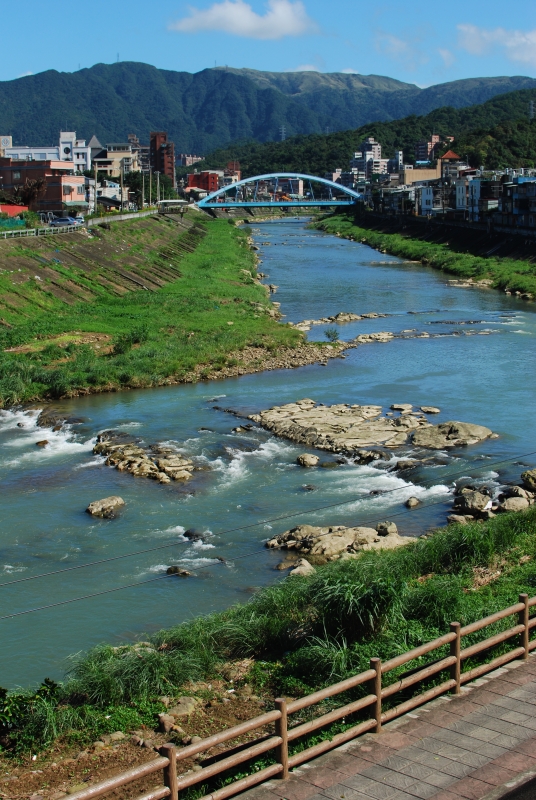 The Houtong Coal-Mine Ecological Park is located in and around the town of Houtong in northeastern Taiwan. The mine, closed in 1990, was once the largest coal mine in Taiwan. Today, it is a popular tourist stopover on the mining railway which leads from the city of Ruifang and then goes on to Shihfen, Pingxi, and ends at Jintung. The park is quite extensive and consists of reconstructed buildings and bridges and the ruins of old coal processing plants, plus museums, and educational exhibits. I hadn't even heard of the place until just a week previously, and I set off on my scooter on a sunny Saturday morning to find Houtong and see what there is to see. The following is an excerpt from my journal. It starts in the mountains south of Taipei at my favorite roadside outdoor coffee shop, where I'd stopped for my first coffee of the day.
Saturday November 4, 2011
Motorcycle Coffee Shop 11:11 a.m.
I've already had one adventure on this little weekend trip. I was pulled over by a traffic cop for passing on a double line. I felt embarrassed, considering that on the trip out of Taipei I had spent my usual amount of brain power reflecting on the traffic chaos around me, particularly on the lack of signalling. The worst case was in a small satellite town, where a van didn't signal when it turned left across traffic. It was a bad one because a car in front of it just happened to be turning right (also without signalling), and the van's motion to the left could easily be interpreted as someone just swinging out to miss this car's rear end. The motorcycle driver ahead of me clearly thought the van was doing that, and he swung out to pass the van. However, the van was making a full left turn and ran right into the motorcycle. Luckily, the motorcycle driver had good reflexes and dodged out of the way. They made contact, but it was more of a push than a hit, and the motorycle wobbled but continued on. I have to admire the calm of Taiwanese drivers in the face of all this. I fully expected a screaming fit from the motorcycle driver. However, he just drove on as if nothing had happened.
I was thinking about this lack of signalling, and when later on I moved out to pass a slow-moving van, I very self-righteously signalled when I started to pass and then signalled again once I had passed the van and wanted to move back into my lane. Imagine my chagrin when after this very elaborate pass, I get pulled over for passing on a double line.
As I'm pulling over to the side of the road, a few other thoughts race through my mind. One is that I was listening to a podcast as I was driving, and this is also technically illegal I'm sure. Plus, my Taiwanese driving license – which I was very proud of myself for having – was expired.
Now, these things really weren't my fault. The van I'd passed was one of these local vans that drive at a dangerously slow speed. It was practically parked. I'd seen that there was a double line, but this entire highway is nearly a double line. I had looked ahead and seen that the road was completely clear and straight and then I'd done my elaborate series of shoulder checks and signals. It was a very safe pass – far safer than all the other passing I'd witnessed that morning – inside passes, passes on blind corners, high speed passes, all with no turn signals at all. And as for my expired driver's license, that is totally beyond my control. Since my passport is expiring in December, I could only get an ARC until December, which means that I can't renew my license. You have to have at least a 1-year ARC to do that. I currently have a 3-month ARC. And when I renew my passport, I will then get a 9-month ARC. So I'm stuck in a bureacratic Catch-22. Even with the best of intentions, I can't have a current driver's license.
In the event, it didn't matter. The traffic cop did not speak any English. He spoke to me at length in Chinese and all I could do was look at him in wide-eyed innocence and incomprehension. He was clearly talking about the double yellow line – he kept pointing at it – and I knew what he meant, but there was nothing I could do in the way of having a conversation. He could ask for my ID and/or issue me a ticket, but he did neither. So there was really nothing for him to do but eventually just wave me on.
I have to feel sorry for the guy. On a beautiful sunny weekend like this, the Pingxi road (road 106) becomes something like a cross between the Indy 500 and rush hour on Broadway. The big motorbikes are out, and after spending all that money on these powerful bikes, these guys are not about to stick to the speed limits. They're driving at high speed and cutting the corners as tight as they can. Meanwhile, the roads are jammed with cars as people are out for the weekend to tour Jingtung, Pingxi, Shihfen, and all the other beautiful places up here. And don't forget the dozens of cyclists and hundreds of scooter drivers. It's total chaos – fun chaos, but still chaos – and imposing any kind of order on it must be a thankless task. Where would one start? Your job is to impose the law, but which law first? Are you going to ticket the older local gentleman driving a scooter on the wrong side of the road without a helmet? If not him, do you ticket every single motorbike that goes by at twice or three times the limit? Do you ticket the family of four plus a dog on one scooter? This poor guy probably has a quota, and here he gets someone blatantly passing on a double yellow line right in front of him, and it turns out it's a dumb foreigner! Poor guy.
The weather, by the way, is spectacular. Blue skies, bright sun, fluffy white clouds. In Taipei, it was a bit warm, and one look at the sky caused me to turn back and put on some sun screen. However, the second I passed through that tunnel just before the Taipei zoo, the temperature dropped by several degrees, and it felt almost cool. It's amazing how it does that. I've noticed it every single time I take this route out of Taipei. I go through that tunnel, and bam, the temperature drops. It's wonderful.
The temperature does go back up a little bit through this urban section, but once I reach the intersection where I turn left towards Jingtun, the climbing begins, and the temperature drops. Up here at the motorcycle coffee shop, it's perfect. I have a fantasic view down the river valley all the way to the last set of mountains before Keelung and the coast. They make an awesome cappuccino here – artistic foam on top but still nice and hot. (Many places spend so long making the foam look good that the coffee is cold by the time it is served.) And this is a great place for people watching. You get to watch all the people racing by on the road just twenty feet away, and you get to watch all the motorbike dudes and their motorcycle mamas here in the coffee shoop – color tattoos down the entire arm, black kerchiefs over the head, leather
jackets and skid pads. It's funny how people embrace their categories so completely. Most of the guys here drive racing bikes, and they dress the part with tight, brightly-colored racing gear and sculpted helmets. One guy is driving a choppper. He's covered in tattoos and has a giant skull decal on the back of his jacket. His helmet is red, white, and blue with stars all over it. If I'm not mistaken, that is an Easy-Rider look. It all feels more Halloween than real life. These are the weekend costumes. I get it though. Being a biker is just one more way to go shopping. I can relate to the fun of shopping for gear. These guys probably don't really need all this high-tech gear to protect them in case of a slide. They are really just out for a weekend tour like any other tourist. But it's fun to shop for gear, as I know only too well.
My plan for this weekend is to track down a town called Houtong. I was in Jioufen and Jinguashi last weekend, and I picked up a bunch of tourism pamphlets and booklets and maps. On them, I saw references to an old coal-mining museum. From what I can make out, it is essentially an old coal mine with all the buildings still intact, and it is located in the town of Houtong. I didn't know much about this place before, but on my drive back last weekend, I happened to see a road sign pointing down a side street to Houtong. I figure that has to be the place.
I just looked it up in one of the brochures, and its official name is the Houtong Coal-Mine Ecological Park. The coal mine was the largest in Taiwan in the 1960s with an annual output of 220,000 tons of coal. Is that a lot? I have no idea. The mine was closed in 1990 and is "a living record of Taiwan's coal mining culture."
There is an old coal-dressing plant with a coal-transporting bridge. From the pictures, it looks to be more or less in ruins, but that isn't a bad thing. It looks like a great place to explore and take pictures. I'm also interested in this place because it is in a part of the mountains I've never seen before on foot. I think I've seen it on the train. The main railway line from Taipei down to Taidong has a station in Houtong. The next station after that is at Sandiaoling, and I think I've noticed these two towns every time I've taken the train. They always struck me as very interesting and beautiful towns, and I always wondered how you get there by road. Hopefully, I'll find out. I believe there is some great hiking from both of these towns. I remember Richard Saunders writing about a hike out of Sandialong. And if there is a lot of hiking and tourism there, perhaps I can track down a homestay of some kind. That would be nice.
I could just spend the weekend there, but I'm also thinking about checking out the Caoling Historic Trail. I might do that on Sunday depending on my mood, the weather, and how things go. The problem with that trail from my point of view is that it goes from one town to a different town in a straight line. How would I then get back to my scooter? I suppose I could just hike back and forth, but that might be more than I want to do in one day. We'll see.
Sunday November 6, 2011
Jioufen, Taiwan 7:00 a.m.
The drive to Houtong was a simple affair. I didn't remember exactly where I had seen the turn-off the previous weekend, but I knew it was somewhere along my usual route to Jioufen. I continued along Highway 106 past my motorcycle coffee shop. I'd chatted with a young Taiwanese guy at the coffee shop. He had taken out a digital SLR and was taking pictures of the Harley Davidson motorcycles there. It wasn't clear if he knew the owners, but they came over as well, and he took pictures of them posing with their bikes – mainly of the guy with the whole Harley outfit – skull decals and all.
I got out my own camera as well and took a few pictures as we talked. He had a particular interest in Harleys and said that he liked their sound. He also said that I was lucky to be from Canada. I thought he meant I was lucky because Canada was so large and you could really open up the engine on a big bike and go long distances. But no, he said I was lucky because Harleys would cost about half as much there. Apparently, like many imports, they are very expensive in Taiwan. This young guy was driving a scooter himself with his girlfriend. He said he couldn't afford a motorcycle.
I had no more trouble with the police as I drove along. In fact, I didn't see any at all, and the guys on their big bikes took full advantage of that and were driving at very high speeds. I wonder what the fine would be for speeding. Probably not very much.
Highway 106 goes past Shihfen, and I noticed that it was quite busy – much busier than last weekend. I think the sunnier weather had brought more people out. There was a lot more traffic as well, and I had to be careful as I navigated the tight turns on the final hills before the coast. I thought about driving up a side road to the top of a nearby mountain. There is some kind of observatory up there, and I've always wondered what the views were like from up there. However, I was a bit low on gas. I had thought about gassing up in Taipei, but I knew I had enough gas to make it down highway 106. I just wasn't sure I could afford any detours.
The views were spectacular as I came over the hills. Visibility was great and I could see Turtle Island clearly as well as the harbors leading up to Keelung. Keelung Mountain at Jioufen was also very clear and sharp and against the blue sky.
Highway 106 comes down out of the mountains in a series of sharp turns. I had to be careful here as well because cars were in the habit of taking these turns as if they are in a race – cutting in tight and then swinging wide. You could never be sure of what would be waiting for you on the other side as you started one of these turns. Cars also don't think of scooters as having a proper place on the road. They don't hang behind you and then pass. They simply come right up beside you. If I'm not paying attention, I'll suddenly have a car right beside me on one of these corners. I've learned to take these corners very carefully and to stay over to the far right and not allow myself to swing out at all – not even the smallest bit into my own lane. At any point a car could suddenly be there.
At the bottom of the mountain, the highway ends at Highway 2. I turn right there and after a quick stop at a gas station (NT$140 to fill up the tank), I found myself in Ruifang. I've always found Ruifang to be a pretty place, though I've never spent the night or even explored it very much. It has an attractive location right on a wide river with high mountains as a backdrop in nearly all directions. A series of bridges across the river gives it a scenic look, and I stopped to take a picture of one of the brightly painted bridges. To continue on, you have to cross one of these bridges, and at that point it's possible to keep going straight and wind up on the coast near Keelung. To get to Jioufen, you have to turn right immediately after the bridge and follow the river. I did that, all the while keeping my eyes open for the sign to Houtong and the Houtong Coal-Mine Ecological Park. The turn-off came up fairly soon and I veered right onto what I believe was Highway 37.
From the start, I was struck by the beauty of the area, and I was very glad I had come this way. Highway 37 followed a river, and river valleys always give you the perspective you need. Things open up and you can appreciate your surroundings. As I mentioned before, the main railway line from Taipei also follows this river, and I saw a few trains trundling along – some of them were freight trains, others were passenger trains heading south to Hualien and beyond, and one was one of the tourist trains going to Houtong and the other coal-mining towns of Shihfen, Pingxi and Jingtung.
The Houtong Coal-Mine Ecological Park was well sign-posted and it was easy to spot. In fact, you couldn't really miss it, as the entire town of Houtong is essentially the coal-mine park, and the road itself, though it doesn't dead-end there, does kind of peter out. So you simply drive along Highway 37 and you'll arrive there one way or the other.
I really had no idea what this coal-mine park was going to be like. I had the vague idea that it wasn't so much a park as just an old bridge and a couple of broken-down buidlings with a boarded-up mine shaft or two. I was completely wrong. It turned out to be a fully developed tourist attraction. I was surprised I hadn't heard of it before last weekend, but then I learned that construction of the park hadn't begun until 2005. I don't know when it was completed, but apparently it has only been around a short time.
The coal-mine park pleased me to no end. I walked around for several hours exploring the place and taking pictures. There was a small parking lot right near the train statiion, and I found a spot for my scooter there. I had a small bag strapped to my seat with bungee cords and I decided to just leave it there. I didn't want to carry it around and there was no way to lock it up. I figured it would be safe. Well, hoped it would be safe. That kind of theft is very rare in Taiwan, and the thief would only end up with some clothes and toiletries anyway. Still, it would be smart to come up with another system for carrying stuff on weekends.
I walked along the river from the parking lot, appreciating more and more how beautiful it was there. A series of steps led down to the river, and I walked down there to take some pictures. I imagine swimming is not allowed, but there were no signs saying so. Perhaps there is still coal run-off that makes that water unpleasant. Perhaps not. The first exhibit I came to explained how this coal mine had a very advanced system of pools and filters to clean the water before it joined the river. This would have been 90 years ago, so the technology couldn't have been that advanced. However, the sign did say that their system was more stringent than government regulations demanded.
A series of steps led up to a large bridge, and when I emerged at the top, I was greeted with a very unusual sight. I'm not sure if I've seen anything quite like it. Whoever had designed this park had come up with a unique idea. There was an old building there – a huge concrete, stone, and iron structure known as the Coal Preparation Plant. This building had, over the years, completely fallen apart. It looked like Genghis Khan had gone at it with his whole army plus a few elephants and a bulldozer. And then he'd set fire to the remains. It was just a skeleton of a building with rusty metal, piles of burned wood, and bare concrete and stone walls. The developers of the park, rather than rebuild it – probably to the tune of millions and millions of dollars – had simply left it exactly as it was and put up a fence around it. It was a bold move, and I think it worked very well. Everyone loves the ruins of buildings. Yet, you can't have tourists and families with young children rambling among burnt wood, rusty metal and walls about to fall down. So you simply put up barricades and leave it as it is. I found the barricades themselves quite interesting. Between the bridge and the Coal Preparation Plant and all along the bridge were transparent plexiglass walls. It was all very high-tech and glossy, and the contrast with the old buildings was very effective. The same strategy applied to the bridge. Rather than rebuild the old bridge, they'd kind of built a brand new bridge around and on top of it. That way you got the best of both worlds.
There was a lot more to see right in that area near the train station, but I always like to get the lay of the land before I dive in. I like to see the extent of a place before I get into the details, so I decided to continue walking along the river. I had no idea what was up there, but it seemed to be developed. There was a path made of paving stones and it seemed to be leading somewhere. I took pictures of the river and the mountains as I walked along, and I soon found myself in a small cluster of houses. This, apparently, was what was left of the town of Houtong itself. There was a single road with single-story structures tight on both sides. Many of the houses were in as ruinous a state as the Coal Preparation Plan. The roofs had fallen in and the front walls were gone, so you could look inside and see nothing but plants grown and old wood and stone. I found out later that the road was called Chailiao Road and this cluster of buildings was called Neidianzi. The few people still living there were elderly, and they sat outside their homes chatting while the few tourists like myself wandered past with our cameras. Thousands of people come to Houtong every weekend, but it seems that very few of them make it outside the train station area to Neidianzi. One or two enterprising locals had set up little shops for tourists. It was nothing like the rip-roaring trade going on at the Houtong Train Station, but a couple of people were there and perhaps buying local products. The town – if you can call it that – was clearly on its last legs. These elderly residents were probably the last to call it home. There would be no reason for young people to be there at all. I understood that even the current residents have to do all their shopping in Ruifang. Other than a vegetable truck that drove through town (it came through while I was there and I took a picture of it), there were no shops or stores of any kind. That explained some of the odd traffic I'd seen on the highway. I'd seen a number of people in four-wheeled carts driving along the side of the highway. These were the kind of battery-operated carts that the elderly drive instead of scooters. I noticed one man in particular because he had no lower body at all. He just had a torso and was propped up in the seat neatly and driving along the highway with cars and motorbikes racing past him at high speed. I'd wondered why there were so many of these elderly people out there on these carts, and I learned that they were all from Houtong and Neidianzi and were coming back from running errands and shopping in Ruifang.
I'd noticed similar small towns in the mountains all over Taiwan on my travels. The residents were all elderly. I hardy ever saw young peopple in these towns. Those I did see were generally there just for the weekend and would return to the big cities on Sunday night. I wonder what will happen to these towns once this current generation is gone. I imagine more and more of them will be semi-abandoned. Neidianzi, I'm sure, will slowly be converted into a series of cafes and galleries just like Jioufen. There was little there now, but considering the attraction of the Coal-Mine Ecological Park and the natural beauty of the area, it is sure to develop along those lines. As I walked through the place, I considered how nice it would be if there were a small hostel or hotel there. I've thought that about just about every small town or village in Taiwan.
To my surprise, there was much more to the Coal-Mine Ecological Park beyond Neidianzi. I saw a quite unassuming doorway and I hesitatingly pushed it open. To my great surprise, I found a park employee sitting to the left inside the door. She leaped to her feet and welcomed me inside. It turned out to be a quite extensive and fascinating museum. The first part gave a detailed history of the geology of the area, with a focus on how coal developed. The second part focused on the lives of the coal miners. It had lots of photographs as well as actual exhibits of the tools they used for mining. It was all utterly fascinating and well-put together, and such a surprise. It is a bit of a shame that 99% of the people who come to Houtong never make it out that far – probably never realize this museum is there – but it worked out well for me as I had the place almost completely to myself. It reminded me very much of the coal mine museum above Shihfen – also a place I'd highly recommend to anyone. Whereas the museum in Shihfen is very rough and ready the one in Houtong is quite polished. Both are interesting. In the Houtong museum, there were even a series of big black telephones – the kind that were in use even when I was a child in Canada. Each telephone had a sign on it urging you to pick it up and learn about this or that aspect of coal mining. You pick up the phone, put it to your ear, and someone starts talking. It was in Chinese, so I couldn't understand anything, but I got the appeal of it. It was like picking up a phone with a connection to the past. You felt like you were talking to someone from decades ago. It was another very clever idea.
This museum also had a collection of lockers against one all. These were a recreation of the lockers that miners would have used to store their personal belongings when they went down into the mine. Most of the lockers were locked with padlocks, but seven or eight had signs on them saying 'Open Me!" You open them and inside each locker you see a collection of personal items illustrating some aspect of the life of the miners. Again, a very clever and engaging idea.
From this room, a series of steps leads down into a hallway from which you exit the museum. In this hallway are exhibits showing the mine shafts themselves in miniature and demonstrating how mining was done deep underground. The exhibits didn't hammer away at the difficulty of this life for the miners, but it was clear from everything – particularly the photos – just how difficult it would have been. Actually, "difficult" is such a weak word for this. From my point of view, their lives would have been horrendous. I can't even begin to imagine how tough it was to work in those mines. It was so hot down there and the work so difficult and dirty that the men essentially worked naked. There was no point to wearing clothes. I remember seeing pictures at the museum in Shihfen which I thought showed miners dressed entirely in black. However, they were not dressed in black. They were naked and covered in black coal dust layered on so thickly that it looked like clothing. For a time, women also worked in the mines and modesty was not a luxury they could afford either. They went into the mine shafts as naked as the men. I met a young man at the Shihfen mine whose grandmother had worked in the mine. He pointed her out to me in one of the group photographs.
The miners would meet at 6 in the morning to begin their work and would be issued their equipment for the day. Then they would climb into the coal carts themselves – four to a cart – to be carried into the mine shafts. It was a very efficient method of transporting them, but it also highlights the nature of this work – these men were being transported into the mine shaft like equipment, in the same carts that would then be used to carry the coal out. Health and safety were, of course, only of small concern, and many of the miners suffered from "black lung" in the years to come. One exhibit showed the difference between an X-ray of a healthy lung compared to a miner's lung.
A short distance beyond the museum, I came to another large building. This was a three-story brick structure which served as a dormitory for the miners. Behind each square window was a small room where a miner would live with his entire family. At each end of the building on each floor were communal kitchens where meals were prepared. Peering through the steel mesh covering the windows, I could see the cooking area, and it brought home what day-to-day life was like with meals cooked over open fires. Even more interesting was one living area which had been dressed to look exactly how such a living area would have looked back when the miners lived there. It would have been crowded and cramped with the entire family sleeping together on the floor in that one room, eating together on the floor in that one room, hanging laundry to dry around the room. It wasn't hard to use my imagination to see all of these rooms filled with miners and their families, stacked on top of each other, row upon row. What an incredible scene it must have been – a hard life, but also one of a tightly knit community.
There were a few other buildings and attractions out in this direction. There was a large building where the diesel locomotives were maintained, an electrical building where power was distributed throughout the mine, some offices, and the entrance to the main mine. The main mine, unfortunately, was still under construction and it is not possible to go inside the mine tunnels. It was possible, however, to peer in through the gate. Even that was enough for me. This was the entrance to the mine, so the tunnel here is very large. Yet, it was already far too small, dark and damp for me. I can't imagine the conditions at the very end of the tunnels where workers were bent over, sometimes lying on their stomach or back, chipping away at a dark vein of coal with their pick axes, their dim headlamps barely illuminating the gloom. As far as I know, the miners stayed down there all day. It was far too time-consuming to go in and out, so all meals were eaten down there in the dark. Yet, from all the exhibits and the photographs, I also got a sense of pride, that these people took pride in the toughness of their work, in their ability to do it. It was a special world that only a few were involved in. More to the point, perhaps, it might have been the only work available at the time. It was a way to feed their families at a time when perhaps that wasn't an easy thing to do.
I slowly made my way back to the Houtong Train Station. By then, I was tired and hot. The sun had been beating down intensely all day, and I was a bit "mined out". So I didn't really appreciate the other things that there were to see. At the Hotoung train station, there were some other exhibits with more information about the history of Houtong. There was even a scale model of the entire area and a movie upstairs. I went through these exhibits fairly quickly and didn't really take in very much.
The town of Houtong was interesting on its own, and a pleasant hour could be spent just walking around the houses and grabbing a snack from the many restaurants that have sprung up. The train station itself is a busy place with people taking pictures as they wait for their trains to take them back to Taipei or on to the other mining towns.
The last big attraction in Houtong – and clearly the main attraction for many people – is the Cat Village. Somehow (I don't know the history) Houtong has become something of a cat sanctuary. There are cats all over Houtong – even "Cat Crossing" road signs warning motorists to be on the lookout for the felines dashing across the road. I don't know if these cats are rescues from other parts of Taiwan (I assume so), but there is information in the train station talking about an animal rights group.
The largest group of cats is found in Cat Village – a cluster of houses across the tracks and awash with cats of all sizes, colors, and ages. Just getting there is an experience as you have to navigate a narrow tunnel raised above the train tracks. On the other side of the tracks, the cats are the stars, surrounded by admirers taking photo after photo after photo. Cats are not the most popular of pets in Taiwan, and I don't think people here have a lot of experience with them, so the visitors to Cat Village were treating them with the same excitement and eagerness as I might treat a group of lions or mountain gorillas. Each cat lying on the pavement and sunning itself lazily would have a circle of admirers snapping away with digital cameras. Those cats lying on rooftops or railings or window ledges were particularly popular since they were at eye-level and perfect for aspiring papparazi to get a close-up shot. Cats generally are pretty smug and proud creatures, but these cats had taken it to a whole new level. They took all this attention as their due – raising their chin if they wished to be scratched, stretching luxuriously to a chorus of snapping shutters, then springing away and out of reach when they've had enough. One cat stood out with her perch in what had to be a designed set for photos. She was lying on a wide window ledge in a brick wall with odjects such as boats cut in half artfully arranged around. Groups of up to five photographers would be on either side of the window taking photos from two directions. In Houtong, you can buy special sticks with feathers and a bell at the end – toys for the cats. When I first saw this cat, all I saw was a white and brown paw sticking through the window bars and swatting at one of these toys.
I am normally crazy about cats, and coming across such a collection would have me petting them and playing with them just like everyone else. But there was such a feeding frenzy atmosphere in Cat Village, that I simply left them alone. They were getting more love from the crowd than they could possibly want, so they didn't need any more from me. I took a couple of "from the hip" pictures of other people taking pictures of the cats and just othewise hung out and enjoyed the atmosphere (and my ice cream cone).
I returned to the scooter parking lot and found that my bag was still there and untouched. That was nice. I have to say, though, that I really shouldn't do that. It is just too tempting to have a bag just sitting there attached with only a bungee cord. People are honest, but there is no point to tempting them that way. Last week, I packed very light, so everything I had fit inside the helmet area under the seat – and that can be locked. However, I had packed too light and when it got cold and rainy, I wished I had long pants and a jacket and a sweatshirt. This time, I packed more naturally and had long pants and full rain gear and an umbrella with me. That meant it could no longer fit inside the helmet storage area. I think there is a simple solution though. I just need a light cable lock and I'll be able to lock the bag to the scooter.
I did a bit of scootering around the Houtong area before I left. I drove up the river to the Sandialing area. I believe there is a small town up there, but I didn't manage to find it. In any event, I was pretty tired and after a quick look around the area, I turned around and drove back out to the main highway – passing two more of those 4-wheeled carts ferrying the last generation of Houtong out and back on their errands.
[slickr-flickr tag="Houtong Coal-Mine Ecological Park" type="galleria" sort="date" direction="ascending" items="50″]
Tags: coal mine, ecological park, Houtong, Houtong Train Station, museum, Saturday November, scooter, Sunday November, Taiwan