Home » All, Taiwan, Wulai Trip
Wulai Weekend 002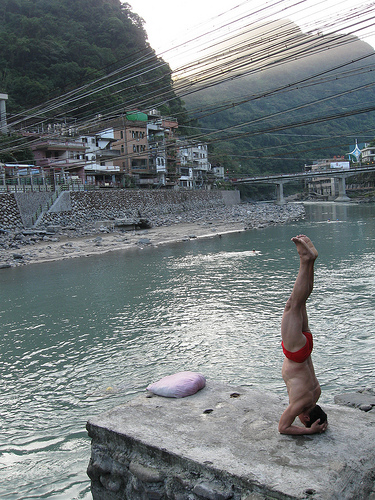 Sunday November 8
Well, it's Sunday morning and my sojourn in Wulai is almost at an end. I did not get in my 200 km of cycling, but I enjoyed this very much. The hordes were out in full force yesterday evening, and after my train ride, I wandered about the place just absorbing the atmosphere. It's nice to be in a place where you don't have to scream to be heard above the roar of scooter traffic.
My big adventure, if you can call it that, was taking a hot spring bath. When I had checked into my room, the fellow told me that in order to get the real spring water, I had to inform the front desk. I didn't know why this was the case, but at some point, I wandered up to the desk (it's on the fifth floor) and spoke to the woman there. It took some time to get across what I wanted – a task made more complicated by my not knowing exactly why I had to tell the front desk. I figured all I had to do was turn on the tap in my room. However, the woman eventually got my meaning, and when she looked at me and said "Now?" I nodded my head. Yes, now. She then reached below the desk and did something down there. I assume she pushed a button or threw a switch. I thought this meant that when I got back to my room and I turned on the tap, hot water would come out. Imagine my surprise then, when I got back to my room and found that hot spring water was roaring out of the chute and plunging into the tub. I guess the whole system was automated. I worried that this torrent would continue and flood the whole room. There were many dials and buttons around the room and large signs giving instructions, but the instructions were all in Chinese, and I had no idea how to turn anything on or off. It seemed a problem, because the instructions were lengthy and seemed very serious. There was even a large red emergency button that was labelled "Reset." This implied that things could go so horribly wrong that you would need to reset the whole system to avert catastrophe.
I needn't have worried. The water poured into the tub until it reached the top and then it stopped. I guess they had the system all figured out. I then played around with the taps and I found that hot water would trickle out when I turned on my tap. However, it was just a trickle and would obviously have taken a very long time to fill that tub. That switch at the front desk somehow turned on an absolute waterfall that filled the tub in minutes.
I don't have a lot of experience with hot spring water, but I found this hot water to be the hottest I have ever experienced. I dipped a foot into the water and had the sensation that all the skin was being boiled off. I left my foot in for a few seconds, thinking that I would get used to it, but the pain just increased until I couldn't bear it anymore. I tried a few more times, going so far as to insert both legs in halfway up my calf. I couldn't leave them in for long, but even then when I pulled my legs out, they were both scalded a bright red. The water was far too hot, and I lay on the bed to read and have a cold beer and let the tub cool down a bit.
I waited for what seemed forever, but apparently that volume of water takes a great deal of time to cool down even a small amount. By the time it was cool enough for me to attempt it, I had lost all interest in the project. Still, I grabbed my book and lowered myself ever so slowly into the water. Even after all that time, I could just barely manage the pain of it. My whole body erupted in what I suppose were a type of goose bumps. My face burned with heat and I felt like I was going to pass out. Still, I stuck it out and tried to enjoy it. After all, I'd paid a lot of money for the privilege of this discomfort. I tried to focus on my book, but it was impossible. The heat became overwhelming. Sweat poured down my face, and I just gave up. I hopped out and took an ice-cold shower and restored my body temperature to something resembling normal. At least I'd tried.
I don't imagine that I will stay in Wulai very long today. I was up before dawn again and walking around the river and the town in the cool of the pre-dawn light. I returned to the hot spring area where dozens of the senior citizens were already doing all those crazy things that they do. I think I could return there every morning for a month and still be amazed at that scene. This morning, I was entertained by a Mr. Atlas type, who made it his business to do a very long headstand on a slab of concrete jutting out into the river. It was easy to find the scene amusing, but it was also impressive. I couldn't have done a headstand like that when I was in my teens let alone now. I also felt a smile play around my lips when I saw this older woman doing some stretching exercises at this bizarre homemade exercise apparatus. The apparatus and the contortions into which she threw her body were right out of the Spanish inquisition. It looked torturous not to mention silly. Who would do such a thing to themselves at 6:30 in the morning when they could be lying comfortably in bed (or scalding themselves in a tub of hot water)? Yet, I couldn't help but reflect that of all the senior citizens I hung out with in Sarnia when I was back in Canada, not a one could have come even close to bending over like that. In fact, I don't think many of them would have dared risk the stairs from the street down to the riverside.
I made what I think is a discovery while I was there this morning. I think I figured out why some of the women were in rubber scuba diving suits. I saw one woman in a scuba diving suit sitting on a platform of sorts. On top of the rubber suit, she had wrapped herself up in plastic sheets and then was pouring buckets of hot water over herself. I guessed that she was giving herself the sweat lodge treatment.
There isn't anything else I'd like to do in Wulai today, so I imagine that after breakfast and a suitable period of relaxing, I will load up the bike and begin cycling back to Taipei. I'm in no particular hurry to be drowning in that traffic and noise again, but I wouldn't mind hanging out at home for a little bit before the work week starts again. I wish I could simply get back on my bike and continue up the road to the next town and go exploring there. Still, I have the next weekend adventure. Perhaps I can attempt Nanfangao next weekend. I won't be able to cycle there and back if I have only a Saturday and a Sunday, but perhaps I can come up with a different approach. It would be nice to work out a routine where I can enjoy weekend trips of only Saturday and Sunday. I don't think I absolutely have to have a bicycle with me, but I think it would be nice. Then it would have to be a folding bicycle. With a folding bicycle, I could possibly take a train somewhere on a Friday night after work and a train back late on Sunday. The thing is that for me to enjoy a weekend, I have to wake up in a place and experience the morning knowing that I'm going to spend the night there, too. Perhaps it doesn't absolutely have to be that way, but I know that I find it hard to relax knowing that there is a journey ahead of me. The alternative is to go somewhere early Saturday morning. Then one gets to a town too early to check into a hotel. You're stuck with all your stuff all day without having a home base. Then you stay one night, and the next morning you have to check out knowing that at some point you have to head back to Taipei again. Perhaps it wouldn't be so terrible. If one packs light, then it wouldn't be a big problem to carry stuff around.
Much Later:
My trip back to Taipei was very uneventful. I hung out in Wuali for a bit and said goodbye to my Indonesian friend. Then I packed and hit the road along with what felt like every cyclist in Taiwan. Most of them were in their Tour de France outfits and riding super-light racing bikes. My giant mountain bike with all its pannier bags didn't fit in at all! The women I saw were particularly "out there." I assume they are worried about the effect of the sun on their skin, because they had literally covered their entire bodies. They wore kerchiefs under their helmets and then a complex arrangement of kerchiefs and bandanas that covered their entire face. Then their eyes were covered by sunglasses. They looked for all the world like they were about to rob a bank.
My big adventure on this return journey was taking the MRT! I wasn't looking forward to riding those 12 kilometers through Taipei traffic, and when I got to Xindian Station, I decided to check out how easy it would be just to take my bike on the MRT. I had never done that before, and I was pleasantly surprised at how easy it was. You simply have to buy a special ticket at the counter for NT$80. Then a man in a uniform opened the wide turnstile for me and even escorted me to the elevator. The elevator was more than large enough to accommodate my bike even with all the bags attached. Then it was a simple matter to roll my bike down the platform to the end and roll it into the subway car. You can only take bikes on and off the MRT at certain stations, but luckily one such station is Shuanglian – just one stop away from my home. It was a much more pleasant way of handling the urban jungle of Taipei, and I think on any future bike trips I take, I will do the same thing. There is no point subjecting yourself to the horrors of Taipei streets when there is no need to.
I ended up back in Taipei and back here at Rooftop much earlier than I had planned or expected. I had half-formed plans to track down anyone who wanted to go to a movie or play some pool, but I spent the rest of the day just hanging out. It took a long time to sort through the billions of pictures that I took and upload them to Flickr and Facebook. I watched some Firefly while I did that. And the rest of the day passed by pleasantly enough with laundry and other household chores.
It wasn't a bad weekend as far as weekend adventures go. The real test will be when I show up at work (in just a few hours now) and see how I feel. Will I feel refreshed and have a sense that a lot of time has passed, or will it feel like I just left my desk the day before and am back again? I can't say that I'm excited about the work week ahead.
Tags: bike, Cycling, hot springs, Taipei, Taiwan, Wulai Trip