Home » The Cycling Canadian
Welcome to My World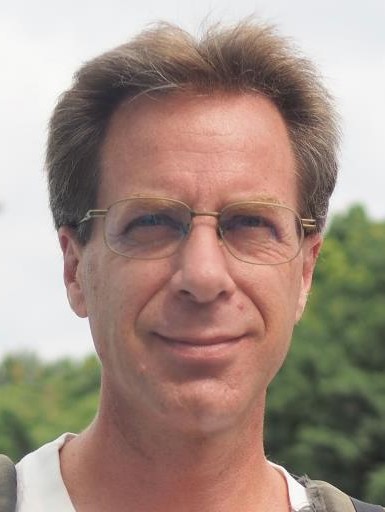 I admit it. This picture was taken a few years ago, but I think I still look vaguely like that. Depends on the day (and the time of day). And today, just before I uploaded this picture, an Indonesian English student told me how much she liked my nose. I heard that a lot in Indonesia. Apparently, a large nose like mine is a good thing. So I will stick with this picture and be proud of it.
The point of this post is to welcome you to my website and tell you what it is all about. Basically, the title says it all. I am from Canada, and I enjoy getting around by bicycle – with or without a touring load of pannier bags and/or a trailer. I've kept a journal my entire life, and I thought it made sense to put some of my ramblings online in the form of a blog. Same thing for photography and pictures. And maybe video, too, now that YouTube is taking over the known universe.
As much as I had high hopes for this blog at its inception, it hasn't turned out the way I'd hoped. I'll come right out and say it: this WordPress blog is a mess. WordPress hates me and has been torturing me ever since I made my first desperate forays into website hosting, domain names, HTML, CSS and all their evil progeny. So this blog isn't organized the way that I'd like. In fact, it's barely organized at all. But it is what it is. For now. I do hope to make it better someday.
Anyway, back to The Cycling Canadian website:
If you go to the Home Page and look below my picture (the one with the handsome nose), you'll see a list of blog posts. The one at the very top is the latest post. If I'm being diligent and updating this blog regularly, that post should you give you an idea of where I currently am and what I'm currently doing. The one below that is the previous post. And so on and so on in standard WordPress reverse chronological order. It's pretty straightforward. And if you open one of those posts and read to the end, you'll then be able to click on the arrows at the bottom to go to the Previous post or the Next post.
Now, let's go back to the Home Page and look to the right of my handsome nose. There, you can see a few other items in what they call a carousel in WordPress parlance. They may or may not be "carousellling" depending on how many are there. These are the completed journals I kept from past trips to Ethiopia, Guinea, Cambodia, and various places inside Taiwan and the Philippines.
At the top of the Home Page above the handsome nose, there is a menu system. This is another way to access all of of my old journals. Hovering over the "Trip Journals" item will open a dropdown menu of the places I've visited. The next menu item over will take you to photo galleries from these far flung places.  Finally, there is a list of links to my other social media sites, and a button that allows you to send me a message. I would love it if you did send me a message. I really, really would.
That leaves the strange but colorful menu bar running across the Home Page. The items here should be self-explanatory  (and they'll likely change from time to time). For now, the first item is Blog Blog Blog. Clicking on this will call up the most recent five or ten blog posts from my journal. The second item is currently unassigned. And the final three are Travel Tips & Hacks, Photo Galleries, and Gear Reviews. Someday, there might be hundreds of fascinating posts to be found here. I'm still working things out.  As far as me and WordPress goes, I count it a win if the website actually loads and doesn't just return a bewildering series of 404 errors. Anything beyond that is gravy.
I'm sure none of this makes any logical sense. The problem is that the WordPress theme I'm using is what they call a magazine-style theme, and I'm using it as a blogging platform. And for it to do even the simplest of things (such as put my journals in actual chronological order), I had to use a wild and wonderful set of plugins that all have different fonts and color palates and styles. And they all conflict with each other and produce endless bugs and glitches. So the whole thing is a mess. Sorry about  that. It's the best I can do for now.
Having said all that, Welcome to The Cycling Canadian. Click on a button or two and see what happens. Life's an adventure. Why shouldn't my blog be one, too?
(PS: If you are reading this on a phone or other mobile device, forget everything I said. None of this applies. Just scroll down. You'll find stuff. And that little box with the three white lines at the top opens up the main menu.)