Home » All
The Trangia Camp Stove and the New Multi-fuel Burner X2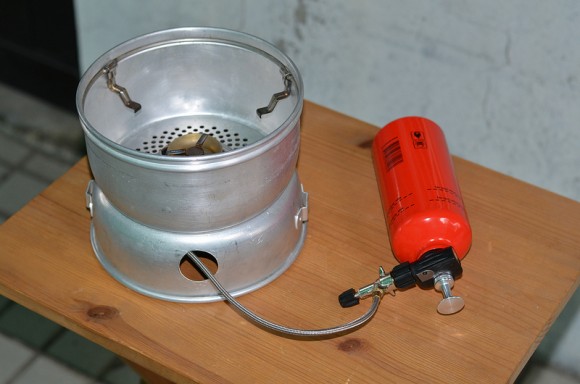 I want to talk camp stoves. My favorite stove – and almost the only one I've ever used – is the Trangia. The Trangia is a unique stove out of Sweden that uses alcohol as a fuel. It's not terribly well-known in North America, I don't think. For a North American to understand this stove, you just have to think fondue. It's pretty much like a sophisticated fondue cooker – you fill an open container with some kind of alcohol and then light it. The surface of the alcohol ignites and burns. You put it out by dropping a metal cover over the container. That's all there is to it.
This simplicity is the great appeal of the Trangia. There is no pumping, no priming, no residue, and, perhaps best of all, no noise. In fact, the flame is totally silent and often invisible. You can't even tell if the stove is lit half the time. Compare that to most other camp stoves. With most of them, you have to move ten feet away in order to have a normal conversation – the roar of the jet of flame can be that loud.
The genius of the Trangia is the windscreen. Alcohol burners, by their very nature, put out less heat than one of the standard camp stoves. But the Trangia has a very clever and efficient design in which the burner sits inside a wide base. All of the heat it produces is delivered directly to the pot, which nests fully inside a wind screen that sits on top of the base. This construction is not only efficient, but also very stable. You don't have to worry about knocking the pot and stove over, as you do with other stoves.
As much as I love the Trangia, I have to admit that it is something of a niche product. You're likely not going to bring this stove out for winter camping when you need to melt a ton of snow to get drinking water. It's also perhaps not great for very long trips, because I think you need more fuel than you would for a regular type of stove that uses white gas. I'm certainly no expert on any of this, so I can't supply figures of any kind.
Fuel availability also makes the Trangia a bit of a specialty stove. Different countries use different names for alcohol-based fuels. In most places, alcohol is not even considered cooking fuel. It is generally used for something else, and you might have to track it down in pharmacies, gas stations, paint stores, hardware stores, and other places. In large parts of the world, you might not be able to find alcohol for cooking at all.
For that reason, Trangia now produces a regular type of burner that fits into the Trangia windscreen – the Multi-fuel Burner X2. The addition of this burner gives you the best of all worlds. You can use the Trangia set to cook with alcohol when it is available. When it's not, you can use the new burner, which burns a complete range of fuels: white gas, kerosene, gasoline, diesel, aviation fuel, you name it. You can even use regular butane/propane tanks with this unit. The burner attachment will screw onto either the fuel bottle or onto a butane/propane canister.
It is a bit hard to track down information about the Multi-fuel Burner X2, but from everything I've read, it is a combination of the Primus MultiFuel EX and the Primus Omnifuel. It is meant to be used in the larger 25-series Trangia set. I don't know if it is true in practice, but Trangia believes it puts out too much heat for the smaller 27-series sets.
When you buy the Multi-fuel Burner X2, you get the burner, the pump. a .6-liter fuel bottle, a service key (tool), a .32mm jet for white gas, gasoline (petrol), and butane/propane tanks, a .28mm jet for kerosene and diesel, and a storage pouch with a drawstring. You do NOT get the Trangia windscreen and pots. That has to be purchased separately.
Note that this burner is different from the previous model of the Trangia Multi-Fuel, which was based on an Optimus Nova and came with only one jet. This newer Trangia Multi-Fuel Burner X2 has the product code 750001. Many companies (particularly in the UK, I found) are still selling the older version. It has a product code of 780001.
Photographs of this stove that I've found online are somewhat misleading in two respects. This stove does NOT have a second simmer control valve. It only has the single fuel flow valve – the one that you see on the assembly attached to the fuel bottle. There is no second simmer control valve. Therefore, this stove does not actually match up with the two holes that are drilled into the Trangia windscreen. Those two holes were designed to accommodate the older Trangia Multi-Fuel Burner. The large hole was meant to accommodate the simmer control valve. The small hole was for the fuel line.
This new Trangia Multi-Fuel Burner X2 does NOT require two holes. It only requires one hole in the windshield for the fuel line. Product photographs show this fuel line going through the small hole in the windshield. That, however, is not accurate. The assembly on the fuel line is much too large to fit through that smaller hole. It has to be fed through the larger hole. I know this is confusing. It confused me for a long time. Anyway, this stove requires only one hole in the windshield, but it requires a larger hole. The fuel line won't fit through that small hole as illustrated in the product photographs. Even the box that my Trangia Multi-Fuel Burner X2 came in has inaccurate photos on it.
I haven't used this new Multi-Fuel Burner X2 on any camping trips, but I have tested it. I've tested it with a butane/propane cartridge and it worked beautifully. You do have to get the flow of gas just right for it to light and then stay lit. Turn it up too high, and the flow of gas blows out the flame. Turn it too low, and it just goes out. But with a bit of practice, it's not hard to do. And it burns great. I also tested the stove with white gas using the fuel bottle and pump. It primed and lit beautifully and then burned great. It did not overheat the windshield at all, so I have a lot of confidence in this stove. It remains to be seen how it works with heavier and dirtier fuels like kerosene.
I have a bunch of pictures of the Trangia system on Flicker here.
Tags: burned, Burner X2, Multi-fuel Burner X2, Optimus Nova, Sweden, Trangia, Trangia Multi, Trangia Multi Fuel, Trangia Set