Home » All, Philippines, Philippines Bike Trip 2013
Heading to Siquijor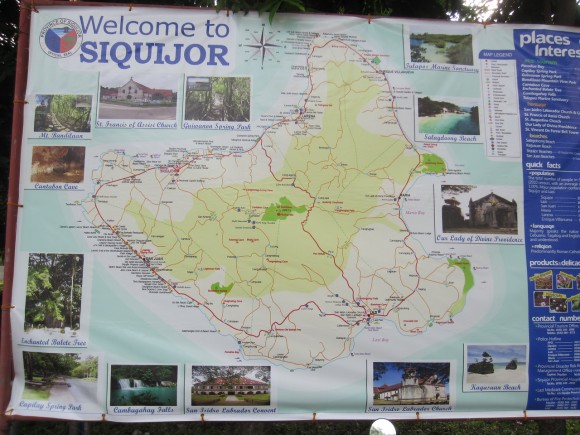 Monday September 8, 2014
12:50 p.m. Dumaguette, Negros
I have a bit of time to kill before my boat to the island of Siquijor. So I fired up the NEO. Not sure if I have anything to say, but let's see…
I didn't do very much after my morning of swimming with the whale sharks. I did some roaming around Oslob and a bit of photography along the shore when the tide went out. But that's about it. No adventures that I can recall.
This morning, I woke up fairly early and after a brief struggle with fatigue, got on the bike and set off fully loaded with all my gear. The skies were very overcast, and I was very tempted to stay in Oslob another day and enjoy my inexpensive oceanside home, but I fought off the urge and once I had fully woken up, I found the energy to pack up the bicycle and head down the road.
Heading south, I passed by the whale shark watching place after about eight kilometers, and I pulled in just to check out the atmosphere. I was curious how it would look on a Monday morning as opposed to a weekend morning. Surprisingly, the place was hopping. There were, if anything, more people there than there had been on Sunday. I saw a few more white people, including the chunky fatso types. One woman in particular caught my eye. She was in her late twenties, I would guess, and really, really fat. Yet, she had the courage to wear the tiniest of string bikinis. It was a scary sight, let me tell you. I suppose if you're that fat, wearing a full one-piece swimsuit would only serve to emphasize the fat. But that tiny bikini left nothing to the imagination and all the rolls of fat were on display and very scary. Other than the fat tourists, there was little else of note going on. The shuttle buses from the resorts were arriving every few minutes with a fresh load of people. I noticed that they weren't run through the system exactly as I was. They had to get an orientation, but they didn't need to register or even pay. I assume they did that in advance through the resort and payment was done in bulk through them. I also noticed that when full boats returned from the whale shark interaction area, a person from each boat would often hand the boatmen a tip. This might be a clue as to why I was treated with such disdain and even had my time with the whale sharks cut short. I was clearly not of the tipping variety, and the faster the boatmen can bring tourists in and out, the more trips they can make in a day, and the greater their chances of making tips. Then again, the theory is that great service results in great tips. From that point of view, my boatmen failed miserably.
From Tanawan, the road continued in a pleasant rolling sort of way. I made three brief efforts to chat with people and get some information about things I was seeing, but it was hopeless. We speak the same language – English – but that didn't seem to help much when it came to actually communicating anything. I stopped for lunch in a little roadside eatery and had quite a substantial meal for exactly twenty-seven pesos. It's numbers like that that make the cost of the whale shark tour so difficult to swallow for me. A full satisfying meal cost me twenty-seven pesos. That means the whale shark tour at 1,000 pesos cost the equivalent in purchasing power of over 350 meals. That's kind of crazy. Not a good value. But, of course, it's not like I could just go down the street and take in the next whale shark tour at a cheaper price. Twenty restaurants fill every village, but I think Tanawan/Oslob is the only whale shark tour place of its kind in the country. One can go on a whale shark tour in Legazpi, but the chances of seeing just one whale shark are slim. When I first got here, there were no whale sharks at all at Legazpi. At Tanawan/Oslob, you are guaranteed a sighting and might even encounter large numbers of them – as I did. I can't make an accurate guess of how many whale sharks were actually present when I was in the water. They were swimming around, and they don't exactly come with name tags. So I could have been running into the same six whale sharks over and over again, or there could have been thirty or forty of them there. I have no idea. An educated guess would put the number at a dozen.
My goal for the morning was to reach the southernmost tip of Cebu and take a boat from there to the neighboring island of Negros. I only had the vaguest idea of how this was done, but I figured it would come clear in the end. This is one of the questions I asked people from time to time. In Tanawan, in fact, I turned in at a small building with a large "Tourist Information" sign out front. As with many things in the Philippines, the energy to actually do anything came and went with putting up the sign. Once the sign was up, they figured their job was done. Actually having information to dispense to tourists or even having a person present to dispense information seemed unimportant. Once the "Tourist Information" sign was hanging up, people congratulated themselves on a job well done and went home. But after asking a number of people along the way, I learned that the boats left from a little place called Liloan and not from the town Santander that was marked on my map. In retrospect, the conversations I had with people were interesting. The best I got out of anyone was that there were pump boats and fast ferries going from Cebu to Negros. And a pump boat was my best option. This was according to the educated man I met at my lodge in Oslob. (I learned later on that he was a doctor.) Even when I arrived in Liloan, I could get no information or accurate directions. One guy told me to continue down the main road and go to a ticketing office in some downtown district. Another guy said I just had to ride down this other road that goes to the coast. The interesting thing is that I was getting this information from people that had lived their entire lives in Liloan and had likely taken these pump boats and ferries many times. How could they not be better informed?
I have now been to Liloan one time and taken a boat from there to Negros just one time, and I could give far more accurate information if someone asked me. If someone did ask me, I'd say, "There are many boats every day going from Cebu to the island of Negros. They all leave from a small harbor at the village of Liloan. Liloan is four or five kilometers south of Santander. There is a large sign indicating the way from the national highway to the harbor and boats to Negros. Just turn down that road and follow it for about 500 meters. That will take you to the harbor. You've got three basic options when it comes to boats: First, there is a large vehicle ferry or barge that carries buses, cars, trucks, motorcycles and passengers. It goes twice a day and is very slow. Second, there are also basic pump boats. These are much cheaper – about thirty-five pesos per person plus an eight-peso wharf fee – and leave about every hour all day long. Finally, there are fast passenger ferries. These are enclosed air conditioned fast boats and leave three or four times a day. The key is that these three types of boat leave from three entirely separate docks. The large vehicle barge leaves from the first dock, and the pump boats depart from the second dock. These two docks are in sight of one another. The fast ferries depart from a third dock located a few hundred meters along the coast past some beach resorts. Decide which type of boat you prefer, go to the appropriate dock, and buy a ticket. The boats dock on Negros at the town of Sibulan. Sibulan is roughly six kilometers away from downtown Dumaguette. There is no real division between the two towns in that once you arrive in Sibulan, you are already in urban sprawl and that continues all the way to Dumaguette. The boat trip itself takes about thirty minutes by pump boat and likely a bit slower by barge and a bit faster by fast ferry."
Not bad for a foreigner, right? I could even go on about prices and how you buy a ticket and what the terminal fees are and how much it costs to bring a bicycle on the pump boats. I know tons of things about it, and I've only been there once in my life. How is it that not one single local person I spoke with could tell me even one fact about the boats and the harbor? Very strange.
Anyway, it was very painless all things considered. I rode my bike to the three different docks and got the lowdown on each option. The pump boat seemed to be the best option as it was the cheapest and the best in terms of loading a bicycle. There is no convenient way to put a bicycle on the fast ferries, as I've learned. With a pump boat, anything goes. If you can carry it or roll it along the gangplank, anything can be loaded up. My ticket cost thirty-five pesos plus an eight-peso dock fee plus fifty pesos for the bicycle. It was a regular type of pump boat and carried about seventy people plus their luggage. There was no way to roll my bike up the gangplank, so I simply removed all the bags and some guys from the boat carried them onboard for me. Then I rolled the bike onboard, and we lashed it to a structural pole on the deck. Very simple and not stressful at all. The trip took perhaps thirty minutes and unloading the bike at the other end in Sibulan was also very simple.
Sibulan, as I said, is about six kilometers from the large city of Dumaguete. I had heard much about how beautiful Dumaguete was and what a wonderful place it was – full of wide boulevards and parks and flowers. Well, that may be true, but I saw none of that. It looked much the same as any other city I've spent time in – busy and industrial and commercial and full of traffic and noise. I didn't know what I would do once I got to Negros. My choices were between 1) riding north and going around the coast of Negros in a big circle, 2) staying in Dumaguete for a bit and then riding along the south and southwest coast, and 3) going to the island of Siquijor. My first impressions of Negros were not favorable. I was hoping that it would be quiet and green and rural and somewhat undeveloped. But from what I could tell, riding the coast around Negros would be little different from riding along the coast of Cebu – relatively pleasant but always very busy and very developed and full of buses and trucks blowing their horns. The second I hit the shore, I made up my mind that I didn't want to ride around Negros – at least not right away. It would offer little that I hadn't already experienced. That left me with the option of going to Siquijor. Siquijor is a very small island and hopefully it is serene and undeveloped. It is on the tourist and backpacker trail, but perhaps not overly so. I'm hoping that I can spend a few days there lounging on beautiful beaches and going on snorkeling trips while riding my bike all over the island. It all depends on finding a cheap place to stay. I don't know if I'd call it ironic, but it's interesting that the very first place I went in the Philippines was the best place I've been by far. Yet, I didn't know it at the time. That was the island of Catanduanes. I went there from Legazpi just as a kind of throwaway trip – a trip to test out the bike and shake out the gear and see how things were working before going back to Legazpi and getting reorganized for what I thought would be the beginning of my real trip. I didn't really appreciate Catanduanes at the time because I didn't know anything about the place beforehand. Truth be told, I could have spent two months on Catanduanes and then flown out of the Philippines from Legazpi and been fine. I wouldn't have missed anything by not cycling through Bicol, Sorsogon, Leyte, Samar, Biliran, Cebu, and now Negros. Once you get the lay of the land and what the food is like and the culture is like, and you see a beautiful, remote place like Catanduanes, you really don't need to see any more. The exception to that might be Samar. For a cyclist, Samar was very nice. Knowing what I know now, I would still have landed in Legazpi (that was a rare wise decision), but then I'd have gone to Catanduanes and spent more time there and then explored Samar and then flown out of Legazpi to another country. I really didn't need to go anywhere else. Of course, that also means I would have not been present in Tacloban for super typhoon Yolanda. My perspective on the typhoon is obviously a weird one. It was a terrible thing, and one would normally want to avoid terrible things. However, there is no question that that experience is the one thing that I will truly take with me from the Philippines. It was the most dramatic and interesting series of events of my life.
Tags: bike, Philippines Bike Trip 2013