Home » All, JOURNAL: Blog Blog, Sumatra, Sumatra Part 02
Getting a 30-Day Tourist Visa Extension in Indonesia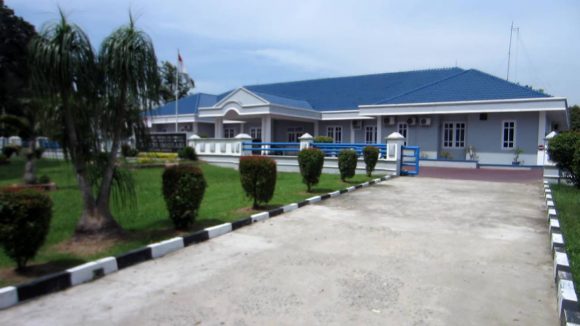 I'm no expert in the process of getting Indonesian tourist visas and visa extensions, but I thought I'd share my most recent experience in case it might help someone else go through the process.( I don't know anything about the 30-day visa on arrival. The following applies only to the 60-day tourist visa.)
Here are the brief facts:
I got a 60-day tourist visa at the Indonesian consulate in Penang, Malaysia.
one application form
one photo
copy of your ticket out of Indonesia
a fee of 190 ringgit ($46 US or 41 euro)
a valid passport (must have 6 months validity from the date you enter Indonesia)
photocopy of your passport's information page
took 2 days – dropped off my passport in the morning and picked it up the next morning
A 60-day tourist visa can be extended inside Indonesia 4 times for 30 days each time. To get the extensions, you must go to a Kelas I or a Kelas II immigration office. There is a list of these offices at this website: http://www.imigrasi.go.id/index.php/en/contact-us/immigration-offices
Requirements for a 30-day visa extension:
letter(s) from a local sponsor with government tax stamp and signature (see sample letters below)
copy of sponsor's ID – front and back (address of sponsor must be in the immigration office's region)
2 application forms (filled out in black ink)
fee of 355,000 rupiah ($27 US or 24.5 euro)
your passport
photocopy of your passport's information page
for first extension only, they will take your picture and your fingerprints at the immigration office (you do not need to supply a picture)
the immigration officer may or may not call your sponsor and/or request a face-to-face interview
processing time varies from overnight to 8 days or even longer; depends on the office
exact procedures and requirements can vary greatly from office to office, so check with the immigration office
Those are the brief facts. If you are interested in the full story with all the gory details, read on:
I arrived in Sumatra with a 60-day tourist visa that I got in advance at the Indonesian consulate in Penang, Malaysia. That visa was quite painless to get and required only the standard application form, a photo, a copy of my passport, a copy of my ticket out of Indonesia, and the fee of 190 ringgit (about $46 US). I dropped off my application in the morning and picked up my passport with the visa the next day. The visa itself was not a stamp but a large sticker that took up a full page of my passport. This visa had a 90-day expiry period, so I had to enter Indonesia within 90 days of the date the visa was issued.
To get to Indonesia, I took a ferry from Port Klang, Malaysia, (just outside of Kuala Lumpur) to Tanjungbalai in Sumatra. At this small port, they cannot issue a visa on arival (VOA), so you must have a visa in your passport beforehand. When my 60-day visa was nearing its end, I went to the immigration office in the city of Pematang Siantar in Sumatra to apply for a 30-day extension. You can do this four times for a total of 180 days per visa – the original 60 days + 30 + 30 + 30 + 30. Your first extension is a bit more involved than the remaining three. I think they look a bit harder at your sponsor and your paperwork, and they take your photograph and fingerprints. They don't have to do that for the other 3 extensions.
There are quite a few immigration offices scattered around Indonesia, so you are never very far away from one. There is a comprehensive list of immigration offices online here:
http://www.imigrasi.go.id/index.php/en/contact-us/immigration-offices
They are divided into three classes: Kelas I, Kelas II, and Kelas III. You can get a visa extension at a Kelas I or a Kelas II office, but I don't believe Kelas III offices have the power to issue visa extensions. The immigration office in Pematang Siantar is a Kelas II office.
To qualify for a visa extension, you need a local sponsor. The rules and procedures for this seem to vary from office to office, but the basic idea is that your sponsor must provide a copy of their ID and an official letter (with a government tax stamp and signature). In my case, I had to provide two letters. The first was simply a request from my sponsor asking the immigration office to allow me to stay in Indonesia. It doesn't say anything specifically about extending my current visa, but that's the meaning, I guess. The second stated that my sponsor vouched for me and would take responsibility for me while I was in Indonesia. I don't know how serious this is or how far this responsibility extends. Are they financially responsible? Could they be held accountable for me legally? I don't know, but the language in the sample letters I was given was strong enough that local people balked at signing them and being my sponsor. Who, after all, wants to take financial and legal responsibility for a relative stranger?
I assumed originally that being a sponsor was simply a matter of filling out a form and signing it. However, there is no such form. The sponsor has to sign a letter or letters that you print out yourself. I wasn't able to find the wording for this letter online, and I asked the immigration office to provide me with a sample to copy. They gave me two letters as a sample, and I copied the wording.
This is the full text of the sample sponsorship letters that were provided for me to copy:
Letter 1:
---
Pematangsiantar, 29 September 2016
Kepada : Bapak Kepala Kantor Imigrasi Pematangsiantar
Dengan hormat,
Saya yang bertanda tangan dibawah ini memohon kepada Bapak Kepala Kantor Imigrasi Pematangsiantar agar dapat memberikan Perpanjangaan Izin tinggal Kunjungan kepada Teman saya dengan identitas sebagai berikut :
Nama :                                        (applicant's name)
Tempat, Tanggal lahir :             (applicant's place and date of birth
No. Paspor :                               (applicant's passport number)
Pekerjaan :                                (applicant's occupation
Alamat di Indonesia :                (applicant's address in Indonesia)
Demikian surat permohonan ini saya perbuat dan sampaikan. Besar harapan saya, bapak dapat memenuhi permohonan saya ini. Atas perhatiannya saya ucapkan terima kasih.
Hormat Saya
(government tax stamp + sponsor signature)
(Name of sponsor)
Letter 1 Picture: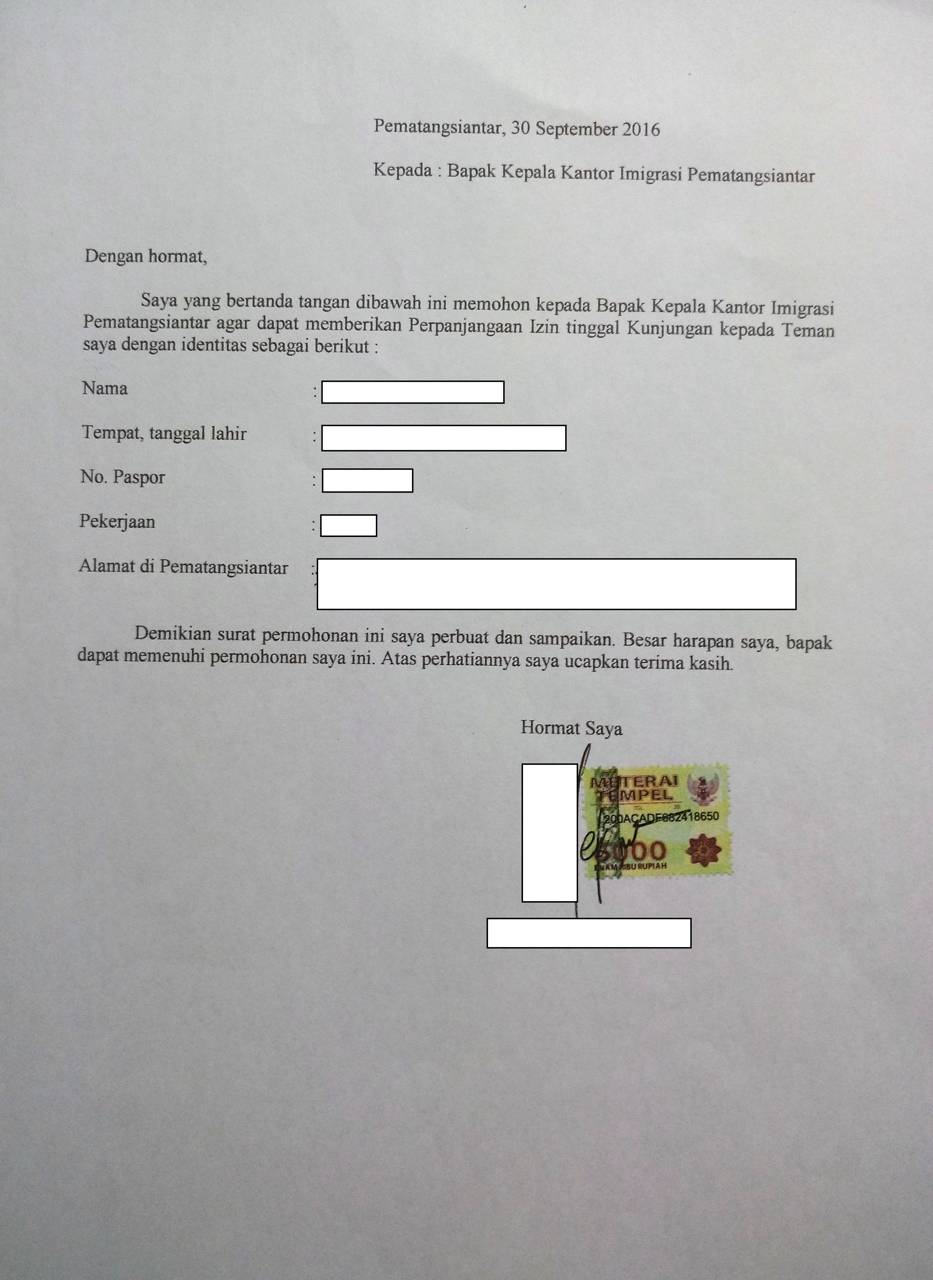 Letter 1 Translation (from Google Translate):
With respect,
I the undersigned have appealed to Mr Pematangsiantar Head of Immigration Office in order to provide Permission Perpanjangaan stay to visit my friend with his identity as follows:
Similarly to this request I do and say. I hope, my father can fulfill this request. Thank you for your attention.
Letter 2:
---
SURAT JAMINAN SPONSOR
Saya yang bertanda tangan dibawah ini :
Nama :                                     (name of sponsor)
Tempat, Tanggal lahir :           (place and date of birth of sponsor)
Nomor KTP :                            (ID card number of sponsor)
Pekerjaan :                              (occupation of sponsor)
Alamat Domisili :                    (home address of sponsor)
Alamat sesuai KTP :              (address as shown on ID card of sponsor)
Dengan ini menyatakan menjamin sepenuhnya keberadaan Teman saya selama berada di Indonesia dengan identitas sebagai berikut :
Nama :                                      (applicant's name)
Tempat, Tanggal lahir :           (applicant's place and date of birth
No. Paspor :                             (applicant's passport number)
Pekerjaan :                               (applicant's occupation
Alamat di Indonesia :              (applicant's address in Indonesia)
Demikian Surat Jaminan ini saya perbuat dan sampaikan. Atas perhatiannya, saya ucapkan terima kasih.
Pematangsiantar, 29 September 2016
Hormat saya,
(government tax stamp + sponsor signature)
(Name of sponsor)
Letter 2 Picture:
Letter 2 Translation (from Google Translate):
Sponsor Letter Guarantee
I, the undersigned below,
Hereby declare fully guarantee the presence of my friend while in Indonesia with the identity as follows.
Thus this Security I do and say. Thank you for your attention.
---
Note that you have to change the name of the immigration office in the letters as well as insert your information (applicant) and that of your sponsor.
Also, you should ask the immigration office that you visit for samples of the sponsor letter or letters that THEY require. These sample letters are what I was asked to produce. But other immigration offices might require just one letter or different wording. Best to ask to make sure. 
Your sponsor also has to reside in the region where the immigration office is located, and their ID has to list an address reflecting this. This can also be an area of shifting rules and confusion. On this visit to the Pematang Siantar immigration office, my application was rejected because they said I had to apply at the immigration office nearest my port of entry into the country. This is absolute nonsense, and I don't believe any such rule exists. Tourists, by definition, travel around. It would be unreasonable to expect every tourist to return to the city where they arrived in Indonesia to apply for a visa extension. They could have moved thousands of kilometers away from their port of entry by then. I had a long discussion with the immigration officer about this. He kept insisting on this rule, but then suddenly the rule vanished and it was never brought up again.
After that, however, my application was rejected because my sponsor did not live in the city of Siantar. She lived in the nearby city of Kisaran. The frustrating thing is that I had done this before, and it had been fine back then. On my previous visit to Sumatra, I had had the exact same sponsor, gone to this exact same immigration office and dealt with the exact same immigration officer. Everything was approved, and my sponsor was accepted. But this time, despite having the identical sponsor, she was rejected because of her address. I stated my case, and the immigration officer called my sponsor on the phone and they had a long conversation, but nothing changed. My application was rejected, and I was told that I had to have a sponsor who lived in Siantar.
Finding a new sponsor wasn't the easiest thing to do. Few tourists visit this city, and there are no agents such as there are in places like Bali. I knew almost no one, and I couldn't exactly walk up to strangers on the street and ask them to sponsor me. However, I did have a friend who worked at a local bank. He was willing to be my sponsor. The problem was that even though he lived in Siantar and worked in Siantar, his ID listed an address in Jakarta. That's where he was born. Then he'd moved to Siantar. However, he was my only friend, and I went to the immigration office with his personal information to see if he would be acceptable. After all, he fit the spirit of the law in that he was a Siantar resident. There was just the minor glitch that his official ID still listed Jakarta. I thought it would be sufficient if he photocopied his ID but then wrote down his address in Siantar and signed that, etc. The immigration officer was not impressed with my argument. He did call my friend and have a long conversation with him, but he concluded that my friend was not qualified to be my sponsor. Back to square one.
After a lot of adventures that I won't go into, I finally found a new local sponsor. And this sponsor was a very official person with a Siantar address on her ID card. I changed all the information on my sponsor letters and printed them out again and got new tax stamps. These stamps, by the way, cost 6,000 rupiah each. You can get them at almost any stationery store or photocopy place. Every document has to have one of these stamps in the signature area and the sponsor has to sign on top of the stamp. Armed with all my new documents, I got back on my bicycle and rode the ten kilometers out of town to the Siantar immigration office once more.
This is what the tax stamp looks like. It looks exactly like a postage stamp, and it even comes in sheets and has a sticky gum on the back.You just lick them and stick them on the forms in the signature area, and the sponsor signs over top of them like a seal. They cost 6,000 rupiah each, which is about 45 cents US. I needed two, but I bought six just in case we made mistakes on the letters and I needed extra ones. That's always a good policy, and I ended up needing the extra ones.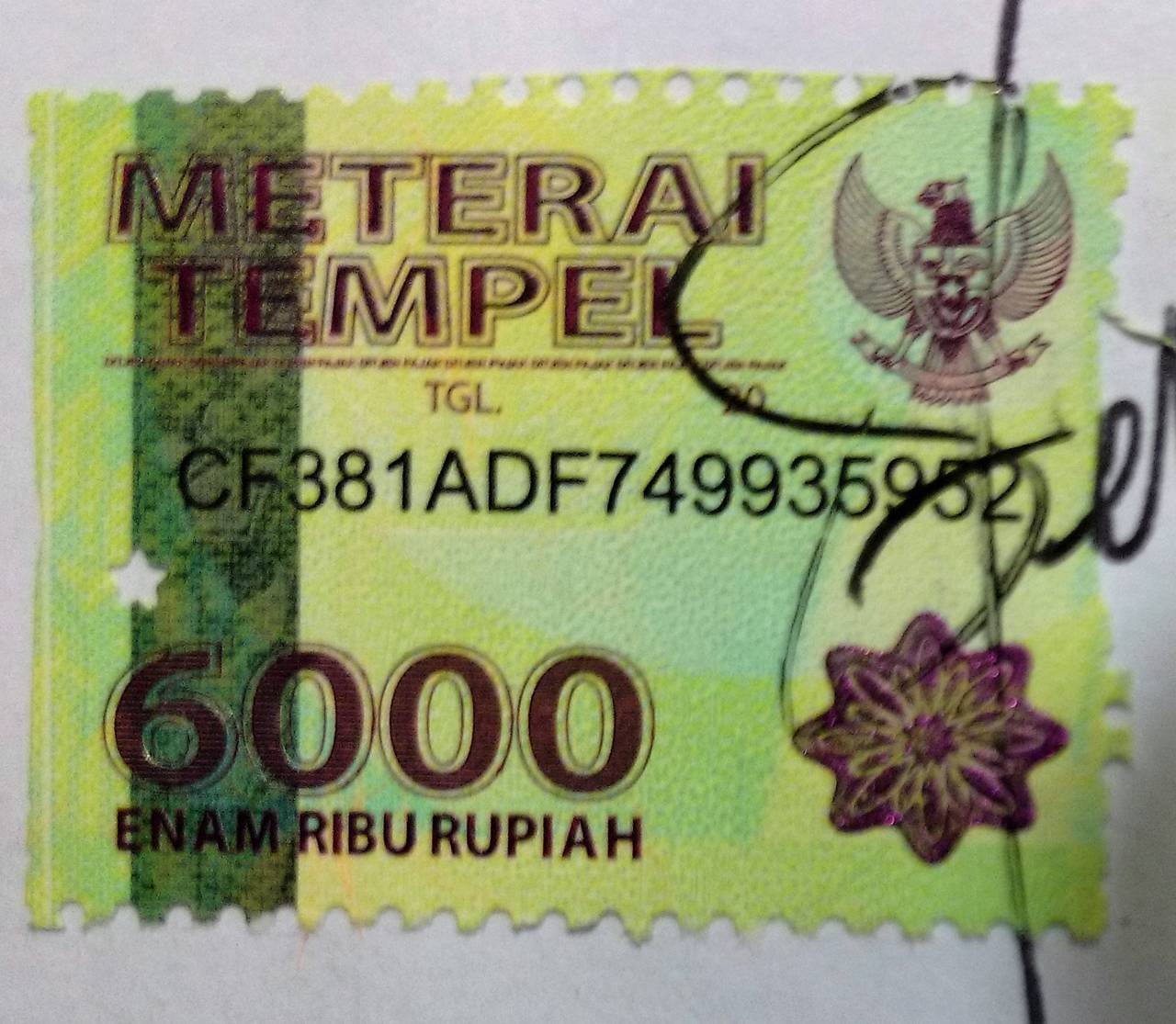 An interesting quirk to be aware of is that immigration offices all seem to be located quite far from the city center. I assume this was done to save on rent and allow them to have a larger space for the same amount of money. Whatever the reason, it means that they aren't very easy to get to. If you don't have your own transportation, the cost of going back and forth as you track down all the papers you need can really start to add up. It didn't cost me anything because I was using a bicycle, but I paid a price in sweat and nearly being killed by about a thousand trucks.
I hoped for some kind of smile or greeting or human response from the immigration officer as I finally presented documents from a qualified sponsor (and not just any sponsor but one with some local juice). But I was disappointed. Not even the hint of a smile. I also thought my very official sponsor would speed the process along, but it was not to be. My papers were gone over with a fine-toothed comb. Then the officer called my new sponsor on the phone and proceeded to grill her for a solid fifteen minutes. I could not understand what he was saying, but he had a lot of questions.
When he hung up the phone, I assumed that we were all set and the application process could begin. But my hopes were dashed. The immigration officer said that I would have to return on the following Monday WITH my sponsor for personal interviews. Apparently, two signed official documents with government stamps, a photocopy of her ID, and a 15-minute phone conversation were not sufficient. They also required a face-to-face interview. I have no idea what questions he could ask that he hadn't already asked in the long phone conversation, but there was nothing I could do about it. He was the boss.
I was getting concerned because that Monday was the day my visa expired. If something went wrong on Monday, I'd be in trouble. It was a bit frustrating because I'd begun this process long in advance. There was plenty of time. But with all the rejected sponsors and other delays and now the weekend, the clock was ticking and my visa was winding down. I felt a little bit better when the application form itself was actually produced for me to fill out. That at least felt like I'd begun the process and perhaps the personal interviews on Monday would just be a formality.
The two forms I had to fill out were fairly standard, I suppose. They just asked for my name and passport details and my address in Indonesia and all the same information for my sponsor. I couldn't help but notice that every single piece of information I had to fill out was already contained in the two letters I had given them. So the form was redundant. I finished the first form and moved on to the second, and I saw that the second form asked for all the exact same information as the first! Exactly the same. I don't know why I had to write it all down twice, particularly as all the information was already in the letters, but that is how bureaucracies function around the world. The forms, by the way, had to be filled out with black ink. If you happen to have a pen with black ink, bring it along because the immigration office won't supply one.
On Monday morning, I got back on my bike and rode back to immigration for the interviews. I felt bad that my sponsor had to take time off work and make the long trip out there, but there was nothing I could do about it. Our interviews were scheduled for 10 a.m. We approached the counter at 10 a.m., but there were no immigration officers there. We were told that the department was having a meeting, and we would have to wait. So we sat down and waited in the spacious waiting area. Quite a bit of time passed, and my sponsor finally got up to to see what was going on. She was gone for just a few seconds, and then she waved at me and told me to come to the counter and pay the 355,000-rupiah fee (about $27 US). Apparently, because of the meeting, there would be no interviews. I paid the fee and that was that. I was told to return on Wednesday to pick up my passport. At no point did I have to sign anything, and I was given no receipt for the 355,000-rupiah fee.
On Wednesday morning, I was back on my bike and heading to immigration for the fifth and hopefully last time. (I'd ridden a total of 100 kilometers in trips back and forth by this point.) My impression was that I would just have to go up to the counter, and they would hand me my passport. However, my impression was wrong. First, they had to take my picture. This happens only on your first extension. They take your picture and your fingerprints. For the next three extensions (if you apply for them), they don't need to do this because the information will be in your official computer file in the national immigration website/database or whatever you call it.
The wrinkle here is that you can't just give them a photograph. Nor can they take your picture and then upload it to the system. No, what they have to do is log on to the national immigration database and open your file. They have a digital camera tethered to the computer, which automatically inserts the photo into your file. For this to work everything has to be perfect. The technological stars really have to align, and that is asking a lot. The computer and camera they used for foreigners is different from the ones they used for locals. I noticed that the Indonesians having their pictures taken for their passports were being processed like clockwork. They had three really nice photobooths in operation each with a white background and nice lights and working cameras on solid tripods. The computer and camera for foreigners was in a different place, and they led me to what appeared to be an old junk room. It was filled with broken computer equipment, dusty desks, and even a disused giant steel safe with the dial covered with electrical tape.
The computer was an old junker that seemed to be breathing its last. The camera was mounted precariously on a tripod with a broken leg. I was directed to sit down in a plastic chair in front of a big red background. And there I sat for a looooooooooong time as they tried to get the system to work. There were so many moving parts to this process that it could break down at multiple points. The computer had to boot up and they had to be able to log on to their own computer system. Then the Internet connection had to be working and they had to be able to load the national immigration website and then log on to the database. Then they had to maintain a stable connection between the camera and the database system long enough to record an image. If anything went wrong at any stage, the whole thing crashed and they had to shut everything down. They even had to turn off the computer and reboot it every time and go through the long process from scratch. After perhaps an hour and many crashes, they managed to get everything working. I could see my image on their computer screen in the immigration database. It was a live image, and now they had to crop it to get a head shot. Unfortunately, I was too tall and I wasn't lined up properly. So they tried to angle the camera upward. But because of the broken leg on the tripod, the whole thing tipped over, and by the time they got it straightened, they'd lost the Internet connection and the system crashed again.
After a very long time, my photo was successfully captured, and it was inserted into the database. Then I had to have my fingerprints taken. This was done with a little scanner that recorded one finger or thumb at a time and inserted it into the database into little squares. It took multiple tries with each finger to get it to record. Luckily, when this failed, it didn't crash the whole system as it did with the photograph. Then I was told to go outside and wait some more. Apparently, even though many days had passed, the actual process of applying for my visa extension had not really started. No one with any authority had looked at my documents or put a stamp in my passport. That couldn't happen until all the pieces of the puzzle were complete: application form, sponsorship letters, phone call, interviews, photograph, and fingerprints. I have no idea why they waited so long to take my picture and record my fingerprints. They could have done it at any point on my many, many visits to the immigration office. Would it not have made more sense to do that when I filled out the application form? Why do that on the day that I was scheduled to pick up my passport? That made no sense to me at all.
In any event, my completed application package was now making its up the ladder and through the chain of offices back there. It didn't take a terribly long time, though. I think I waited another hour and a half and then a young man approached me and said that my passport was ready. I went back to the counter and a woman handed it to me. I didn't have to sign anything. It was just sort of tossed in my direction like I'd bought a bag of peanuts. I checked the extension carefully and saw that I'd gotten the 30-day extension. In a handy twist, they didn't actually say it was for 30 days and leave you to calculate when it expired. The stamp had the expiry date right on it. I did some number crunching, and I realized that it began officially on the day after my original visa expired. My 60-day visa expired on October 3, and this extension dated from October 4. Unfortunately, because it took a few days to process, it was already a few days old. Instead of a 30-day extension, by the time I got it, it was really a 26-day extension.
A couple of additional notes: The immigration offices have a dress code, and this is prominently displayed on large signs. T-shirts, tank tops, flip-flops, shorts, and many other items are banned. They may or may not enforce these rules on the day you visit, but it's best to dress up as much as you can. I made sure to wear long pants, shoes and socks, and a collared shirt. The Indonesians visiting the office were all dressed quite nicely, and anyone with the typical foreigner backpacker look of a t-shirt, shorts, and flip-flops would stand out strongly and run the risk of being denied service and told to return with a more suitable wardrobe.
In the end, getting this 30-day visa extension was a lot of work. It consumed a lot of my thought and energy over a period of about 9 days including getting my original sponsorship papers completed (and then rejected), traveling to Siantar, and then going through the long process. It also felt disproportionately official and serious, as if I was running for public office instead of applying for a tourist visa. With the sponsor letters, online photographs and fingerprints, phone calls, and interviews, I felt closer to a criminal under investigation than a tourist trying to extend a holiday. Having said that, I appreciate that it is even possible at all. I'm well aware that to even be able to stay in Indonesia for up to 180 days on a single tourist visa is quite a privilege. For an Indonesian to visit Canada for that length of time would be extremely difficult and probably impossible. I imagine that for an Indonesian to get even a short tourist visa for Canada is much more difficult than what I went through here.
But considering the difficulty and the fact that the rules are entirely unpredictable and change from office to office and even from day to day, it's a toss-up whether it might be better in the long run to simply fly out of Indonesia and apply for a brand new 60-day tourist visa outside the country and then return. It would probably end up being more expensive, but at least it would be somewhat under your own control. And at the end, you get a full 60 days. That, for me, is the biggest problem with the 30-day extension. It can take so long to acquire that you use up one third of your extension just getting the extension. If the extension were for 60 days, then it would be worth the effort.
I suppose it also depends on your location. With some planning ahead, it is possible to fly from Medan to Penang round trip for as little as 600,00 rupiah (or about $50 US). Then you get your 60-day visa for 190 ringgit ($46 US). Even if your flight cost $100, you might still be coming out ahead because you can arrange things such that you fly out on the very last day of your 60-day visa and when you return with a new 60-day visa, you get a full 120 days in Indonesia doing the things you enjoy. And your visa run takes you to a pleasant place like Penang. Contrast that with spending as many as 18 days in a town like Siantar (spread over two visa extensions) as you process your visa extension applications. And much of this process is outside of your control. The downside to flying to Penang is that you are physically leaving and entering two countries, and who knows what could happen at those border crossings? You could be denied entry at any point. You just don't know.
Anywyay, that is my story, and hopefully this information can help someone else. If I knew everything I know now, I would probably have planned to fly to Penang to apply for a new visa instead of applying for a 30-day extension. It's just easier.
Tags: Indonesia, Sumatra, visa, visa extension