Home » All, JOURNAL: Blog Blog, Malaysia, Myanmar
JOURNAL: Flight from Mandalay to Kuala Lumpur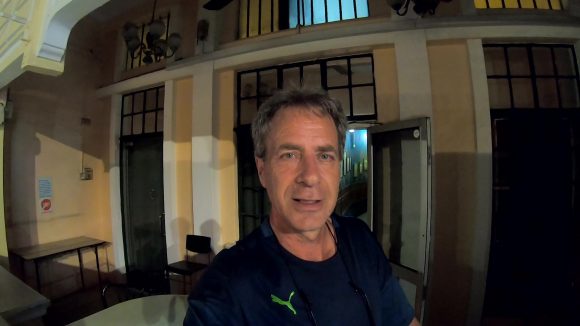 Wednesday, July 24, 2019
5:45 a.m. Room 2, Grocer's Inn
Kuala Lumpur, Malaysia
I've been back in Malaysia for a few days now. I flew here from Mandalay, Myanmar, by way of Bangkok. When I booked that flight, I was thinking that I would come back to Kuala Lumpur, reunite with my bicycle, go for a ride around Malaysia, and then move on to new pastures – perhaps as far as Egypt, or closer to home to Sri Lanka, maybe Turkey. I didn't have definite plans beyond Malaysia.
However, since I've been back in Kuala Lumpur, my mood has undergone a total shift, and now I'm pretty sure that once I get organized here, I'll be returning to Myanmar. Things just didn't work out on my first trip there. Most of the fault was mine. I just wasn't prepared for Myanmar. I did next to no research before I went, so I didn't know anything about the country beyond what everyone knows, and I had no plans for where to go once I got there. In my head, I was just thinking that I would do this research and this planning once I got there. And that turned out to be a big mistake.
A contributing factor was my new hobby of making YouTube videos. Nearly all of my time before my flight to Myanmar was spent learning how to use a new camera that I had purchased – a Panasonic G85 (which I now regret buying). And then, like a crazy person, just a week before my flight, I bought another camera – a GoPro Hero 7 Black. THAT turned into an epic affair as the GoPro I bought appeared to be defective. I returned it and got a replacement. THAT one appeared to be defective, too, and I returned it and got a third one. I was told by the Malaysian GoPro distributor that the problem was likely the firmware update. So with the third and final GoPro, I decided NOT to update the firmware, and despite some glitches, it has worked.
The result, though, was that I had spent all my time either on my cameras or making videos about these cameras. And I did no prep for Myanmar. I won't detail everything that happened in Myanmar. That would take the next several months. However, events came together in a strange way, and I wasn't very active. Things started with a splash with the Thingyan Water Festival. The preparations for the festival, the festival itself, and then working through the videos that I shot of the festival took up the first couple of weeks. I continued to have GoPro problems and my memory cards were wiped clean as I tried to transfer the video files to my computer. All the video was simply gone, and I spent two days attempting to recover the files using a variety of recovery programs. I was eventually successful, and then I put together a video record of my time at the festival.
Almost immediately after that, I became quite sick. It was just the typical stomach problems that plague me in every country I go to, but it just wouldn't go away. And when I finally recovered and could go outside and go exploring again, I got sick again – with the exact same thing. Before I knew it, my visa for Myanmar had expired, and I was forced to leave the country. I flew to Bangkok for a few days, spent some time recovering from my illness there, and then flew back to Yangon with a new visa only to get sick a third and then a fourth time. Mixed in with all of this was a heat wave beyond anything I'd ever experienced, constant power blackouts, unreliable and slow Internet, and a failing computer, all of which combined to double or triple the amount of time it took to do anything in the way of shooting and editing video.
I ended up having some interesting small adventures to wind up my time in Myanmar. These included a 20-hour train ride from Yangon to Bagan, during which I had an entire train car to myself, plus a 10-hour boat trip from Bagan to Mandalay when I had the entire boat to myself. Both trips were wonderful and I enjoyed every minute of them. Bagan was a revelation, and when I got there and rented e-bikes and went exploring, I started to feel like my old self. Soon, however, the paltry 28-day tourist visa was snapping at my heels, and I was forced to end my time in Mandalay and head to the airport for my flight to Kuala Lumpur.
I had booked a room ahead of time in Kuala Lumpur at the Grocer's Inn. This is a well-known backpacker's hostel in the heart of Chinatown inside a heritage building. The building itself oozes with history and is even listed on the tourist brochure/maps for Kuala Lumpur as one of the tourist sights in Kuala Lumpur to check out. I love the building and the decor and the overall atmosphere. At the same time, and in a surprising twist, staying at the Grocer's Inn was a huge step down in comfort level and value from Myanmar. For example, my last few nights in Mandalay were spent at a place called the Hotel Boss. My room was an actual hotel room with all the fancy trimmings: a big double bed with nice cotton sheets, real pillows, and a duvet, air conditioning, a private bathroom with hot water and free toiletries, a kettle, free water, free coffee, a big TV, a big window, nice views of Mandalay from five stories up, a nice rooftop restaurant serving a free breakfast buffet, a telephone, a desk, a chair, and even a fully-stocked minibar. On top of that, the hotel had tons of professional and helpful staff and they provided all kinds of services, such as arranging transportation to the airport. And this room cost 16,500 kyats a night, which is just $11 US.
By comparison, all the hostels and hotels I know about in Kuala Lumpur are kind of dumps. They're dives. The rooms are tiny. They're often not even rooms. They're closets with a mattress inside them. I'm not complaining about that. I'm quite happy in these dumpy dives. I've spent much of my life in them. But it begins to feel a bit weird to go directly from a 3-star hotel room for $11/night in one country to a dumpy tiny empty closet for $12/night in the next. You feel a bit like turning right around and going back to the place with the 3-star hotel.
The Grocer's Inn is nicer than most of the hostels I know in KL because it has a lot of character as a heritage building. But even the Grocer's Inn was a big step down in comfort and value and everything else from all the places I frequented in Myanmar. To be honest, almost everything was a step down. My arrival in Kuala Lumpur was pretty harsh.
For one thing, the arrival hall at KLIA2 was jammed. It was so crowded with so many budget flights landing at the same time that there were hundreds of people waiting to go through immigration. They couldn't even all fit inside the main hall, and the lineup snaked outside and zigzagged down the hallways. It was identical to the lineups you see for the popular roller coasters at big theme parks. The difference is that in theme parks, people are happy. In airports, people are stressed out and upset and nervous. So that was not a good omen for my arrival.
Things got worse when after about an hour and a half, I reached the front of the line and found myself in front of a grim-faced immigration officer. He didn't seem to like me very much, and he grilled me for a long time on exactly who I was and what I was planning to do in Malaysia. I suppose that's normal for immigration. Their job is to control who comes into their country and make sure that we are good people and we aren't doing anything bad. My problem is that my life is somewhat irregular, and I often don't have the simple answers that an immigration officer is looking for. So it seemed rather iffy whether I was even going to be allowed into Malaysia.
Eventually, the officer made up his mind that even though I was not quite the type of person he wanted to let into Malaysia (currently unemployed, flying in from Myanmar, babbling about some insane plans to ride a bike around the east coast of Malaysia), he would let me in, and I got my 90-day entry stamp. Unfortunately, I had been held up at immigration for so long that my luggage was gone. The luggage from my flight was supposed to be at Carousel 8, but when I went there, Carousel 8 was no longer operational, and there was no luggage there at all. I started to worry at that point because I realized how easy it would have been for anyone to just pick up my bag and walk out with it.
This is something that continues to puzzle me about airports. No one ever checks the luggage tags when you exit customs, so anyone could pick up any suitcase and just walk out with it. Who is going to stop you? And when my bag was nowhere to be found, I started to think about all the valuable and important items that were inside it. In keeping with my far-too-casual attitude in Myanmar in general, I hadn't really prepped for this flight. So I hadn't really sorted my gear, and my checked bag contained my portable hard drives, a very expensive camera lens, all of my flash drives, and a bunch of other important electronics. The problem is that if I put all of that into my carry-on bag along with my laptop and cameras, it is far heavier than the 7-kg limit. So I left it all in my checked bag to keep my knapsack light. But if someone had stolen my duffel bag, I was looking at a significant loss of money and video files and everything else. I had even packed the power adapter for my laptop in my checked bag. I had the laptop itself in my carry-on, but it was more convenient to check the power bar and cords. And now, maybe, it was all gone.
I looked everywhere in the baggage area to see if someone had simply taken my bag off the carousel and put it into a corner, or if my bag was on a different carousel just going around and around. But it was nowhere to be found. I then approached a man in uniform, hoping that he could help with luggage problems. He first did what I did. He looked everywhere around Carousel 8, all the other carousels, and the rest of the luggage claim area. He kept pointing at bags and asking me if they were mine. And they never were. He actually made me nervous because despite working in the luggage section of the airport, he didn't seem to have any better luggage-finding techniques or powers than I had.
Eventually, however, he stopped just walking around, and he got on his phone and started making calls and talking to people. He made quite a few calls, but he never turned to me with happy news, so I started to get even more worried. But then, he said "Come with me" and he started walking toward the far corner where I spotted a door into an office of some kind. I followed him, and we entered a rather large room with random bits of luggage arrayed across the floor. He walked just a few feet into the room, bent down and picked up a black Slazenger duffel bag, and said, "Is this yours?" To my utter relief, it WAS mine.
I was happy to have my bag back, but there were some funny sides to this story. For one thing, if this room existed, and this was where all unclaimed luggage went, why didn't he just go straight here when I first approached him? Why had he made all those phone calls? Who was he talking to? Wouldn't it have made more sense to go directly to this room? For another, after all of this drama, he never checked my luggage tag to match it with the tag on the duffel bag. He just took me at my word that this was my bag. It kind of makes sense. If I were some kind of criminal intent on stealing luggage, I hardly would have concocted such an elaborate scheme to get a bag from the lost luggage room. I'd just have grabbed a fancy-looking suitcase from a carousel. What criminal would want a torn and obviously very cheap knock-off Slazenger duffel? But at the same time, if my bag had been officially marked as unclaimed and set aside in this room, wouldn't they want to make sure it was mine and make a record that it had been claimed? Apparently not.
Anyway, I had my 90-day entry stamp and I had my duffel bag, and it was time to head into Kuala Lumpur. I had my GoPro out for much of this experience, by the way, and I will eventually make a video about it. I worked my way through the massive shopping mall at the airport, bought my airport bus ticket for 12 ringgit (about $3 US), and settled in for the hour-long ride to KL Sentral station. From there, I hopped on the LRT and went one stop to Pasar Seni station, and then I walked the few blocks to the Grocer's Inn.
Chinatown is a fascinating and busy area, but late at night, it can reveal some harsh edges, and I noticed that as I walked in the dark through the nearly empty streets. I had never stayed in the Grocer's Inn before, but a friend of mine had, and I'd been there a number of times, so I knew exactly where to go. It has a very nice cafe and restaurant on the ground floor, and you can enter the hostel through that restaurant. But late at night this restaurant is closed, and you have to go to the side entrance down a pitch black alley. This alley is filled with low-budget streetside food stalls during the day, and when I got there, a couple of them were closing up for the day. And if you've ever been around these types of food stalls in Chinatown you know that closing up can mean a lot of buckets of water sloshing all over the place. It was dark, so I couldn't see, and I stepped right into a deep, dirty puddle of this water, and both my sandaled feet were now soaking wet and covered in the day's filth.
I got to the door of the Grocer's Inn, and the door appeared to be locked with a thick security grate closed over it on the outside. But as soon as I showed up, a man came to the door and pulled open the grate to let me in. I wouldn't call this man unfriendly, but there wasn't anything friendly about him either. A very large sign sat on the desk proclaiming NO VISITORS in bold all-caps. Another adorned the wall. I couldn't help but contrast this experience with my arrival at any of the hostels in Myanmar at which smiling young men and women rushed to greet me and stood up upon my arrival and carried my bag and helped me in a dozen small ways.
The mood got worse when he spotted the GoPro that I had laid flat on the desk. "No camera," he grunted. "Off." My GoPro bothered him, and he wanted to make sure I wasn't recording. I tried to lighten the mood by tossing some small talk his way about my trip from Mandalay and this and that. I was looking for a smile, a greeting, a "Welcome to the Grocer's Inn." Anything. But I got nothing. He didn't say a word to me except grunting "Passport" when he held out his hand. It didn't feel like I was checking into a hotel. It felt like I was being screened and processed by security during visiting hours at a prison.
After I had paid and was checked in, I went up to my room, and I was greeted by pretty much what I expected. I had booked a single room with shared bath. That, other than a bed in the dorm, is the cheapest option. I've spent much of my life in rooms like this one. It was small. It had a small bed with some old sheets on it. The pillow was of the cheapest type that you can pick up at the bargain bin of a discount department store. There was a rickety wooden table with an equally rickety chair. There were plain walls with nothing on them. The walls between rooms were quite thin, and I could hear the sounds other guests were making. Lighting up all of this was the usual 8-watt light bulb that throws about as much light as a guttering candle. Let's call the atmosphere gloomy.
Once I had settled in, I went down the hall to check out the shared bath and take a shower. Again, this is normal for me and nothing unusual. But I was disappointed at what I found. The shared bathroom consisted of only two toilet stalls. They were right beside each other and they were separated by a wall that did not reach the ceiling. So any personal and embarrassing noises you might make in there would be clearly audible to the person in the next stall. Worse, only one of these toilet stalls had a shower in it. So, basically, this side of the floor had only one shower for all the rooms.
My first task was to get some water from the KK store across the street. But when I returned to the Grocer's Inn just a few minutes later, I found the security grate and the door closed and locked. I peered through the small openings in the security grate, but I didn't see the grumpy man at the front desk or in the front lobby. There was a doorbell, but I thought I'd just wait for a few minutes and see if someone showed up. While I waited, I had time to look around, and I saw that I was among friends – the night time critters that come out in Chinatown when the humans start to leave. A large rat came trundling along the edge of the building, paused when it saw me, and then continued on its way. Three of those giant cockroaches you find in this part of the world were on top of the cement block beside the door on my left. They waved their antennae at me from time to time, but they concentrated on munching on whatever goop and goo they could find.
Eventually, I had no choice but to ring the bell. I rang the bell, and in a minute or two, the man showed up and came to the door. He had to unlock the main door and then get out another key and unlock a padlock on the steel security grating and pull it aside with a loud screeching noise. I went up the stairs and down the hall to my room, which was, fittingly, Room 13.
I had arrived at my temporary new home in Kuala Lumpur. And now that I was sitting in Room 13 (more brightly lit now that I had screwed in my own much brighter light bulb), I wondered what I was doing there. I had worked pretty hard to get here, after all. I had spent an entire day in transit going through three airports in three countries with buses and taxis and long lines and problems in between. And I had spent a fair amount of money for the privilege. And all I had really done was move from an absolutely welcoming and friendly nest of luxury in Mandalay for $11 a night (breakfast included) to an unwelcoming dive that at $12/night actually cost more! Funny how life goes sometimes.
When I woke up the next morning at the Grocer's Inn, I immediately started to work on some videos from my last days in Myanmar. And while I did that, I started to do some background reading and research on the places I had been. That led to long hours on the Internet reading about the history of Myanmar and reading about not only the places that I had visited but also all the places I had NOT visited. And once I posted a couple of videos, I got a lot of comments from people on YouTube suggesting other places in Myanmar that I should visit. I started to research those places, too.
Long story short, I began to miss Myanmar terribly, and it became very clear how badly I had dropped the ball on my first visit. I had barely scratched the surface when it came to experiencing the country, and I found myself wanting to go back. So, instead of reuniting with my bicycle right away and preparing to ride around Malaysia, I think I am going to book a flight back to Myanmar (perhaps to Mandalay) and do some more traveling there. I already have lots of ideas of places to go. I've got a list going, and the list is getting longer and longer.
Late yesterday, it even occurred to me that maybe – just maybe – I could bring my bike to Myanmar. The idea would be to use it just some of the time. I could travel by train when that made sense and ride the bike when that made sense. But that's just a random thought at this time. I probably won't.
Well, I've run out of steam for this morning. It's time to have another cup of coffee and then reply to some comments on YouTube and then begin work on my next video. This video is about a boat trip I took in Mandalay up to a spot called Mingun. Mingun is famous for several things. Among them is an unfinished pagoda that if it were finished would have been the largest in the world, the world's largest ringing bell, and a beautiful white pagoda. When I put all my video clips together, it was nearly 2 hours long. So I have to do a serious amount of editing to get it to a somewhat reasonable length. I have lots more thoughts about YouTube and how that project is going, but I'll save those thoughts for later. I also have tons of thoughts about my return to Myanmar, but I'll go into that in more detail another time. It's time to start my day.