Home » All, Legazpi, Philippines, Philippines Bike Trip 2013
Cycling the Slopes of the Mayon Volcano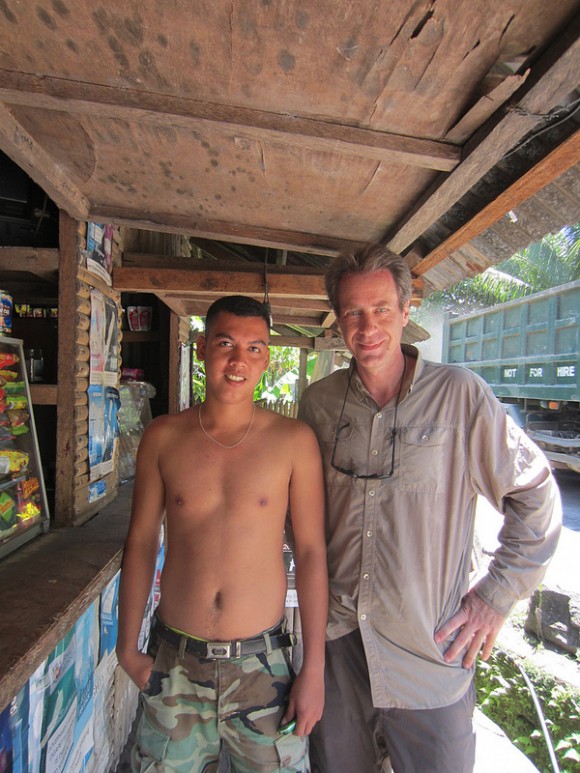 Friday April 5, 2013
7:45 a.m. Mayon Backpackers Hostel, Legazpi, Philippines
Dogs, I've come to realize, are common in the Philippines, at least in Legazpi. I know that not because I see them but because I hear them. Occasionally, in response to some unknown signal or danger, one dog in the neighborhood of the hostel will begin to bark and all the other dogs will join in. The result is a cacophony of canine exuberance. I have seen the occasional dog outside, but they aren't that common. These street dogs exhibit the same malnutrition and skin diseases that street dogs show in Taiwan.
After much fussing with my gear and two or three return trips to my dorm room to get items I'd forgotten – such as my tool kit – I set off on my bike for a trip around the base of the Mayon Volcano. I wasn't sure that I could reasonably manage an 80-km trip so soon after my arrival here, but I was willing to give it a shot if the scenery was enticing.
At the beginning, the scenery definitely wasn't enticing. I was on the main road leading out of Legazpi – the same one that goes to and past the Cagsawa Ruins. The traffic was heavy and challenging and the sun punishing. The road also climbed steadily, and beyond the Cagsawa Ruins, the incline became noticeable and I dropped down into a low gear. I don't have a cyclist's mentality anymore and I found my progress frustratingly slow. When I reached the 10-km mark, I felt like I had been cycling for a very long time. Considering the effort I had put in – both mental and physical – I felt I deserved to be at the 40-km mark at least. I began to realize that a complete circuit of the volcano might not make the most sense if I was looking for a pleasant day. Therefore, when I spotted a very beautiful region to my right on the slopes of the volcano and I saw a road that seemed to be leading into it, I turned off the main road and headed in that direction. It was a very good decision.
As soon as I turned off the main road, everything changed. The roar of the dinosaur trucks and the tootling of the jeepney horns disappeared. The road was much narrower and tall trees and bush went along both sides, even creating patches of shade here and there. Little houses and shops lined the road and all the people hanging out there began to greet me. By the end of the day, I'm certain that I heard "Hey, Joe!" thousands of times. I don't know that anything like this occurs in any other country around the world. People in Ethiopia certainly shout (well, scream) the word "ferengi" at passing foreigners, but it is not by way of a greeting or an invitation to conversation. In many other countries, there might be sufficient interest in a passing foreigner for people to want to say something, but since there is usually a language barrier, there is little that they can say or shout. The Philippines offers up a very rare combination of an extremely friendly and sociable people, good English-speaking ability, and a catch-all phrase – the aforementioned "Hey, Joe!" courtesy of the American era.
There was some variation on "Hey, Joe!" I heard "Hey, Americano!" a few times. And the cooler hipster types came out with "Hey, man!" and "All right, man. Nice bike, man!" and things like that. For my curious mind, this "Hey, Joe!" phenomenon is an opportunity to meet people and ask questions. I figure that if someone greets me with a jovial "Hey, Joe!" they are now fair game for me to pull over and chat with them.
I got a variety of responses when I pulled this little gambit. Some people were nonplussed. Their English did not in fact extend much farther than "Hey, Joe!" and all we could do was look at each other and smile. Most of the time, however, I had a very pleasant conversation. Introductions were made, hands were shook, simple questions were asked, and it was all wrapped up with a cheery goodbye. I don't know that if my stopping and chatting will go into local lore and legend, but you never know.
I soon wanted the conversation to go a bit deeper, and in the village of Salvacion, I took the opportunity. A young man – perhaps 20 years old – was sitting at a small shop and drinking an orange soda. He called out "Hey, Joe!" and smiled, and I pulled my bike over for a chat. He had a friendly and honest face, and I quickly learned that his name was Carlo and that this village was Salvacion and his home.
I asked Carlo what he did. Was he a student? He said that he had just graduated from a computer program in Manila. He was now looking for a job. That made me smile because he struck me as the most laidback job seeker I'd ever encountered – sitting there shirtless and in comfortable shorts, barefoot, drinking a cold soda in the shade. It's just that the way he said it made it seem as if he was looking for a job right this second, and I wondered how such a feat was possible.
The shop was a family shop. His auntie was currently behind the counter. His mother came out later. Carlo had two brothers and they were both living and working in Manila. I imagine his life would take him in that direction eventually. I asked him how much money he expected to earn as a computer technician. He didn't really know, but he offered up the information that the government-mandated minimum wage in the Bicol region was P250 per day. That's about $6 US or NT$180. I'd heard similar figures in the past, and I'd also heard that many companies don't even pay that much. It is illegal to pay less, but they get away with it. Job seekers like Carlo don't have much choice in the matter. They have to just take what they can get.
On my ride out from Legazpi, I had stopped at a little garage called "Joker", where they hand welded the tricycle sidecars that you see everywhere. I pulled in to see if I could learn something about them. The woman who was eventually produced to talk to me was a bit scattershot in the way she gave up information, but the one fact I came away with was that one completed piece of the sidecar would cost P22,000 ($550 US). There were other pieces involved plus the motorcycle itself, but I didn't get the final figures from her.
While chatting with Carlo, I noticed a tricycle sitting on the street near us. I asked Carlo how much it would cost to take a tricycle from here to Legazpi. I was just curious about fares in general. He said that he didn't know. It depended on the driver. However, you could negotiate a cheaper rate than for the return journey since going TO Legazpi was all downhill.
I then asked Carlo how much a tricycle driver can make in a day. He said they make about P200 per day, which is slightly less than the minimum wage. Of course, it must be much more complicated than that. Many or most tricycle drivers probably rent their tricycles and have to pay for the rental. I don't know if the rental fee comes out of the P200 or not. I suspect not. I suspect that a tricycle driver takes in more money than that in one day and that after expenses, he takes home P200. That could also be an average. Perhaps a driver makes much more in one day and much less on others. For some, the tricycle might even serve as a home. I see many people sleeping in their tricycles during the hottest periods of the day when there are few customers. Perhaps they have developed the knack of even sleeping through the night in their tricycles.
I'm guessing also, that if you delved deeper into the economies of individuals, you'd find that it is tied up with the overall family economy. You can't judge a person's economic situation simply based on their daily or monthly income. You'd have to consider the income of everyone in their family and even extended family. Families attack the problem of making money on as many fronts as possible and every family member would contribute in some way. Otherwise, it would be impossible for anyone to survive.
Finally, I asked Carlo how much a complete tricycle like the one near us would cost. He said that it would cost about P75,000 or P80,000 ($2,000). That's no small amount of money, which supports the idea that many or even most tricycle drivers probably rent their trikes.
After speaking with Carlo, I walked my bike up the narrow path beside his family's store and went into the village of Salvacion itself. I didn't get very far before I heard another "Hey, Joe." I stopped and introduced myself to this man as well. His name was Paul, and he said he was the oldest resident of Salvacion. He was standing in front of his house – a typical somewhat ramshackle affair with mud and cement walls and a thatch roof and a dirt floor. Paul was born in that house and had lived there his entire life – first with his parents and then on his own. He had never married and didn't have any children. However, his family consisted of the entire village of Salvacion. He was related to everyone there in one fashion or another. It certainly wasn't a lonely life, and I imagine his economic life and social life was tightly wound up with all the people I saw around us.
Paul invited me into his house and I readily took advantage of this opportunity to get out of the sun. There was little in the way of actual furniture inside his small one-room house. There were wooden benches around the inside of one wall and Paul sat there. I made myself comfortable on a bench opposite him. To my left was an old TV with a jumble of electronics on top of it – a VCR and a stereo and some speakers. I have no idea if any of it actually worked. I didn't see a cooking area or a sleeping area. However, one large section was covered with a curtain and I guessed that there was an elevated platform behind there on which Paul slept. In a way, it was a comfortable little set-up though quite simple and basic. It was his home, and I'd be surprised if he had ever gone much further from Salvacion than perhaps a trip to Manila once or twice for special occasions.
It seemed to be a day for tricycles, because Paul volunteered the information that he was a tricycle driver. He was currently not working because his tricycle was being fixed at a garage. He hoped to get it back next week and start working again.
I took a picture with Paul and then Paul took a picture of me with Carlo. I got back on my bike and rode off into the hot sun once more, waiting for the next "Hey, Joe!" They came in their hundreds and I stopped to chat a few more times. The only significant encounter occurred quite a bit later when I stopped to talk to a man sitting on a tricycle practically buried in little girls. There was a toddler on the seat in front of him and one on the seat behind plus two older girls in the sidecar. These were the man's four daughters. I assumed he was a tricycle driver, but he had borrowed the tricycle to drive to this spot so that his wife could do laundry down at the river. While we were chatting, his wife came up from the river with a heavy basin of wet clothes in her arms. It joined a second heavy basin already in the sidecar of the tricycle. The man said that he made his living weaving baskets from local plants. It was a family business and his father and his father before him had also been basket weavers. I was dying to ask if I could see his home and the baskets, but the time didn't seem right. The man was eager to get home to have something to eat. He had not had lunch yet, he told me.
The rest of my trip through the farmland and villages on the slopes of the volcano was just as interesting, but that was the last of my longer conversations. I simply rode along looking about me and greeting everyone who greeted me. The road became very rough and rocky in sections, and I had to cycle across small streams and up the other side. It was relatively easy to find my way because I was quite high up on the slopes of the volcano and I could see Legazpi and the ocean down below me. I knew that eventually the path I was on would merge with some roads that would lead me back to Legazpi. The ride became much less pleasant once I had rejoined a main road. This was, in fact, the road that I would have been cycling on to return to Legazpi had I made the trip around the volcano. I was very glad that I had not done so. It was very congested and I had to deal with the dinosaur trucks and the jeepneys for the 5 or 6 kilometers back to downtown.
I was very hot and bothered by the time I got back to the hostel. My clothing was soaked through with sweat and I felt a wreck. I did little in the evening other than chat with new people at the hostel and then have a quick meal out at the festival grounds. I spent most of my time chatting with an interesting couple from Britain, Mel and Hugh. Mel was a doctor and Hugh was an engineer. The two of them were on a career break and in the middle of a long journey that had already seen them in places like Cambodia and Vietnam and would then take them to Malaysian Borneo and then on to a volunteer program in, I believe, Tanzania. Mel, being a doctor, had already been able to use her talents in projects overseas, including a stint in Zambia. She told me a little about that fascinating experience as we exchanged notes about aid projects in general. As a western doctor in Africa, she had all kinds of unique challenges to deal with – challenges stemming from economics and from superstitions. The one story that sticks in my mind most clearly involves relatives taking home patients before they completed their treatment and got better. This would happen when the relatives felt there was no hope for the patient. Transporting and dealing with a dead body can be very expensive. To avoid this expense, they would spirit out the patient while the patient was still alive and bring them home. The patient could then die there and it would have been much cheaper than the alternative – a simple bus ticket as opposed to all the problems of dealing with a corpse.
Mel felt that western medicine was often not given its due in Africa and not given enough credit. And many of these stories were told with that in mind. For example, the Zambians, not trusting western medicine, would not go to the hospital until it was far too late. Had they come in earlier, they could have been treated and perhaps cured. Now that they'd waited too long, Mel couldn't help them, and the local people would see this as proof that western medicine didn't work, and they would return to witch doctors. This habit of taking patients home early was also frustrating for Mel. She might be expecting the patient to make a recovery in a few days. It just took time. But the family upon removing the patient to avoid the expense would take away that chance. And again western medicine would be seen to have failed when Mel's point of view was that it simply wasn't given a chance to succeed.
Tags: bike, Cycling, job, Legazpi, Mayon Volcano, Philippines Bike Trip 2013