Home » All, Cambodia Bike Trip 2007
Cambodia 006 – Cafes in Phnom Penh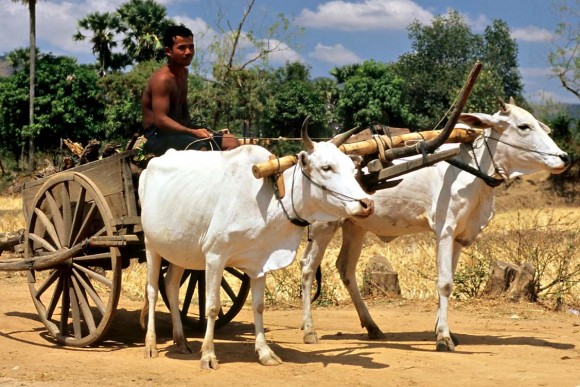 February 16, Friday, 8:30 a.m.
Location: Java Cafe on Sihanouk Boulevard
Mission: Breakfast and coffee
I seem to have been on a mission the last couple of days to check out some of the more comfortable and foreigner-friendly areas. It's been a rather pleasant surprise. There are a lot of these places and there is quite a range in their style. The Freebird Bar and Grill where I had lunch yesterday could have been transplanted from anywhere in the United States. I appreciated the air conditioning and the giant stools that they had. Their advertising even says that they have the biggest and most comfortable stools in Phnom Penh. The service was fantastic. The moment I sat down, a waitress brought over a basket of damp cloths sprinkled with flower petals. That was a nice touch and the cloth was great to freshen up and get the dust and dirt off my hands and face. The timing of the waitress' returns with menus and to take orders and all of that was perfect. Everyone was friendly without being overbearing. It seemed genuine. Every time you ordered something, they wrote it down on a bill, rolled it up, and slipped it inside a little container at your table, a very efficient way to keep track of what's going on. The food was good, too. I actually ended up ordering a hamburger and fries. How could you not in a place like that? The walls were covered in photographs of American rock bands and movie stars and other cultural stuff. It tended almost to redneck super patriotic, but wasn't quite offensive. I laughed when I saw a close-up of a bald eagle giving me the finger and saying "Jihad this!"
I also ordered a Coke and it came in a tall glass filled with ice. Nice and cold. I ordered a second one when that was done. Then at the end of my meal, the waitress asked if I wanted another drink. I said no, and she took away my Coke glass and brought me a tall glass of ice water, unasked.
Before that, of course, I went to the Monument book store and then to D's used books. I guess it is a chain with its headquarters in Bangkok. I'm happy to report that the manners of the staff here were much better than the booksellers in Bangkok.
Prices are still weird for me. The Freebird Bar and Grill is one of the more expensive places in the city. It's not elegant dining or anything, not a five-star restaurant, but it's expensive by Cambodia's standards. And I thought I was really splurging and felt a bit guilty about it. Yet, the bill came to $4.50 which is less than NT$150, an amount that we squander in Taipei without a second thought.
After I left the Freebird, I wandered up and down 240 Street. I think I mentioned that I picked up this Phnom Penh Visitor's Guide. It has a section in it that has little mini-maps of all the popular foreigner streets. 240 Street is one of them and had a whole bunch of these types of places. I rode up and down just looking at them from the outside. There were little bakeries and friendly restaurants plus boutiques and galleries. Most of them were small but friendly looking.
It was a fairly successful little outing and I decided to check out another of the foreigner strips, Street 51. This was a hipper street with the most popular bars and nightclubs. The best-known is, of course, a dance bar called Heart of Darkness, or just "Heart" to those in the know. It's one of those places where they say it doesn't get going until midnight. There was also a big guest house with a restaurant called the Walkabout. Apparently they have a pool tournament every Tuesday night. Mixed in were lots of hostess bars that, according to the books, had lots of "friendly ladies."
I rode up 51 Street until I reached USSR Boulevard. On the corner, I spotted a branch of the Mekong Bank. I'd been keeping my eyes open for a convenient bank because I wanted to change some money. I hadn't actually gotten any riel yet. I'd just been collecting it up as change when I spent dollars. One could spend only dollars here, but it's better to have both dollars and riel. Most places have prices in dollars, but they will take either dollars or riel. It's usually not that complicated. The exchange rate is about 4,000 to 1, so you end up thinking of an American dollar bill as a 4,000 riel bill. This is in Phnom Penh, of course. Out in the countryside it might be entirely different. With that in mind, I wanted to stock up on riel. Like everything here, the changing of money went off without a hitch. The bank was a big attractive building with a big guarded parking lot. I rolled my bike into the parking lot. The guard indicated a spot against the wall that was reserved for scooters and bikes. I parked it there and locked it up. I wasn't entirely sure that this was a commercial bank where one could change money. It didn't look meant for customers. It was too quiet and imposing. That impression continued when I walked through the doors at the front. I found myself the only person in the place. At the far end was a counter with a row of eight people sitting behind it. All eight of them stood up, bowed, and put their hands together in the traditional greeting. I almost looked behind me to see if the king had come in with me.
I wasn't sure which of these people I should choose as my victim – the poor soul who had to deal with the foreigner. But that was kind of a holdover from Taipei. Here it doesn't seem to matter. No one had any trouble dealing with me. Eventually, I was called over by a young man on the right. I told him I wanted to change some traveler's cheques and a few minutes later I was busy counting out nearly 800,000 riel in 5,000-riel notes.
Packing lots of cash, I then cycled up to the area around Wat Phnom. This wat is always listed among the sights to see in Phnom Penh. I'm not sure why, because it was essentially a small pagoda on top of a small hill in a small round park. I rode my bike around the traffic circle around the wat and then headed off to where I saw a sign for a post office. From there, I sent some postcards. That, too, was an easy transaction. I paid 500 riel to a woman to guard my bike then went up to the counter and got the stamps, put them on and dropped them into a box that was right there. I was feeling like a man in control of his life, a man who can mail a postcard as easy as getting out of bed.
From the post office, I cycled through a whole bunch of streets near the waterfront. There were all kinds of little markets there and I passed the time snapping wide-angle shots of every street corner I passed. I wasn't going up to people and taking pictures, but instead standing back and taking wide panoramas. It seems to suit the streets here.
I was a bit worried about my stomach, and I had to stop from time to time to wait for these classic waves of pain to pass, but all-in-all it was a pleasant afternoon. I hung in there until quite late when it was clear that I'd have to get indoors and find a bathroom. That's when I ended up at the Internet cafe.
From there I rode back to the Shining Star. I took a cold shower and lay down for a while reading one of my new books. Around 8:30 I made the snap decision to have dinner at the Bodhi Tree near the Tuol Sleng prison. I'd been there before of course, but I hadn't really gone in and sat down and had a meal. I figured I might as well since my hotel is right beside it. It is only a couple of blocks away, so I didn't bother to take my bike. I was very tired by this point and the walk through the dark stinky streets (this is near the stinky canal) felt a bit dreamlike. Street 310, the closest main street to the Shining Star, was still very busy. One big open-air restaurant was hosting a wedding banquet. At least I assume it was a wedding banquet. I don't think anything else could explain the bevies of young women in long formal gowns and the drunk men at the microphone singing karaoke. I thought for a minute it might be a hostess bar and all these women were there to entertain, but no one called out to me or tried to entice me in, so I assumed they were just women dressed up for the occasion. Across the road were some more typical places with lots of groups of men drinking and whooping it up. As soon as you turn off these main roads, though, things get very dark and very quiet. Tuol Sleng and the Bodhi Tree are on Street 113. I turned down Street 113 and for a while thought that the Bodhi Tree must be closed. I didn't see much in the way of lights. The prison itself was again very spooky. I'm still not sure why the place affects me so much. I think it's because I can picture what went on there so easily. You can just look up from the street and see the rows of rooms where the prisoners were held and tortured. It just seems like the difference between a normal pleasant life and hell itself is as small as being on the street and being in that room just over there. It really gets to me to think of how the prisoners were kept. The prison rooms had long iron bars stretched along the floor and secured at each end. The prisoners had iron shackles or hooks put around their ankles and then slid along this bar. They were all lined up along this bar, some facing one direction, some facing the other, hundreds of them jammed together in row upon row. They had no sheets or blankets or mats. They simply lay on the cold floor. They had to ask for permission to do anything, to even shift position. Moving without permission brought an instant beating. I think it is this terrible discomfort on top of the torture and imprisonment that bothers me.
Thankfully, the inside of the Bodhi Tree was bright and cheerful and offset the gloom of the prison. I was surprised at how nice it was inside. I hadn't really noticed before. There were several different areas and levels, all with different types of tables and chairs and lots of plants and nice lighting. I sat in an inside area that was more like a traditional restaurant, because I wanted the bright light to read by. Two other tables in there were occupied. One held three young men who were busy building a small empty beer can pyramid. The other table held about ten people. They sounded like Americans. They must have been a group traveling together, and I think they were here doing something special. They weren't your typical backpacker set. They were way too clean and cheerful and well-dressed and normal. Most were women in their early twenties and they looked like they had just stepped out of their bedrooms at home after getting dolled up for a night on the town. I'm so curious about other people. I wish there were a way to get an instant summary on them. I'd have paid a lot to get a little bio of each person in the restaurant and what they were doing in Cambodia. It's a shame that you can't really just walk up to them and hit them with twenty questions.
The food looked great. I ordered a dinner of rice crepes stuffed with chicken and vegetables. It was delicious, though perhaps a bit too spicy for my stomach in its current state. The walk back to the Shining Star was as spooky as the walk there. I couldn't help but stop and stare up at the rooms of the prison.
My stomach was still giving me a hard time and I still had those strange pains. They'd go away for a long time and I'd think with relief that they were over, that whatever my stomach was up to, it had sorted itself out. But then out of nowhere it would come back. Sometimes it was so bad that I'd have to stop in the middle of the street and I'd end up staring off into space with my face sent in a horrible grimace. People watching me must have thought I was a bit off my head.
I gathered up some laundry and gave it to the woman at the front desk of the hotel. I'd found out before that they could arrange to have clothing washed at 1,000 riel per piece. I've worn the same pair of long pants every single day and they were getting a bit dirty. Even though the sun is out here and it's hot, I haven't felt the need to wear shorts yet. It's also just a decision. I look around at all the Cambodian men and none of them wear shorts. The only shorts you see here are on small boys and backpackers. So I've been trying to wear long pants and shirts with collars. I just feel better about how I look rather than wandering around in shorts and a t-shirt.
I read my book for a while longer and then turned out the light. I slept quite well, considering, and got out of bed this morning feeling refreshed. I'm still ill, but it isn't incapacitating. I was going to go to my gas station coffee shop, but I figured I might as well make an effort to find somewhere nicer. I got out my Phnom Penh Visitor's Guide and settled on the Java Cafe which is just around the corner from the Internet cafe I like. This place is extraordinarily nice. It has a huge balcony on the front with comfortable chairs and tables. Lots of plants and big fans whirring overhead. The view is out over a big park area with the occasional group of colorful monks walking past. There is also an inside area with the same comfortable chairs with big cushions. The place doubles as a free art gallery and paintings and photos from local artists hang on the walls. They serve all kinds of coffee of course (it's called Java Cafe after all) as well as breakfast, lunch, and dinner food. I ordered a breakfast set of fresh orange juice, coffee, pancakes, scrambled eggs and sausage. Is it the best for my stomach? I don't know. I don't know what is good or bad anymore. There are a million medical labs in this area. I have half a mind to pop in and get tested. I'm positive I don't have dysentery or anything like that, but perhaps they can isolate a bug of some kind and cure me. That would be nice.
I've got my Shuffle going for the second time. It's wonderful to sit here listening to good music and drinking good coffee. I'm also very curious about the people in this cafe. Everyone looks quite official. There are two laptops going strong as well as lots of papers and folders and cell phones.
Tags: bike, Bodhi Tree, Cambodia Bike Trip, Phnom Penh, Shining Star