Home » All, Cambodia Bike Trip 2007
Cambodia 005 – Sick in Phnom Penh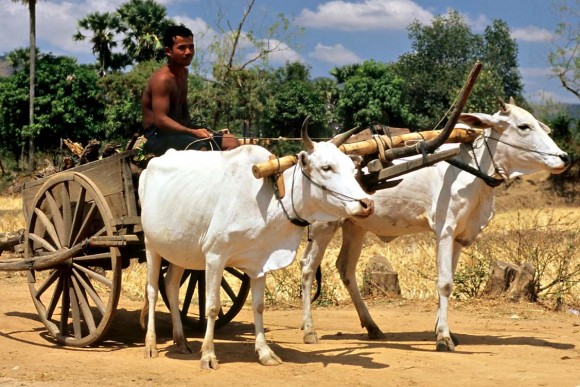 February 15, Thursday, 2007 9:37 a.m.
I had dinner last night back at the same restaurant. Fried rice. I didn't dare try anything more exotic than that. I was sick all last night and this morning, and so I'm a bit depressed. Stomach cramps really get me down these days, even worse than before. I've got the regular stomach cramps and this other strange pain that comes and goes. It's a really sharp pain and I can't seem to localize it. It feels like a stomach kind of pain, but it's very broad across my midriff, just under my rib cage. I've never had anything quite like this. It just comes out of nowhere and I go all rigid waiting for it to pass. Very odd. It's not what you need when you are hanging out in Phnom Penh.
I still slept well last night though and I was glad of that. I really didn't want to get out of bed this morning. Moving and tensing my stomach muscles tends to bring on that weird sharp pain. Plus of course it sends me running to the bathroom. Sigh. So pathetic.
In any event, I forced myself to take a shower and get dressed. I got on my bike with the idea of seeing a couple of the markets in the city. I also wanted to change money and find some books and other things with a view to riding down south in the next couple of days. Riding south is not the first thing that pops into my mind when I think of what to do over the next couple of days. The way I feel, I'm more in the mood to hunker down in some air conditioned splendor and watch some movies.
I had thought about leaving my bike behind. It's just that I don't know how safe it is to lock up my bike anywhere. And around market areas, it is pretty crowded anyway. But I knew I'd regret not having my bike, so I saddled up and took off. Every morning when I go down to get my bike, I find something on it that it is out of kilter. The family that runs this hotel can't help but play with the thing during the night. One night, I left the rear light attached to the bike. I came down in the morning to find one of the men frantically pushing buttons and trying to turn that light off before I saw him. At some point they'd turned on the light and then of course didn't know how to turn it off. The trick is to hold the button in for three seconds. There's no way they could know that. I don't know how long the light was flashing. It was probably on all night and they worried about what the foreigner would do when he discovered it. This guy acted so sheepish. He quickly put the light back on the bike and smiled at me. This was back when I was still in a good mood, and I simply smiled back and showed him how you turned the light off. On another morning, I'd found the gears all pulled out of alignment as they had played around with the gear shifters. This morning, the saddle cover for my Brook's Saddle had been pulled out and was dangling over the tire. It was probably "Very Important," the little king, who has done most of this. He seems to have the run of the universe.
I rode up Monivong towards the Central Market, also known as Phsar Thmei. According to my Phnom Penh Visitor's Guide, which I picked up at the Garden Center Cafe, the land where the market sits used to be a shallow lake. Then between 1935 and 1937, they (not sure who "they" is) drained the lake and built the market. It strikes me as a very odd building. I can't imagine what they were thinking when they built it. It is essentially a high dome with three branches leading away from the dome. I was expecting a typical cramped market with all kinds of stinky fish and animal parts for sale. But it wasn't like that at all. Around the outside of the dome there is some of that. There was a large area where they sold plants and flowers. Another section was dedicated to secondhand clothes. But inside, it was totally different. I thought there would be many stories and levels, but there was only the one ground floor with the ceiling of the dome arching a hundred or so feet into the air. The roof was filled with holes to let air and light in. All in all, it was closer to a cathedral than to a market and from the point of view of a market, it seemed like a colossal waste of space. Inside the dome itself they sold mainly jewelry, sunglasses, and some junky electronics. It wasn't exactly jammed with customers. Most of the action was taking place outside the dome on the streets.
I forgot to mention that I did find a place to park my bike. I rode around for a while looking for a guest house or someplace like that where I could talk them into letting my leave my bike inside. But I didn't see anything like that. Then I saw a big department store and outside it was a guarded parking area for scooters and bicycles. I remember the WWF guy's story about the woman whose bike had been taken from one of these places, but she hadn't locked it up. She'd just left it there. I figured it would be safe enough there if you put a lock on your bike. It was quite well-organized with an entrance and an exit. Of course, you couldn't tell which was which and everyone went to the exit first (including me) only to be told to go around and go in at the other side. A man in uniform monitored both the exit and entrance. At the entrance, I paid 500 riel and was given half of a ticket. The other matching half of the ticket was attached to my bike. Then I wheeled my bike into the parking area and found a place where I could lock my rear wheel and frame to a steel chain. I felt pretty confident that it would be okay there.
Once I was on foot, I really appreciated having the bike. People didn't give me a hard time or anything, but every thirty seconds at least I had to deal with a moto or a cyclo driver offering to take me somewhere. And twice, I was followed for quite some time by a guy babbling about taking me to all the sights in Phnom Penh. I walked through the market fairly quickly – there wasn't that much of interest for me except for the dome itself – and then went back outside. I thought I might wander the streets and take some pictures, but I was plagued with that pain and I couldn't really relax. It's hitting every ten minutes or so even now as I type. Sigh.
I walked around a couple of blocks and then I went back to the parking area. I was glad to see that my bike was still there. I loaded up and rode off, not really sure where I was going to go. I quickly decided to look for a bookshop that I'd read about. I've gone through my two books already and need something new to read. I had the address of a second-hand book shop, but it appears to have moved.
Finding places with just an address is not that hard in Phnom Penh I'm finding out. I already know most of the big boulevards. There aren't that many of them. Monivong and Norodom are the two main ones that go north and south. Pochentong, Kampuchea Krom and Sihanouk run east to west. Mao Tse Tung goes around in a kind of circle. Then there are the tiny streets. The streets that run east to west have even numbers. The streets that run north to south have odd numbers. So if you know something is at #79 240 street, you know it is one of the streets running east and west. You just ride up Monivong or Norodom and watch the street numbers rise or fall and eventually you'll get to where you want to go. Of course, it's not quite that simple, but that's the basic idea. In this case, I did find #79 240 Street, but D's books wasn't there anymore. However, I did see a big bookstore that sold new books. I'll go there in a few minutes after I finish my coffee.
I'm having my coffee, by the way, in a nice little place I just happened to pass on 240 street. The coffee is more like French coffee, similar to what I remember getting in Vietnam long ago. No fancy cafe latte for this place. They just pour ground coffee into a little aluminum cup with some holes punched in the bottom. This aluminum cup is put onto a tiny coffee cup and they pour in the hot water. You want coffee? Well, here's your coffee. Cream and sugar is for wimps!
Speaking of cream, I did have a small cream adventure the other day. My very first day here, I went to a mini-mart and bought a bottle of cold delicious milk. I've been searching for more milk ever since, but so far I haven't seen any. That appears to have been the only bottle in the city. I guess they were saving it for me. A couple days ago, though, I noticed that they had milk in those square cardboard containers – the stuff that is heat treated and won't spoil for millions of years. I didn't want to eat any solids and thought some milk would hit the spot. I bought a liter container, but when I got it back to the Shining Star I realized I'd bought a liter of cream! I drank it anyway (not all at once) and I have this vague feeling that this sharp pain started at that time. Perhaps the cream was such a huge surprise that my upper stomach just went into shock.
I've been very surprised at how much tourism there is here in Phnom Penh. No so much how many tourists there are, but at how many places there are that cater to foreigners. It would be a good place to live from that point of view. You would never run out of interesting cafes, bars, and restaurants to visit. I'd like to go out at some point and visit a few of these places. In fact, I just realized that I'm on a street with a number of these foreigner-oriented places on it. I might as well go check one out. Maybe have something to eat if I dare.
12:01 p.m.
That's noon. I am now safely ensconced in the Freebird Bar and Grill on 240 Street. Me and ten other rather large white guys. Half of them look like tourists. The other half, all at the bar, look like they might work here. They've all got the balding head and widening hips that come with sitting at a desk and moving papers around. I decided to come into the Freebird because the listing said that it was air conditioned. I needed a brief respite from the sun.
I found the bookstore by the way. It turns out that there are two #79's 240 Street. I don't know why that would be, but there was a 79 way at the west end and another one here at the east end by the Royal Palace. I wasn't looking for the bookstore anymore. I just happened to see it as I was cycling along. I did go to the Monument bookstore on Norodom Boulevard. It was a new modern bookstore with lovely air conditioning and a wide selection of books. They even had a huge selection of good maps of all kinds of Asian and European countries plus travel guides
The problem with Monument was that all the books were new and therefore were quite expensive. The books on Cambodian history and that sort of thing were all in the 30-50 dollar range. Fiction was up around 20 dollars. I wasn't willing to pay that much and I left with only a copy of the daily paper and couple of postcards that I liked. One is very like a scene that I saw in the countryside outside of Phnom Penh. The other is a picture of some traffic in a normal Phnom Penh street. I prefer images like that to the classic full-color shots of Angkor Watt and stuff like that. These postcards are somewhat light, almost pastel. Now all I have to do is find stamps and a post office.
The used bookstore also had quite a large selection of books, almost too large. I was finding it difficult to choose anything. I ended up finding a couple of books that I think I will enjoy. They are both kind of sweeping family dramas I think. I didn't want to get anything too heavy or political. When I narrowed down my range of books, I then made a final choice based on pounds per dollar. I didn't want to get a slim 250-page book that would be over in a day or two. I went for the ones that ran to six or seven hundred pages. I also had trouble picking out books because I kept ending up doubled over with cramps and such things. Such a pain. I'm worried about what lunch will do to me, but I'm really hungry. I have to eat or I will end up all irritable. I'm still worried about the bike, too. The rear tire seems to be getting flatter and flatter. I think it will be flat again by the time I finish my Freebird hamburger. That will be a little annoying.
When I had my last flat tire, a handicapped man in one of those bikes you propel with your hands zoomed up to me. He seemed to know where I could get my tire fixed, but he led me to just a tire pump. He didn't realize I also had to have the tube patched. Then just now, a couple of miles away, I ran into him again. He remembered me and asked about my tire.
The books were not cheap, but they weren't outrageously expensive either. All the popular fiction and literature stuff was about $6 a book. $12 seems like a lot of money to be handing over all at once here, but rumor has it I have a paying job somewhere and have some hope of making some more money in the future.
Tags: bike, Cambodia Bike Trip, Mao Tse Tung, Phnom Penh, Royal Palace