Home » All, Taiwan
Bike Touring and Cycling in Taiwan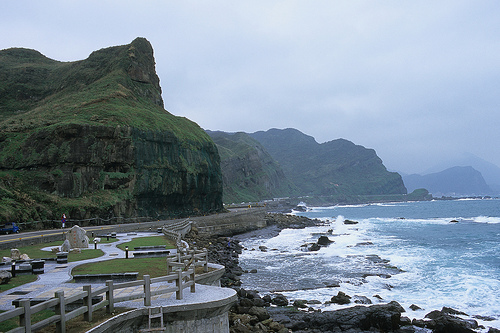 Recently, two people who are cycling around the world asked me if I had any tips about cycling in Taiwan. They were in China at the time, and asked me if I knew about the ferry that was supposedly running from Kinmen (a group of small Taiwanese island off the coast of China) to the main island of Taiwan. They also asked about the possibility of "wild camping" in Taiwan. This is an excerpt from my reply to them:
I don't know anything firsthand about the ferries from China to Taiwan. I've never taken one myself, and I've never met anyone personally who has. (Taiwan is somewhat off the beaten track for travellers in Asia.) However, a friend of mine recently met someone who had taken one of those ferries from China to Taiwan. He went from Xiamen, China, to Kinmen and then from there, I believe, to Taichung. So, as far as I know, this route is open to westerners.
There is a foreigner's hotline in Taiwan, by the way. You can call and ask questions about anything at all, and they'll help you. They speak English very well. The number is 08-000-24111. I've called them lots of times, and they have always helped me out. They're great.
I called this hotline and asked them about the ferries from China to Taiwan. Unfortunately, they were only partially helpful in this case. They confirmed that there are ferries leaving from Xiamen and going to Kinmen (sometimes spelled Jinmen). There are a variety of ferries, and they leave pretty much every hour from 8 in the morning to 5 in the afternoon.
However, they said that the only way to get from Kinmen to the main island of Taiwan was to fly. They said there were no ferries going from Kinmen to Keelung or anywhere else. I'm not convinced that they really know what they're talking about. Certainly, most people do fly. But that doesn't mean you CAN'T take a ferry. I've been searching online and asking people here, but so far I can't get a firm answer. I did track down the name of the main ferry: Taima. This is the ferry that runs to Matsu and back. And they might have a ferry to Kinmen. I haven't called them yet, but according to one website, this is their phone number: 02-2424-6868
If there are no boats from Kinmen, it won't be the end of the world, because there are definitely boats from Matsu. You'd just have to keep riding up the Chinese coast and take the ferry to Matsu. From there, you can take a ferry to Keelung.
As for wild camping, overall I'd say it would be a tough thing to do in Taiwan. There is very little open space anywhere. There are a lot of wilderness areas in the mountains, but the mountainsides are very steep on both sides of the road and it is hard to find any flat land on which to put up a tent. The west coast is very heavily populated and there isn't much open land there at all. The east coast is less populated, but still with little empty land. I have to say, though, that I've never tried very hard to wild camp. I think it could be done if you really wanted to, but it wouldn't be that easy.
I don't think people would mind that much if you just put up your tent somewhere, but it would certainly not be something they are used to seeing. The Taiwanese do love to camp and hike, but they put up their tents in camping areas. In my experience, the camping areas were meant for large groups and a camping space was as expensive as a basic hotel. So I'd just spring for the hotel room.
Wild camping would certainly be safe. Taiwan is an extremely safe and crime-free place from a travelling point of view. No one would ever steal from you or rob you in my opinion. It's a wonderful place from that point of view. You never have to worry about theft at all.
There is a certain "safety" culture here in Taiwan. More and more, I see signs warning people of the dangers of this or that – swimming, falling off cliffs, etc. So I can see authorities not wanting you to wild camp for your own safety – even though there are no real dangers. On the east coast for example, there are some empty beaches, but there are usually signs up prohibiting camping. With perseverance, you can probably find some little spots to set up a tent, but it wouldn't be that easy.
Weather might be a concern when cycling in Taiwan. I'm sure you've done a bit of research, so you know that we are heading into winter. Taiwan can actually be quite cold and very wet in the winter. It's just a rainy island overall no matter what the time of year. You could get lucky and get some dry weather and some clear skies. You might be unlucky and get nothing but miserable rain for many days in a row. To be honest, this isn't the best time of year to come here. I don't want to be gloomy about your trip, but it's better to know the worst case. Then again, I don't know what would be the best time to come. Summer can be unbearably hot. Late summer can bring some pretty bad typhoons. Taiwan has no end of great things to offer, but, in my humble opinion, the weather isn't one of them. No matter what, you should be prepared for some rain and for some cold. If you go up into the mountains (and you really should), it could get very cold. Some mountains even get snow.
Everyone talks about the scenery of the east coast of Taiwan, and it's true that it's beautiful there. The whole stretch from Kenting all the way up to the northern tip past Taipei is gorgeous and very dramatic. I wouldn't miss it. If you can, you might want to try cycling from south to north if you do that highway. It's not a big deal, but then you will be on the side of the road right next to the ocean and the beautiful views. If you cycle south, you will be in the inside lane with two lanes of sometimes heavy traffic between you and the beautiful views. It's not a big deal, but I did my most recent trip down that highway (on a scooter) during a holiday long-weekend, and I kept wishing I was on the outside lane so I could just stop anywhere I wanted and take pictures without having to navigate over two lanes of traffic. That coastal highway can actually get busy, particularly north of Hualien. Gravel is big business here, and giant gravel tracks go thundering along that road with little regard for anything in their way. And you will be facing a pretty impressive series of tunnels. A kilometer-long dark tunnel with massive trucks is quite an experience! By the way, there are signs at these tunnels saying that bicycles are not allowed. Not sure what the point of that is, because there is no other route and all cyclists go through them anyway.
However, there is a lot more to Taiwan than just the east coast. Personally, I love the highways in the interior: the northern cross-island highway, the central cross-island highway, and the southern cross-island highway (they're more roads than highways). The scenery along these roads is wonderful, and you can check out places like the Alishan region. The mountains of Taiwan are, in fact, riddled with narrow and fascinating roads that seem to go everywhere and nowhere. My favorite thing by far in Taiwan is just to hop on my scooter and go driving around the mountains. Most of the roads aren't even on any maps, and you can just pick a road and see where it goes. You end up having all kinds of adventures. These roads, though, can be very steep and very winding. On a bicycle, they're going to be a challenge, but you're used to that.
Something to think about is occasionally just renting a scooter and going for a drive, particularly if you are near the mountains. You can rent scooters for as little as NT$400/day ($13 US), and in the smaller towns, you don't need a driver's license. A 125cc scooter is standard, and it is more than strong enough to carry two people even up mountain roads. Scooters are king and queen in Taiwan as you'll see. A lot of scooter shops around train stations will rent scooters. They're relatively easy to spot. You could, for example, rent a scooter in Hualien if you were a little short on time and wanted to drive up the Taroko Gorge and on into the high mountains at Hehuanshan and Lishan. It's a great way to zoom around and take in some far-flung places that would be too time-consuming to reach on a bicycle.
Winter isn't the greatest time for going there, but there are also the islands off Taiwan. My favorite place in Taiwan by far is Lanyu (Orchid Island). You can get a ferry to Lanyu from the city of Taitung on the east coast. You can also get a ferry to Green Island. Both these places are very laidback compared to the rest of Taiwan. The ferry schedule might be limited in the winter, but boats are probably running year-round. There is also the Matsu island group to the north. I haven't been there yet, but I want to go. It's easy to rent scooters on these islands, but the islands are so small that your bikes would be fine there.
Cycling, by the way, has exploded in Taiwan. It seems there are only two pastimes in Taiwan right now: cycling and photography. The cycling tends to be of the weekend warrior variety, of course – very expensive racing bikes with full-on Lycra gear from head-to-toe. Still, it's popular, and lots of people talk about cycling around Taiwan. Bike paths are being built all over the place and resources for cyclists are springing up all over. Some 7-11 stores even have little bike maintenance stations with a bike pump and an assortment of tools. I think Giant even has a few cycling hostels/hotels around the island. I'm sure you'll generate a lot of interest and be warmly welcomed as you ride around Taiwan.
I have no idea how it would work out practically, but you could even drop in on a school or two perhaps. I used to go out to schools to give talks and judge speech contests and this sort of thing as part of the work I do for my company, and I know the students here are crazy about English and meeting foreigners. Meeting students and teachers might open up a lot of doors. You never know.
It wouldn't be easy to set up presentations in schools in advance, but I was thinking that you could sort of spring yourself on a school as you are cycling past. And then perhaps a teacher at that school could hook you up with a teacher at another school farther down the road.
These schools are quite large with many different classes, and if you did a presentation at one class, I'm sure the other classes would clamor for the same. You'd have trouble escaping the hospitality!
Schools are pretty easy to recognize. They are generally massive concrete structures with a gate and a large inner courtyard. Some schools are fairly open, and you would be able to ride your bikes through the gate. At others, all visitors have to be signed in and issued visitor's badges. You can't just cycle in and present yourself at the teacher's office. You'd have to have something written down in Chinese to show the security guard. Something like "I would like to speak to an English teacher." The guard could then make a call and someone could come to the gate. Security guards won't speak English.
An alternative would be to simply chat to some of the students near the school. They are very recognizable, as they all wear school uniforms. And every student would be in an English class. Just tell them you are interested in speaking to one of their English teachers. That might work. If you do manage to make this work, be prepared to have your picture taken! I'm sure every student will want to pose with you and your bicycles for a picture. That's one good thing about these schools – they have large ground floor areas and courtyards. Once you get past the front gate, you can just ride right inside. It's not like you have to navigate any stairs or elevators – unless you wanted to bring your bikes right into the classes – which would be possible by elevator.
Accommodation in Taiwan can be a hit-or-miss affair. Taiwan is a developed country, and so it is more expensive than most other countries in Asia. Tourism is also geared toward the high-end type of travel. When the Taiwanese go off on the weekend, they generally like to be pampered and stay at a hot springs hotel and that sort of thing. There are, however, cheaper places. It can just take some effort to find them. There are some hostels in the larger cities, and they can be cheaper – $15-$20 US/night. Basic hotels (the kind one finds near train stations) can be found for NT$800-NT$1,000 ($25-$35 US), occasionally less. The rooms are small, but they are complete hotel rooms with all the amenities.
One problem in finding cheaper places can be communication. Asking the Taiwanese for a cheap hotel doesn't generally get me anywhere. We always seem to be talking about different things. I've even been told flat out that there are absolutely no places to stay in this or that town, no hotels, nothing. Then I find out that we are standing right in front of a budget hotel. They might not even know themselves that it was there or they might assume that a foreigner would never stay in a place like that. One word that might come in handy is "minsu." This word, I believe, means "homestay." And there are a lot of homestays in Taiwan. What I think of as a small/budget hotel, they often think of as a homestay. "Hotel" in Taiwan tends to mean the Hilton or some other fancy place. The minsu is kind of a recent phenomenon in Taiwan, but there are now thousands of them across the island.
Note that a minsu can sometimes be a very expensive bed and breakfast (more like an "inn"), but it can also be simply a room or two in someone's house that they rent out. It is this type of minsu that has really helped me out in recent times. Since I discovered the secret of the minsu, my traveling life in Taiwan has gotten much easier. They often don't have signs, so just asking people for a minsu is often the only way to find them.
As I'm sure you've heard, convenience stores are EVERYWHERE in Taiwan now, and they can make traveling around very easy – almost too easy. You can get food and water and everything else you can imagine there, and you will never be far from a 7-11 or Hi-Life or Family Mart. Lots of them have bathrooms now, which is very nice. Many have seating, and you can get yourself a hot cup of coffee or whatever you want and sit there and read and look at your maps and get your bearings. For wild camping – maybe some urban camping – I imagine they could be a great help – stock up on whatever you need and then head back to set up the tent. The markets are, of course, much more interesting places to eat and shop, but if all you want is a bottle of water, nothing beats a 7-11 for a cyclist.
Other accommodation? Well, I don't know how many people have signed up for Couch Surfing and/or Warm Showers, but that might be something to try. There aren't many backpackers in Taiwan, but there are lots of English teachers, and they might be able and willing to put up some world cyclists and show them the town.
Food shouldn't be a problem. The Taiwanese are crazy about food, and it is everywhere. As I said before, you could feed yourself 100% just by relying on convenience stores. They have complete meals that can be microwaved right there. The most popular is what they call a "biendang." This is basically a lunchbox – rice, veggies, and some meat. A filling biendang at a 7-11 costs about NT$60 ($2 US).
You can actually get a biendang everywhere – on trains, from restaurants, in markets. My favorite restaurants are the ones I call "buffet". (Not sure what the Taiwanese call them.) They have dozens of dishes on steamer trays. You get some rice and then pick and choose from all the dishes – whatever you want. Then the cashier just estimates a price for you. A meal from a really good buffet with one meat dish would cost about NT$90 ($3 US). A basic buffet often has a complete meal for NT$50 ($2). I love these places because I love the food, the price is great, and you can simply point at the dishes you want.
Roads are almost 100% paved. You'd have to go very deep into the mountains to find an unpaved road. The pavement is smooth for the most part. There might be the occasional pothole or chunk of pavement missing from typhoon flooding damage, but nothing that will be a problem on a bike. Roads can be narrow, and the driving isn't the greatest, so you have to keep an eye out – especially on blind corners. The Taiwanese will take these corners at speed both going wide and cutting close, so you just never know when a car will suddenly appear. It's not nearly as bad as in some countries, but it can get a bit hairy. There can be a lot of typhoon and flooding damage and rockslides. So there can be rocks on the road. You'll see signs warning you about that all the time. And I think the southern cross-island highway is still completely gone in the middle. It suffered extreme damage in a recent typhoon, and still hasn't been repaired. I tried to cycle across it and found I couldn't go all the way. I think the government has decided to just leave it. Every time they fix it, it gets washed away by another typhoon.
Dogs shouldn't be a concern. There are a lot of strays in Taiwan, but they don't seem to be very territorial. The few dogs I've encountered that seemed aggressive were always chained up somewhere. The unchained ones barely have the energy to lift their heads from the pavement and watch you cycle past.
These are some of my favorite places in Taiwan:
Lanyu (Orchid Island)
Green Island
Shihfen, Pingxi, Jingtun (old mining towns) on highway 106 near Taipei
Jioufen – just south of Keelung – beautiful traditional town
Pingling and all of Highway 9 near Taipei
Yehliu Geopark
North Cross-Island Highway – Fushing, Baling, and the Lalashan Forest Recreation Area
South Cross-Island Highway – as much as is open, anyway
Nantou County and the Alishan area – the whole region with little towns like Fenqihu and Fengshan
Miaoli County
Hualien and the Taroko Gorge – mountain road up to Tayuling and Wushe and Lishan
Nanfangao – fishing village north of Hualien on the coast
Tainan – old capital of Taiwan
Lugang – lots of history
There is, by the way, quite an extensive amount of information in English about tourism and travelling in Taiwan. There are two very good bi-monthly magazines, for example:
This is the website of the Taiwanese Tourism Bureau.
Each region of the country has a strong Internet presence. It's very surprising considering how few English-speaking tourists actually come here. Here, for example, is the website for the Matsu island group:
There is a website showing all the National Forest Recreation Areas in the country.
Kinmen also has a pretty elaborate tourism website.
This is just a random few. There are many, many more.
You can get excellent maps of Taiwan at various Tourism Bureau locations in Taiwan. In Taipei, the Main Tourism Bureau is on Dunhwa Road. The address is No. 240 , Dunhwa N. Rd. The building is just south of the intersection where the Songshan Airport is located. You can't missing seeing that on any map of Taipei. The Tourism Bureau itself is trickier to find. Not much in the way of signs. However, you can find No. 240 easy enough. It is a big dark office tower with a curving driveway leading to the front door. It's on the west side of the road. Just go into the lobby and turn left. There's a big tourism information room at the end of the hallway. The people are really friendly, and you can get these maps as well as lots of other maps and brochures and booklets about Taiwan. They're very helpful people, and they have a ton of information in English.