Home » All, Philippines, South Coast of Samar
A Walk to the Weather Radar Station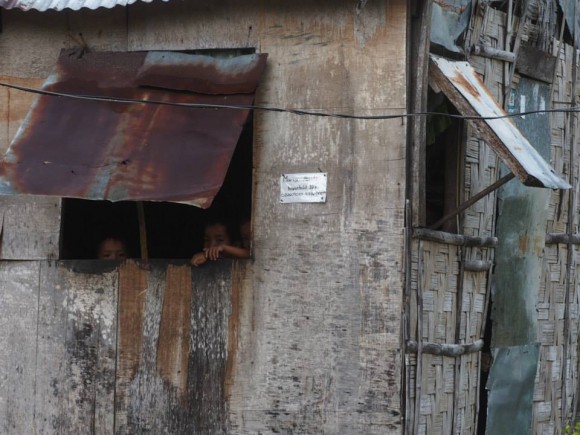 I had plans to leave Guiuan yesterday, but I woke up to rain and it continued to rain off and on all day. Today, the skies are clear and blue, so the plan is to leave in an hour or two.
After I had breakfast yesterday morning (at Sanley Express Meals again), there was a break in the rain and I set off on foot to the PASAGA radar station on the hill. I'd passed by it a number of times, but I didn't know that it was possible to visit it and go up inside the building. Apparently, it offers nice views of the region.
I decided to walk to make more of an event out of it and to be able to take pictures. I had the 75mm lens on the camera. I have felt from time to time that it was a mistake to buy so many lenses for this camera, but I do enjoy having them. I often change the lens for no other reason than to try something different. The new field of view changes the type of pictures I take, and it is refreshing. It is always surprising. A while back, I was considering sending away some of my lenses. I was thinking particularly of the 45mm lens as it didn't seem that useful. Now, it is probably my favorite lens. So I'm glad I kept it with me.
My route to the radar station took me past the old runway again. I started off down a path along the side of the fence thinking it would take me the entire way to the barangay of Sapao on the other side. To my disappointment and frustration, the path stopped about a third of the way and there was no way to continue forward. I had to backtrack to the road and find another route.
Alongside the runway are vast stretches of old pavement. This was clearly part of the naval base and gives some indication of how large it was. It was interesting to imagine how it looked at that time and how it changed over time to today. Local people had built little houses on the edge of the tarmac and it has a strange atmosphere with the wide sections of tarmac all around. It feels like squatters living on the edges of a giant parking lot.
It began to rain again as I walked along and I had to put away my camera and put the rain cover on my pannier bag. It rained harder and harder until I thought it best to take shelter underneath the awning of a large sign. By the time I reached the radar station and climbed up the steep access road, it had clouded over completely and the views of the area were obscured. It didn't matter anyway because I'd managed to time my visit to coincide with lunch. I have a habit of doing that. The manager of the PAGASA station was gone somewhere having lunch and without him I wasn't able to go inside and climb to the top. It didn't matter though, since I wouldn't have been able to see anything. Today, being a beautiful day would be a good day to go, but I don't think it would be worth staying here for another entire day.
There were actually two radar buildings on top of the hill. They each had the typical large white domes on the top. One building was quite short and old. It looked to be abandoned and not in use anymore. The other building was bright blue and very tall and looked to be brand new. The plaque on the front confirmed this. It said that it was a gift from Japan and had been completed in 2013. From up on the hill, I did manage to get a view of Dumpao and Sapao beaches including the area where I'd walked out into the ocean and had my brush with the incoming rush of water.
It started to rain again when I left, and I took shelter under a small roof with a group of children and a teenage boy. The boy was quite a chatter box and asked me all the usual questions in English. I couldn't wait for the rain to end so that I could escape from the onslaught. I passed the time by snapping pictures of the children.
While I was there, I noticed some metalworking tools underneath this roof. The boy confirmed that it was used to make farming and household utensils. Further on, I was trapped by the rain again and I found myself sheltering inside another metal working building. A man was busy sharpening a machete, and I saw a set of six or seven finished machete blades. Across the street, I noticed another metalworking operation. The man there was heating up a slab of steel in a fire and then hammering it on a crude anvil. I went over later to get a closer view. It was a two-man operation with one man shaping the steel with a hammer and another man running a bellows to heat up the fire. The bellows consisted of two long tubes standing upright on the ground. The second man was operating a pair of handles that went down inside the tubes. They were clearly something like plungers and by raising and lowering these plungers rapidly, he was forcing air through the tubes and down a set of pipes that led into the heart of the small fire. I was impressed at how efficient this was. In any event, the steel, once thrust into the center of the fire, became red hot in a very short time.
My walk back into Guiuan seemed a very long one. I don't think I'd walked any more than seven kilometers in total, but my legs felt the effort. My back was also aching from the straps of my pannier bag knapsack. The entire way, I was dreaming of a cold beer at the local fast food joint. It's the one place in town that proved to have truly cold beer. Unfortunately, there was a new woman at the counter and she wouldn't sell me a beer. She said that by law, they couldn't serve beer until after six p.m. I was a bit annoyed at that. I'd been to this same place several times and had a beer during the day. I'd even visited a different outlet of this same fast food company out on Calicoan Island and had a beer there during the day. But on this day, the one day when I was dying for a cold beer, they decided to enforce this rule. I ended up having to make do with a Sparkle soft drink. I grimace every time I end up at a place that only has Sparkle in the fridge. There is nothing wrong with the drink. It is a clone of 7-Up and Sprite and all the other non-Colas. It tastes fine. I just find the name extremely goofy. I feel like an idiot every time I say "sparkle."
I wonder sometimes if restaurants get kickbacks from soft drink companies. They seem to push them on their customers. They do it in the same way that clerks at McDonald's will ask if you want fries with your meal or something like that. You order your food, and then the clerk here will wave at the nearby cooler packed with soft drinks and ask you what you want to drink. It certainly works. I often feel the urge to order a drink even when I don't want one. Saying no to their offer seems rude somehow. And Filipinos have soft drinks with their meals probably 90% of the time. It doesn't matter if it's breakfast, lunch, or dinner. Soft drinks accompany them all. I'm sure this might account for the huge rise in obesity and diabetes in the country. At least there is a choice. There is almost always a big container of pure water available somewhere and you don't have to have soft drinks. Most of the time, I just have water. I'm generally so thirsty that I'll have half a dozen and sometimes up to a dozen glasses with my meal. I'm very appreciative of this new trend of purified water being available everywhere.
I've had a couple of days off the bike now, and it will be interesting to see if my knee is just as bad as before or if it is recovering at all. I don't feel any pain at all when sitting or lying down or even walking. Even when I poke and prod at it, I'm rarely able to locate even mild discomfort. It is only when I'm pedaling the bike that the pain shows up. We'll see what happens. It would be nice to be on the road to recovery, but I don't have my hopes up. Jessa's sister told me that she met an Italian cyclist while she was in China. This cyclist had ridden his bike from Italy all the way to China. He had intended to go around the world, but his right knee gave out on him just as mine seems to be doing. He had to stop his ride and he went back to Italy and got knee surgery. Sitting here, my knee does feel a bit odd, almost like it is swollen. But I don't feel any pain.
Tags: bike, China, fire, Italy, pannier bag, PASAGA, Philippines Bike Trip 2013, South Coast of Samar