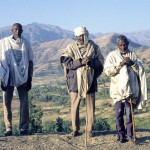 Back in 1998, I went on a bike trip to Ethiopia. I had a film camera, and film was expensive, so I didn't take very many pictures. (Digital cameras and smartphones hadn't been invented yet.So strange to think about that.) And people were so inquisitive and so demanding, that it was impossible to write in my journal anywhere. I ended up recording my journal on tape. I thought I would transcribe those tapes later.
Well, it turned out that transcribing tapes is much more time-consuming than you'd think. It takes forever. So I never finished the job. However, I did transcribe a few of the tapes, and yesterday and today, I started reading through one of the transcripts. It covers the day that I rode my bike out of Addis Ababa, and reading it was like reading someone else's journal. I hardly remember any of it. I remember bits and pieces, but that is about it.
I've often reflected lately on how bad memory is, and reading this transcript is more proof. And I wonder what the significance is. For example, I have the urge to do interesting things. But why? Why bother doing anything if you won't remember it anyway? I did all kinds of interesting things in Ethiopia, but what does it matter? I don't even remember doing them.