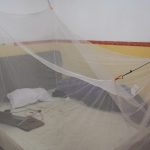 Don't want to read? Click on the arrow, and listen to me read it for you:
You know you are far from home when a platoon of some kind of morality soldiers roust you out of your hotel bed.
It was a Saturday night. This hotel never gets very busy, but Saturday night is probably the busiest night. That's the one night I might hear some noise and commotion and some rather odd characters (usually half-dressed men) might be spotted prowling the dark balcony. So I didn't pay much attention when I heard some banging and crashing and loud voices. I was already asleep under my mosquito net with earplugs in my ears, so I think a really loud noise woke me up.
Share this post on the following sites: