Home » All, Gear & Technology
What Is Facebook's Timeline and How Does It Work?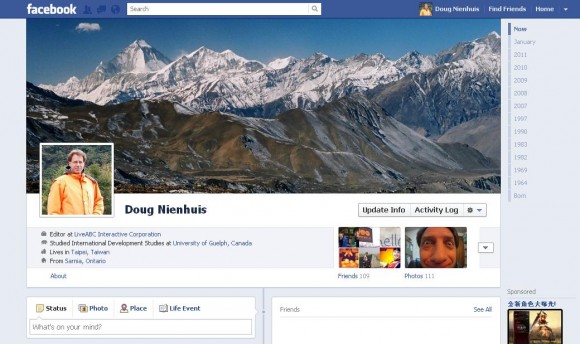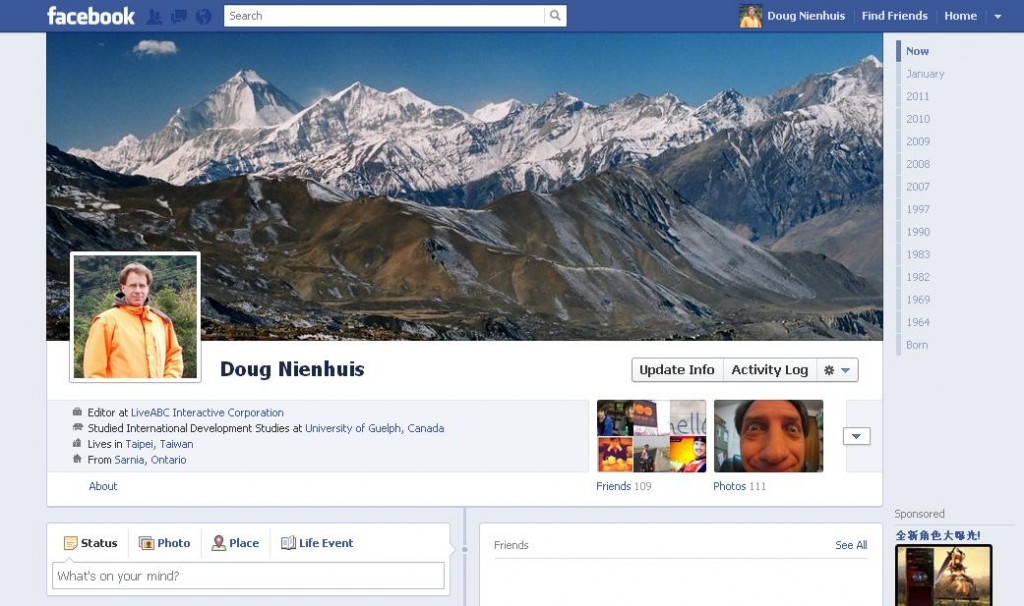 Timeline is what Facebook is calling the new design and layout of the Facebook profile page. It's a bit of a confusing name because, in fact, Timeline only refers to one new feature on your Profile page – a long chronological and editable list of all your Facebook activity. This Timeline feature essentially replaces the Wall. To keep things straight, I will be referring to the whole new profile page as the Timeline Profile Page. When I'm talking about just the new Timeline feature, I'll be referring to it as simply Timeline.
Switching everyone over to the new Timeline Profile Page is a big undertaking, I guess, and Facebook is doing it in stages. They'll get around to you eventually. However, you also have the option of adopting the Timeline Profile Page right away. Note that adopting the Timeline Profile Page is a 2-stage process. You first activate the Timeline Profile Page. Go to the Timeline intro page and click on the "Get Timeline" button. Then you have 7 days to go over your new profile page and edit it and make changes. During that time, only you see the Timeline Profile Page. Everyone else will still see your old profile page with the Wall. At any point during those 7 days, if you are happy with how your Timeline Profile Page looks, you can take it live by clicking on the "Publish Now" button. Then everyone will see your new Timeline Profile Page and the old profile page will be gone forever. There is no going back. (You can also just wait until the end of the 7 days and then the system will publish your new Timeline Profile Page for you.)
It's important to note that all Facebook users have to eventually adopt the new Timeline Profile Page. You don't have a choice in the matter. As much as you might like the simplicity of the old profile page, it will eventually disappear and be replaced with the new one. If you don't voluntarily make the switch, at some point Facebook will do it for you. I have no idea what the timing is for this. For my money, though, I'd rather take the bull by the horns and do it early than wait for the change to just happen. Just make sure that when you click on that "Get Timeline" button, you know you're going to have some free time (a couple of hours at a minimum) over the following 7 days to fiddle around with it and get it set up to your liking.
There is a lot going on with the new Timeline Profile Page, but I'm going to focus on just the Timeline feature itself. As I said, Timeline replaces the Wall. There are several big differences between the old Wall and the new Timeline.
The Wall only went a short distance back in time and then stopped. Timeline shows all your Facebook activity going all the way back to the day you first got your Facebook account.
The Wall only showed your Facebook activity – status updates, etc. Timeline is editable and you can go back in time and insert life events (with photos, videos, etc.) going back as far as you want – all the way back to the day your were born. One interesting quirk is that Timeline will not allow any events pre-dating your birth. So, for example, you cannot insert events such as the day your mother was born. Even if you don't publish your birth date and year, Facebook knows what it is and it caps the Timeline at that year. You could change this by inserting a fake birth year. From what I can tell, the earliest you can set is 1905. Then your Timeline would go back to 1905. Unfortunately, the system would then believe you are 106 years old. Not sure what effect this would have overall. Plus, there is a limit to the number of times you can change your birthday in Facebook.
The Wall had a simple layout with just one long column. Timeline has a much more complex layout with two columns on either side of an actual line running down the middle with various features mixed in with the posts themselves.
The Wall and Timeline are both chronological and show items in reverse chronological order. However, Timeline has these items in two columns and they are staggered from side to side. Each item has a little arrow pointing to a dot on the central line indicating the date and time. It's not as easy or intuitive to tell the order of these items. Also, hovering over the dot does not, as you would expect, reveal the date and/or time. Nothing happens. To see the date and time of the post, you have to refer to the post itself.
The Wall was not really editable. Timeline is fully editable. You can insert new photos and videos and events, and you can change the dates on existing ones. When you change the date, the item will physically move to a different spot on the line.
The Wall had essentially one view. Everyone saw basically the same thing. Timeline has many different views and can be fine-tuned to show different things to different people. Essentially, you can control what shows up on your Timeline, and then you can allow different people varying levels of access to information on your Timeline. You can also choose to see only "Highlights" or "All Stories". (Facebook uses the overall term "story" to refer to anything that shows up on your Timeline. So a photo, a video, a status update, a life event, etc. are all "stories".) You can also choose to see an "Activity Log", which displays everything in a very simple and clear single column list. Only YOU can see your Activity Log. It's actually a very useful part of Timeline. Each "story" on the Activity Log has two small icons on the right. One looks like the Earth, and you can click on this to select who can see this story. Facebook calls this the "Audience Selector". The other is shaped like a circle, and you can click on this to choose whether this story appears on your Timeline. The Activity Log is a very fast and convenient way to manage stories on your Timeline. With the circle icon, you can also delete the story entirely, "Star" it, add a location, or change the date.
The Timeline is surprisingly intuitive, and it should take only a short time to figure out how to work with it. Of course, it basically runs itself. It is a list of everything that happens on Facebook that relates to you. Everything shows up there, and if you don't want to change anything, you don't really have to do anything. You can scan your own Timeline or you can go to someone else's Timeline and scan it to see what has been happening with them. It's just like the old Wall in that regard, though at first glance it is much harder to make sense of. It takes time to get used to the 2-column layout.
When you are looking at recent stories – those within the last month or so – Timeline automatically shows you everything, essentially a very detailed view of all the Facebook activity relating to you. You'll see on the little dropdown menu at the top that this period of time is called "Now." After that comes the previous month. Timeline also gives you a detailed view of that month by default. It seems to give this detailed view for all of the previous year. However, once you go far back in time, you will have the option of switching between a "Highlights" view, and an "All Stories" view (plus the Activity Log).
When you run your cursor along the actual line between the two columns of the Timeline, it turns into a plus sign (+). Then you can click to insert something anywhere in the past. Facebook provides a highly detailed menu of options of "Life Events" to insert, divided into five categories. You can also type in a new name for the event if it isn't represented there. You can also insert a Place, a photo or video, and a Status Update. You don't have to physically scroll down to the time/place on your Timeline where you want this Story to appear. You can click anywhere (even at the very top) and then insert a date for any time in the past. They system will automatically place that Story at that date in your Timeline.
Here's another neat Timeline touch: When you go to your Timeline Profile Page, there is a place under the Cover Photo where you can choose to view Photos, Friends, Map, About, etc. When you scroll down to see the Timeline, however, these options and buttons naturally disappears from view. However, you'll notice that just when you reach the point of that menu disappearing from view, a little pop-up menu appears to replace it and it remains stuck in place at the very top so you always have access to it. It's a neat touch and shows someone was thinking when they implemented this new Profile page with the Timeline.
Oddly enough, though, the Timeline is the only part of the Timeline Profile Page that doesn't show up anywhere on the menus. Nowhere does it actually say "Timeline." You can click on that dropdown menu and select from Photos, About, and Friends. However, you can't select "Timeline." It isn't one of the menu options. To see the Timeline (after looking at photos, etc.) you have to click on the person's name again in order to go back to the main Timeline Profile Page. Maybe it's just a bug they haven't worked out yet, but it seems pretty weird. It confused me for a while.
Albums of photos that you've published on Facebook appear on the Timeline, of course. And they appear on the date that you published the photos. If the photos were actually taken in the past, you can change the date so that the album appears at the proper time on the Timeline. You can also change the date for individual photos. The album will remain where it is, but the photo will now appear separately on the Timeline at the new date you specify. Interestingly, it will also remain inside that album at the previous date. So essentially, the photo will now appear in two places at different dates.
Note that you can navigate through the Timeline in many different ways. You can simply scroll down the Timeline with your mouse wheel or with arrow keys. You can also select a date from the menu of dates on the right side of the screen. You can also choose a Year from the dropdown menu that appears at the top as you scroll down. Once you've selected a year, you can then choose a month by clicking on the "Highlights" part of the dropdown menu. You can also choose a month from the menu on the right.
Facebook chooses what shows up on your Timeline through various methods which depend on the type of story, how many people commented on it, who posted it, etc. You can then choose to remove the story if you wish. You can also choose to make a story more prominent by "starring" it. Just hover over a story and click on the star. This makes the story always visible on your Timeline. Unfortunately, it also makes that story widescreen – it fills up both columns. It would be better if these two functions were separate.
There is a plethora of privacy settings connected with Timeline. I'll just mention one, and that is the ability to review stories you're tagged in before they get posted to your Timeline. To turn this on, go to your Account, choose Privacy Settings>How Tags Work>Edit Settings. Click to edit your Profile (Timeline) Review setting and turn it on. Then you'll have to approve each of these stories before they get posted to your Timeline.
Timeline offers the ability to view your Timeline Profile Page as other people see it. Just click on the little arrow beside the "Activity Log" button under your Cover photo. Then select View As. You first get a view of what the general public sees (ie, non-friends). Then you can type any person's name into the box that says "Enter a friend's name". Then you'll see your own Timeline Profile Page as that person sees it. This gives you an idea of how all your various privacy settings are functioning. When you're done, just click on the "Back to Timeline" button on the right.
I've already mentioned that you can go back and add things to your Timeline. You can add photos, videos, etc. and put them anywhere on your Timeline by selecting a date. However, you can also add things to other people's Timelines. You simply go to your friend's Timeline Profile Page and select Post or Photo at the top. Or you can click anywhere on their Timeline and add something that way. This is getting into weird Facebook territory for me. Logically, posting to someone's Wall made sense. You want to say Happy Birthday or something, you post that message on their Wall. Now that it is a Timeline, it feels different somehow. A Timeline feels very personal to me – it's something you create that is a scrapbook of your life. It somehow feels wrong that anyone can Post a photo or a video or a comment anywhere in your Timeline (life scrapbook). Yet, what other option is there? It's just what Facebook is and how it works. If you want to wish someone a Happy Birthday, you can either send them a private message or post it. And when you post something, it automatically ends up on that person's Timeline. It can't go anywhere else. So you've got this bizarre hybrid thing – this Timeline. It's both private and public. It's like having a scrapbook of your life on your shelf, but anyone can walk into your apartment, open it up, and start pasting things into it.
Note that you can only add Posts and Photos and Videos to your friends' Timelines. You don't have the option to add any Life Events. You can only add Life Events to your own Timeline. That makes sense. Otherwise, you could announce someone else's marriage or something when it isn't true.
If you have lots and lots of stories on your Timeline, some of them may fade away over time and be represented by a grey dot. The story is still there, just not visible. Hover over the grey dot to preview it. You can also click to Resize this story and that brings it out from behind the dot and makes it visible permanently (and widescreen).
Life Events, unlike other stories, are always "starred" by default. This means that they are always visible on your Timeline and won't fade away and be replaced by grey dots. And they are widescreen and extend over both columns.
I don't generally use any Apps on Facebook, so I don't really understand them. However, it is also possible to have your Apps post stories to your Timeline. I believe when you install an App you are asked to give it permission to post to Facebook for you. To edit these settings later, just go to App Settings, select the App and adjust the settings.
Another thing to be aware of is that there is a difference between hiding stories and deleting them. When you hide a story on your Timeline, that story might still be visible elsewhere in Facebook. It is only hidden from your Timeline. Deleting a story removes it from Facebook completely – from the Timeline and everywhere else.
Just to finish up, I'll mention one or two other things on the new Timeline Profile Page (other than the Timeline feature itself). The first is the Cover Photo. This is the large photo that appears at the top of your Timeline Profile Page. It is new to Facebook and is different from your Profile photo. You can upload a photo from your computer or choose one from the photos in your Facebook albums. The photo has to be at least 720 pixels wide. You don't have to have a Cover Photo if you don't want one. Just leave it blank, and the Timeline Profile Page will move up to fill the space.
Directly beneath the Cover Photo is an Update Info button and an Activity Log button. Below that is a select list of biographical information plus a somewhat confusing series of boxes. I believe the Friends box and the Photos boxes cannot be moved or removed. The other boxes can be changed. Click on the little arrow on the right, and then you will get a list of boxes. Add one of these boxes to your "Favorites" (by clicking on the plus sign) and they will be visible in that row along with Friends and Photos. These boxes can be filled with Likes, Notes, Map, Subscriptions, or Apps. If you make none of these Favorites, only the Photos and the Friends boxes will be visible.
Underneath the biographical data at the top of the left hand column is a handy little box for adding stories to your Timeline. You can add a Status, a Photo (video is still hidden inside the Photo option for some reason), a Place, and a Life Event. These items will also likely appear in the News Feed and/or Ticker depending on how Facebook's algorithms decides to handle it.
At the top of the right hand column is a large box showing an assortment of your Friends. Mine shows six friends. I believe that's the same for everyone, and as far as I know, this box can't be removed or altered in any way.
Underneath this Friends Box in the right hand column will appear various Apps and Games that you use and a Recent Activity box.
Latest stories will appear in the left hand column directly underneath the handy little box for adding things to your Timeline.
And that's about all that springs to mind. There is tons of information about the new Timeline Profile Page online and on Facebook Help. They go into a lot more detail than I do.
Despite a few niggling details, I have to say that after an initial resistance, I'm starting to like the new Timeline Profile Page. It is clearly far more advanced than the old profile page, and the Timeline feature, once you adjust to the layout, is quite useful. That being said, I can understand people not liking it. So many online systems are trying to be all things to all people, and they often stray from their original purpose. This new Timeline Profile Page looks an awful lot like a blog and it requires some maintenance and thought and study to get the most out of it. But lots of people already have a blog and lots of other people don't want one, period. So what are they supposed to do with it?
And by expanding all of its features, Facebook blurs the boundaries somewhat. It's inevitable considering what Facebook is, but the problem is still there. As I mentioned above, it's not easy to define this new Timeline feature. Looked at one way, it's a digital scrapbook of your life. Facebook certainly views it that way and they've made it easy for you to insert all your important Life Events. Viewed another, it's just a fancy version of the old Wall – a simple place for people to leave you messages and for you to respond. By combining these two ideas, it gets confusing. This really comes home when I switch quickly between the Facebook home page and my new profile page. The home page is full of photos, videos, comments, and other posts from various Facebook friends. It has a certain look to it – one that suits the content. Then you switch to the profile page, and it looks totally different. It looks, as I said above, like a blog. It combines all kinds of elements that really could be separate. Technically, there is no reason for all that Profile data to be visible. It really should be tucked away neatly inside an About Me page. Then there could be the old Wall, which just gives a subset of Facebook activity – those stories that pertain to you. And then there could be another separate Timeline – your digital scrapbook which belongs totally to you and is something you can build up like a blog drawing on elements from your Facebook photo albums and other content. Taking your Profile, the Wall, and a Scrapbook and trying to jam it all into one feature is not really the best approach.
Still, confusing hodgepodge as it is, it still all kinda sorta works, and given enough time, I'm sure everyone will get used to it. Well, they have no choice. It's soon to be a part of everyone's Facebook life whether they like it or not.
Share this post on the following sites:
Tags: Facebook, Profile, Timeline, Timeline Profile Page