Home » All, Malaysia, VIDEO: Blah Blah
VIDEO: It's FREE!! But is it GOOD? A Torture Test of Kuala Lumpur's GoKL Bus Service (GREEN LINE)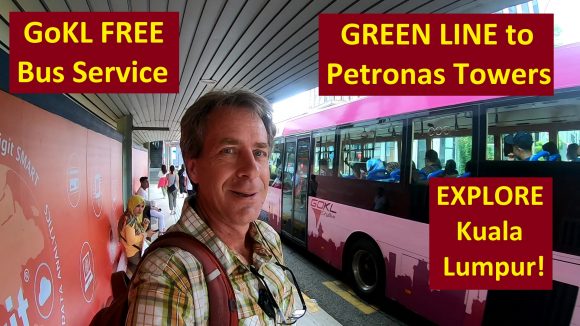 By riding on the GoKL Green Line (one of six lines in Kuala Lumpur's free public transit bus system), I was heading into unfamiliar waters. The Green Line makes a loop from Bukit Bintang to the KLCC area and then back again. I'd been to KLCC a few times, but I always got there via the underground LRT system. And when I came above ground, I was always a bit lost and disoriented. I think the tall buildings of KLCC and this powerhouse part of Kuala Lumpur confuses me. I lose my bearings. So I was curious how it would be seeing this part of Malaysia's largest city from the seat of a bus.
In addition, before I even got to KLCC, I was going to have to transfer from the Purple Line to the Green Line in Bukit Bintant. That would also be a new experience. I had experience getting from Pasar Seni to Bukit Bintang via the GoKL Purple Line buses, but I had never tried to then exit the Purple Line bus and get on another bus going somewhere else.
Would this be easy to do? Would I even figure out how to do it? It was all part of the challenge of Day 2 of my GoKL adventures.