Home » All, Taiwan
Two More Film Festivals in Taipei this Summer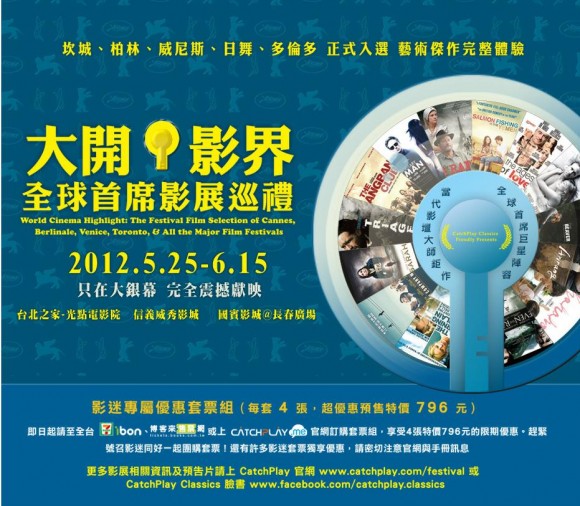 For those movie-lovers keeping track and chomping at the bit for more, there are two more film festivals on the horizon for Taipei.
The first is being put on by CatchPlay Classics and runs from May 25th to June 15th. I believe it is called World Cinema Highlights, and they are showing 23 official selections from famous film festivals around the world including Cannes, Berlinale, Venice, and Toronto among others. You can check out all the information at their website heeeeeeeeeeeeeeeere. Here's a list of the films:
Salmon Fishing in Yemen          The Ages of Love          All Good Things          The Beaver          Arirang          Ha Ha Ha          Even the Rain          The Burning Plain          The Company Men          Sarah's Key          Triage          The Bang Bang Club          Solitary Man          The Round-Up          The Tree          Lily Sometimes          Bedevilled          The Messenger          Barney's Version          The Tempest          Winter's Bone          Catfish          The Disappearance of Alice Creed
There seem to be a variety of ways that you can tickets. You can get them through the iBon machines at any 7-11 and online at books.tickets.com.tw
There are also seems to be some kind of package deal if you buy a set of tickets in advance. I can't make out the details, though, and I have no idea what individual tickets cost. (Isn't this the most informative blog post ever?) There is a full program available at various places around Taipei. If you know me and bring me a treat, I can probably pick one up for you.
If this hasn't convinced you to quit your job and just go to a lot of movies, then consider the next film festival. Starting on June 29th and running to July 21st, Taipei welcomes (wait for it) the 2012 Taipei Film Festival. You can check out their full schedule and all the information you might need at their website right heeeeeeeeeeeeeeeeeere.
There are far too many films in this festival to list (200 of them actually). One interesting note is that some of the films are being screened at Zhongshan Hall. I've been to a few concerts there and it has become my favorite venue in Taipei. It's just a couple of minutes from the Ximen MRT station. I don't know what kind of equipment they have for showing movies, but it should be interesting to find out.
So, that's it. If you have even a grain of sense, you'll all quit your jobs and become a film-festival junkie like me. As Marc Maron would say, "Do it!"