Home » All, Malaysia
Turtle-Warp Speed on the KL Monorail – EXPERIENCE KUALA LUMPUR FROM ABOVE!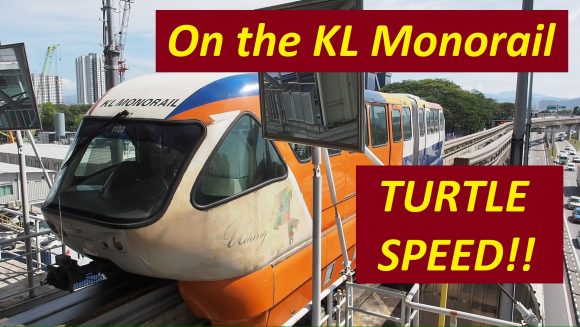 I've ridden on the Kuala Lumpur LRT and the MRT at Warp Speed. Now it's time for a ride on the KL Monorail – perhaps at Turtle Speed. Stretching 8.6 kilometers over 11 stations, the KL Monorail takes passengers through the heart of commercial, downtown Kuala Lumpur from KL Sentral through tourist-heavy Bukit Bintang and Chow Kit all the way to the terminal station of Titiwangsa.
It's not the fastest way to get around Kuala Lumpur. Nor is it the most comfortable. But it is one of the most interesting, since the Monorail line zigs and zags and makes ninety-degree turns and takes its sweet old time, providing great views into a variety of classic Kuala Lumpur neighborhoods. You get overhead looks into several beautiful temples, the Klang River, lots of modern highways, and the ever-growing skyline of this fast-developing mega-city.
As you putter along, you can make mental notes of a dozen restaurants or shopping malls or tourist attractions you might want to visit later on. Forget guided tours in a boring old bus. Ride the Monorail on your own and see it from high above.