Home » All, Myanmar, VIDEO: Blah Blah
VIDEO: The Secret Relic Room at Botataung Pagoda – Yangon, Myanmar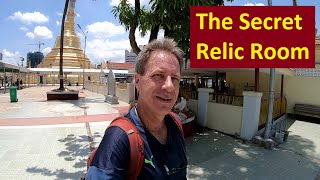 With some illnesses and a failing computer, I have been off the Internet for a while and just enjoying life in Yangon. On this day, however, I decided to take my camera with me as I went to visit one of the most famous pagodas in the city.
The Botataung Pagoda is unique in that the main structure is not sealed. It is open and has been converted into a small museum. Unlike at Sule and Shwedagon pagodas, all visitors can go inside the main structure.
This pagoda was also almost completely destroyed during World War II by an accidental bombing run by the RAF. During the reconstruction, a hidden relic room was discovered, and the treasures they found are now on display.