Home » All, Taiwan
Taiwan Latino Film Festival – To the Other Side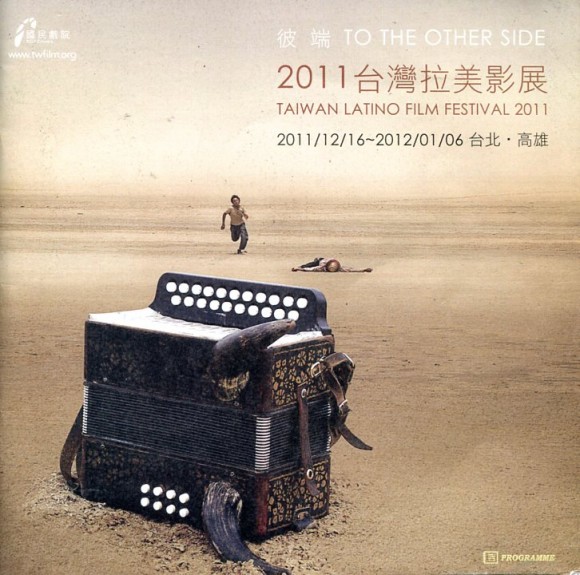 The Taiwan Latino Film Festival titled "To the Other Side" is currently underway at the Spot Taipei Film House. It started on Friday, December 16th, and runs until January 6th. They're showing twenty-six films from seventeen Latin American countries. Anyone familiar with films from Latin America knows that this is a real treat.
Individual tickets cost NT$200 and they can be purchased at the ticket counter at the Spot Taipei Film House and at any ArtsTicket outlet. The films showing on opening night were sold out, but my sense is that you could show up at the Spot before the film you want to see and be reasonably sure of getting a seat. It's a small 80-seat theater and they don't generally offer reserved seating. You can sit anywhere you like.
For those that don't know, the Spot Taipei Film House is located in the old American ambassador's residence at No. 18 Zhongshan North Road, Section 2. It's about a four-minute walk from the Zhongshan MRT station on the Red Line. You can take the escalator at Exit 2, and then turn left down Nanjing Road. You'll pass a McDonald's, a big department store, and then a bunch of small shops and restaurants. At the corner of Zhongshan Road, turn left. The Spot Taipei Film House will be on your left at the second alley. There are also a couple of bar/restaurant/cafes there and a funky shop selling funky things and DVDs and movie-related stuff.
There are about seven films showing a day during the festival starting at 11 a.m. every morning. All the films have Chinese subtitles. They're projected onto a separate little screen running along the bottom of the main screen. And nearly all of the films have English subtitles as well. Only two don't: Nostalgia for the Light and Days in the Country. You can see the schedule here.
I went to see a couple of movies at the festival last night. The first was called Historias Minimas. It's from Argentina and was directed by Carlos Sorin. It's from 2002 and apparently won more than twenty awards. I enjoyed it very much. It's exactly the kind of movie that I enjoy most. It shows what life is like in another part of the world. It focuses on the lives of ordinary people. It's funny and touching and beautiful and is something of a road trip movie as three people set off on a short but perhaps life-changing journey to a nearby town. I find that I don't have a lot of patience anymore for films that show people as evil and selfish and rude and dangerous. We get a lot of that these days. My experience is totally different. I find people to be friendly and helpful and generous. And in Historias Minimas we see people like that. It almost feels like a throwback to the forties or fifties when everyone knew their neighbors and you stopped to help people in trouble and people opened their doors to strangers and weren't always suspicious and afraid.
The second film was an interesting counterpoint. It was a documentary called Nostalgia for the Light. It was also set in Argentina but this time in the Atacama Desert. The altitude and the dryness of the Atacama combine to make it the perfect place to situate telescopes to observe the far reaches of space. It was also where Pinochet located camps to house political prisoners and where many bodies of the disappeared were buried. The climate preserved these bodies as well as the remains of some ancient peoples that lived there. The film moves back and forth between the search for celestial bodies with high-powered telescopes and the search by relatives for the bodies of their loved ones in the sand and rock. The subtitles were in French, but my high school French was sufficient for me to keep up with what they were talking about. And the highlight was the visuals anyway. The film featured fantastic images of galaxies in deep space as well as close-ups of the cratered surface of the moon. It was a beautiful slow-moving film, a treatise on the nature of reality and space and time and what it means to be human.
It was a good start to the festival for me, and I plan on seeing as many of the films as I can.
Tags: Argentina, Atacama Desert, Historias Minimas, Minimas Historias, Nostalgia for the Light, Pinochet, Spot, Taipei, Taiwan, Taiwan Latino Film Festival, To the Other Side