Home » All, Blog Blog Blog, Sumatra, Sumatra Part 02, Travel
Successful But Predictably Weird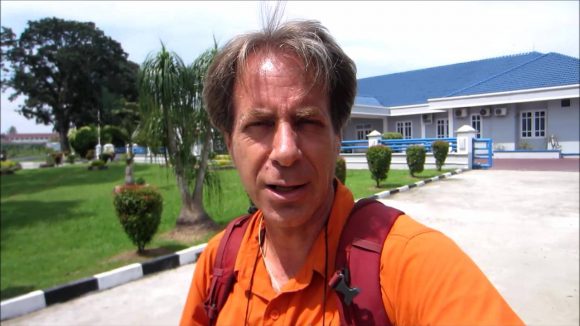 Don't want to wear out your eyes reading? Click on the play button and listen instead!
Tuesday, October 4, 2016
6:15 a.m. Tamariah Losmen, Siantar, Sumatra
My trip to immigration for the interviews ended up being successful but predictably weird. I got there on my bike, of course. My sponsor, Stephani, was going to get there on her own. I assumed she would be on a scooter. I showed up a few minutes before my scheduled interview time of 10 a.m. The usual woman was sitting behind the main counter, and I went up to her just to let her know that I had arrived but my sponsor wasn't there yet. Then I sat to wait.
Stephani showed up around 10:15, which, for Indonesia, is extraordinary. You might as well call that showing up early. Stephani and I went up to the counter, and the woman there informed us that all the immigration officers were in a meeting. We would have to wait until their meeting was over. That annoyed me but it didn't surprise me. It's fairly typical of a place like Indonesia that someone would tell you to show up at 10 for an appointment when they have a meeting scheduled for that exact same time.
We didn't end up waiting for a very long time by Indonesian standards. When I went through the visa extension process in Tanjungbalai, they kept me waiting for four hours on practically every visit to the office. But it felt long because I knew that Stephani was taking time off work and needed to get back to the police station. I could sit there all day, but Stephani couldn't. Finally, Stephani took the initiative and went to check. She went to the counter to ask the woman how much longer we would have to wait. Then she turned around and waved at me to come join her. I went up there, and she said, "You have to pay now." For some reason, the requirement for an official interview had just vanished. Stephani said that her chatting with the woman behind the counter was, in fact, the interview. It was all over. All I had to do was pay my 355,000-rupiah fee and then return on Wednesday to pick up my passport.
I was glad about that, of course. I was going to get my extension, and I only had to wait two more days instead of the eight days that I expected. However, I was a trifle annoyed about the process. They insisted on having a personal face-to-face interview with my sponsor. I asked them if the long phone call and all the documents weren't enough. Stephani herself asked if it was really necessary. It was a lot of trouble for her to leave work and come to immigration personally. Plus, it meant tacking on an extra three days of waiting for me as it was the weekend. And after all of that, they decided to just forego the interview because they were in a meeting. If the interview was so unnecessary that a simple office meeting could supplant it, why make us do it in the first place?