Home » All, Taiwan
Rock-Climbing Cliffs at Longdongwan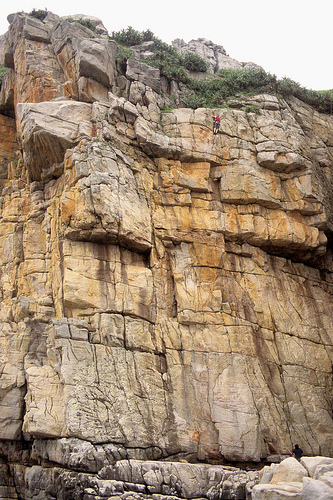 June 21, 2010
Longdongwan means Dragon's Cave Bay and some of the best rock climbing cliffs in the world are located there. Every weekend sees a selection of daring spider-people clinging to the rocks and expertly making their way to the top.
The rock climbing cliffs at Longdongwan are easy to find once you know where to look, and they're a great place to hang out whether you're a climber or not. First, you've got to get to Longdongwan. It's located on Taiwan's northeast coast about 50 to 75 kilometers from Taipei depending on which route you take to get there.
Longdongwan is a large bay and is a popular spot for snorkeling and scuba diving. There are several dive shops located on the coast highway just as you arrive at the bay. Be careful driving through here. Large groups arrive and the parking lots get jammed and spill over onto the highway. Lots of drivers turn blindly onto the coastal highway, expecting whoever is coming to simply slow down or swerve out of the way. The dive shops are also moving lots of vehicles around trying to load up dozens of divers with their air tanks and other scuba gear. Meanwhile, the infamous gravel trucks are thundering through town blasting their air horns, moving out into incoming traffic, and otherwise being very annoyed at having to slow down at all. It gets very chaotic and dangerous.
The rock climbing cliffs are located right on the ocean just past and around the corner from Ho-Mei village. I read that the cliffs are up to 70 meters high, and that there are roughly 500 different climbing routes, including sport routes from 5.5 to 5.14a in difficulty, and traditional routes up to 5.12c in difficulty. I have no idea what that means, but if you're a climber, you probably do.
One way to get to the rock climbing cliffs, is to go into Ho-Mei village. Drive past the original cluster of buildings on the coastal highway and you'll get to a traffic light. Turn left at the traffic light (assuming you're heading south) and that will take you into the village. This is the only access road. You can't drive into the village from anywhere else on the highway. So if you miss it, you'll have to turn around and come back.
There is very limited parking in Ho-Mei village, so you'll just have to take your chances if you have a car. It's easier for a scooter, of course, but lots of people come to this area on the weekend and need a place to park. I have no idea if certain areas are reserved for paying customers of different businesses or not. I just end up parking my scooter somewhere and then seeing if somebody yells at me. If no one yells at me, I figure it's OK to park there. You might have (probably do have) a better system.
Follow this road all the way around the bay through Ho-Mei village to the end where it dead ends. You'll see lots of people here getting suited up for scuba diving, snorkeling, or climbing. I even saw a couple of high-tech campers being pulled behind cars. I assume these people are dedicated sporty types who live out of their trailers to save money and spend more time snorkeling, diving, and climbing.
There is no trail per se from Ho-Mei village to the rock climbing cliffs. You simply keep walking past the end of the village and find your way along the rocks. (There are signs here pointing the way.) There's nothing here that a person of average fitness can't handle, but it is pretty treacherous. I have a feeling that more people have injured themselves (twisted ankles, etc) hopping from boulder to boulder to get to the climbing area than have injured themselves while actually rock climbing. This is certainly not the place to be wearing flip flops. You're going to want at least running shoes.
You'll get to the first of the rock climbing cliffs within a hundred meters. I'm not sure how far the cliffs extend down the coast, but I hiked for perhaps a kilometer and a half before I reached a spot where I couldn't continue. Looking at Google maps, the whole area looks to be about two kilometers long in total.
I had it in my head that I could walk all the way along the coast and join up with the coast road. I wasn't doing any rock climbing by any means, but I did have to do a short traverse near the beginning (there's a rope in place to help you, but I think you're better off holding onto the cracks in the rock) and some rock scrambling. When I couldn't go any farther, I found I'd gotten myself into a little bit of trouble. I'd climbed up a little bit looking for a way forward. I found, instead, a long drop into the ocean and no way to get across or around it. Now I had to retrace my steps and that meant going DOWN what I'd just climbed up. Going down was much, much harder, and I had to sit down for a while and get up my courage before I could step over the cliff backwards and feel for the first foothold. My heart was pounding a little bit when I got to the bottom. Of course, when I looked up, it was nothing at all. It's just that things look a lot different when you're at the top looking down.
I wouldn't have tried so hard to go down the coast the entire way except that I was convinced it could be done. I thought this was an established trail. It turns out that there is a trail – the Longdongwan Cape Trail – but it follows the edge of the cliff up at the top. This trail is more like a groomed path through a city park than a trail. It does offer some nice scenery and a couple of scenic lookout points, but the scenery is much nicer down at the bottom of the cliffs looking up. I believe one can follow the Longdongwan Cape Trail from parking lots at the south or north ends of the climbing area and then climb down to the shore along some steep paths. I went up one of the paths in the south. It was just a hiking path, not a climbing path, but I can see it being quite slippery and challenging in the rain.
There is an excellent map of this area at Matt Robertson's Long Dong rock climbing website www.climbstone.com. The website also has lots of great information on the climbs at Long Dong, how to get there, where to eat, where to get gas, and plenty of fantastic pictures. Check it out before you go. I wish I had. It would have saved me a lot of fumbling around and getting lost.
Bring lots of water if you plan on spending any amount of time there. It gets hot with the sun beating on all that exposed rock (though the ocean breeze is nice), and there is nowhere at the cliffs themselves to buy any food and water. You'd have to hike out to Ho-Mei to get water.
Also bring your swimming trunks. There are no sandy beaches at the rock climbing cliffs, but there are plenty of great places to dive off the rocks and go in for a refreshing swim. You'll be sharing the water with plenty of crabs, but they're harmless. It's actually kind of fun to be paddling along with crabs pouring into the water all around you. They're going into the water to hide from you, but it feels like they're coming to eat you. Be careful when you pick up your pack or put your shirt back on. Chances are that while you were swimming, a family of crabs moved in to hide from the sun.
By the way, beautiful Bitou Cape is just across the bay from the climbing cliffs. If you had lots of energy, you could visit both places on a day-trip out of Taipei.
[slickr-flickr tag="Longdongwan for Blog" type="galleria" sort="date" direction="ascending" items="50″]
Tags: Ho Mei, Long Dong, Longdongwan Cape Trail, scooter, Taipei