Home » All, Malaysia
Rebuilding My Wheels with Sapim Leader Spokes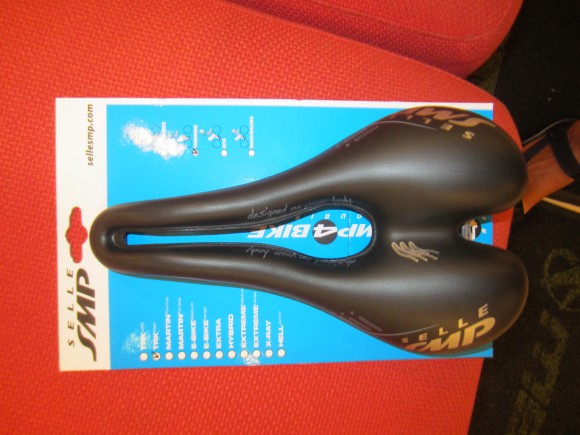 Saturday, October 4, 2014
5:50 a.m. Bird Nest Guest House
Kuala Lumpur, Malaysia
Yesterday was all about the bike. The plan was to ride my bike to the Bike Pro shop and have Jason rebuild my wheels with Sapim Leader spokes. After looking at my maps of the city, however, I changed my mind. I just couldn't face the hours of cycling on the highway system, and instead of taking the entire bike, I removed the wheels. I could carry those on the LRT and that would make the trip much easier.
The trip is quite a long one by LRT and it costs 2.1 ringgit, or about 70 cents. The route from the LRT station to Bike Pro takes me past two other bike shops, and I popped into both of them on my way. The first shop is a smallish place staffed by very friendly clerks. I had spoken at length with a young guy named Kenny there before. Kenny wasn't there yesterday morning, but I was helped by another very friendly guy. He was in the middle of building up his own touring bike and was more than happy to spend an hour and a half helping me and just chatting about bikes. He knew about another bike shop that carried DT spokes, and he made a few phone calls to see if he could help me find DT Alpine spokes. He did his best, but they remained elusive. I was pleased to listen in on his phone conversations because it became clear that he and the people he talked to really knew their stuff. They knew about all the various brands of spokes and they were very knowledgeable about bikes and bike mechanics and technology in general. I also talked to him about building up complete new wheels with new rims, hubs, and spokes. I reasoned that if my spokes had reached the end of their useful life, my rims might also need to be replaced. If that was the case, which rims to get and which hubs to get? This shop dealt in Mavic rims, and we hit the catalogues to see which would be the best touring rim they made.
I also popped into the next shop over. I had ignored it somewhat on my previous trips because they carried predominantly Merida brand bicycles. I'd always thought of Merida as a cheap and basic Taiwanese model of bike. However, I learned that this shop carried much more than Merida products. They even had a complete second floor of high-end components. I was particularly interested in checking out their range of Brompton folding bikes. They are beautifully engineered machines though very expensive. If I were rich, I'd buy their touring model, a dedicated plastic packing case, new pannier bags, and then set off on a whirlwind tour of cities around the world with just camera gear, a nice laptop, and clothes. (And, of course, a new Kindle.) This shop also sold some nice saddles and I'm now seriously considering trading in my large, heavy comfort saddle for one more suited for long distances. My butt continues to be the weak link for cycling. After as few as three hours in the saddle, my butt starts to hurt so badly that it's difficult to continue. I keep having to shift my position and lift myself up off the seat and try to get more comfortable. I end up thinking about that pain and focusing on it all the time. And when I decide to stop cycling, it's never because my legs are tired. It's always because I can't take the pain in my butt anymore. Perhaps a better saddle would help with this. The one I was considering had the special cutout down the middle to relieve pressure on the nerves in your groin. I had one of those before, and I found it to be the most comfortable. Unfortunately, that was the saddle that was stolen while I was in Sarnia. I ended up buying this large comfort saddle as a temporary replacement and have kept it since then. This shop sold Italian Selle saddles. The model I was considering came in two varieties – one with gel for about $100 and a non-gel version for about $70. At least such a purchase would not be wasted if in the near future I end up with a completely new bike. The saddle can easily switch bikes.
Finally, I moved on to Bike Pro. I had delayed so long because the guy at the first shop told me that they didn't open until 11:30. I hadn't known that. I don't know how this business of changing all the spokes will turn out in the long run, but I did have some unusual good luck. The first bit of good luck was simply finding this bike shop and meeting Jason in the first place. Jason is not only highly skilled and knowledgeable, he is also friendly and helpful. He was working on a bicycle in the back when I showed up, but he left that job and began working on my wheels right away. I had expected to drop off my wheels and come back in a couple of days – probably after the weekend. But Jason said he could do them right away. He also said that it was good that I'd come today. The next day was Saturday, and he would have been far too busy on Saturday to do them. Plus, Monday was a Muslim holiday and the shop was closed on Sunday, Monday, and Tuesday. Had I come in on Saturday, he likely would not have been able to work on my wheels until late next week. As it was, he did them right away.
I had every confidence in Jason, and I noted with happiness all the intelligent and professional things he did. He really knew his business. He made doubly sure that he had spokes of the right length before he took my wheels apart. Then he checked the rims and hubs carefully to make sure that they were still in good shape (and they were). Then as he took the wheels apart and removed the old spokes, he cleaned the hubs and rims thoroughly with special high-pressure liquid and air hoses. When he was well along into the process, I told Jason I'd be back later and I went to have lunch. I found an interesting Chinese place with lots of local color and had a good meal. Then I returned to the shop.
Jason had finished my rear wheel and he showed it to me for my approval. It felt strange to see such skinny spokes on my wheel. I was so accustomed to the beefy DT Alpines. Jason, however, assured me that these spokes were more than strong enough. He also spoke about the tension he'd put on the spokes. He'd applied a very high tension and demonstrated the difference between that tension and the tension on other wheels around the shop. He said that this was better for carrying a heavy load, though it did increase the risk of a break from a sudden shock – like hitting a pothole. But since I used large 2.35-inch tires, the risk was reduced and he felt the high tension was the way to go. I got the feeling that I was largely responsible for my DT Alpine spokes wearing out. I should have had my wheels trued and the spokes retensioned routinely to extend their life.
Jason impressed me in many ways. I had put little pieces of electrical tape on the three brand new spokes on the rear wheel – the spokes that I had just replaced in the Philippines. I asked Jason to keep those separate so that I could keep them as spares. They were, after all, technically brand new spokes. Jason said that I could use the DT Alpine to replace broken spokes without a problem. Mixing up the two types of spokes was fine. Then I saw that Jason had put all the old DT Alpine spokes in a bag to give them to me. I was sad to think that he had totally forgotten about keeping the three new spokes separate. But when I got the bag back to the Bird Nest, I noted that he had tied those three spokes together with twist ties and kept them separate. What a pro.
Who knows how this story will turn out? Perhaps these spokes will just start snapping under the strain of my touring load. Perhaps they will be just as strong as the DT Alpine. After all, the DT Alpine didn't last as long as I had hoped they would. I thought they were a lifetime purchase, but, like everything else, they wear out over time.
I was happy to get my wheels back, but I wasn't thrilled about the bill. It wasn't hugely expensive, but I've become tired of pouring money into this old bike to keep it running. It wasn't supposed to go this way. As it is, I've now replaced the entire drive train (including the cassette, the crank, the chain, and the bottom bracket) the pedals, the brake levers and gear shifters and cables, the spokes, and the saddle. I've had to replace the bike computer several times as they keep breaking and wearing out. The two pannier racks are both bent and I worry about them snapping at some point. I've gone through who knows how many front and rear lights as they keep breaking. (I bought a new rear light when I got my wheels rebuilt.) One rear view mirror was smashed to bits. The other one survives, but the mounting bracket is crumbling to dust and I'm currently holding it together with hose clamps. I'll have to get two new mirrors. The frame, handlebars, bar ends, and rims are original, but that's about it. I really didn't think the bike would wear out that quickly. My pannier bags are hanging in there, but even they could be replaced. Lots of things have worn out on them, and the material is so damaged from the sun that it has no water-resistant properties at all. The material soaks up water faster than a Bounty paper towel. The Velcro strips don't "Velcro" anymore, and there are numerous tears here and there. Don't get me started on the tent and camping gear let alone my poor smashed camera now in the hands of Olympus technicians. Was any expedition more poorly supplied?
Anyway, the bill for the wheels came to around $95 including labor. That's not too bad. It just bugs me when I keep having to spend money on the bike. I was surprised at how heavy the old DT Alpine spokes were when collected in a bag. I really didn't need to keep them, but Jason put them in a bag for me and was insistent that I take them with me. It's not like I am going to put them in my pannier bags, but it's interesting to have them. As I said, they're incredibly heavy when you put them all together. It's a lot of steel. It's also strange to examine them. They seem absolutely fine. They are clearly suffering from metal fatigue and the steel has been compromised, but you can't see that with your naked eye. The spokes seem 100% fine and extremely strong. Yet, they are worn out.
When I got back to the Bird Nest, I worked on the bike for a while. I cleaned it up and put the wheels back on. I had to fight with the brakes for a long time. They, too, don't work very well anymore. I've had them apart several times and have cleaned them and lubricated them, but they just won't work properly. The same goes for my new gear shifting levers. For some reason, they won't work sometimes. The levers just don't catch. I push on them, but they don't change gears. There is no resistance and they just move loosely. I have to play with them a lot and then suddenly they'll catch on the cable and work. I don't know what the problem is. It must be internal. For a while now, I have been unable to move the chain to the biggest chain ring on the front. The gear-shifting lever won't engage to do that. So frustrating.
One last thought before I have breakfast: rabbits are stupid. There is a large rabbit in this kitchen. It lives here freely as a pet. I've realized that we have strange ideas about rabbits. They seem like cats or dogs, but they aren't. I pet this rabbit, and I imagine that it is getting some pleasure from that. And I feed it, and I think it likes me because I gave it food. Yet, in my time here, I've realized that this rabbit is really, really stupid and has no ability to "like" me or relate to me. It lives in its own very limited world – one that we can't really comprehend. I say this because sometimes while I sit here, it will hop up and sit beside my feet. I think it is finding comfort in that. Yet, the stupid thing will suddenly rear up on its legs and bite me – hard. Who knows why? It is probably crazy. I know the woman that works here torments it. The thing is probably a savage. In any event, I now worry that at any moment, this monster will sink its teeth into my calf. The problem is that I fed it. It now thinks of food when it sees me. It bit my hand a couple of times, and now it has started just biting my legs at random. The thing is a crazed creature. I'm not sure that it can even see in the way I think it can. It certainly seems very unaware of its surroundings. Anyway, the rabbit is stupid and a wild animal. It is not a pet no matter how fluffy and soft it is.
Tags: Bike Pro, Bob Marley, load, LRT, Malaysia, pannier bags, Star Child, Sweden