Home » All, Palawan Bike Trip, Philippines
Palawan Bike Trip 016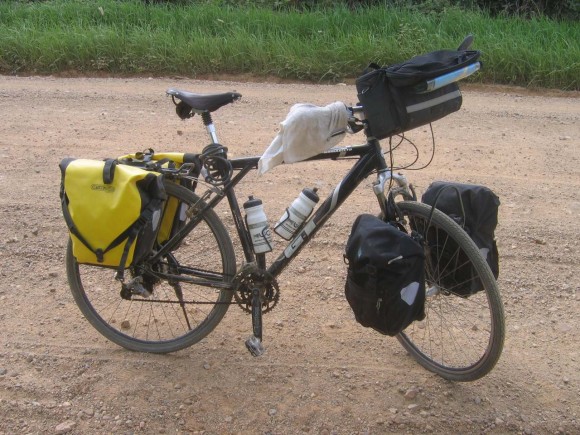 April 2, 2008
Coco Loco has been a surprise on many levels. It was a surprise tha I got out here with no trouble and that they had a cottage. I twas also a surprise that of all the cottages, I got the one that suited me perfectly – on the windy side right at the end. The overall junky quality of the place was also a surprise. I don't mind the limited menu, the termite shit that falls over everything, or the fact that one's chair legs punch through the thin flooring and sends you crashing to the floor. (Perhaps that's why we had to sign a waiver.) It was also a surprise how small the island is. That's also no bad thing. It means there are no other people and there is no village to visit, but that's okay. It means there are no tricycles, and that is a real blessing.
The very good surprise is the quality of the snorkeling. Nothing I'd read or heard said anything about the reefs here. However, just out my front door is a coral reef that is far more elaborate, beautiful, and varied than anything I saw at El Nido. I couldn't begin to name all of the types of coral and fish that I saw. Well, I hardly know the names of any of them, but there were a lot. My favorite were the box fish. I also always enjoy the clown fish. I also saw my first moray eel. A German fellow named Robert told me that there are sting rays and lion fish too. I plan on swimming all the way around the island today to see what I can find. I had my usual trouble with depth though. When I swan to the bottom, pressure built up in my forehead sinus cavities till I thought my head would explode. I couldn't go down at all after a while. I ended up with a bad headache all night and had a lot of trouble sleeping.
I was happy yesterday morning to see that the loud family was leaving. They had two shrieking young boys, a couple of daughters, and a couple of housewife types with jiggly fat legs and hectoring voices. This was in addition to 3 bearded full grown men in bikinis. They were disturbing neighbors for Doug.
I was also happy on my arrival to find a book worth reading. It's called "The Tortilla Curtain" and was written by T.C. Boyle. It has a handwritten note on the inside cover that says, "Book from Barny" and is dated March 2008. Thanks Barny.
I passed my first full day on Coco Loco reading in my hammock, snorkeling, and chatting with Robert and the local diving instructor. The instructor is a laid-back Englishman.
Tags: Coco Loco, El Nido, Palawan Bike Trip, Thanks Barny