Home » All, Philippines, Philippines Bike Trip 2013, West Coast of Samar
Morning in Viriato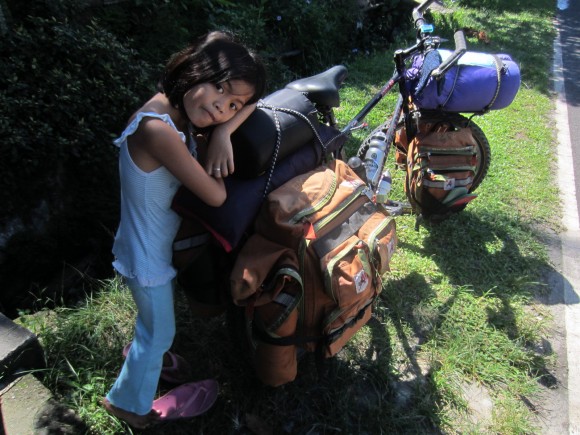 I knew I had only a short distance to cycle the next day – it was about 45 kilometers to Calbayog – and I was in no hurry to get out of bed and get moving. I got up around 7 (that counts for sleeping in on a cycling trip), and found Michael on the sofa and playing with his new baby daughter. It was the first time for me to see her and I was astonished at how tiny she was. I don't have a lot of experience with babies, but she seemed tiny even for a newborn. Michael confirmed that she had been born quite small. His two other daughters, he said, were much bigger and heavier at birth. She was a beautiful baby, though, and she stared at me with big wide-open eyes. She had her little hands inside thin mittens, and she waved them about in the air.
Michael had some coffee mugs out on the table and he said he was waiting for his daughter to come back with some bread. He said something about how Filipinos have to have rice for breakfast. They work hard in the fields and need a big meal for energy. This is unlike Westerners who often just have coffee or coffee and a piece of bread. Michael had confessed to also being addicted to coffee, and we happily slurped away and munched on the bread when it appeared. Michael had also asked his daughter to buy one of the sachets of Coffee Mate for me. She shyly placed it beside my coffee cup.
I really wanted a second cup of coffee, but I wasn't sure about the etiquette of this either. I had been supplied with just the one sachet of Coffee Mate, so perhaps I was expected to have only one cup. But I had a big bag of Coffee Mate and two big bags of coffee in my pannier bags. I could easily supply myself. Michael had told me repeatedly to make myself at home and do whatever I liked, so I asked Michael if there was more hot water – a broad hint that I was interested in having another cup of coffee. In true cross-cultural confusion, Michael misunderstood me. He thought I was asking for hotter water, not more hot water, that I was complaining that the water had not been hot enough. He apologized and said that the thermos was a little broken and did not keep the water hot enough. Michael jumped up to get the kettle to put some water on to boil to make it nice and hot for me. I thought about correcting his assumption, but, in truth, I had found the water to be just luke warm and not nearly hot enough. I like my coffee to be as hot as it can be. So I was actually happy that Michael was boiling some water, and while he was in the kitchen, I dashed up to my room to get the Coffee Mate and coffee out of my pannier bags and put it on the table.
While I did this, I wondered about the financial position of Michael's family. Certainly, the topic of money had come up several times in connection with the health of his father and the birth of his newest baby. Everything was quite "expensive" as Michael put it. And presenting me with just one sachet of Coffee Mate made me wonder if it was even a problem for them to purchase that. I noted that Michael drank his coffee black, and I asked him if he didn't like cream in his coffee. He said that no, he did like Coffee Mate in his coffee. So why hadn't they purchased more? But the house was well-appointed and large for a house in a barangay. There had clearly been a mind at work here that liked to make a house into a home. There was more furniture and decoration than I had seen in any similar house in a barangay. There was even a stone-top counter bar between the dining and kitchen area and the living room. There were slots cut into the top of this counter construction and wine glasses hung from them. Michael was also driving a brand new motorcycle. His wife had a regular job as a teacher and Michael worked for a security company that was run by his brother. They did not have to pay rent on the house since they owned it, and water was free. So I didn't think they were poor.
I had asked Michael a number of questions about his life, and I learned that he had graduated with a B.A. from a college in Calbayog. After he graduated, he got a job in Manila with his brother's security firm. He supervised and managed a group of security guards at one of the five-star hotels in Makati in Manila. He worked there for several years and got married in the meantime to his lovely wife. (She impressed me very much, by the way. She had a quite confidence and intelligence about her, and it would have been interesting to have had the chance to talk to her.) His wife remained in Viriato and eventually they decided that Michael should move back there, too. His salary in Manila was higher than anything he could earn in Viriato, but expenses were also much, much higher. It was also difficult to be separated from his wife and family, and he moved back to the barangay.
He still worked for the security company but through the main city of Calbayog. The company had a couple of contracts there and Michael supervised those operations. They hoped to get more contracts there – enough to open up an office, but for the moment, Michael had to work out of his home in Viriato and travel back and forth to Calbayog when needed. It was for this reason and others that he had to buy the motorcycle. He told me that a motorcycle costs about 70,000 pesos if you pay cash and well over 100,000 pesos if you pay in monthly installments. He got his motorcycle on installments. He had 3 years to pay for it – 36 payments in total. He'd had the motorcycle for 3 months and had another 33 months to go.
There was some more cross-cultural confusion when it came time for me to leave. I understood that the bread and coffee was breakfast, and I eventually said that it was time for me to start packing up and to hit the road. Michael seemed a bit surprised and wondered if I didn't want to stay for breakfast. So it appeared that the coffee was just a snack and breakfast was stil to come. But by then, I was in the mood to start covering some ground and I packed up. We had a very nice goodbye – taking pictures out on the road near my loaded bicycle – and I thanked Michael profusely. We exchanged email addresses and then I was cycling out of Viriato, happy with another experience in the Philippines that I won't soon forget.
Tags: barangay, Coffee Mate, job, pannier bags, Philippines Bike Trip 2013, West Coast of Samar