Home » All, Legazpi, Philippines, Philippines Bike Trip 2013
Mayon Backpackers Hostel & First Meal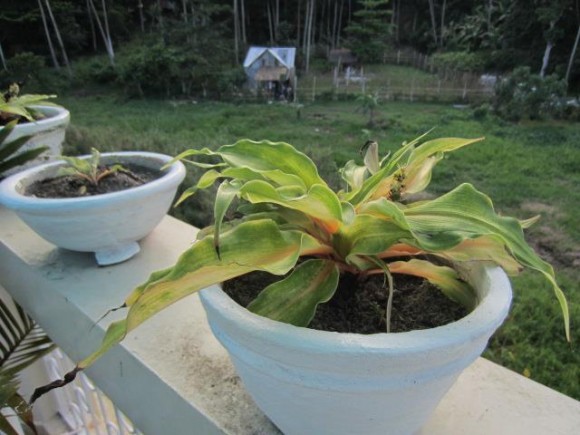 Mayon Backpacker's Hostel and Legazpi
Monday April 1, 2013
6:33 a.m. Mayon Backpackers Hostel – Legazpi, Philippines
Good morning, all. As you can see from the time, it is somewhat early in the morning. Maybe not farmer early, but it is certainly backpacker early. Everyone else in the place is still sleeping, including my two dreadlocked dorm mates. In fact, I never even saw my two dorm mates last night. I went to sleep pretty early and with my earplugs, eyeshade and fatigue I must have slept hard. I never heard either of them come in. They seem like very considerate guys and they were probably quiet, but it is a first for me to sleep through anything like that. I'm generally woken up by the smallest noise. I have no idea what they did yesterday, but they were gone for the whole day. I don't know any of their story as of yet either. I did, however, notice a very large digital SLR sitting out on the table. It looked to be a Nikon D7000, so they are probably into photography. They strike me as incredibly neat and organized people. When I arrived in the dorm room and met them, I didn't see a single item that belonged to either of them. I guessed that they had locked up everything in one of the lockers that they provide. I guess one must do that for security reasons. It surprised me then to see that big camera sitting on the table. Anyone could easily have walked off with it. Now that I think about it, it is bad overall policy and could even affect me. The dorm room door is completely open and anyone could come in and take it. And then I would be the most likely suspect. So I have a vested interest in other people being secure with their belongings.
I suppose I can get used to dorm life, but it wouldn't be my first choice. I chose a dorm room when I arrived at this hostel because the private rooms were surprisingly expensive at P1,000 per night. That's $25 at the current exchange rate. I find even the dorm bed to be a bit expensive at P350 per night. That's cheap for a night's accommodation, of course, and it is actually good value when you consider that they supply free coffee, free fruit, and free bread plus Internet access. The hostel also has this marvelous rooftop – where I'm sitting right now. Luckily, one portion of the rooftop has a table and chairs underneath a plastic roof. It is keeping the downpour off my head and my NEO. Yes, it is raining hard. And from the sky, it looks like it is settling in to rain all day long.
I want to back up a little bit and sketch in yesterday a bit more. I was quite hot and bothered and tired in the evening, so I didn't write very much. As I said, I got on my bike in the late afternoon to see about finding something to eat. It was very nice to get on the bike without all the luggage attached. I mentioned that it reminded me of how essential a bike is to me. It might not be the same for other people. But in my case, the bike opens up possibilities. Without the bike, you have to always be looking for transportation. There is no way I would have found the little restaurant I ate dinner at without the bike. It was too far away. In fact, everything is too far away.
I got more reassurance about my bicycle from my fellow hostel dwellers. When I arrived, there was quite a lot of activity. A group of four or five people had signed up for a guided climb of Mayon volcano. They had paid the company in advance, but it had rained all day and there was no point climbing the volcano in the rain. These people were trying to get their money back from the tour company.
It was these people that I spoke with when I first arrived, and I saw a lot of them and their activities. In particular, they had their backpacks and knapsacks out in the main room. I'm not sure why. They couldn't have carried that gear up the volcano. Perhaps the volcano climb was a 2-day, 1-night affair and they had packed up their bags to be stored somewhere and save on accommodation. In any event, I got a good look at their backpacks and other gear. All of them had essentially the same setup – and the same setup as pretty much every backpacker – a very large backpack and then a medium-sized knapsack. When they move, they put a rain cover over the backpack and put it on. Then they strap the knapsack to their chest. They look quite strange when they do this – like a large, distorted tortoise – but it is the standard setup.
Since the hike was cancelled, these guys were moving on to some other place. I don't know to where. They had to catch a bus or a jeepney or something, and they therefore had to get from here to the bus station. With those heavy bags, it was impossible for them to walk. Somehow they made arrangements for some guy with a large SUV to take them. They all strapped on their huge backpacks and knapsacks and staggered out to the SUV and hoisted all their bags inside. It looked difficult for them to walk even that short distance, so they weren't exactly mobile. Then I guess they would have to carry their bags from the SUV to the bus and supervise the loading of the bags. When they get to their destination, they'll have to find more transportation to carry them and their bags to wherever the hotels are. Me, I shudder at the thought of all that hassle. They have not only the physical effort of carrying the bags, but they also have to negotiate the price with all the various drivers and then worry about directions and addresses and all that stuff. In the end, it's always easier to go from backpacker nexus to backpacker nexus. I'm not saying it's a terrible way to travel, but it has its drawbacks. And it makes me feel a little less dumb about all the trouble I had packing up the bike and transporting it. I felt that the bike presented a lot of problems, but having just a backpack presents other problems. And for my personality, I prefer the bike and independence over the backpack and having to depend on others for transportation. And it's more than that. You also have to depend on others for information. You have to know where you want to go. With a bike, you can just ride around until you find something suitable.
Well, I rode away from the hostel with a sense of freedom and joy – perhaps the first true shred of joy since I left from Taipei. The hostel is located on the outskirts of Legazpi and there are lush fields all around. The area is ringed by low hills with heavy plant growth and farmers fields all around. It's very beautiful. Lots of people called out to me as I rode past and as I said before, I'm pretty sure they were calling out my name.
The main street is called, of course, Rizal Street after the Filipino national hero. I think the main street of every town in the country is Rizal Street. Traffic was surprisingly heavy on Rizal Street. It consisted mainly of jeepneys. I know that everyone loves the idea of a jeepney. They are a symbol of the Philippines and provide lots of photo ops with their bright colors and extravagant decorations. However, I question their utility. I know from experience that they are not comfortable for passengers. The roof is low and the benches made of hard steel. Suspension is nonexistent. And it's hard to get in or out of the things, and extremely hard when it is packed with people. They also have no established stops. So the drivers are constantly looking for passengers. Anyone standing at the side of the road is a possible passenger, so the driver honks his horn at everyone and drives erratically across lanes and slows down and speeds up. People can also get off anywhere they want, which also makes the drivers stop and start frequently. They stop with the jeepney at odd angles, which blocks all other traffic. They aren't well maintained either, and spew out clouds of black exhaust. In the end, they make the streets a very uncomfortable place. I don't know what the alternative is. I'm sure jeepneys exist because they make economic sense. It's money and economics that ultimately drive most behavior if not all behavior. Every single person in a jeepney would likely prefer to drive their own motorcycle. That they aren't doing so indicates they can't afford it. Once people can afford their own motorcycles or scooters – as people can in Taiwan and Vietnam – the jeepneys will largely disappear. But they've been around for a while and probably won't disappear anytime soon.
I had my own troubles navigating the streets on my bicycle. I hadn't actually ridden a bicycle for a long time, and I wasn't used to being the slowest thing on the street. It wasn't a big deal, however. I didn't mind having to stop and wait for a jeepney to move on. I was interested in the sights around me, and I took those opportunities to look around.
By far, the most telling and interesting aspect of being in Legazpi is the people. I know that Filipinos are friendly by nature, but I find an intimate friendliness here that surprises me. There is genuine warmth and interest in the manner of everyone. I won't say that everyone in Legazpi knows my name, but it felt like they all did.
I passed the central Albay Cathedral two or three times. I have not gone inside as of yet, but it is clearly very important to Legazpi. It looks to be a century old if not many centuries old. Being Easter Monday, it is probably a good day to check it out. I passed the usual range of government offices. I don't know if they are just more visible in the Philippines, but they appear to be everywhere. I was mainly looking for a simple neighborhood eatery, but I didn't have much luck. There were many restaurants and cafes and fast food joints including the ubiquitous Jollibee. There were also barbecued chicken stands. These gave off a tantalizing smell mixed in with clouds of black smoke. They did not, however, have any seating and did not seem to offer anything besides whole roasted chickens. I believe I saw a sign that said P160. So that would be $4 for a roasted chicken. I could spread a chicken out over several meals if I could also get rice and vegetables.
I rode down several sidestreets that looked interesting, particularly when they seemed to offer nice views of Mayon Volcano, which was just peaking through the clouds and being lit up by the setting sun. In the end, the most likely looking place was on a sidestreet. It was a restaurant and bar and karaoke place. What attracted me was a certain combination of friendliness and cleanliness. I saw tables and chairs inside plus pictures of some of the food on offer. There was a friendly armed guard at the entrance, and he indicated that I could pull my bicycle inside the restaurant to keep it safe.
One of the signs offered a big chunk of barbecued chicken with rice for P80. I would have preferred some vegetables thrown in, but it seemed reasonable, and I ordered that. The woman brought me a big pitcher of ice water and I quickly polished off three glasses. In the past, I worried a lot about water. Is it bottled? Is the ice made from filtered and purified water? I was worried about getting sick. I'm still worried about getting sick, but I don't have the energy to worry all the time. So in a restaurant like that, I just drink the water now and let nature take its course.
The meal was very attractive and I was pleased. The rice was cooked well and was tasty. The chicken was delicious. And it was served with a large bowl of some kind of dark sauce and a tiny lime. The extra sauce and the lime were probably unnecessary, as the chicken was heavily flavored with barbecue sauce. I dipped it in the sauce and squirted the lime around, but there was more than enough flavor there without it. It was a pretty good meal for P80 ($2), though after the food in Taiwan, it felt pretty insubstantial.
I was sitting in an outside area and the karaoke was fired up on the inside. A group of men who had been drinking beer and watching basketball on TV moved into the karaoke room and began to sing. I got a quick taste of their singing ability when I went to the bathroom area to wash my hands and then pay my bill. I've definitely heard better singers.
It was dark when I left the restaurant, yet the traffic on Rizal was still very heavy and I had to be careful as I rode. Now, finally, I could settle in at the hostel and perhaps get some sleep. The settling in wasn't very easy as I have just arrived and my luggage is a giant jumble. I don't know where anything is and nothing is organized for a night in a dorm room. Plus, I had to lock up everything in a small locker, so it was complicated. Still, I made the effort and I took a shower and put things away. My dorm is air conditioned – which I really appreciate. The dorm without air conditioning is P250 ($6) per night. Mine is P350 ($9) per night. The cheap dorm is full and mine is half full.
Each dorm has its own bathroom with a shower. No hot water, of course. One doesn't really need hot water here, nice as it still would be. I took another shower this morning, and the cold water was a bit of a shock first thing.
The hostel also supplied a sleeping sheet and a towel. To add to my sheet, I pulled out my sleeping bag. It's too heavy for this climate, but it works fine as just a blanket. I pulled it up to my chest and then kicked it off during the night depending on whether I was hot or cold. I slept extremely well and got out of bed before 6. I tried to be quiet as I moved around and took my shower and all that. That's the problem with a dorm room.
And this brings me around to taking stock. I feel very good today. Much better than yesterday. A good night's sleep works wonders. I really like Legazpi so far. I wouldn't mind staying here for a bit, but I want to find a cheaper place to stay – and somewhere where I can have my own room. I did see an interesting spot on Rizal Street that offered rooms by the week and month. I might look into that today. I always prefer to stay places longer and really relax. Sometimes I regret not being more active and doing more, but it is a style I'm comfortable with. I think a lot of the tension and problems I've had with my departure from Taiwan came from not fully realizing this. I was planning a long bike trip through possibly many countries and even continents. And I used as my model other bike trips I've gone on plus the bike trips I've read about online. But at the same time, I've become used to a different way of living – one more based in one place. I've learned the advantages of that. So I ended up planning for a long adventurous bike trip but also for staying in one place. I think when it comes right down to it, I don't really want to go on any kind of a long bike trip – the kind where you ride your bike every single day and sleep in your tent at night. Why do that when there is so much to experience right where you are? I could easily spend a month just exploring this town and area.
Tags: bike, Legazpi, Mayon Backpackers Hostel Legazpi, Philippines Bike Trip 2013, Rizal Street