Home » All, Taiwan
Madama Butterfly, Keelung Isle, & the Pingxi Crags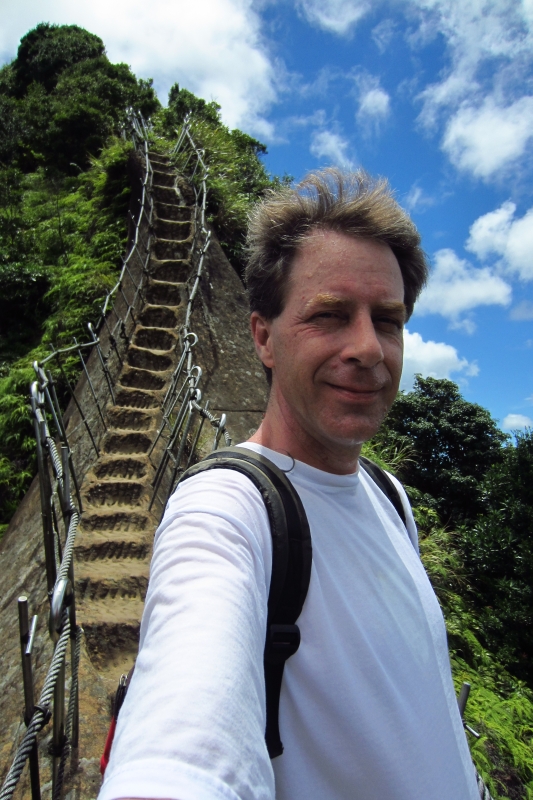 The so-called Cycling Canadian still doesn't have any recent cycling to talk about, but I HAVE been jetting around on two wheels a fair bit – they just happen to be powered by the 150cc engine of my beloved scooter.
I went on a 3-day trip a couple of weekends ago that took me to Taiwan's east coast for some dolphin-watching, some swimming at Fulong Beach, and some hiking and exploring at Longdong, Bitou, and Sandio among other places. The sun stayed out for nearly the entire three days, and I had to apply lots of sunscreen to avoid being burned to a crisp. Many people in Taipei commented on the unbearable heat. The advantage of scootering in such heat is that you don't notice it as much. The wind on my face on the scooter (and on the dolphin-watching boat) kept me cool.
The sun was out last weekend as well, and I would have made it a 3-day weekend, too, except that I had been invited to attend a performance of Madama Butterfly at the National Theater on Friday night. I left from work a couple of hours early on Friday afternoon in an attempt to be well-rested for the evening. I'm often totally worn out after a full day at work. By leaving early, I could avoid rush hour traffic and I could rest at home for a bit before heading out for the evening.
I was very glad I left work early because the opera was a complete joy, and I was rested enough to fully appreciate it. I've been to a few operas and similar performances in Taiwan lately, and one problem is that I often can't understand what is going on. Madama Butterfly, for example, was performed in Italian, and I don't understand Italian. A while back, I even saw an opera/musical that was in English, and I still couldn't understand it. My ears and brain just don't work well together. When people sing in English, I can't hear the words. So even this performance – it was Elton John's Aida – in clear English was a bit of a mystery because I couldn't quite understand what the characters were singing about. I didn't fully understand the story until later when I watched the most famous songs on YouTube. It was still an incredible evening and the music stayed in my head for weeks afterwards, but it would have been even better if there had been English subtitles.
The National Theater in Taipei does have two large screens on either side of the stage. These are usually used to show Chinese subtitles. For Madama Butterfly, however, they also showed English subtitles, and that made a huge difference to my enjoyment of the evening. Beforehand, as with all the performances I've been to, I made an effort to learn as much about the story as possible. I spent a few hours online reading the fully story of Madama Butterfly. I even read complete breakdowns of all the songs so that even if I didn't understand the individual words and sentences, I would still be able to understand what the character was singing about. In the end, I didn't need to because of those English subtitles. I was surprised actually how much of a difference it made to understand exactly what the characters were saying instead of just having a sense of it from knowing the story.
I've written about Taipei's National Theater and National Concert Hall before, and I love both of those venues. The vast open spaces of the square set them off beautifully. As you approach the two buildings you have the sense of going somewhere very special. And I love the contrast between the traditional Chinese style of the outside of the building and the fully modern and beautiful interior. The staff at these two venues also deserve much praise. As my companion for the evening pointed out, the staff are very professional. Everything is organized well and runs smoothly. I had a question about the set for the opera and my companion went up to one of the ushers and asked him. He spoke into his wired microphone and got us an answer in a minute or two. It never would have occurred to me to ask one of these guys, and I certainly never expected to get an answer.
Madama Butterfly, as surely everyone knows, is an opera by Puccini. It tells the story of a 15-year-old girl from Japan who, in 1904, marries a U.S. naval officer named Pinkerton. For Pinkerton, it is just a marriage of convenience – a simple way to get a visa to stay in Japan. He doesn't take it seriously and he sings joyously about how he has a 999-year lease on his Japanese house, and he can break that lease any month he wants. And the same goes for his marriage. The 15-year-old girl – the young Butterfly – however, has different ideas and is fully in love. It is something of a tragic misunderstanding and a result of cultural differences, but Pinkerton also behaves quite badly. He leads Butterfly on and gives her every reason to believe that this is a real marriage and that he loves her. Therefore, when he leaves on his ship, Butterfly is convinced against all evidence that he will come back. Three years pass and Butterfly is still waiting for Pinkerton to return to her. She has not lost faith and to listen to her singing about her belief in Pinkerton and then to see her prepare the house on the day that Pinkerton's ship is sighted in the harbor breaks your heart. It all ends badly, of course. Pinkerton does return but with his American wife. Butterfly's heart is broken. She presents Pinkerton with his 3-year-old son – a son that Pinkerton knew nothing about – and then kills herself.
The performance was a co-production between Taiwan's National Symphony Orchestra and Opera Australia with some roles performed by Americans and Australians and some by local talents from Taiwan. The night I attended, the role of Pinkerton was performed by American Richard Troxell and Butterfly was played by Australian Cheryl Baker. The role of Sharpless was performed by Taiwanese Wu Bai Yu-His. I'm fairly certain I saw him perform in other events in Taiwan, and he did a wonderful job as the American consul.
The production and the set design was extraordinary and something of a revelation for me. It was a very simple set in some ways. The entire opera takes place in the main room of the Japanese house. The central platform was surrounded on three sides by water with narrow bridges connected it to the sides. Traditional Japanese screens were arrayed all around and these could be raised and lowered to reveal characters in different scenes. A very striking feature was the "koken." I had never come across this word or concept before, but koken are a part of traditional Japanese theater. They are people – usually dressed in black – who are onstage but are not part of the action. They are there to rearrange the set and provide props to the various actors. They are a ghostly presence – moving around and helping the action take place, but the actors do not notice them directly or interact with them. For Madama Butterfly, they were dressed in white robes and wore white masks over the lower half of their faces. This gave them a clinical and priestly air, and they moved slowly about the set with stylized steps and controlled postures. When they weren't needed, they lowered themselves to the ground onto their knees and waited patiently. They were both there and not there and gave off an almost godly air – as if they were controlling the action in the background unnoticed by humans – a constant part of our world but invisible to us.
In the time leading up to the start of the opera, I couldn't help but reflect on what it would be like for the delicate Butterfly – a 15-year-old Japanese girl – to be played by a somewhat older Australian woman. Would this detract from the performance? I'm no opera expert, but it does seem to me that this situation isn't uncommon in opera. The important element in opera is the voices, after all, and the best singers are chosen for the roles. So in opera it is less important that the performers actually look like the characters they are playing. I get that, but it still seemed very important for this opera that Butterfly be who she is – a young Japanese girl. In the end, it made much less difference than I expected. Cheryl Baker played the role with lots of youthful energy and enthusiasm and I soon accepted her in the role. That she was not 15 years old and not Japanese made much less difference than I expected. It certainly made no difference to my enjoyment of the opera and the evening as a whole. It was a memorable one.
This took place on Friday evening, and on Saturday morning, I was up early and on my scooter heading for Keelung. My usual route to this part of Taiwan is along Highway 106 through Pingxi. This time, however, I decided to follow Highway 5, which goes in a straight line to Keelung. I thought it might be faster and I thought it would be nice to see a change of scenery, even if it was all urban sprawl type scenery. The plan was to grab a hotel room in Keelung and then use that as a base for exploring the area.
Slideshow of Images of Baimiwong Fort, Keelung
(Click on image to pause. Click again to restart.)
[slickr-flickr tag="TCC Baimiwong Fort" restrict="orientation" orientation="landscape" align="center" pause="on" border="on" flickr_link="on"]
The drive there was somewhat uneventful. I found myself getting a little impatient at the vast number of traffic lights I had to deal with. But I entertained myself by snapping pictures along the way. I was also kept awake and alert by having to navigate. Highway 5 exists on the map as one road, but like many streets and roads in Taipei, it is actually a whole bunch of different roads stitched together, and I often had to do a bit of hunting and searching to see where Highway 5 continued on. Keelung itself is also not a very easy place to navigate. I find it very confusing and I can never simply drive to where I want to go. I go in a general direction and then I have to make my way from street to street and intersection to intersection often doubling back and making strange turns to find my way.
I eventually found my way to the area around the harbor at the train station. There are cheap hotels in this area, and I parked my scooter at a convenient 7-11 and then set off on foot to find my home for the weekend. Two hours later, I was still looking. I should have given up long ago, but having invested so much time and effort into it, I kept going. I think a range of factors were at play here. For one thing, it was too early in the day to be looking for a hotel room. Some hotels might have had rooms available but they wouldn't let me have one until official check-in time – which could be as late as 4 or 5 o'clock. I got the impression that other hotels simply didn't want the hassle of dealing with a foreigner and they simply told me "NO" whether they had rooms or not. Other hotels seemed to feel that this wasn't an appropriate place for me to stay. This happens a lot to me in Taiwan. I look for the cheapest hotels, but these places think I should be staying at the Hilton, and they won't show me a room let alone rent me one. One place said that they had no rooms available. They were quite firm about that. The woman actually got out a piece of paper and wrote the English word "NO" on it in big letters and showed it to me. I was getting tired, though, and I pleaded with her. She eventually relented and showed me a room. It seems that the hotel had suddenly gone from being fully booked to being completely empty. In the end, it didn't help me because the room was nasty and horrible and she still wanted NT$1,888 for it (about $60 Canadian). I wasn't willing to pay that much for such a room. I'd rather just drive back to Taipei and stay at my own apartment if it came to that.
Slideshow of Images from Keelung & Drive to Keelung
(Click on image to pause. Click again to restart.)
[slickr-flickr tag="TCC Keelung" align="center" restrict="orientation" orientation="portrait" pause="on" border="on" flickr_link="on"]
In the end, I had no choice but to give up on the hunt for a place to stay. I wasn't too upset about that. I was just annoyed that I had wasted so much energy and so much of the day in the search. I should have known better than to try to find a room so early in the day. I hopped on my scooter and started my explorations. My first stop was the Xiangdong Fairy Cave. I drove past the train station and followed the harbor around to the north of Keelung. It's an interesting drive as you pass entrances to the vast cargo terminals of the harbor with their giant cranes and the hundreds of containers being moved around.
The Fairy Cave is easy to miss. I missed it and then I had to turn around and go back. It's a beautiful and quiet cave with a shrine inside. The walls have some interesting carvings and it's nice and cool inside. There was a Japanese tour group in the cave when I was there and the tour leader asked me where I was from. "Beautiful, beautiful country," he said when I told him I was from Canada. This is what everyone says, and I never know what to say in reply. I often mumble and stumble and say something about Taiwan being very beautiful, too. Taiwan, in fact, strikes me as much more beautiful than Canada for the simple reason that the attractions are so much closer together. In one day, I can experience mountains, jungle, waterfalls, ocean, islands, and interesting cities and historical sites and temples – all in one easy day. Canada, being a much larger place, has its beauty more spread out. Canada's east coast is extremely beautiful. The Rocky Mountains are equally so. However, they are separated by a solid 5,400 kilometers of land.
Right beside the Fairy Cave is the Buddha's Palm Cave. This cave is much more extensive with lots of branches going in different directions. It's also nice and cool inside and the walls are damp to the touch. Lights have been installed, so it is easy to find your way around without a flashlight. The main attraction is a very large formation on the ceiling of one of the tunnels. It looks very much like a giant hand print, which, of course, is where the name of the cave system comes from.
Continuing north and east from the two caves, I found myself at Baimiwong Fort. I don't know the history of the fort, but I've read that it was an important fortification since the Qing Dynasty. The location of the fort is spectacular and gives wonderful views of Keelung Harbor, the ocean with Keelung Isle, the peninsula that the fort sits on, and a nearby nuclear power plant. I love to get up high and get a view of my surroundings so I was very glad to stumble upon this fort. There are three spots where canons used to be placed. I can't quite figure out which direction the canons were supposed to be facing – towards the ocean or the harbor. I also have no idea if this fort was ever actually used in combat. The command post – an underground bunker – is located at one end and when I walked through it, I came across two women who had set up an array of items around the walls – bags of wood chips that I think were incense, a couple dozen containers of water, and stacks of ghost money. I almost embarrassed myself by asking if I could buy one of the containers of water. I thought the women had set up a little shop for visitors. It turns out, however, that the display was all part of an offering. Two men came by a bit later and they lit all the incense, opened all the containers of water and began to burn the ghost money. They told me that it was an offering to some ancient spirits that occupied that spot. The water was for the spirits and not for thirsty tourists like me.
From the fort, I drove back through Keelung (not easy to navigate once again) and stopped at the Bisha Fishery Harbor. This is a fairly modern harbor and doesn't offer the kind of traditional atmosphere with lots of funky fishing boats that I like, but they do offer boat trips out to Keelung Isle. A boat was leaving at 2:15 and I signed up for NT$450.
It only took a few minutes to get out to Keelung Isle. It seemed to take a lot longer, actually, just to load up the boat and then do the paperwork at the Coast Guard to get permission to go. I was on the boat at 2:00, but I don't think we left until 3:30.
I wasn't exactly sure what was on offer on this trip or what there was to do on Keelung Isle. My only thought was to climb up to the highest point on the island and get a view of the island and surrounding ocean. When we landed on the island, however, everyone else seemed to have a different idea. Everyone clustered around a man with a microphone and speaker and they seemed to be settling in for a guided tour of just the area around the dock and the nearby coast. I found out that we actually only had an hour on the island, and I quickly split off from the group. I was expecting someone to yell at me to come back since I wasn't sure if we were allowed to go off on our own. No one yelled at me, however, and I quickly made my way around the coast until I found a set of wooden stairs that seemed to be leading up to the lighthouse at the very top. I had no idea if I had enough time to get up there and down again, but I decided to try and I set off.
The trail up was quite steep, but it consisted essentially of a very long wooden staircase. There were wonderful views of the island and the coast and I stopped often to take pictures. More than once, I was taken by surprise by very large spider webs containing extremely large spiders. Some were constructed in such a way as to cover up some of the trail and if I hadn't been watching closely, I would have gotten a faceful of spider – not a pleasant thought. I don't think these particular spiders are dangerous for humans, but that doesn't make the thought of having one of them plastered over my nose any more pleasant.
I made it to the lighthouse with what I thought was plenty of time. I took a few pictures and then I slowly began to make my way down. When I got a view of the coast again, I noticed that the large group had turned around and was heading back to the dock. I picked up my pace and practically flew down the stairs to the bottom. Even so, I just made it back to the boat as everyone was starting to board. I don't think they would have left me behind, but I was glad that I hadn't held anyone up. I was actually glad that we were leaving so soon. I'd kind of made up my mind that I'd be driving back to Taipei rather than trying my luck with the Keelung hotels again, and I wanted to have plenty of time to do so.
I decided to drive back to Taipei along my usual route, which takes me through Jinguashi, Jioufen, Ruifang, Shihfen, Pingxi, and Jingtung. It's a long ride, but it's an extremely beautiful one. I've lost count of the times I've driven on that route, but I enjoy it each time. I stopped off at one place in Jinguashi in an attempt to find a reasonable place to stay, but I was unsuccessful and as the sun was going down, I decided to just go back to Taipei. I didn't want to spend an hour looking and then find myself driving in the dark. I got back to Taipei somewhat tired after all that unplanned driving, but I was very content with the day.
Slideshow of Images of Keelung Isle
(Click on image to pause. Click again to restart.)
[slickr-flickr tag="TCC Keelung Isle" align="center" border="on" pause="on" descriptions="on" flickr_link="on"]
The next morning, I was up early and back on my scooter once more. My destination for the day was the Pingxi Crags – a series of steep climbs up some rocky crags near Pingxi. I'd had my eye on the Pingxi Crags as a day trip for a long time. I drove to Pingxi easily and dropped in on my favorite spot there. It's a little coffee shop and homestay with a set of railroad tracks running right down the middle of it. Like many places in Taiwan, it actually looks somewhat uninviting from the outside. By that I mean that it has an air of being closed or not really wanting customers. However, I had been there before and I popped in. The owner – a very nice man – wasn't around, but I had a chat with the young woman at the counter and she gave me a good map of the area and pointed me in the direction of the beginning of the trail.
The trail begins right on the main road at the eastern end of town. I found out later that you can actually drive quite a ways up, but I wasn't aware of that and I started walking from there. It was a beautiful walk through dense foliage with butterflies flitting around everywhere and tiny lizards darting out of the way of my falling feet. After twenty or thirty minutes, I found myself at a point where the real fun begins. Trails branched off in three or four different directions, and each one led to a tall column of rock. Steps had been carved into the rock with ropes arranged no each side through metal hoops. Even with all this support, the climbs up were a bit scary and you had to be careful where you placed your feet. There were only a few people up there with me and we greeted each other happily as we made room for the other to pass. The views from the tops of the various crags were spectacular. I still find it hard to believe that such a beautiful area as this is so close to Taipei.
I climbed up all the crags that I could spot. I even had to go back to one a second time because the first time, I missed the main steps to the top. I thought I saw the route to the top, and it seemed far too dangerous to attempt. It turns out that was a wise decision because those ropes had long since been abandoned. A second route had been constructed on the far side. I hadn't seen that route until I got up a nearby taller crag and spotted it. Had I, out of some macho foolishness, attempted the first route, I'd probably have fallen. I don't think the ropes were meant to be used anymore and they could easily have broken under my weight.
Slideshow of Images of the Pingxi Crags
(Click on image to pause. Click again to restart.)
[slickr-flickr tag="TCC Pingxi Crags" align="center" pause="on" border="on" flickr_link="on"]
After my fun two or three hours up in the crags, I walked back down to Pingxi and strolled around with the hundreds (thousands?) of weekend visitors. There was one funny moment when I noticed two deaf people in front of me. They were signing to each other, and the man suddenly jerked a thumb in my direction and then made a sign to the woman. The sign was him tapping his nose several times. I thought he was saying "Check out that smelly guy." And I thought, "Fair enough." I imagine I was kind of stinky after my sweaty climb. Then I realized that he was actually saying, "Hey, check out the foreigner", the local sign for foreigner being "person with a really big nose."
Back on my scooter and heading home, I made a sudden right turn onto a side road. It was a great decision because this road wound up and up and into the mountains on the opposite side. I had nearly the entire road to myself and I saw a brand new section of this beautiful region. The road eventually topped out and I was presented with a view of Taipei in the distance. The road went down and after much twisting and turning and backtracking, I got oriented and I drove back into Taipei and back home.
I can recommend the Pingxi Crags, Keelung Isle, and Bamiwong Fort to anyone looking for very interesting and rewarding day trips out of Taipei.
Tags: Baimiwong Fort; Xiangdong Fairy Cave, Buddha's Palm Cave, Keelung, Keelung Isle, Madama Butterfly, Pingxi, Pingxi Crags, Taipei, Taiwan