Home » All, Sumatra, Sumatra Part 02, Travel
Long Journey from Kuala Lumpur to Sumatra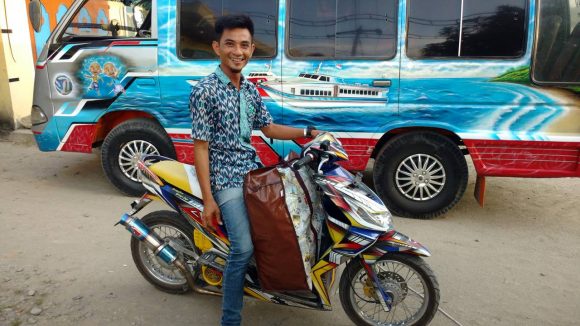 I just took the ferry from Malaysia back to Indonesia, so I thought it was a good time for an update.
I wasn't terribly active while I was in Kuala Lumpur. I had plans to do some traveling around Malaysia, but I had things to do in Kuala Lumpur at the beginning – like buying a new smartphone. That took some time, and I finally settled (for better or worse) on a Motorola Moto X Play to replace my dearly departed and stolen Samsung. I had a bunch of other stuff to do as well, but I can't remember now what it was.
Then I started the process of getting a new passport. Mine was expiring within the next six months, so it was time to get a new one. That turned out to be easier than expected as they had instituted a new simplified process for qualified candidates. This simplified process did not require a guarantor. Getting a guarantor overseas is always a problem. This process also required fewer pieces of official ID. To my amazement, I qualified for this simplified process, and I applied for my new passport with just the form, two personal references, and a couple of pictures. It took longer than I anticipated – up to 5 weeks – and I had to make sure that I could live without a passport during that time. Being without a passport also made me reluctant to go anywhere new. In Malaysia (as in Indonesia), you have to present your passport whenever you check in to a hotel.
Canadian passports had also changed in the five years since I got my last one. The choice between 24 pages and 48 pages was gone. All passports contained a standard 36 pages. Plus, you could choose between a 5-year and a 10-year passport. I hemmed and hawed about that one. The 10-year passport was significantly more expensive, and I wondered if it was worth the risk. Having a 10-year passport is not much good if it gets stolen within that time period and you have to get another one anyway. But I've never had a passport stolen (knock vigorously on wood), so I decided to take the risk and get the 10-year version.
Once I got my passport back, my Malaysian visa was winding down, and I began to make plans to leave. I had to choose, basically, between flying to the city of Medan in Sumatra or taking the ferry to my old temporary home of Tanjungbalai. The ferry to Tanjungbalai was the obvious choice except for the fact that I was nervous about the reception I'd receive from my old friends at the Tanjungbalai immigration office, police station, and city government office. We had not parted on the best of terms, and I wasn't eager to give them another crack at my wallet. In the end, it was Google Maps that helped me make up my mind. I don't think of myself as a visual person, but it's astonishing how much clearer things become when you see pictures. Basically, I looked at the city of Medan on Google Maps, and it drove home what it would mean to fly into a city that large – the airport, getting transportation from the airport to a hotel downtown, getting transportation to the train or bus station, etc. It looked like a lot of work. By contrast, taking the ferry is quite easy and I would arrive at a small and interesting port town. From there, I could even walk the short distance to my old hotel in Tanjungbalai or make my way to Kisaran. It was much easier and much more under my control. So after a quick trip to Penang to get a 60-day tourist visa for Indonesia, I got a ticket on the Pacific Jetstar ferry to Tanjungbalai.
Taking the Pacific Jetstar is the simplest thing imaginable. The dock for this ferry is a mere 100 meters from the KTM Komuter train station. I can take the KTM Komuter train from the station right outside the door of my guest house in Kuala Lumpur. The train ride is about 1.5 hours long and the ticket costs maybe $2 Canadian. I took the train to the ferry a couple of days early to buy the ticket. Most people would just buy their ticket on the day they leave, but I wanted to get it in advance. I didn't want to risk anything since I would be leaving on the final day before my visa expired. If there was a problem, I'd be in trouble.
As always, I was taken by surprise at how much stuff I had to carry with me. Before I started packing, I imagined that I was traveling light. I even imagined walking from the ferry dock in Sumatra to downtown Tanjungbalai. But when you do your final packing, it's amazing how much other stuff suddenly seems to appear. All the little things that are just lying around and you didn't bother pre-packing (toiletries, towel, flip-flops, etc) amount to a lot more than you expect. It like doubles the final load. So I ended up with a pretty heavy bag on top of my new knapsack. There was no way I was walking five or six kilometers carrying that.
Other than having more stuff than I thought, things went well on my last day in terms of getting ready. I hadn't forgotten to do anything important. I left some stuff behind in Malaysia in storage at the guest house, since I would be returning there at least one last time. I set my alarm for some extremely early hour, but I woke up before it went off anyway. KL was still dark and somewhat quiet and empty when I left. I caught one of the very first subway trains of the day to go KL Sentral. In a rare moment of good timing, I arrived at the train station platform just minutes before the next train was scheduled to depart. This got me to Port Klang much earlier than I needed. My ferry was scheduled to leave at 11 a.m. Check-in was at 9 a.m. And I had arrived just shortly after 8 a.m. I experienced another moment of good luck in that the people at the Pacific Jetstar ticket counter allowed me to check in early. I already had my ticket, but, just like at an airport, I had to check in, get a boarding pass, and pay a 20-ringgit terminal fee. After that, I gave my bag to one of the porters at the dock. You can carry a certain amount of luggage onto the ferry itself, but, just like at an airport, large bags should be checked in. They have an odd system in place where you give your bag to a porter, but then they have to wait for the "boss" to make a determination about whether you had to pay for that bag and how much. I've never understood how that determination is made, but the boss concluded that my bag was worthy of a 20-ringgit fee for passage on the ferry.
Once my bag was gone and I had my boarding pass, I was free to go into the terminal and have a cup of coffee. That is always my favorite time, and I pulled out my laptop and did some writing while enjoying a hot cup of coffee and watching the life of the terminal unfold around me. I had more than enough time to then have a good meal. The only hitch in the proceedings involved some customary stomach problems and trips to the somewhat nasty toilets. It's extremely hot and wet inside those squat toilet stalls, so I treat it like a military mission. I do a George Costanza, in fact, and strip completely naked first, and hang all my clothes on whatever hooks are available. If I don't do that, my pants will get soaked with the horrible, dirty water on the floor around the toilet. And my shirt will soak through with sweat just from the physical exertion of being in that toilet. It's better to take everything off. This requires a fair amount of gymnastics as I undress while keeping my feet planted on my sandals. I'd rather not have my bare feet picking up whatever fungi and bacteria are living on that dirty and wet floor.
Even totally nude, I end up drenched in sweat. It's that hot and humid in there. So when I'm ready to get out, I'll grab the water hose and take a shower to cool down. Then I have to drip dry as much as possible before putting my clothes back on. The effort of getting dressed in that tight space means I start sweating like crazy again, but it's still worth it in the end. I end up much cooler and and in better shape than if I'd tried to use the toilet while keeping my clothes on. The big problem is that with my constant stomach troubles, I had to repeat this process three times before the ferry departed. I really didn't want to be ill while ON the ferry. The bathroom on that ferry was sure to be even smaller and hotter and less comfortable than the one in the ferry terminal.
To my surprise and pleasure, the Pacific Jetstar was fairly empty. My last trip on the ferry had been a very crowded and somewhat uncomfortable one. This time, there was almost no one there, and when I emerged one last time from the toilet and decided it was time to go through Customs and Immigration, I thought perhaps I was too late or too early or was in the wrong place. There was no one in line. Not one person. In fact, the immigration officer was leaving his booth as I came walking up. This made me nervous because I wondered if the boat was going to leave without me.
I knew there would be a small (or large) issue with my new passport with all its blank pages. I hoped the immigration officer could handle it right at his terminal, but the process involved going to an office and meeting with the supervisors. They had to deal with me by going through my old passport and my new one and making changes on my computer file and writing notes and filling out forms. It was a fairly routine operation, but it wasn't simple and it took some time. They also told me that I had to retain my old passport. I would need it to re-enter Malaysia. That surprised me. But I planned on keeping the passport anyway, so it wasn't a problem.
Then it was time to board the ferry. I had my pick of row upon row of empty seats, and I snagged a choice seat right beside the emergency exit window with lots of leg room. I filled out my departure and arrival cards and the customs card for Indonesia while I waited for the ferry to leave. This involved using Google Translate because the Customs card was only in Indonesian. No English at all. And then the ferry sat there for a long time. I have no idea what the problem was but we left an hour late. That's never a good feeling on a plane or a ferry. The trip itself was going to take 5 hours. Since the ferry was practically empty and I had a comfortable seat, the 5 hours wasn't going to be too difficult, but it still wasn't going to be a pleasure cruise, and no one wants to sit on the ferry for an extra hour before your 5-hour journey even begins. Plus, you have to wonder about the delay. Was it an engine problem? Were they plugging holes? It takes away from your confidence in the boat. And it's not like there were professional crew members in neat uniforms walking up and down the aisles and reassuring passengers. There were NO uniformed crew members that I ever saw. It would be impossible to tell from their clothing and demeanor who was a passenger and who was a crew member. So I wouldn't have known who to ask about the delay even if I wanted to waste my time trying to get information. The chances of getting an answer that made any sense were about one in ten thousand.
Two young Indonesian men sat in my row near me, and at some point I started chatting with them. I opened the conversation by asking them to translate some of the Indonesian words on my Customs form. I found out that they were from Indonesia, of course, but that they had jobs in Kuala Lumpur. They were servers with a catering company, and they showed me pictures on their phones of them at work at varous social occasions – weddings and things like that. They said they really liked their jobs and they liked living in Kuala Lumpur much better than living in their hometowns in Indonesia.
I forgot to mention that in the lead-up to my departure, I'd been in contact with my friend Al in Kisaran. My bike and trailer were stored at his house. Through him, I decided to have a local tour company pick me up at the ferry terminal and drive me to my hotel in Kisaran. This would completely bypass Tanjungbalai, and I wouldn't have to worry about running into trouble with the police and other officials there. I'm sure I could have arranged my own transportation on arrival, but hiring this tour company wasn't that expensive and the idea was that the rep from the company had contacts inside the ferry terminal and could smooth out my arrival. That, at least, was the theory. The fee for this was 100,000 rupiah, which is about $10 Canadian. I'm sure that's much more than a local would pay, but it's actually a pretty good price considering I ended up with a 100% private van, a driver that spoke English, and he drove me about 25 kilometers right to the my hotel.
The only problem with this was that the driver never did go inside the ferry terminal to greet me on my arrival or make any attempt to smooth out my landing. In fact, I didn't have any idea that the dude was there at all. He just sat in his van outside the ferry terminal waiting for me. Unfortunately, I got snagged by the customs and immigration people and had to endure a fairly lengthy search and interview in their private "Midnight Express" room. The officer even asked me to turn on my phone so he could go through my pictures, emails, and messages. He also asked me to turn on my camera so that he could review the pictures I'd taken. The idea was that he was trying to confirm my "story" that I was a tourist. Apparently, all of my pictures were touristy enough, and after a rather pathetic search of my bags, I was set free and welcomed to Indonesia.
Of course, the process wasn't nearly as easy as I described above. There was a definite Keystone Cops style to the proceedings. It started when my bag had not been offloaded from the ferry for some reason. Normally, if my luggage was just sitting there, I'd pick it up and carry it myself. That keeps things under my control. But in this case, my bag was nowhere in sight, and I had to track down someone to go find it. After a few minutes, a porter emerged from the ferry with my bag, and now he took control of it. Financially, it's not a big deal. I learned later that the standard fee was 10,000 rupiah ($1 Canadian) per bag for a porter to carry it. But I dislike not having control of my own luggage and where it goes. I want to hold onto it so it doesn't get stolen.
I arrived at the X-ray machine and security point for arrivals, and my large bag and my much-more-important daypack were placed on the conveyor belt. The normal idea is that your bags go through to the other side, and then you go through and pick them up. But because this porter had taken charge of me, he went ahead and grabbed BOTH my big bag and my daypack and took off with them. Meanwhile, I had been stopped by a security guard for a search. This took a long time, and I could only stand there and watch as my daypack with all of my most valuable possessions (computer, camera, money, hard drive, etc) was being carried off and around the corner by this eager porter. Then I was flagged for the "Midnight Express" treatment. I tried to explain to the men escorting me that my luggage was out there somewhere and I wanted at least my daypack back in my possession. But no one was listening to me, and I was frogmarched over to the tiny interview room.
There were two other people in this room being interviewed and searched, and so there was barely enough room to get in and take a seat. Then an Indonesian man started talking to me. Suddenly, he stopped and stood up and put on a jacket. He pointed at the label on the jacket which, supposedly, identified him as an official immigration or customs officer. I appreciated the attempt to be more official.
In an ironic twist, one of the reasons he said that he was suspicioius of me was that I had no luggage. Why would a tourist have no luggage? I hardly knew how to respond to that. But I did my best to explain that I had luggage. It was out there in the world somewhere, but you security guys had dragged me to this room before I was able to retrieve it. A man was dispatched with this information, and to my relief, he returned with my brand new Osprey daypack with all my valuables.
There was an official search system and search procedure at play here, and it appeared to involve the officer not touching my bag. He just pointed at various pockets and told me to open them. Then he told me to take out the contents and then open them for his inspection. I indicated that he could just take the daypack and go to town. Have at it. Search the thing. Do whatever. But he insisted that we do this article by article. Not surprisingly, it was a very strange search. He got me to open the front pocket of my daypack, and I removed my camera and a bag of flash drives and memory cards. I think I was asked to take one or two other items out. The officer took the black cover that normally went around my camera and he squeezed it and massaged it carefully looking for anything that might have been stashed inside it or sewn into it, I guess. He then went over the pictures on my camera.
But that was it for the search. I had a TON of other stuff in that daypack including my laptop and notebooks and a hard drive. But he was interested in none of that apparently. I figured that if you were going to go to the trouble of dragging me off to the special search room, you'd at least take a glance into all of the compartments of my daypack. And then, to my amusement, he said he was still suspicious of me because I had no clothing. How could a tourist come to Indonesia for 60 days without any clothing? I had to explain, again, that my luggage was out there somewhere. I had clothing, but it was in my other bag. He was very surprised at this. He'd already sent someone out to get my luggage, and this guy had presumably spoken to my porter, and he'd returned with just my daypack. Now another man had to be dispatched to get my other bag. This was brought in, but after all that effort, it was ignored. He never even opened the zipper let alone checked the contents.
Finally, I was free to go. My porter was waiting for me and he seized my bag and wrenched it from my hand. After waiting all this time for me, he was not going to be deprived of his fee. I kept hoping that my driver would appear and claim me, but nobody showed up. I was surrounded by a group of shouting men all telling me things and asking questions and offering me transportation. I explained to them that a driver was waiting for me, but they all insisted that wasn't true. They said there were NO drivers. NO buses. NO vans. No one. No, no, no, no! I suspected they were lying. This is standard procedure around the world. As you look for the cheaper train or bus, the men around you will insist that there is NO bus and NO train. They have been cancelled, destroyed, removed, delayed, rescheduled, whatever – anything to get you to take their more expensive taxi.
I stood my ground, and then I remembered that I had a business card from this tour company. I dug it out of its hiding place in my bag and showed it to the men. THIS was the company that was supposed to send a driver for me. These men then all started shouting that the company couldn't send a driver, didn't send a driver, did send a driver but he left already, and a dozen other stories. Then, to my relief, the driver suddenly showed up. He explained later that he had been waiting for me for a long time, but I never came out of the ferry terminal. He showed my picture (which he had on his phone) to people, but they all insisted that I wasn't there. He was just about to leave when he saw the commotion at the exit door, and when he came to investigate, he saw me.
With relief, I set off with my driver, Iwan, to go to whatever vehicle he had. I imagined that he was picking up a lot of people, and I was worried that these other passengers would be upset and irritated with me for making them wait for so long. But when we got to the van, I was surprised to find that it was totally empty. I was Iwan's only passenger. That seemed weird.
I was in a very frazzled state by this point. A very vulnerable state, actually. It's amazing that after all these years, I'm still such a doofus. Anyone could have robbed me blind. But in my defense, it's hard to keep your wits about you when arriving in a crazy place like the Tanjungbalai ferry terminal. I had all these men shouting at me and telling me lies. I had my driver talking to me, and I had to really concentrate to understand what he was saying. I had the porter walking beside me and still carrying my other bag. Plus, I had a small horde of young boys crowing around me and asking me for money. They were like cats getting under my feet and tripping me up. They kept pawing at my arms and my clothing and my hands. They were probably adept pickpockets, and it's a miracle I escaped with nothing taken from my pockets.
Things got worse when we arrived at the van. Now I had to pay the porter. I had no choice but to take out my wallet and rummage through it looking for an appropriate bill to give him. This turned the young boys into ravenous sharks smelling blood in the water, and they crowded close to get at my wallet. Any one of them could have snatched my wallet out of my hands and run off with it. But I was being polite, and I didn't want to swat them or shout at them to go away. Someone had said earlier that the fee for one bag was 10,000 rupiah. So I handed the porter 10,000 rupiah and he gave me a look like I'd spit in his coffee. I quickly reasoned that he had waited a long time for me and carried my bag a long distance to the van. So I gave him a second 10,000-rupiah note. I shrugged and gave him a look that said, "Is that okay?" I had no idea. The weird thing is that my brain has trouble getting past the large numbers. I forget about the exchange rate. Ten thousand of anything seems like a lot of money. Twenty thousand? Forget about it. That must be a fortune. But 10,00 rupiah is only $1 Canadian. And this was a grown man trying to make a living. I was giving him just one dollar for all that work and effort (ignoring the fact that I never wanted his help and that his help caused a lot of trouble and offered no benefit). And 20,000 was only $2. The porter kind of gave me another sour look, but he closed his fist over the money and went away.
Meanwhile, the ravenous sharks were still crowding around me and shouting for money. I honestly wouldn't have minded giving them some money, but it occasionally happens that if you give money to the boys right around you, then a shout will go up and a dozen more will come running from far and wide. You create a feeding frenzy. It's not like you give the money and then they go away. If you give them money, they just ask for more and more money and then more boys will come. So perhaps it's best not to chum the water.
I felt even more like an idiot when I realized that the pouch containing my brand new and very expensive smartphone was completely open and unzipped. I had removed my phone to take a picture of the colorful van, but then I was so distracted by all the chaos around me that I had neglected to zip up the pouch when I put it back. Any one of those boys could have snatched my phone and I wouldn't even have noticed. I told myself once more that I really had to get my act together and be more organized. But I get so freaked out by these arrivals, that I continue to make dumb mistakes. It's a miracle I make it anywhere without being stripped naked and robbed blind.
The trip from the ferry terminal to my hotel in Kisaran was everything I could have hoped for. From the outside, the van looked to be quite fancy. It was colorfully painted and extremely clean. Inside, it was a typical mechanical disaster. The dashboard was completely ripped apart and jury-rigged. None of the instruments worked, of course, and there were big holes and exposed wiring everywhere. Perhaps the van had suspension, but you'd be forgiven after the third time your head slammed against the roof or the windshield for thinking that it didn't have any.
The road leading from the ferry terminal is a complete wreck. It has been torn up by heavy trucks carrying away loads of fish, and it never gets repaired from what I've seen. The heavy rains create giant swamps and mud puddles and the van lurched from hole to hole, tossing me from side to side. It was great fun, and it was nice to watch the frenetic Indonesian world go by from the comfort of my front window seat. I used my smartphone to video some of the experience through the windshield and windows. Meanwhile, I talked with Iwan and got his story of how he waited for me.
At a couple of intersections, Iwan rolled down his window and handed money to some random men. I asked about them, and Iwan explained that they were a type of local gangster. They stationed themselves at these corners and demanded money from passing vehicles. If you didn't pay them, you'd soon have smashed windows or punctured tires. Iwan said if he had money in his pocket, he'd give them some. If he didn't, he'd explain and tell them that he'd pay them later. He also had to pay off men at the ferry terminal. There was a whole unwritten system and code for when you had to pay, who you had to pay, and how much. You really had to grow up here to figure all that out.
Iwan stopped the van at his tour company's headquarters. We got out there and completed the last part of our journey on a motorcycle. This made sense because it would be much more difficult and expensive to drive the van right into Kisaran. Easier and cheaper to go by motorycle since I was the only passenger. In these situations, I always worry that there isn't enough room on the motorcycle for me and my various bags. But this is Indonesia. There is always room for more people and more luggage.
We ran into more trouble when we got to within a block of my hotel. Iwan spotted a police checkpoint at the intersection and since I wasn't wearing a helmet and I was a foreigner, it was best to avoid them. Iwan ducked down a narrow alley and completed an extremely long and circuitous loop to get me to the hotel without running into the police. Iwan seemed to know what he was doing, but we turned around a few times in the alleys as he found his way blocked or decided he was going the wrong way. The next day, I looked at our route as recorded by Google Maps and my smartphone's GPS. It was a crazy route. I was surprised at just how big a loop Iwan had carved to avoid the police.
At the hotel, I checked to make sure that they had rooms available, and then it was time to settle up with Iwan. My friend Al had sent me a message saying that it would cost 100,000 rupiah for this service. I had tried to confirm this several times with Iwan and then with the owner of the tour company, but they waved off my questions and refused to answer them. Iwan's reply was that I could pay him what I felt was right. Being a typical Westerner, I dislike that answer intensely. I prefer it when things have official prices and you pay those prices. All this vagueness bothers me. But by the time we got to the hotel, it was clear that Iwan had gone above and beyond the call of duty, and I really should tip him on top of the actual price. I explained to Iwan that Al had confirmed the price of 100,000 rupiah for the van and I was going to pay that. Plus, I would give him 50,000 rupiah as a tip. Too generous? Not enough? I have no idea. You really never know. And I have no idea what happens with the money. For all I know, Iwan would report to his boss that I had only paid 50,000 total and Iwan would just pocket the rest. Who knows? When it comes to money, we Westerners are children in this world. We have no idea what is going on, and you just do your best.
I was very happy to arrive at my somewhat comfortable room at the Casaya Asahan Hotel. It's comfortable in that it is spacious, has clean beds and clean sheets and towels, has a nice bathroom, a TV, a fan, a room phone, and TWO outlets. I still say somewhat comfortable because it gets really hot. There is zero ventilation. These rooms were designed with air conditioning in mind. (no windows at all and solid cement walls) And if you get a fan-only room, you sweat. The other big problem for me is that the Internet and Wi-Fi is very poor. There is a router in the hallway right outside my room, but it doesn't seem to do much. Uploading and downloading speeds are closer to the tortoise than the hare. This room is called a standard. That means it comes with its own bathroom. It costs 80,000 rupiah ($8 Canadian) a night. They also have rooms with a shared bath for 60,000.
I settled into my room and into Kisaran slowly over the next couple of days. On my first day, I did very little other than get a SIM card for my phone and go for a walk and shoot some video. Eventually, I got around to going to Al's house to pick up my bike and trailer. I walked to his place and shot a lot of video along the way. My bike was in okay condition. It was pretty dusty. I had covered my trailer with my tent's ground sheet, so it had stayed relatively clean. A bunch of very large cockroaches had gotten underneath the tarp and then died while attached to my trailer. But that was about it. I had left two other bags on my last day, and I assumed they would tuck them under the tarp. But they had been left in the open and were extremely dirty. They smelled bad, too, so I don't know what happened to them. I almost threw them away, but I've since washed them, and they're still useable, though my waterproof food bag now has five punctures in the bottom. No idea where they came from. Perhaps mice chewed through it?
And as with my troubles with arriving in new places and being an idiot, I'm also an idiot when it comes to storing things. I do it a lot, so you'd think I'd do it properly and learn from my mistakes, but I never do. Not long ago, I stupidly left some other things with a shampoo bottle inside a bag. All the shampoo leaked out and soaked everything in the bag and destroyed, among other things, my camera's external flash. What kind of an idiot stores a shampoo bottle in the same bag as some elecronics? My type of idiot, it seems.
In this case, I had had a large amount of instant coffee and coffee creamer left when I returned to Malaysia. I didn't want to risk carrying unidentifiable white powder through customs, so I left it in ziplock bags in my trailer. So stupid to imagine that it would survive. I opened my trailer to find that in the extreme heat and humidity of Sumatra, the coffee had solidified into a hard black lump. The coffee creamer had turned into a big white lump. And they were covered in ants and beetles. Obviously, you don't store food inside your luggage for a long period. It's obvious. But I thought it would be okay. The worst thing though is that my tent melted. I guess the upstairs storage room at Al's house is very hot and humid. So when I unpacked here in my hotel room, I found that the polyurethane waterproof coating on my tent and tent fly had turned into a messy, sticky, goo. Totally ruined the tent. This type of damage might be covered by warranty, but even if it is, it doesn't do me much good here right now. I basically have no tent now. Far more damage occurs to my bike and gear in storage and in transportation than ever occurs when I actually use it. I really have to focus and take better care of my gear. I've been so bad at it ever since I left Taiwan. Everything keeps breaking.
My problems continued when I installed my brand new Ortlieb Ultimate 6 handlebar bag. I followed the instructions carefully, including the instruction to tighten the cable bolt 100%. That's what it says on the detailed instructions sheet. So I kept turning and turning the bolt trying to screw it in 100% of the way. The result? The entire plastic mounting bracket crumbled, twisted, and bent. I contacted Ortlieb and told them about my problem and asked what I had done wrong. There was some back and forth, and we realized that my bag had shipped with the wrong instruction sheet. They were the old instructions for an older model. The new instructions gives very precise torque measurements for screwing in those bolts. You don't screw them in 100%. You screw them up to a certain torque level. I have no idea how you are supposed to know when you've reached the appropriate torque or even what .5Nm of torque means, but it's clear you DON'T screw them in 100%. But that's what I tried to do and I destroyed the mounting bracket. These things always seem to happen to me.
The other big events in my life in Kisaran involved meeting a local woman named Theresa who is involved with the WarmShowers cycling hosting organization. We met for breakfast yesterday, and then she drove me around on her motorycle to visit her school. Then we had lunch at her house with two backpackers that were staying with her. Theresa is a very nice woman and it was great to meet her. She also drove me around to a few different banks as I tried to withdraw money using my CIBC ATM card. None of the ATMs would accept it. They just spit out my card with a "transaction cancelled" notice and no further information. It's very annoying.
After Theresa dropped me off at my hotel, I went off in search of more banks. I needed money to pay my hotel, after all. I went to a couple more banks with no success. Then at one bank, I was told to try a bank called Mandiri. The clerk at this bank offered to take me there on his motorcycle. He drove me across town, and we arrived at a very big and fancy bank with lots of modern ATM machines. My first attempt to withdraw money was unsuccessful, but that was because I made a mistake. On the screen, there was a big message saying that 2,500,000 rupiah was the maximum withdrawal per transaction. So I pressed the OK or Enter button. But my card was rejected saying that the amount was invalid. Then I realized that the message was just information. It wasn't actually entered as a withdrawal amount. I had to key in 2,500,000 rupiah myself in another space. Then it worked. I was so relieved.
The ATMs only give out money in 100,000-rupiah bills. That's too large for general use, so I went inside the bank and had a couple of million changed into smaller notes: a random selection of 50,000-, 20,000-, 10,000-, and 5,000-rupiah notes. Once my pockets were jammed with cash, I walked back to my hotel, shooting some video along the way. I've been experimenting with video as opposed to pictures, and I'm enjoying the experience. The big problem, though, is that the files are so large that it takes days to upload even one file.
Later that day, my old friend from Tanjungbalai, Rea, showed up. She drove her scooter from Medan to Tanjungbalai. Then she rode the short distance up to Kisran to meet me. We had a cold drink and then dinner. And I had a chance to give her my Asus smartphone. I didn't need it anymore since I had my Motorola. Rea brought luggage with her, and she planned to stay in Tanjungbalai for a couple of nights, but somehow that didn't work out. I didn't really understand why. Now she was going to drive all the way back to Medan at night in the rain. I tried to get her to stay in Kisaran. I said I would pay for the hotel room if she didn't have enough money, but she preferred to go back to Medan.
Tonight, I'm being Mr. Social and going to a dinner at Theresa's house. There are supposed to be about eight people attending. Should be a pleasant experience.