Home » All, Taiwan
Keelung Boat Trip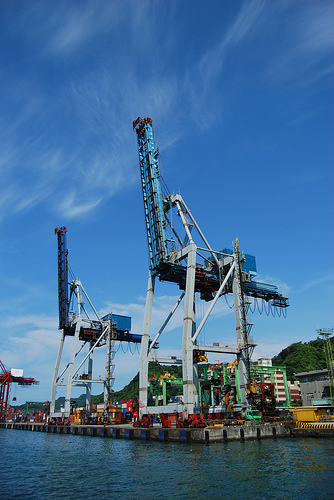 Saturday June 18, 2011
I went for a quick 2-day, 1-night scooter jaunt to Keelung. I took County Road 106 to get to Keelung. This is a beautiful mountain road that passes through the old mining towns of Jingtong, Pingxi, and Shifenliao on the way to Ruifang and the coast. It takes about 2 hours to get from Taipei to Keelung on 106. It would probably take less than an hour following Highway 5, but 106 is much more scenic and interesting.
I've driven down 106 many times, so I didn't bother taking out my camera. I've taken pictures there many times before. Besides, I wasn't quite awake yet. I was just drifting along and enjoying the cooler temperatures as I climbed. I didn't have the energy to stop and take pictures.
My favorite stopping point is a roadside coffee truck just past Jingtong. It sits on a wide part of the road and has a few tables and chairs. They weren't set up yet when I drove past, so I continued on to my second favorite spot. I don't know the name of this place, but it is also at the side of the road a ways past Pingxi. Despite being a beautiful outdoor café with twenty or thirty tables, a fish pond, and a waterfall, it is not easy to spot. It sits on a tight curve and you could easily drive right past it and not notice it. Even knowing it was there, I drove right past it this time and had to hit the brakes and turn around.
I love that this place has a huge parking area, and this parking area has made it a favorite with Taipei's motorcycle clubs. The parking lot is generally filled with massive and beautiful bikes. I've seen big Harley-Davidson bikes there – the ones with built-in stereos and seats like living room chairs. There are always a bunch of gorgeous Ducatis and a sprinkling of other brands. Scooter racers stop there as well. The guys driving these are often just as decked out as the motorcycle riders with head-to-toe leather and all the pads that allow them to skid and slide along the pavement in case of a wipeout. The craziest are the guys with the full-on pads on the back. The protruding and scaled shells on their backs give them the appearance of upright turtles. These and the heavy-duty boots make it difficult for them to walk or even get comfortable in a chair.
Lately, the motorcycle dudes have been outdone by the cyclists. Now you find just as many cyclists (sometimes more) as motorcycle riders at this café. And these cyclists have just as much specialized gear. For the most part, they are speedsters on this road and they wear the full-body Lycra and ride the lightest and thinnest bikes imaginable.
In any event, this café is a great spot for people-watching and for checking out all the high-end bikes. They make a good cup of coffee and they have tons of seating and lots of space – a rare combination in Taiwan. I noticed on this drive that new places are opening up on 106. I spotted a couple of very nice new cafes. The problem with them, as always, was the lack of parking. I saw them out of the corner of my eye as I drove past and I had half a thought to check them out. However, I didn't see anyplace to park, so I just kept going. Of course, if I really wanted to stop there, I could have found a place to park. It's just that I find myself much more likely to stop somewhere if I can see a convenient parking area. That's what both my coffee truck and this outdoor café have.
I was enjoying my ride through the mountains so much, that I almost gave up on my plan to visit Keelung. Why come down out of the mountains and re-enter urban sprawl and craziness? When I passed through Shifenliao, I saw a sign for the Traveller's Lodge. I turned off 106 and went into Shifen from the far end. I drove through Shifen from one end to the other and popped out along the railroad tracks, but I didn't see the backside of the Traveller's Lodge. Hard to spot. However, I did see another place. I parked my scooter and went in to check it out. I'd been to Shifen several times, but I had never noticed this place before. It was very nice with a comfortable and beautiful restaurant and a large lobby area with outdoor seating.
Unfortunately, their rooms started at NT$2,600 a night. For a certain type of weekend trip, that wouldn't be too much to pay. You would probably get your money's worth. However, for a casual scooter trip, it's a bit much. I could just as easily spend the day in the mountains enjoying myself and then drive back to Taipei in less than an hour, sleep at my apartment for free and have NT$2,600 to spend on something else. Still, I was interested enough to check it out, and that is always an interesting experience in Taiwan. The odd thing is that I always feel like I'm being interviewed for a room – and generally found wanting. In this case, the hotel was full. They didn't have any rooms available. Yet, they didn't tell me that right away. They told me about the rates. They gave me a brochure with pictures of all the types of rooms and their prices. They asked me how many people and for how many nights. And then, after all that, they told me that they were full. This happens to me all the time. I feel like I've been interviewed and then found not good enough for the hotel. If I had given different answers, perhaps a room would have been available.
When I left this luxury hotel, I went in search of the Traveller's Lodge again. From the outside, it didn't look that fancy, so I thought their prices would be more reasonable. In fact, they were about the same. And it didn't matter because I failed the interview again. The woman spoke fairly good English and she asked me the same questions about how many people and how many nights. She even told me about their rates and asked me if that was okay. Then, suddenly, there were no rooms available. Me being the logical fellow I am, I thought she could have started with that bit of information. However, that's not the way it works apparently. Every time this happens, I can't help by think about my overall appearance and what was wrong with it. Why wasn't I worthy of a room? Was I too tall? My legs too hairy? My T-shirt too wrinkled? My hair too windswept?
I've thought for my entire time in Taiwan that there is a huge market for the kind of facilities that other countries in southeast Asia offer – backpacker type places. Most places in Taiwan seem to be geared to the high end market. You have to know about these places in advance, know where they are, call and make reservations, and you have to be willing to shell out about $100 a night. You have to be looking for a luxury type of weekend. I'm told that there are lots of homestay options, but these are very hard to find. When I was in Shifen, I asked the people at the hotels about cheaper options. I have the sense that they are there. Shifen gets thousands of visitors every weekend. You'd think some kind of budget accommodation would be in there somewhere. You just have to find the secret key to finding them – some kind of code word to reveal them. I never seem to find that code. I often get the impression that local people know less about their own towns than I do. They certainly don't know very much.
Getting back to my original point, I keep thinking that if I am looking for that basic hotel with a simple room going for $20 US a night, I can't be the only one. I mean, there are quite nice hotels in the big cities like Tainan and Taichung going for NT$1,000 a night. Why don't these places exist in the small places in the mountains and on the coast? Perhaps Taiwan just hasn't adjusted to the modern world yet. Most hotels and restaurants and other places seem to cater to large groups. They also seem to depend on people just knowing about them in advance and making reservations. People like me who just show up get left out. I think more and more people in Taiwan do this kind of random and casual travelling, but the market hasn't adjusted to them yet. Perhaps the Taiwanese themselves don't even know about the possibilities. I'm thinking about places like Thailand and Vietnam and even Cambodia, where you can show up in just about any town anywhere no matter how small or remote and find a little place to stay. They always have a sign somewhere that says "Hotel" in English. Time and again, I've found myself in beautiful little places in Taiwan – gorgeous fishing villages on the coast, lovely little towns deep in the mountains – and wished I could stay there. However, there is never anywhere to stay. I think this will change at some point, especially if the cycling trend continues.
Anyway, I gave up on finding a place to stay in Shifen and got back on the road for Keelung. I drove steadily and soon found myself topping the final mountain ridge and looking down on Keelung Island and the mountains around Jioufen. I raced down the other side and at the spot where I normally turn right to head back up to Jioufen, I went straight and into unknown territory on the way to Keelung.
I'd spent the night in Keelung once before. That was many years ago on a Chinese New Year bike trip. I remember thinking that Keelung seemed an interesting city. It has the massive harbor and that always makes a town interesting. It's surrounded by low mountains and is very scenic for that. I'd also driven through Keelung a couple of times on my scooter as I was passing through on my way somewhere else. On those occasions, I remarked on how crazy and chaotic Keelung traffic can be, and it was that memory that came back forcefully this time. The great thing about being on a bicycle is that you can do whatever you want and go wherever you want. You can stop, turn around, cross streets, go down narrow alleys, do whatever you want. That freedom makes even an insane place like Keelung navigable. On a scooter? Forget about it. Yikes.
Driving into Keelung along the coast wasn't so bad. For someone from Canada or the US driving here for the first time, it might have seemed beyond insane. But I'm comfortable on the roads now and driving into Keelung was just the normal insanity. It wasn't until I got into downtown Keelung that things got more difficult. I think Keelung is a classic example of organic growth. The city just grew up around the harbor and with the mountains hemming it in all sides, the roads just sort of appeared at random and connected willy-nilly. Navigating on a scooter is quite a challenge. I can see people wanting to go to Keelung for the weekend but then finding out that it was easier to just keep going straight and drive out the other side. How, after all, does one stop? How does one turn? How does one park? I encountered intersections that just baffled me. I had no idea how to drive through them let alone turn in any direction. I could make no sense out of the lights, the corners, the lanes. The best I could do was just drift through them and sort of follow a straight line. I was probably breaking every traffic law in the book, but I saw no other option.
Eventually, with much insane driving, I found myself at the train station. I had stopped earlier in the neighborhood around the main market (how I made that turn I have no idea) because I saw a sign or two for hotels. The hotels didn't look like anything special. They looked like dives, to be honest, and yet they wanted NT$3,000 a night according to their posted rates. I didn't even bother to stick around for an interview. I figured there had to be cheaper hotels around the train station. This is where cheaper older hotels tend to be in every city in the world. I remembered when I got there that there was a tourist information office nearby. I spotted the office, and it was something of a symbol of Taiwanese tourism. It was here, in theory, that tourists could go to get information about things to do and places to stay. In fact, it was a great place. They had lots of good information. There was a very useful map showing hotels all around that area. There were friendly staff members. There were even volunteers there who spoke very good English and made it their business to help foreigners. They made phone calls and did all kinds of things. The problem was getting to the office. Forget about parking your scooter. That was impossible. The whole area was insane. We're talking about not just train station traffic. There were bus stations and taxi stands everywhere causing a maelstrom of traffic. And every single available square foot of pavement was taken up by a scooter. I thought I was used to scooter-parking craziness, but this was something else entirely. I eventually gave up trying to find a parking "spot". I simply stopped my scooter and put it up on the kickstand along with the hundreds and hundreds of others. I was right outside the tourism office, but try as I might, I couldn't reach it. There were hundreds of scooters parked two or three deep in this whole area, and you literally could not get from the street to the buildings. I tried to go around them, but there was no end. They went on seemingly forever. In the end, my only option was to climb OVER the scooters. I literally had to climb over the scooters like I was fighting my way through the Khumbu Icefall on my way to the top of Everest.
To make a long story short, I found out that there were many hotels in the congested blocks around the train station. After much searching, I found a tiny spot in a narrow alley to dump my scooter. Then I went out on foot. To drive from hotel to hotel was an impossibility. This had to be done on foot. By this time, I was drenched in sweat – literally drenched. I could have wrung a cup of water out of my T-shirt. I was in no mood to mess around, and I simply took a room at the first hotel I saw. It was up on the fourth floor of a building. I went up the stairs and paid without seeing the room. All the hotel signs on the street said their rooms with NT$980. I'm not sure why you would have the price written into permanent and expensive signs. Surely, prices are going to change over time? In this case, the price had gone up. Or perhaps it was the weekend price. In any event, I was quoted NT$1,100 and that seemed reasonable. For my NT$1,100 I got a little love nest – a very colorful little room with a bright purple bedspread on a perfectly round bed. The ceiling was decorated with tasteful nude drawings. Channels 14 and 15 on the TV showed decidedly nasty and non-tasteful pornography. Yikes. Who makes this stuff and how can they possibly imagine that people want it?
It was quite late in the day but the time I had found my home with its round bed. There was just enough light left in the day for me to walk up to Jhongjeng Park above the city. Up there was a large statue of Guanyin with two immense guardian lions and a circle of very forbidding-looking Lohan. I don't think any evil spirits were getting past this circle of protection, so Guanyin was safe to meditate on mercy and compassion unmolested. There was a carnival atmosphere up there with lots of arcade games with prizes. There were also a couple dozen electric cars for children. It was fun to watch them drive around, but I learned quickly that you couldn't count on them knowing how to turn to avoid an obstacle. It seemed more like a game of "hit-the-foreigner" than anything else. They seemed to be mesmerized by me and one by one they all took a beeline for my legs and forgot that they were supposed to turn.
The one thing I wanted to do in Keelung was take a boat trip out to Keelung Island. Therefore, the next morning, I returned to the tourism information office to see if such boats left from Keelung harbor. I'd read that boats left from Bisha fishing harbor, but I figured there had to be similar boats in Keelung proper. The people at the tourism office were eager to help. They told me that boats did leave from Keelung, in fact from right across the street. They then made a phone call and gave me the sad news that I was out of luck. A boat had left this morning, and there would be no more that day. There had to be 15 people, you see. And I was only 1.
This was very familiar to me and I knew not to take them at their word. In fact, I've learned in Taiwan never to believe anyone about anything. I don't know of a better way to put that. When it comes to tourism, pretty much everything I've ever been told by anybody has been completely wrong. I've learned that there is no way to get information in advance. If you want to do something, you simply have to go do it. You have to physically be somewhere and see something happening in order to understand it. Asking questions and gathering information beforehand is a complete waste of time. I've been told things are closed when in fact they were open. I've been told there were no boats when there were boats. I was told there were no scooters for hire when there were. On and on and on. Equal to this misinformation is the lack of information. A very nice man at the tourism office worked with an equally nice woman to make a phone call and find out that there were no boats. Then the man told me that the boats left from the dock – "the dock" was a vague arm wave in the direction of the water.
What's puzzling is what the man didn't tell me, especially considering that he worked at the tourism office and he was right there. It turned out that there was only one boat company in this harbor, and they had a ticket counter inside the Burger King right across the road. It wasn't complicated. I was walking past the Burger King, and I saw a big sandwich board sign with pictures of a tourist boat. Inside the Burger King at the back was a big counter with pictures of the boat and a schedule and a man there selling tickets. Why wouldn't the man at the tourism office right across the road know that? His English was very good. It wouldn't have been hard: "The boat tour company is across the street in that Burger King. They have a ticket counter in the back."
Things actually got weirder when I found the ticket counter. This fellow didn't speak English beyond a few words, but there was a schedule on the wall with a boat leaving at two o'clock. I indicated that boat trip, and he smiled sadly and told me that it was only for 10 people. I was only 1 person. As far as he was concerned, that was the end of it. I decided to hang out for a bit and see what was going on. I sat nearby and literally dozens of people came to ask about the boat trips. They came, usually, in pairs. Some were groups of three or four people. This man at the ticket counter sent them all away. He told them again and again that they could only go if there were ten people. I saw him send over twenty people away with that same message. It was very confusing. I have no idea why he wouldn't simply take down their names on a list for the two o'clock trip and tell them to come back at two. He could have filled up the boat three times over with all the people that he sent away. I went back to the counter twice to see how thing were progressing. He shook his head sadly and told me in English that there had to be 10 people.
By pure chance, at about 2:15 two largish groups of people came up to the counter at the same time. The man did a quick calculation in his head and realized that if he put those two groups together and threw me into the mix, he could come up with 10 people, and we were all set.
I – to put it mildly – was astonished. But then again, I almost always am. I love systems and order, which probably means the last thing I should I do is travel around the world. It drives me crazy to see operations like this that simply limp along with no systems at all. There were hundreds and hundreds of tourists roaming around the harbor area. They were everywhere and they were all looking for something to do. Let's forget about this man sending twenty or thirty people away because they weren't groups of 10. Why wouldn't they hire some kid to go out with a clipboard and sign people up? Give him a bunch of brochures, a big sign with a picture of the boat, a clipboard and have him walk around the harbor telling people about the boat tour.
In the end, we had a group of 10 people and we all bought our tickets in a big flurry of activity, got a lesson in how to put on a lifejacket, and boarded the small boat for our trip to Keelung Island. I was very excited. There's nothing like a good boat trip. I was very happy when the boat took a slowly and roundabout route to get us out of the harbor. We passed by the loading docks where huge cranes were piling containers onto container ships. There was a massive cruise ship docked there. We went past some small inlets with fishing boats and boat-building activity. It was extremely hot and the sun poured down. I decided to put on an extra layer of sunscreen for when we got out into the ocean and went to the island. I had just finished putting on the sunscreen when the boat turned around and went back to the dock.
The tour was over.
Genius that I am, Mr. Systems and Master of Order, I wasn't on a boat tour to Keelung Island. I had signed up for a tour of the harbor by mistake.
Tags: County Road, Keelung, Keelung Island, NT, Perhaps Taiwan, scooter, Taiwan