Home » All, JOURNAL: Blog Blog, Malaysia
JOURNAL: Buying a Rode Wireless Go & Dinner with a Subscriber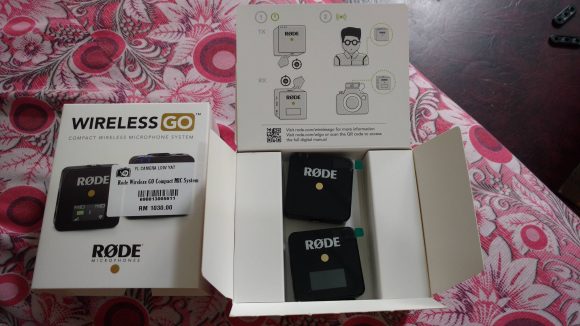 Saturday, August 3, 2019
7:00 a.m. Room 4, Natalia Guest House
Kuala Lumpur, Malaysia
I dreamed like a crazed person last night, but I won't bother writing down all their stories. My favorite, though, was a dream in which I somehow got into a conflict with a bunch of almost feral children hanging out outside a window of the apartment or hotel where I was living. I had a ton of expensive gear in this place, and my conflict with the children somehow involved them threatening to pour all kinds of water in buckets through the window and into my place. This would obviously damage all of my expensive belongings. And somehow in this dream world, it was not an option to simply close or lock the window. I was somehow a prisoner of the threat of these children to douse my apartment with buckets of water at any time. So I could never leave. I had to standard guard forever.
I was quite busy yesterday. I decided to face up to the fact that my purchasing a Rode Wireless Go was a done deal. There was nothing I could do to stop it. It was going to happen eventually. So I might as well do it right away. And even though I was really tired and not in the best frame of mind for it, I went back to Low Yat Plaza intending to purchase it.
I was worried that with being so tired and out of it that things would go wrong, but the purchase went fairly smoothly. The biggest problem I faced was deciding where to buy it. It was sold at many different shops, but I didn't really like or trust any of them. But then I remembered that there was an outlet of the YL Camera Services store at Low Yat Plaza. I've had nothing but bad experiences at their outlet in Pudu and the one in Petaling Jaya. However, I've had relatively good experiences at their outlet in Low Yat Plaza. I wouldn't call them good exactly. They were just never actively bad, and that was good enough for Low Yat. The advantage to shopping at YL Camera Services is that it is a large and quite professional operation. I can trust them. And I can't say the same for most of the smaller shops.
I knew that the little corner shop where I bought my Ulanzi V2 Pro sold the Rode Wireless Go, but I didn't feel good about going there to buy something as expensive as this $200 microphone. At first, I ran into a problem at YL. They did have a Rode Wireless Go in stock. But it was marked on the box as costing 1,030 ringgit. The little corner shop was selling it for about 900. For me, even spending an extra 100 ringgit on a product is worth it if it means I buy it at a reputable shop where I have a good shopping experience. However, no one likes to be taken for a fool, so I had some trouble forking over 1,030 ringgit when I could just walk across the hallway and buy the exact same thing for 900.
So I tried to find out from the sales clerk if there was any warranty advantage to buying this microphone from YL rather than from a smaller shop at Low Yat. Perhaps YL was an official Rode dealer and could offer an extensive warranty and the small shop across the way was not and could not. And that's why I should pay the more expensive YL price. He didn't really understand what I was getting at, and his English really wasn't that good, so I didn't get a clear answer. I decided to just come out with it, and I told him that I wanted to buy the Rode from him at YL, but there was a shop just across the hall that was selling it for 900 ringgit. And the clerk instantly said, "I can give you that price."
It turns out that I was being an idiot again. I'd forgotten the Malaysian (or Asian?) habit of putting fake prices on products to make customers feel like they are getting a bargain when they get to the cash register. The price tag of 1030 ringgit on the box was fake. The real price was on their computer. He called up the Rode Wireless Go on their computer, and he showed me the actual price of 850 ringgit. So, in fact, YL was selling it 50 ringgit cheaper than the other place. So that made the decision an easy one, and I bought the microphone. It's interesting that they nearly lost a customer because of their fake prices rather than gaining one. My instinct is always to assume that the prices on products are the actual prices, so when I saw 1,030 ringgit on the microphone packaging, I almost walked out to buy it somewhere else where I knew it was cheaper. That's how I shop. I look at the prices on the packages as I go from store to store, and then I make my decision. I keep forgetting that in Malaysia, the marked price is a fantasy. I wonder if they know that they might have lost lots of foreign customers like me who walk out when they see the high prices on the price tags.
I spent much of the day afterwards playing around with the microphone. And, of course, I ran into all kinds of things that I didn't understand. And no matter how much research I did online, I could not get any answers. Not only couldn't I get any answers, I couldn't find any hint that anyone else had even considered these questions. I watched some YouTube videos about the Rode Wireless Go from so-called experts, but none of them even got close to dealing with these (what I think of as) very basic questions. In the end, I had no choice but to find my own answers, and I embarked on a series of tests and experiments to try to figure it out on my own.
I had two basic questions, and they were both prompted by the fact that when I first turned on the microphone and made a test recording, there was a large amount of background hiss and noise. A huge amount, in fact. I was really disappointed at that because the sound quality out of the box was far inferior to that of my basic lav mic. And if the sound quality was that bad, then I had just wasted $200. Sure, it would be convenient to use a wireless system. But if the audio of the Rode is so bad, I would use my cheap but better-sounding lav mic instead. Convenience of use is great, but it is secondary to audio quality.
And as I explored this issue, I came up with two simple questions. The first question was which type of microphone I should select on the GoPro. In the GoPro menu, there are 5 options:
1) Standard
2) Standard+
3) Powered
4) Powered+
5) Line In
I had no idea which one I should choose and even what difference it would make. So I did a long series of tests recording audio using each type of microphone setting and trying to hear if there is a difference.
The second question was about the dB settings on the receiver. There is a button on the receiver, which Rode calls the "3-stage output pad." The three stages are basically a low, medium, and high setting for the audio output levels. However, they are listed as 0dB, -12dB and -24dB in the manual. I was very confused about why the dB values were listed as "minus" values when choosing them resulted in an increase in the audio output levels. Aren't we adding decibels? Shouldn't it be +12dB and +24dB? I could find no answer to this question.
Just this morning, however, I realized that I could perhaps get answers on Reddit. So I joined a videography group and posted my questions there. We'll see if I get insults and ridicule or useful answers.
Through all my tests, by the way, I was left with one very clear conclusion: the lowest output setting on the Rode resulted in FAR less noise and hiss. In fact, at the lowest setting, the Wireless Go sounded as good as my lavalier mic. However, the final audio levels seemed to be quite low using just the Standard mic setting. Using Standard+ on the GoPro (that boosts the signal by 20dB) brought the levels up to match what I get from my lavalier microphone. But that also raises the background hiss. So I'll have to do more experiments over time to see what are the best settings.
It was painful, of course, to spend $200. But so far, I am pleased with the purchase. I think the audio will be good enough once I figure out all the details and get some experience.
When I left from Low Yat Plaza, I dropped by the Sport Direct shop to look at their sandals again. When I was there checking out backpacks, I saw that they had some sandals on sale for around 109 or 129 ringgit. They looked to be similar to Teva sandals but with more comfortable padding here and there. I tried on a few pairs of these, but I found them to be too narrow. They fit my feet as far as length was concerned, but they just seemed to pinch my feet and toes from the sides. They just weren't comfortable.
I was about to give up and leave, but the security guard actually started up a conversation with me about my search for sandals. I told him that I liked the style and the price of these sandals, but they were too narrow for my feet. I've always had quite wide feet, I think. I held up one of my old Adidas sandals and showed him how the soles were much wider than the sandals I was trying on. And to my surprise, the security guard said, "We have those sandals." I was confused for a while about what he meant. Then he went away and came back with the EXACT same black Adidas sandals that I currently have. The exact same ones.
I followed the security guard across the store, and he brought me to an entire display of Adidas shoes and sandals, and there they were – my Adidas sandals. They were the same ones that I had purchased in Kuala Lumpur years ago. Nothing had changed about them. It felt weird at first to consider buying the same sandals as the ones I was wearing. Sure, my sandals were completely worn out and needed to be replaced, but when you buy something new, you kind of want something completely new. You don't want to just get new copies of the exact same thing you already have. It feels like you are missing out on a pleasurable aspect of shopping – ie, getting something new and different.
It would be like using a camera for two years and then going out and buying the exact same camera. Or driving a car for five years and then buying the exact same car when the old one breaks down. Wouldn't you think that cameras and cars had gotten better over the past years and you should buy a new model? Of course. But I guess sandals don't evolve at the same pace, and Adidas were still making the exact same sandals I had bought years ago. I really couldn't argue with this purchase. These Adidas sandals were perfect for me in a way. They were comfortable. They were nice and wide. They had a convenient buckle for the main strap instead of the loud and annoying Velcro of the Teva models. If these sandals were good enough for me to buy them last time, then why not buy them again? So I did.
It took a few minutes to decide what size to get. I was really struggling with that because I often make the mistake of buying things that are too large. And my current Adidas sandals seem too big on my feet. And I didn't want to make that mistake again. But when I tried on a size 9 that fit my feet perfectly, they just felt too small to me. I guess I just like things that are bigger than they need to be. So I ended up getting the size 10 even though there was a bit of sandal sticking out at the front beyond the end of my toes. Maybe these new ones will quickly become much too large, just like the old ones. But that's what I bought. They cost exactly 199 ringgit, which is $48 US. That's not cheap, but I guess it's not super expensive either.
In my normal life, buying something as amazing as the Rode Wireless Go would be more than enough excitement for one day. Buying the microphone PLUS new sandals was heading to extreme-living territory. Yet, on top of all that, I had a scheduled appointment to meet up with a woman from Switzerland who had been watching my videos on YouTube. She and her husband and children were traveling around Malaysia and Singapore with another family. The whole group consisted of four adults and seven children, and I was meeting them for dinner here in Chinatown in Kuala Lumpur.
This woman, who I'll call Lois, had been very, very kind to me on YouTube and left lots of positive comments on my videos, and we had interacted quite a bit. (To be clear, "Lois" is not her real name. I chose this name for her because Lois is the mother on "Malcolm in the Middle", and we both liked that show, and we talked about it when we met up). To actually meet one of my subscribers in person was very exciting, and, as became clear very fast, kind of odd. It's a fascinating aspect of the modern world. What I mean is that Lois had watched all of my videos on YouTube. And my videos are quite personal, I guess. I talk a lot about myself and what I'm doing. They're like video diaries of my day. And so, Lois knew a LOT about me. She had never met me. I had never met her. And yet, she knew me better than any of my friends or even family know me.
It was the funniest thing. Early on, I said something about buying my new sandals, which I was wearing, and she knew all about my sandal experiences. I had made an entire video about how my sandals were falling apart in Myanmar and how I got them repaired and how I needed to buy new ones. It made me laugh to think that she knew me so well that she even knew I needed new sandals and intended to buy new ones in Kuala Lumpur.
I had arranged to meet Lois at the main entrance to the Central Market here in Chinatown at 7:30 at night, and then we were going to get dinner. As we made these arrangements, I couldn't help but wonder how things would work out. I'm a fairly solitary soul, and even meeting one person for dinner is a big deal for me. Meeting eleven is very much off the chain. And, as I'm sure Lois and her husband and friends could sense instantly, I'm not around children very much and I'm not very comfortable with them. So, a dinner with two families with seven children could be quite a challenging situation for me.
I also wasn't sure how we would arrange dinner. I didn't know if they had pre-arranged plans or were hoping that I could suggest a place. I had, in fact, spent some time on this issue, and I had thought about all the restaurants I knew, and I had even gone walking around the streets of Chinatown and gone into all the restaurants I knew about and looked at their menus and seating arrangements.
There were two ways of looking at it. I thought they could be interested in a local experience. And that means we could go to a big Indian restaurant. In fact, there was a perfect option right beside the Central Market – the Restoran Yusoof Dan Zakhir. It is somewhat famous, and there was even the possibility of getting a private room there. I had that restaurant in my hip pocket as an option just in case. And when the entire group started to show up, and I realized that the seven children were quite young and our caravan now included three strollers, (including a giant double-wide), that Indian restaurant seemed like a very good option since it was so close. There was no easy way to get this group of children through Chinatown. As a full-grown physically tough man, I have a tough time getting around Kuala Lumpur in general. I had no idea if Lois and her friends would even want to attempt to make it across Chinatown on a busy Friday night.
Very quickly, however, the option of the Indian restaurant was taken off the table. They had already been to Batu Caves and to Brickfields during the day, and they'd had what sounded like a very challenging experience with Indian food for lunch. I doubted they would want to go for Indian again so soon after. In any event, we were in Chinatown, and it would just make sense to have Chinese. However, I was only too aware of how difficult that could be. The classic thing to do in Chinatown is to go to Jalan Sultan and have a meal at the plastic tables and plastic stools on the sidewalk. However, that presents multiple problems. Can all these people and children and strollers even make it across Chinatown to this street? There is so much construction going on and so many obstacles and so much traffic and so many people. It's hard enough just to walk anywhere. To walk there with double-wide strollers and seven children on a Friday night seemed impossible.
And the seating just won't be comfortable. These are plastic stools after all. Would these people be comfortable there? Would the children? And would the children even eat Chinese food? Finally, you kind of have to know how to order at these places. They're designed to serve multiple communal dishes for a large group to share. To do that, someone has to take charge and figure everything out. It's not the type of dining experience where every person just orders a separate meal for themselves.
The other option, and the one that I thought would be the best, was to go to the Grocer's Inn restaurant. They have nice air-conditioned seating indoors and a great atmosphere. They have a large menu of western and local items on the menu. They have everything. I dropped by there to look at the menu and check it out and make sure they would be open that night. I had two concerns about that plan. I thought maybe the Grocer's Inn would be too expensive once you have twelve different orders from twelve different people. And since Lois had offered to treat me to dinner, I didn't want to foist a perhaps expensive western-style restaurant on them. And besides, I thought maybe it wouldn't be an interesting cultural experience. It would be similar to going to any restaurant anywhere in Europe or North America. Why come all the way to Chinatown in Kuala Lumpur only to have all your children order a hamburger in a normal restaurant?
It's pretty clear now that perhaps Lois and I should have worked out some dinner arrangements beforehand. I knew we were talking about eleven people, but I had NO idea this group would be as challenging as it turned out to be. And just having so many people means that some kind of reservation and pre-planning would have been helpful.
In the end, I suppose things turned out fine. I broached the idea of this western-style restaurant (the Grocer's Inn) with Lois, and she had a talk with the group, and she came back with the suggestion that the whole "plastic stool on the sidewalk local/cultural experience" is what they would like to do. So, with some trepidation, I led our merry band as best I could through the concrete jungle of Chinatown to Jalan Sultan.
To be honest, just the effort of walking down the sidewalks with the strollers and the children was far more difficult than even I expected. It was really bad and something perhaps we shouldn't even have attempted. It was like being in an insane video game where everything is trying to kill you or dump water on you or trip you or block you or make you nauseated from overpowering smells. The whole area we walked through was dark and full of some scary people, and it was almost impossible to get the strollers up and down the various hunks of cement. We were often forced to leave the sidewalk and go out in the middle of the road and be threatened by cars and motorcycles.
And when we finally got to Jalan Sultan, it was much worse than even I had anticipated. It was crowded, and every single restaurant along the stretch of street that I could see was full. Only the two at the very beginning had some empty tables, and they just didn't seem like nice places. We started looking at the menu at one of the places, and once that started, the ball got rolling, and they started to pull together some tables and chairs for us, but it really wasn't very nice. There wasn't enough room for all of us, and the staff seemed to make only a half-hearted effort to accommodate us. If we'd had some of the nice round tables, it would have worked better, but all the round tables were full, and no one at these tables seemed ready to leave or were interested in shifting over a bit to make room for us. And the multiple kids in strollers just had no hope of sitting up at these rickety plastic tables.
And things got even more interesting when it came time to order. For one thing, the children couldn't eat very much off this menu. After much confusion and effort, it came down to just ordering plate after plate of plain noodles for some of the children. The staff at this restaurant got more and more confused as orders came for this or that dish but with everything removed – no vegetables, no meat, no spices, no sauce. Just noodles. I felt bad, but I didn't really know how to help. Even the adults seemed to have a lot of preferences for things they could or couldn't eat. And I'm no expert. I have no interest in food, so it's not like I could take the menu and sort everything out.
In the end, things worked out well, I think. Some food got ordered. There was a fair amount of chaos, but food was eaten, and beer was drunk. Conversation was had by the adults. One child threw up, another pounded the table with a clenched fist, two sang songs while playing on their Nintendo, and two were reduced to tears by the end of the evening. But I think as overwhelming as it was for me, this was a normal day for this group. In a way, even though I was feeling very stressed out, I think I was internalizing the stress that I assumed THEY were feeling. I was stressed out on their behalf. I wasn't the one traveling with seven children on a tight schedule with multiple destinations and activities every single day, but I somehow felt like I was. They were even flying to the Perhentian Islands the next day, and they still had to pack, and they were going to visit some kind of attraction in KL the next morning before they even left for the airport. I was exhausted just thinking about it.
And when it came time to go, I walked with them to the Pasar Seni station. Just that walk was difficult, and now they had to somehow get to the Imbi station on the monorail line where their hotel was located. Just thinking about it gave me the chills. With all those kids and the strollers, it was not going to be easy or fast or convenient. By the time I said goodbye to them and saw them off, I was a total wreck on their behalf. I was feeling all the stress and worry and fatigue that I assumed they were feeling. And I worried that I made a huge mistake and gave Lois incorrect information about how to get from Pasar Seni to Imbi. I felt awful about that, and I hope I didn't send them off on a wild goose chase. In the end, it was a very interesting and very unusual night, and I was very glad to meet Lois. Despite the large group, Lois and I found plenty of time to chat among ourselves, and I enjoyed that immensely.
And today, I am meeting up with Daryl from the Wander Eats YouTube channel. That's his real name, by the way. I assume that as a YouTuber, Daryl doesn't mind that people know who he is. Stay tuned for my first time meeting another YouTuber.