Home » All, JOURNAL: Blog Blog, Malaysia
JOURNAL: Awesome Day Trip to Pulau Ketam (Crab Island) in Malaysia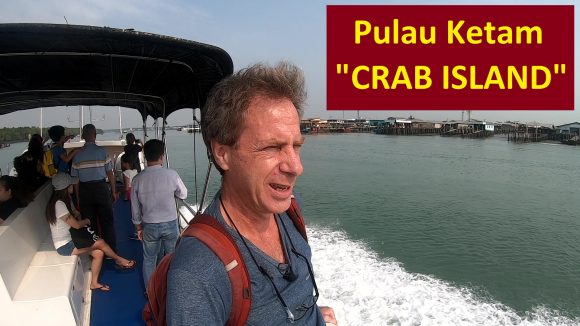 Friday August 16, 2019
6:45 a.m. Room 4, Natalia Guest House
Kuala Lumpur, Malaysia
I went on a day trip from Kuala Lumpur yesterday, and it turned out great. There is nothing like a good day trip, in my opinion. You get to wake up in your current hotel, go have a great adventure without having to worry about your luggage or anything, and then you can enjoy your day knowing exactly where you will be at the end of it as you return to where you started. There's no stress at all and no luggage to carry.
Though, to be fair, this day trip did end up taking enough time that the journey there and back started to add up. It would have been better to stay the night or even two nights. But the trip by train and boat was also 50% of the fun, so it all worked out in the end.
The place I went to is an island called Pulau Ketam. That translates as Crab Island. It was settled back in the 1880s by Chinese fishermen. In the video that I made about this experience, I kept saying that the people settled there because of all the crab. And I keep saying that they make their money from crab fishing. But after my visit, I'm not sure if that is accurate. They probably settled there simply because the fishing in general was good. The island is probably called Crab Island because a lot of crabs live in the mud flats, but these aren't the crab that you catch and eat.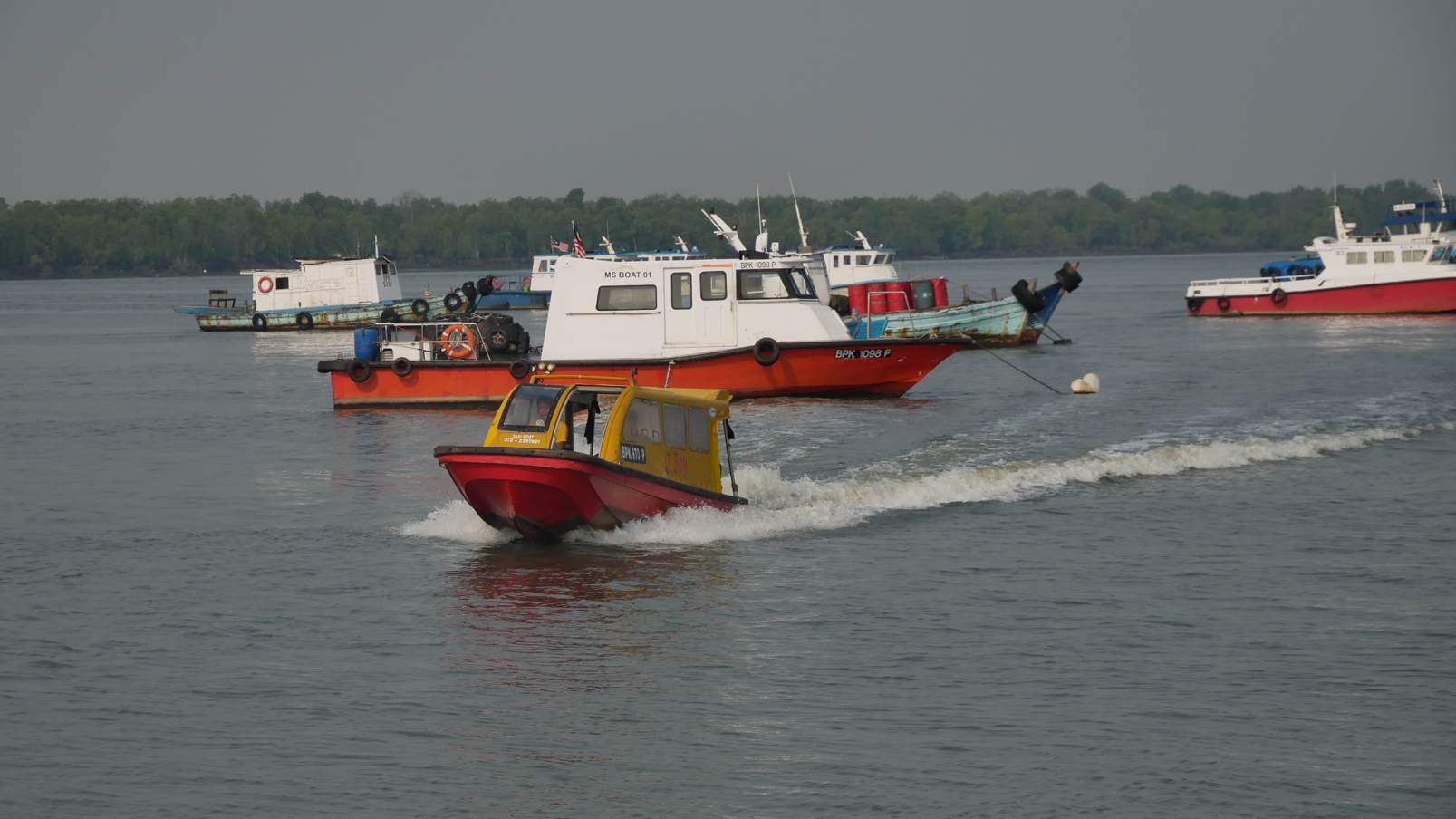 I suppose if I'd been an even half-decent tourist, I'd have learned about Pulau Ketam a long time ago. It is a very well-known tourist attraction, especially since it is located so close to Kuala Lumpur and is so easy to get to. But I had never heard about it until one of the subscribers to my YouTube channel told me about it. (I met this subscriber for breakfast a few days ago, and he had gone to Pulau Ketam with his photography group.)
To get there, you simply take the KTM Komuter train to the final station, Pelabuhan Klang (AKA Port Klang). This was easy for me to do since I had done it several times on my trips to Sumatra. You also go to Pelabuhan Klang station to get the ferry to Sumatra. There are two boat terminals located there, the international terminal and the local one. To get to the international terminal for boats to Sumatra, you simply turn right out of the train station, turn right again at the corner and go a hundred meters up the road. To take a local boat going out to Pulau Ketam is even easier. The dock is right across the road. You simply cross the road right outside the train station. It couldn't possibly be easier to get to.
The boat ride to the island itself is equally easy. There are at least two competing boat companies (and there may be several) offering trips on two very different types of boat. The first type is older. The boat is extremely long and narrow. I kept calling them cigar boats in the video, but, to be honest, they remind me more of pencils because they are so thin and sharp – almost like needles. The signs for these pencil boats bills them as fast and air conditioned. You get the impression from the signs that these are the boats you want to take if you want to get to the island in comfort and in style. The alternatives, they imply, are slow and clunky and uncomfortable and crowded and unreliable. And when these pencil boats were brand new, that was likely the case. The pencil boats were likely the latest and greatest thing on the market at that time.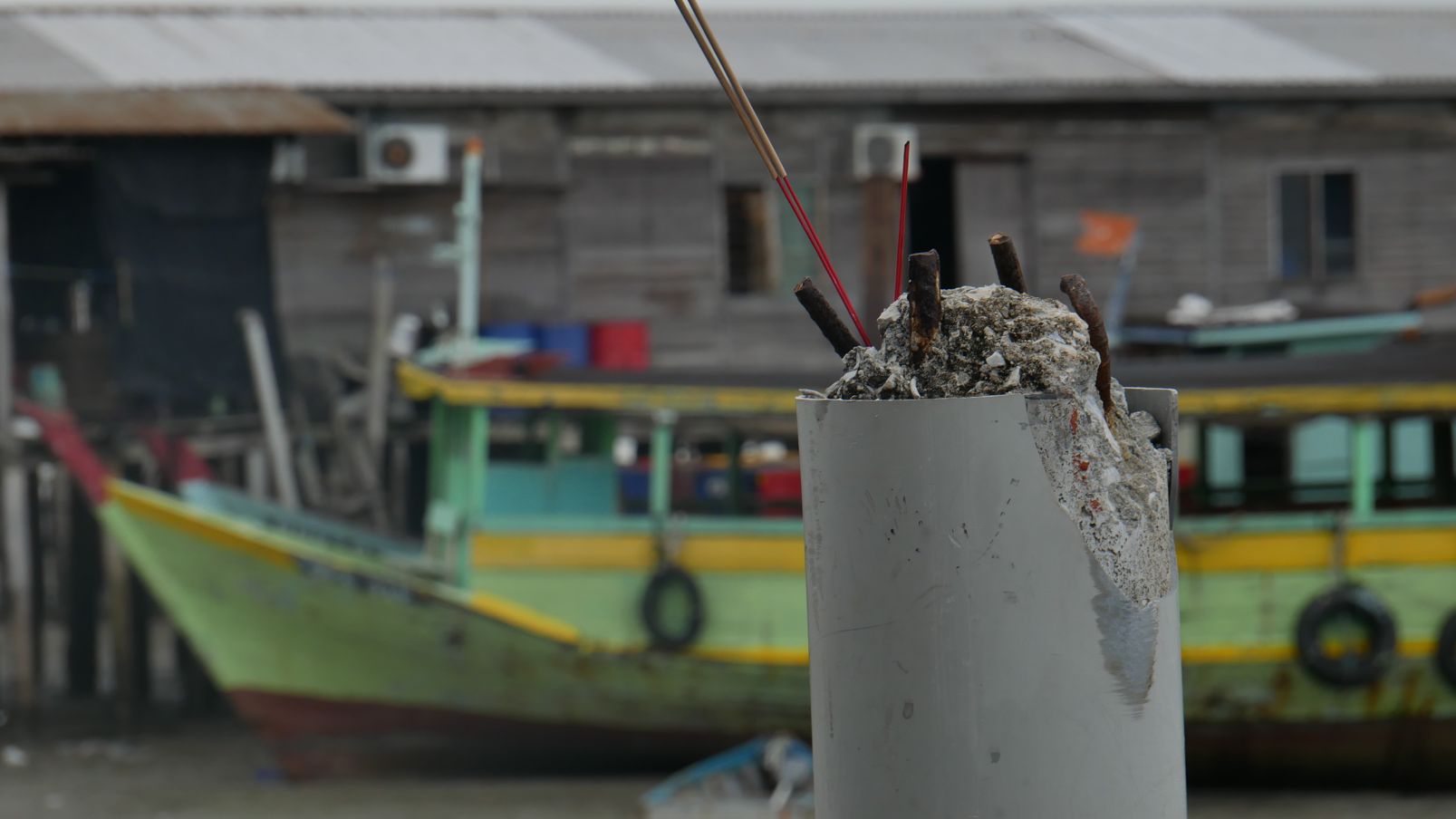 Since then, however, life has moved on, and a new company with a new type of boat has burst onto the scene – the Alibaba. When you look at this boat from a distance, you might think it was slower and more cumbersome than the sleek pencil boats. But in reality, it is just as fast, if not faster. It is more comfortable down below in the air conditioned section with nicer seats, bigger and clearer windows, and more room. And best of all, it has an upper deck that is open to the world, to the air, and to the scenery. That is the biggest problem with the pencil boats – they are enclosed, like an airplane – and there is no possibility of going out on deck to see the scenery.
Since I wanted to shoot video of the experience, the choice was an easy one, and I wanted to ride on the Alibaba. That led to some problems of scheduling, though, because the Alibaba didn't run as often, particularly on weekdays. And from the schedule I saw, there was a boat at 8:30, at 10:30 and then at 12:30. I spent probably an hour and a half on my computer looking up the schedules for these boats, the KTM trains, and the LRT to see if I could make it work. The 8:30 boat was too early for me, since I'd have to take a train from KL Sentral at probably 6:30 to make it. But the 10:30 seemed a bit late. If it was a normal day, the sun could be high in the sky and beating down like a monster by the time I got to the island.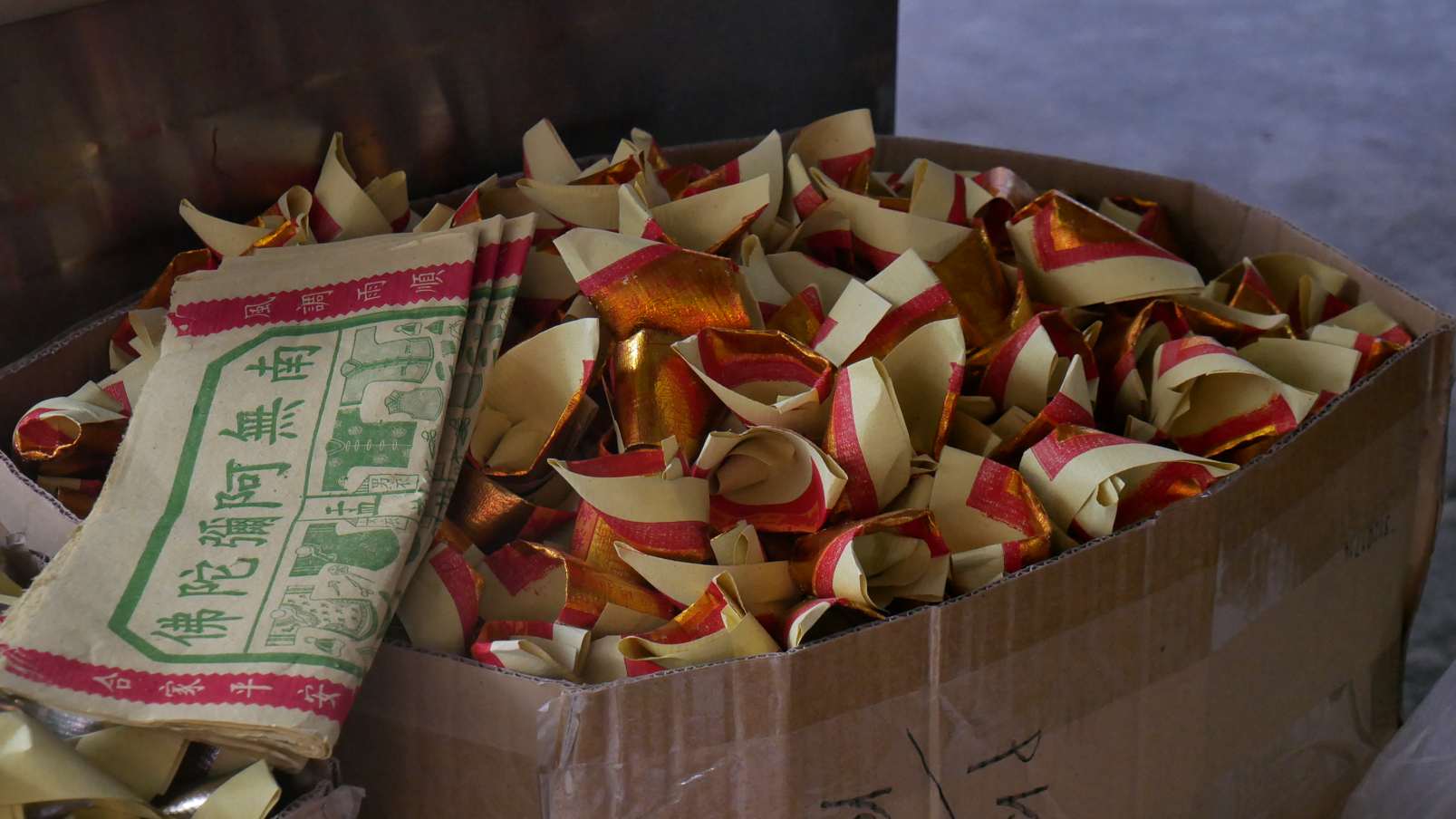 After all my time looking at schedules, I decided to just calm down and go and see what happens. The worst thing that could happen is that I show up at Pelabuhan Klang and my only option is one of the pencil boats. And that would not be perfect, but it would be absolutely fine. I knew nothing about these boats or this island experience yet. Maybe, for reasons I didn't understand yet, that was the better option. So I decided to just relax and leave from the guest house when I was ready, take the next train that was available, and see what happens. Forget about schedules.
I spent a long time preparing my camera gear for this trip. As always, I was in the middle of learning how to use a bunch of new gear I had purchased. Specifically, I was coming to grips with my new wireless microphone – the Rode Wireless Go – and my new lavalier microphone – the Saramonic SR-UM10-M1. I'd had mixed results with both so far. And I decided to make my life even more difficult by mounting my GoPro on top of my Panasonic G85 and trying to feed the audio signal from the Wireless Go to both cameras simultaneously.
As I was putting this beast of a setup together, it felt ridiculous. It seemed too big, too heavy, and too complicated for someone whose intention was to simply record a YouTube vlog about a visit to a tourist island. Who did I think I was? James Cameron working on The Titanic 2? I felt that way the entire night and I felt even sillier on the morning when I woke up and put the final touches on the "beast" by attaching all the necessary cords. However, once I started using it, I quite liked it. I liked having instant access to both the GoPro and the Panasonic. I'm not sure I'd go so far as to say it was a game changer, but it was pretty close.
I tried a similar setup in Myanmar. There were some differences, though. In Myanmar, I did not have a wireless microphone, and I wasn't able to feed the audio signal into both cameras. So afterwards, I had to go through a long and difficult and time-consuming process of saving the audio from the Panasonic as a separate file and then pasting it into the GoPro footage and syncing it. It was a nightmarishly complicated and frustrating process. Plus, I had the Panasonic shooting vlog footage of me talking while the GoPro was filming the street ahead of me at the same time. That seemed like the natural way to go.
Since then, however, I've changed the way I think about these two cameras. I tend to view the GoPro as my vlogging and talking camera and the Panasonic as a B-roll cinematic tool. To that extent, I didn't intend to use the beast to film with the two cameras at the same time. Mounting one on top of the other was simply a matter of convenience so that I'd have easy access to both of them and I could switch back and forth from one to the other without any fuss. The alternative was to have one camera in my hands and the other one in my knapsack. And I knew from experience that that simply would not work. I would end up just using the camera in my hands because it would be too much trouble to turn it off and put it away while taking out the other camera and turning it on. And what would I do about audio in that case? Switch microphones each time, too? No, the only realistic way to have easy access to both cameras was to literally have both cameras in my hands at all times. And mounting them together was the only way to do that.
I already mentioned that I liked this "beast" setup from the second I started using it. And I quickly developed new techniques. I realized, for example, that my Sirui tripod is what made it possible. For one thing, it is strong enough to support the heavy load of the two cameras combined. But the Sirui's fluid yet strong ball head made it a fairly simple matter to switch between cameras. It was really just a question of the angle. When I was shooting with the Panasonic – whether vlogging or shooting B-roll – I had to adjust the angle of the ball head appropriately. And I thought that to change to the GoPro, I'd have to twist the entire rig around. But I didn't. All I needed to do was loosen the grip on the ball head, tilt everything the opposite way, and then tighten. And now the GoPro was at the right angle for vlogging. In that situation, the Panasonic wasn't doing anything. It was just supporting the GoPro. That means the Panasonic was just dead weight, which is kind of silly. But it was a price I was willing to pay.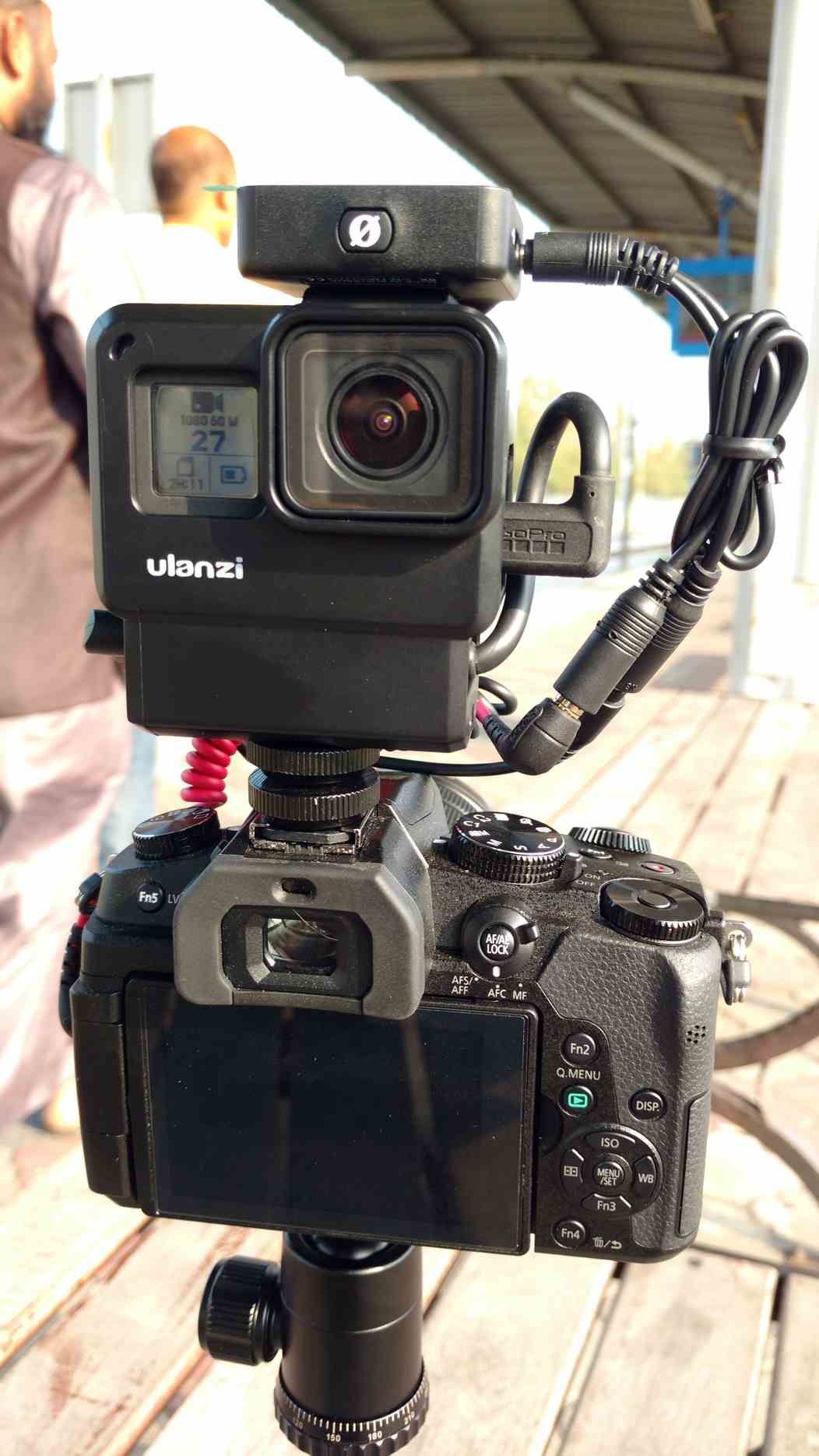 I started my morning down at the Klang River at the Pasar Seni MRT station as I often do. I filmed a short introduction there and talked about where I was going and what I was going to do. I used the Panasonic to do that. And then I got on the MRT and went to KL Sentral. I could have taken the KTM Komuter train from Kuala Lumpur station right here at Pasar Seni, and I know lots of people will tell me that in the YouTube comments, but I prefer to go to KL Sentral. For one thing, only certain trains pass through Kuala Lumpur station. Many of the trains heading to Klang actually start at KL Sentral. Therefore, by going to KL Sentral, I have access to the full schedule of trains heading to Klang, not just a few of them. Plus, most of the people coming down on the KTM Komuter from the north will be disembarking at KL Sentral. So by starting my journey at Kuala Lumpur Station, I will be boarding a very crowded train just to go one stop to KL Sentral, where everyone will get off. So I'd rather go to KL Sentral first by LRT and be waiting there for the train. Then I can let everyone off and board the train when it is empty. Besides, taking the LRT to KL Sentral is simple and fast. And the platform at Kuala Lumpur Station is not comfortable. It is extremely long, and you have to walk a long distance to get to the end of the platform where the trains stop. It's a weird station in the way it is designed.
I had typical "Doug-style" problems buying my ticket for the KTM Komuter train. I completely forgot that they have this new system of giving everyone a rechargeable card instead of just selling them a one-way ticket or token. I already have several of these cards, but I forgot about them and I didn't bring one with me. And I didn't really want to use a card, because I preferred to just buy a ticket. But when I got to the KTM ticket counter and asked for a one-way ticket to Pelabuhan Klang, they automatically gave me a new card. The card itself costs 3 ringgit and they put 5 ringgit of credit on the card. So I had to pay 8 ringgit for a ticket that only costs 5 ringgit. Plus, I was a dummy and I said that I wanted a ticket to Klang when I should have said Pelabuhan Klang. Klang and Pelabuhan Klang are two different stations. So when I got to Pelabuhan Klang and tried to use this card to exit the station, the machine told that I didn't have enough credit. Five ringgit was enough credit to get me to Klang Station. But the fare to Pelabuhan Klang was five ringgit and forty cents. So I had to go to the window and have them add another ringgit of credit to my card just to get out of the station.
To make me even more of a dummy, I had completely forgotten that I could use my RapidKL Touch'n'Go card on the KTM Komuter line. So I didn't have to even go to the ticket counter at all. I didn't have to buy a ticket or a card. I could just scan my Touch'n'Go card at the KTM turnstile just like I could at any MRT or LRT turnstile. But it all worked out in the end, and I got to Pelabuhan Klang on the KTM Komuter. The trip took about an hour and twenty-five minutes, which was longer than I expected. The trip was very comfortable – just as comfortable as all my other trips on the KTM. The train car was almost empty. At most, I shared the car with three or four other people, sometimes with just one. Interestingly, out of the eight windows on this train car, six of them were broken. That's normal for KTM.
I arrived at Pelabuhan Klang Station at around 9:10 in the morning. According to my schedule, a pencil boat was leaving at 9:30. So I could take that boat or wait until 10:30 to take the Alibaba. But when I got into the terminal building (located just across the street), I found out that the Alibaba was also scheduled to leave at 9:30. And it turns out that, once again, I was a complete dummy. For a guy ostensibly running a YouTube travel channel, I am a doofus at actual travel. Once again, I had completely missed and overlooked the fact that it was a big holiday. August 15th this year was the date of the Hungry Ghost Festival. And since most of the people on Pulau Ketam were Chinese, this was a big deal. So because it was a holiday, the Alibaba boat line was running its full schedule, meaning a boat was leaving every hour on the half hour.
As I entered the terminal building, a young woman approached me and tried to get me to buy a ticket for one of the pencil boats. There was a man sitting at a table and selling tickets. She was kind of rushing me because the boat was scheduled to leave quite soon. But I wanted to check into the Alibaba first, and to my surprise, I learned that they had a boat leaving at 9:30 as well. I bought a round-trip ticket at the Alibaba counter for 18 ringgit, and then I walked quickly to the dock. I actually wanted to go to the bathroom first, but the woman who sold me the ticket told me that there was a toilet on the boat, so that was perfect.
The timing could not have been better on this entire trip. The LRT train arrived at Pasar Seni practically the second I reached the platform. The KTM Komuter train to Pelabuhan Klang left within minutes of my arrival at KL Sentral. I had enough time to go to the bathroom at KL Sentral, buy my ticket, and then make a video talking about buying the ticket, and then when I went down to Platform 3 to look for my train, I found it sitting there and waiting for me with open doors. I had enough time to shoot a couple of short videos on the train while it was stationary, and then we left. And we arrived at Pelabuhan Klang at 9:10, and I had exactly the right amount of time to shoot some video on the train station platform and then at the terminal building. I was able to capture some video of the cigar boat waiting at the dock. And as I was about twenty feet away from the Alibaba, it fired up its engine as it prepared leave. We left the dock within a minute of my boarding the boat. The timing was so perfect it was eerie. And my trip back to KL at the end of the day was even more eerie. I didn't have to wait for anything. My return boat left within minutes of my boarding it. And when I approached Pelabuhan Klang Station, I saw that a train was sitting on the tracks waiting with its doors open. I quickened my pace a little bit when I saw that train waiting, since the next one might not be for nearly an hour. And I got to the train and sat down in another nearly empty car, and then the doors closed and the train left just two or three minutes after that.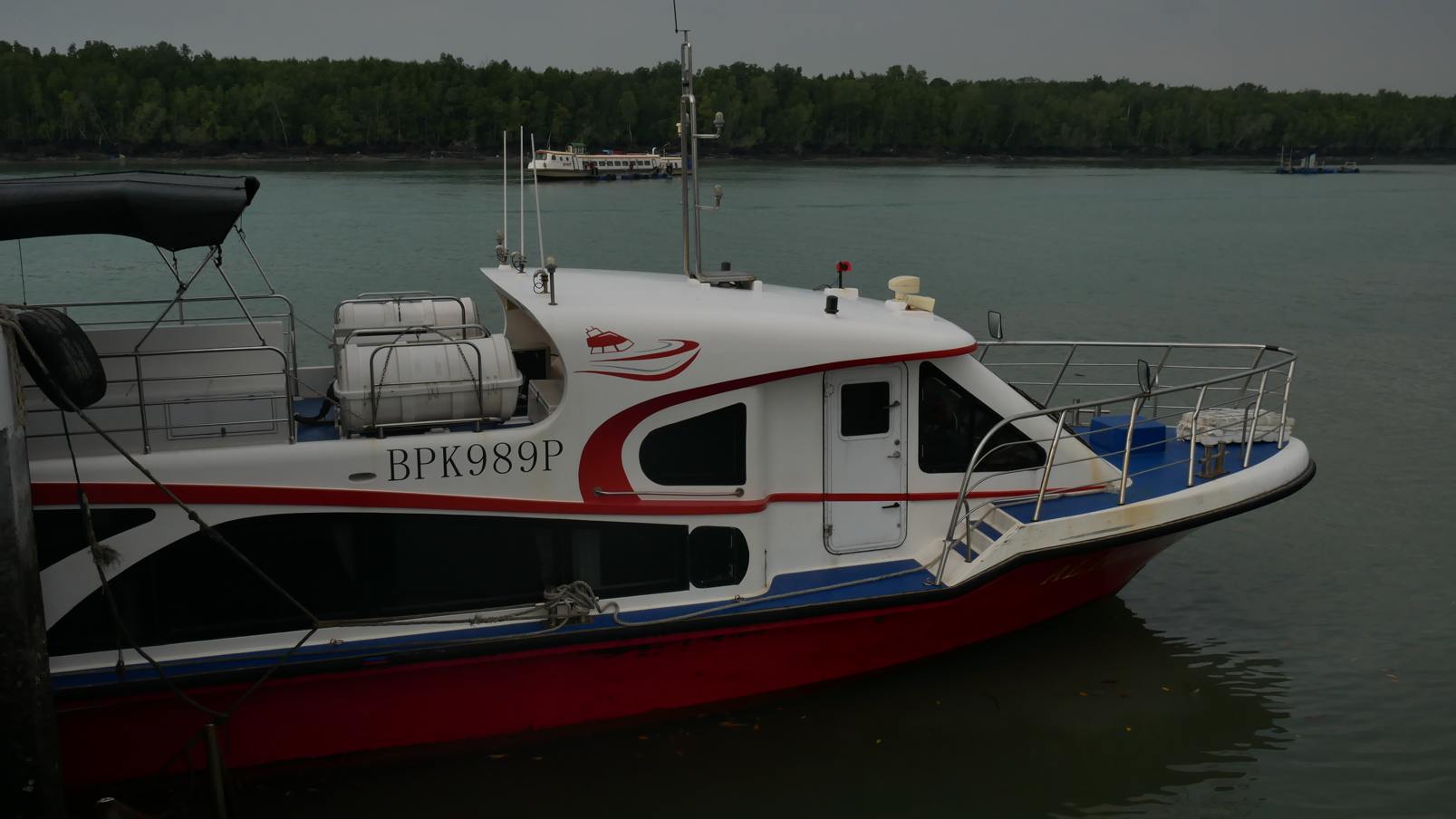 The boat ride to Crab Island could not have been better. It was a short trip – perhaps half an hour – so there was no need to go to the lower deck and sit in a chair in the air conditioned section. Other than a quick trip down there just to shoot some video and a quick stop in the toilet before we arrived, I spent all my time on the upper deck. The upper deck had two sections. One section was down by the engine, and since they kept the door to the engine compartment open (I assume to keep it as cool as possible), it was pretty noisy there. It was the kind of mechanical noise that would damage your hearing in a short amount of time, so you don't want to spend a lot of time there. The second section was at the front of the boat at the top of a few steps. There were two long sets of benches there, and this was the place where most people hung out.
Pulau Ketam is not the only island off the coast of Klang. Depending on how you divide them up, there are about six of them. Pulau Ketam is the outermost one. Dividing up these islands is possible because they really aren't true islands in the sense of having clear land mass or rock mass making up each one. Instead, each island is technically a large mangrove on top of a muddy plain. There are wide channels going through these mangroves from one side all the way to the other. They look like rivers, but they aren't really rivers. They don't start in mountains and then flow down to the ocean. They are really just channels separating parts of the mangrove. And when the channel is wide enough and defined enough, you could call the mangrove on each side a separate island. Or you could make it all one island. It was kind of arbitrary.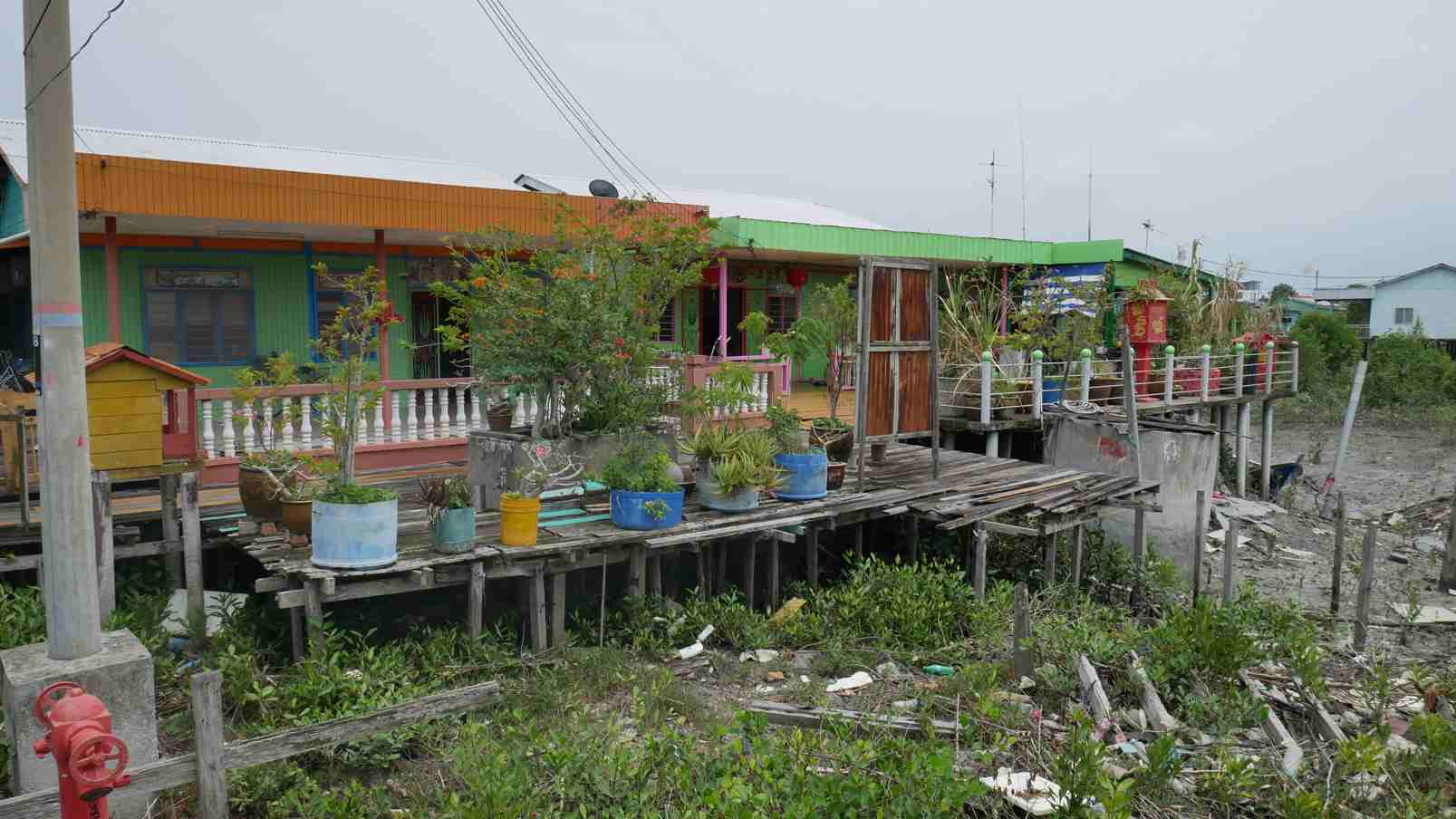 The fun aspect of this is that there was a wide and curvy channel running right through the middle of Pulau Klang, and this channel served as the perfect shortcut to Pulau Ketam. There was no need to go all the way around Pulau Klang. We could just cut through the center of it. This channel curved in delightful ways, and gave me the intense feeling that I always get when I watch the boat scenes from Apocalypse Now as the gunboat made its way up the river into the jungle. As we went around one particular curve, I could actually feel the g-forces, as if we were in a car and going around a tight bend on a highway.
I was still getting used to my combination of GoPro mounted on the Panasonic, and I got a bit mixed up as I tried to figure out which camera to use in certain situations. However, a pattern slowly started to develop as I used the GoPro when I wanted to talk to the camera. And I used the Panasonic when I wanted to capture some close-ups of objects on the boat plus some of the scenery around me. The big problem, as it turned out, was not the camera combination. And it wasn't the Rode Wireless Go. It was the brand new Saramonic lavalier microphone. I didn't realize it at the time, but it was crackling and distorting. I didn't have this problem with the much cheaper Boya lavalier microphone, so I was quite disappointed with the Saramonic. Now I had yet another technical problem to try to solve.
I followed my usual habits when we got to the dock at Pulau Ketam. I spent some time on the dock shooting video and getting oriented and getting my thoughts together. And then I set off on foot to explore. The conditions weren't the best since it started to rain shortly after my arrival. But it wasn't a heavy rain, and it was somewhat intermittent. A couple of times, I had to find shelter and wait for the rain to stop, but other than that, it was okay. And the fact that it was overcast the entire time was probably a good thing. Even with the cloud cover, I ended the day quite red with sunburn over all of my exposed skin. It wasn't a bad sunburn, but if the sun were out in force, I would have burned to a crisp. I forgot to bring sunscreen, and, as usual, I wore shorts and a thin T-shirt with no hat.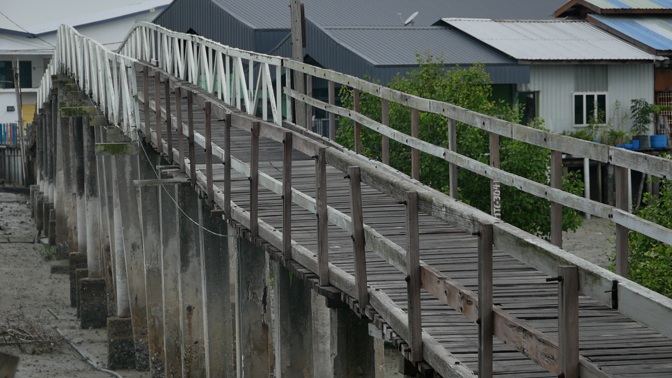 The entire island being a mangrove forest on a mud flat, the houses and even the walkways had to be built on stilts. In fact, the entire settlement floats above the water on these stilts. There is such a large amount of pathways and buildings on these stilts, that it was very easy to forget that you were walking above the water. It felt much of the time like a normal village sitting on the ground. It's weird to think of that empty space underneath the cement and wooden platforms. One wonders what wildlife lives down there and even what monsters.
The village of Pulau Ketam does not offer any large and central tourist attractions. There is no famous must-see temple or cave or castle or colossal statue. The attraction is the village itself and the people that live there. For a photographer, the village offered endless possibilities, and I took advantage of that and snapped some pictures as well as some video. I'm slowly getting used to using my Panasonic for video, and as certain things become second-nature and muscle-memory takes over, bits of my brain become available for thinking about also taking a picture from time to time. I enjoyed that. I also used the back-button focus feature constantly in the hope that this would solve the focusing problems of the G85. I'm sure having the dual-pixel autofocus of a Canon camera or the alien-like tracking technology of a Sony would be preferable, but locking focus on the G85 with the back button went a long way towards solving my problems. In reviewing the footage afterward, I saw no pulsing at all. And very few shots were out of focus. I learned that it was possible to lock focus when taking a static video shot, and that prevented the camera from hunting all the time. And if I wanted to pan, I could touch the button again to release the lock, and the camera would go back to regular autofocus. I also set the sensitivity to -2. I don't know if the sensitivity level change made any difference, but I saw very little hunting and my frustration level with the camera went way, way down.
The village was much larger than I expected, and by the time I was done walking around, I was getting quite tired. From one extreme end to the other, the village stretches about 3.3 kilometers. And if you are meandering around all the interesting walkways, you could easily walk much farther than that. The locals and many visitors deal with those distances by using e-bikes. It's possible to rent them for the day or for a few hours. I didn't bother doing that because it would be difficult to shoot video while driving an e-bike. And I had some negative feelings about those e-bikes. The locals drove them at very high speeds, and on those narrow walkways, I felt like I was in a shooting range. They snuck up behind me and blew past at such high speeds that they startled me every time.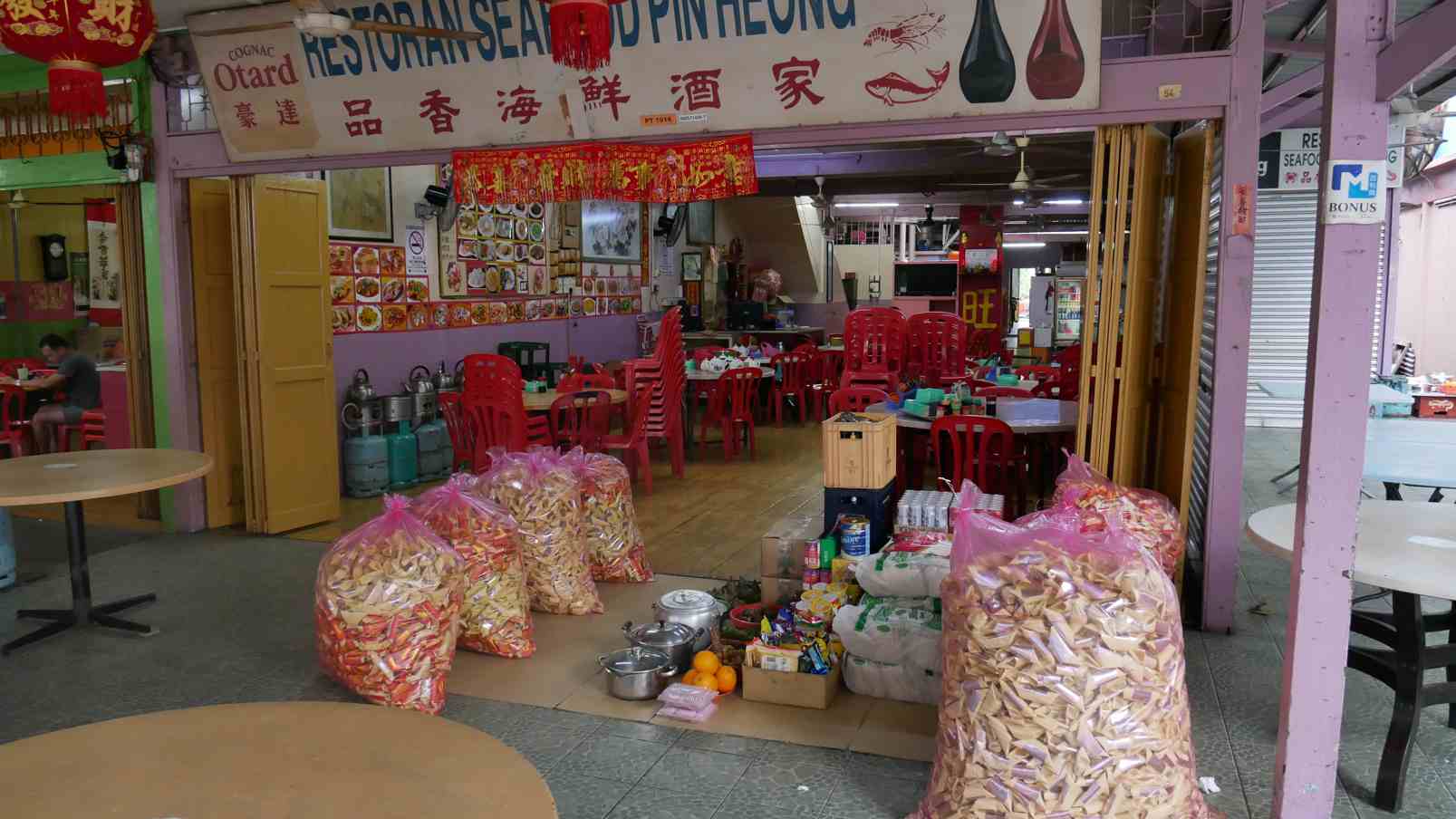 The Hungry Ghost festivities were very much underway, and I was able to capture some nice video of the offering displays as well as of the piles of burning ghost money and other items. Thinking back, I probably should have spent the night there. There were likely performances and other activities throughout the evening and into the next day that I could have enjoyed. I decided against it for reasons of economy. The hotel room would likely have cost 100 ringgit for one night by the time you added the taxes and fees. And the food on this island was expensive. But I also felt like I didn't need the extra video. If I stayed overnight and had many more hours of experiences there, I'd end up with more hours of video, and I already had more video than I could possibly use.
So, in the end, I decided to take the 3:30 boat back to Klang. During the day, I'd had a couple of oyster omelettes and even a large bottle of Tiger beer. The omelettes cost 10 ringgit each, and the single beer cost 19 ringgit. As is common in these Chinese restaurants, they didn't have any prices on their menus. Had I seen that the beer cost 19 ringgit, I probably wouldn't have ordered it. But it was ice cold and I enjoyed it very, very much. So it was money well-spent.
It's hard to say what was the highlight of this trip. I fell in love with the visuals of the village itself, and I enjoyed simply walking and taking in the unique experience. But I also loved the boat trip there. I guess those were the two highlights.