Home » All, Guinea Bike Trip, Travel
Guinea 075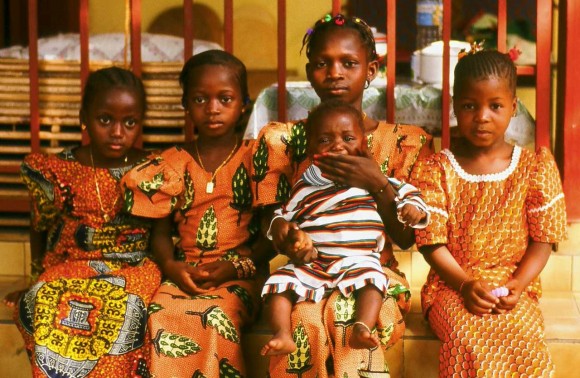 Friday, March 16 8:22 a.m.
Yesterday I went to one of the little fly infested shacks on the market road for something to eat. The experience was a little picture of life in Guinea, perhaps a tiny but appropriate goodbye. I walk in. The woman who finally notices me does not smile, does not welcome me, does not act welcoming at all. Even though I'm in a restaurant I feel compelled to explain to her that I'd like something to eat. These things need to be explained in Guinea.
She stays in the doorway, half hidden by a cloth curtain. I ask her what they have today. This also is standard because no one ever takes the initiative and tells the customer what the choices are. She sluggishly comes forward and reluctantly tells me that they have rice, fish sauce, and tomato sauce. There are two large pots on a counter. I indicate them and that I'd like to see the sauces. She lifts the lids one by one, not very happy to do so. Both sauces look awful. But that's not uncommon. Guinean food is not prepared to look good or appetizing.
I'm not fond of fish, particularly when there are lots of bones involved. I tell her I would like rice with the tomato sauce. She stares at me, waiting. Then I tell her "one plate." This, too, needs to be done in Guinea. I am only one person but when ordering I have to specify that I don't want six meals or four meals or two meals but one meal. Sometimes I try a small joke and say that since I'm only one person I'll have one meal. No one ever smiles.
I sit down while she slowly, excruciatingly slowly, assembles my meal. I get the impression that she could fall asleep at any second. I reflect that perhaps she is asleep and sleepwalking.
She brings over a plate of rice and fish sauce. This too is normal in Guinea and I've long since stopped trying to send things back and have things changed to get what I actually wanted. It's more trouble than it's worth and it usually makes no difference. In this case I found the rice and sauce inedible and I assumed the tomato sauce would be the same.
I ate half of it, all I could choke down, and left.
My other errand was to buy some pens. I went to a small stall and seeing a box of BiC pens asked for four of them. "Two hundred," he said, telling me the price for one. I said I understood that and would like four pens please. "Two hundred," he repeated while looking at me. A third time I told him I wanted four. Very clearly and emphatically.
He opened the box, took out four pens and dropped them into the bag that I held open. When I got back to the hotel I opened a notebook and put pen to paper. It felt funny. The tip of the pen wobbled making it nearly impossible to control. It didn't matter though because the pen didn't write anyway. I shook it and banged it and scribbled with it but the ink would not flow. I tossed it down and quickly went through the same process with the other three. None of them worked.
Then I looked at the pen more closely. It wasn't a BiC after all. It looked almost exactly like a BiC but was in fact a BiG. I daydreamed idly about going back to this guy's stall, pointing out that these pens were BiG's not BiC's and then flipping them onto the counter one by one saying, "Marche pas, marche pas, marche pas, et marche pas." But I couldn't be bothered especially since so far my luck has held and I haven't run into Conde on the street. This stall where I bought the pens is in prime Evil Conde territory and I didn't want to make any unnecessary trips.
Tags: Evil Conde, fly, guinea, Guinea Bike Trip