Home » All, Guinea Bike Trip, Travel
Guinea 060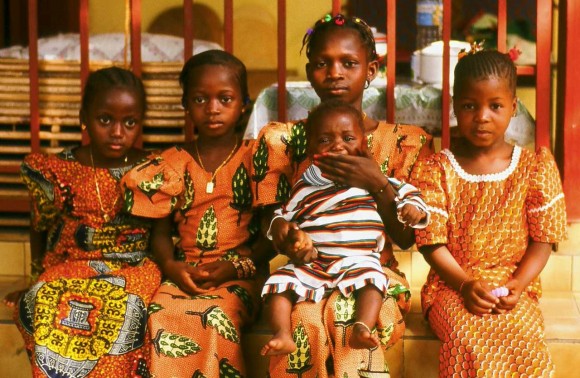 Saturday, February 17 – Morning in Dalaba
Today is my official goodbye to the Fouta Djalon. I'm leaving Dalaba, cycling to Mamou where I hope to leave a bag of extra stuff with the Forest family and tomorrow morning I'll be heading east towards Kankan. I'm not terribly excited about the prospect but who knows? Perhaps Haute Guinee (what they call the region) will surprise me and be full of new and interesting things. At the very least the temperature will change as I come down out of the highlands and onto the Malinke plains. I'm a bit nervous about that. March and April are the hottest months of the year here. I mentioned my plans to Michel, the pipe smoking and enigmatic owner of the Tangama Hotel, and he raised his eyebrows at me and mumbled a few words about "soleil" and "chaleur." At least this question of the heat adds a tiny bit of suspense to the venture. It gives me something to find out.
I'm also eager to find out what my new alter ego will be. I'm quite tired of my "porto" identity and look forward to hearing what Guineans call foreigners in Malinke, the language of Haute Guinee. It will also be a relief to stop saying "ondjaarama." It was fun in the beginning but I've said it so many times I'm probably saying it in my sleep. I don't know if the Malinke are as big on greetings as the Fula but I hope not.
I called Sundar in Conakry last night to tell him about my plans and give him an idea of when I'll be back. It was good to hear his voice. He said that he had picked up my bicycle box with my luggage no problem. He also said that the Evil Conde had come looking for me and was very angry about my 'Christmas Escape' from Conakry. He told Sundar he was going to call the police in other towns in Guinea and have them stop me and bring me back. Just hearing Conde's name again made me tense. I keep picturing him in his lair at the airport, waiting to pounce on his next victim, some poor hapless tourist wanting to experience the "real" Africa. Well, if he has the misfortune of meeting Conde he will definitely get a taste of at least one side of the real Africa, and not a very pleasant one.
Sundar mentioned Bob. It seems Bob got tired of being strung along by Conde and made a break for it himself. Sundar said he was currently in a place called Kamsar and might have shacked up with a young Guinean beauty. Ah Bob.
Saturday, February 17 1:00 p.m.
I usually avoid backtracking if I can but I must say that doing the fifty-three-kilometre stretch from Mamou to Dalaba a second time and in reverse was quite interesting. In its small way it was a comment on the relative nature of reality because it felt totally different and looked completely new. It didn't feel like backtracking at all.
I do remember it being an uphill climb to Dalaba. In particular I remember the very steep climb just before Dalaba proper. And of course the altitudes speak for themselves 690 meters in Mamou and 1200 meters in Dalaba. But this return trip was a screaming downhill the entire way. I feel like I didn't touch the pedals at all and stayed above forty km/hr for long stretches including pretty much the entire distance from Dalaba to the horrible Bouliwel. As I roared through that I caught myself thinking "thank goodness I don't have to climb up this!" But then I remembered I actually did climb up it and not that long ago. I just don't remember it being so long.
And the horrible Bouliwel wasn't horrible at all. It was market day and the tiny town was brimming with life and alive with color and activity. The roads on both sides were filled with people in their best clothes carrying loads of produce on their heads. The mosque at the far end of town was busy with all the market goers stopping for devotions on the way.
I also don't remember the countryside being so attractive but I found the scenery more pleasant and inviting than that north of Dalaba, especially with all the people from the surrounding villages following the trails to the main road. I passed through one gorgeous section of lush jungle/forest that I remember from my first trip through only vaguely. I certainly didn't appreciate it the way I did today. I suppose at that time I was focused on Dalaba and treating where I was as only the appetizer before the main course.
A big disappointment is that the Little family isn't in Mamou. I stopped at their house on the way into town but they were gone. The teacher, Marie, was house sitting for them and explained that Amy Little's brother, a missionary in China, had died and the Littles had gone back to the United States for a memorial service. Since it wasn't her home she wasn't comfortable about inviting me in and made excuses. Or perhaps it was because I was a "strange" man. In either case I can understand but I was disappointed. I find I'm missing conversation with people from my own world.
The young teacher at the Catholic Mission was there and I got my old room back.
8:00 p.m.
I found a tiny little place around the corner from where I'm staying that serves a plate of ragout. Nobody is going to be breaking down this guy's door to steal the recipe (or pick up interior decorating ideas for that matter) but at least it's not rice, spaghetti, or beefsteak, the trilogy of my Guinean diet. And if the posters of LL Cool J, Miami Beach Lover Zone, Schwarzeneggar as "Commando," and Janet Jackson aren't high art at least the posters give you something to look at while you masticate. And if the over amplified voice of Rick Astley makes the atmosphere near toxic there are at least tables and chairs and the electrical current is somewhat stable. I was working on the bike at the Catholic Mission but the intense shimmering of the single bare bulb in my room was starting to drive me a bit nuts. I turned off the light eventually but it didn't help. Directly across the road is a long streetside mechanics and welders shop and the flashing of the welder's torch through the window made me think I was in a cheap Frankenstein flick.
Tags: Ah Bob, Catholic Mission, Guinea Bike Trip, Haute Guinee