Home » All, Guinea Bike Trip, Travel
Guinea 046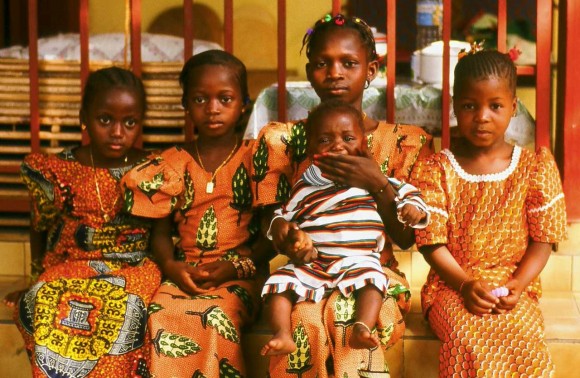 Tuesday, January 30 8:26 a.m.
I wouldn't say I was deliriously happy this morning. But I'd be lying if I didn't admit to a deep contentment. I slept better than I have for weeks. I put on a fresh and clean pair of socks, underwear, pants and shirt always a cause for celebration. I washed and shaved under the fig tree outside my Fula hut. The local children waved and shouted to the new Porto. I waggled my razor in reply. The day hung in the balance a tiny bit when the Mastermind appeared within seconds of my emerging from the hut ("I love to hike every day," he said, making marching motions with his arms and legs). But he went away again when it was clear I wasn't going hiking. ("Chutes and ladders! Chutes and ladders!" he cried, the name he's given to the 'site touristique' he wanted to take me too.)
The Mastermind's name is Hassan Bah and I met him late in the afternoon after I got the key to my Fula Hut. He's 39 years old, married, is Guinean but spent a lot of time in Sierra Leone and speaks fluent English in addition to French and Fulani. He trained in marine mechanics and spent a long time aboard ships. During the troubles in Sierra Leone he ended up in the Canary Islands for a while where he learned Spanish.
He told me the history of this Fula Hut and how he got into the "guide touristique" business. It started with a Peace Corps volunteer name Adam Lebow who was stationed in the nearby town of Dongol Touma. Adam found the bright lights (and particularly noise I think) of the big city a bit much and struck a deal with Hassan. He would pay for the construction of a typical Fula house on Hassan's family's property in Douki village, live there, and when he left he would give the house to Hassan. That explained the loft, the suspended shelves, and the propane stove which are not typical of traditional Fula houses.
I had the idea this had all happened far in the past but in fact Adam was here not that long ago. He was still here on January 7th, 2000, when two Peace Corps Volunteers were killed in a road accident just outside Pita. Everyone involved with the Peace Corps was profoundly affected by this tragedy and Adam ended up cutting his stay in Guinea a few months short and went home.
After Adam left some other Peace Corps Volunteers started coming up to Douki and renting the Fula Hut on weekends. It was a perfect combination with the natural attractions of this area and Hassan's 'site touristique' was born. Some French tourists donated their services and painted the road signs that brought me here. So far the "Site Touristique de Douki" remains something of a secret the best kept secret in Guinea. It appears in no guidebooks that I'm aware of and in fact Hassan's customers come almost exclusively through the Peace Corps grapevine.
I would feel extraordinarily lucky just stumbling across this place even if its full extent was just this hut, the village, English speaking Hassan, and the views from the nearby cliffs but as I discovered yesterday there is a lot more here. Hassan takes visitors on day hikes and overnight hikes to a series of extraordinary and beautiful places, one of which, the rock grotto of Changi, Hassan discovered only six months ago.
Our hike started with me, as usual, not even knowing where we were going. All I knew was that we'd see some rock formations and we'd be back around lunchtime. I wasn't excited about seeing rock formations but one destination is as good as another and I looked forward to simply seeing some of the countryside on the trails away from the road.
We left through the gate in the fence and followed a trail east that took us down off the plateau where Douki is located and into a valley. Off in the distance through the haze I could see the flat shape of the Gongore Massif, the tabletop mountain I'd circled on my way from Dalaba to Ditinn and the amusing Bomboli. During the rainy season and just after it ends the views are supposed to go on forever. But now in the dry season with the grass fires and the dust from the harmattan winds visibility is much reduced.
The land at first was flat and grassy. But just after a small sand pit we plunged down into thick growth to where a stream bubbled out of a natural spring. We followed a trail along the stream which had over the centuries cut a serpentine path through the limestone. Hassan's spirits started to bubble along with the spring. He's not a tall or big man but overflows with a manic energy. He made sounds like a race car when we had to hold onto jungle vines to haul ourselves up short stretches and sounds like a jet engine when he showed where the path curved and where we should go. He was a born rapper and as we walked a torrent of catch phrases spilled out. "B.C. Need some B.C. A big B.C." (I had to ask later and found out a B.C. was "black coffee".) "L.O.S.T. is lost, L.O.S.T. is lost," he'd chant when we made a wrong turning through the rock maze. "T.I.C. man. T.I.C." (Take it cool.) He talked to the vines we grabbed, telling them to relax and not worry, we weren't going to hurt them.
At first I was a bit blase. The spring was nice, the stream pleasant and it was relaxing to walk in the shade of the thick jungle growth. But gradually things got more interesting until after passing through a tunnel in the rock we found ourselves in a really extraordinary place. The limestone cliffs towered above us on all sides, carved into wonderful shapes by the stream which formed glistening pools of water at our feet. Vines as thick as my arms and legs soared all around, falling from eighty feet above and circling and looping over our heads. Massive trees grew in impossible places and gave the vines places to attach and leap on to further spots. Hassan and his brother had blazed a trail through this rock cathedral and we climbed up and down on short bundles of bamboo and branches held together by vine rope. At several points the spring water disappeared down channels only a couple of feet wide between the cliffs. Off in the distance I could hear the water going over a falls.
What was truly amazing about this place was how hidden it was. There was no way to know it was there, no possible way to guess at its existence and as I said Hassan himself only found it six months ago. To me it was an extraordinary story and I could only imagine Hassan's excitement at that time. He'd already been taking groups on guided hikes in this area for years. They walked along the cliffs to see the distant hills and the massive valley system to the south and west. They hiked to lookout points to take pictures of Hyena Rock, a tower of limestone standing on its own in the valley. They hiked all the way to the valley floor to spend the night there and see a vine bridge across the river. They returned up the cliffs by a series of ladders and steps carved straight down through holes in the rock.
But he never knew that grotto existed. Then, six months ago a French tourist hiking with Hassan's brother wanted to take a bath. He suggested they follow the stream from the natural spring to see if it formed a pool anywhere. They slashed their way through the jungle and found that hidden complex of cliffs and vines. It was every boy's dream of finding a secret cave, a hidden valley, a little piece of paradise.
I sit here in my Fula hut and I giggle with pleasure every time I think of that grotto and in fact all the wonderful things about Douki. I giggle because it's so unknown and the official world of Guinean tourism knows nothing about it. You can buy picture postcards of a thousand waterfalls. You're told about the animals of Pastoria but which you can only see if the guy with the key happens to feel like getting out of bed. Everyone talks endlessly about La Dame de Mali, some cliff in the far north that from a certain angle looks a bit like a woman in profile. And here in the middle of the Fouta Djalon is a stone cathedral that in the hands of a competent photographer would produce postcard images to blow them all away. In fact there's no end of postcard kitsch here if that's what you're looking for. Hassan brought me to a large set of rocks near the grotto that look remarkably like a horse with a proud mane of cactus. It even has a natural platform so you can climb up and sit in the saddle of this giant horse. In fact if rocks that look like things turn you on then this is your place. There's lizards, elephants, lions, turtles and an astonishing number of faces in profile rising out of the ground. (I thought Hassan and I were sharing a joke about all these rocks that look like things but then I realized he was serious about how wonderful he thought they were.)
After our morning hike I chatted with Hassan a bit about the "Site Touristique de Douki." It's clear that he has a better understanding of Westerners than most Guineans. He's spent almost his entire life in the company of Peace Corps Volunteers and knows that there is a large segment of Western tourists who would go out of their way for the experience of living in a traditional Fula Hut and particularly when there are so many things to do in the area.
When I first met him and was still settling in he proudly pointed out the things he knew would appeal to me like the loft and the small library. He also brought over a book of star charts having seen how much other foreigners here have loved the clear star filled skies. Hassan states that he wants to stay in the tourism business, develop this place, and use the proceeds to help his village and family. He's currently building a second hut near this one. Not many people come up here but from time to time he has gotten groups of three or four and has been stuck for a place to put them. The second hut will give the overflow a place to stay. I was particularly impressed to see that Hassan had planted four or five tiny seedlings of various trees around the huts and is caring for them tenderly. They won't be grown for many years but he's thinking of the future.
But the thing that Hassan brought me which I enjoyed the most was a small manuscript written by Adam Lebow, the PCV who'd had this hut built. The sheaf of papers was entitled "How to Build a Traditional Pular Conco" and listed in wonderful detail the step by step process involved in constructing a traditional hut like this. It contained pictures and diagrams as well as the Fulani names for all the materials used. He hadn't completed the manuscript but there was enough there to make for very interesting reading.
The most important item was of course a mould used to make the mud bricks or "toufe." This mould, a "tougealgo," was about eight inches wide by eight inches deep and 16 inches long. It had no top or bottom, only sides, and was placed flat on the ground and then filled with a special mixture of mud and sand and other ingredients. This mud had to be firm enough that when the mould was removed the brick would retain its shape while it dried (which took about a week). If the brick collapsed or sagged then the mixture wasn't right and they'd have to try again. The mould and the resulting bricks were slightly curved to allow for the rounded construction of the walls. Adam wrote that approximately 900 bricks had gone into the hut that I was now calling home.
Several posts called "tuga" were placed in holes in the ground around the hut walls. These posts had a V at the top and into this V was placed a large ring made of bamboo. This thick bamboo ring was incredibly strong and supported the entire roof and gave it its shape and structure. Long branches were attached to this ring and pulled into a point at the top. Other rings of steadily decreasing circumference called "carary" marched up these branches holding it all together. On this was laid the thick grass. And as a final touch the brick walls were covered with a smooth layer of "meltugol," a mixture of mud and dung.
What astonished me was that absolutely nothing artificial was used. This hut which was such a perfect and comfortable home was made with only what materials could be found around me in the forest and in the ground. Even the bamboo was held together not with rope but with strips of bark soaked in water to make it flexible and strong. I wondered if someday I found myself in the unlikely position of being stranded on a deserted island I could use the knowledge from this manuscript to build myself a nice little home.
Tags: Fula Hut, Guinea Bike Trip, Peace Corps, Peace Corps Volunteers, Sierra Leone