Home » All, Guinea Bike Trip, Travel
Guinea 027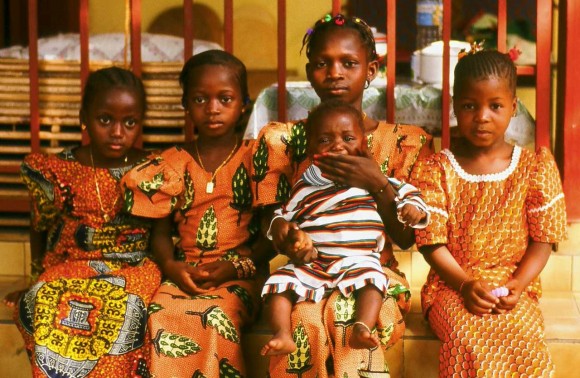 Friday, January 5 – 8:00 a.m.
I find myself not exactly at a loss for words but unsure of which ones to use first. Not because the experiences of the last couple of days have been profound but they were involved and send my mind branching in many different directions.
I spent yesterday in the company of Ashaki, a thirty-six year old professor at Conakry University. She is also a freelance consultant on environmental issues and is in Kindia with a group of colleagues conducting a survey commissioned by the Guinean government and a Canadian NGO based in Montreal.
I got to know this highly educated and enthusiastic group by chance the day I arrived in Kindia. I was lost (no big surprise) and stopped to ask a man dressed neatly in slacks and an impeccably clean blue shirt if he could direct me to the Buffet de la Gare hotel. He produced a room key and said he was staying there himself.
Blue Shirt did not speak any English and it wasn't until two or three days had passed and the rest of the team had assembled that I began to get a picture of who they were and what they were doing.
Most of what I learned came through Ashaki who went to the University of ——- in Canada and who retained at least some of her English. She also appeared to be in charge of the project having gotten the contract by keeping her resume on file at the Canadian embassy.
Yesterday was their first day of actually collecting data and when I asked if I could accompany them for just a little while they said yes and naturally paired me with Ashaki.
At 8:30 seven of us crammed ourselves into Ashaki's tiny Mazda and set off with energy and a determined rattling and lurching and swaying. Ashaki's husband (a Phd in international law and perhaps the world's most absent minded driver) was at the wheel and Ashaki dug around in her bag handing out brand new "BiC's" and taxi fare to her team.
Kindia is divided into thirteen neighborhoods or "quartiers". Each member of the team was assigned one quartier to complete that day and our first task was just to find them. Ashaki had lots of family in Kindia and was quite familiar with the city but even so in the total absence of street names let alone signs it wasn't easy to find our way. The quartiers were identified locally by familiar landmarks such as mosques, bridges, and large trees and Phd was constantly ordered to pull the Mazda over to the side of the road (which he accomplished with frighteningly random turns and braking) and the team would fan out and start asking local people for directions. There were several one way streets around the market which meant lots of detours. We found the entrance of one street totally blocked off by six cars, most of them taxis. No one was sitting in them. They were simply parked there in a fan pattern looking very like a police roadblock.
Phd was somewhat thrown by this and completed a series of three point turns, reverses, and loops that caused total chaos and endless horn honking in the traffic around us. When a path through the roadblock was made we drove through only to find the exit from that street blocked by an identical set of six parked cars. These couldn't be moved and we retraced our path. Other cars were now coming through the hole we'd made in the first roadblock. No one bothered to tell them the other end was also blocked. They'd find out for themselves soon enough.
Ashaki and I were the last to be dropped off (after Phd nearly side swiped a poor fellow on a motor bike who shouted at Phd for a long time a scene defused only by lots of apologies and the calming influence of an army officer who just happened to be passing by). Our quartier was called Gagnan, named for Mt. Gagnan which loomed nearby. A group of men were waiting for Ashaki and escorted her and I into two empty seats in a circle of chairs under some shade trees. These men were the officials and office holders of Gagnan Quartier and became Ashaki's entourage. No one questioned my presence and as far as I could tell Ashaki offered no explanation. I don't think it really mattered. Simply being a member of that bizarre race of creatures known as 'fotes' was enough it seemed to justify anything I might do.
The pleasantries were short and to the point and then we were led to the workplace of the first person to be interviewed. I was favourably impressed with the level of organization that now came into play. The interviewees had been randomly preselected long ago and Ashaki's team had a list of twenty families from each quartier. These families had been notified of Ashaki's visit and to my amazement all twenty families on Ashaki's list (except one where the father had died and the family moved away) were home and waiting for her.
I mentioned this to Ashaki later and compared it to how difficult conducting such a survey in Canada might be. First of all many Canadians would decline to take part, seeing such a questionnaire as an intrusion (it dealt with access to water, water usage and drainage, garbage disposal, and sewage, as well as family income and education). And then to find all your subjects at home in one day would be impossible. It would probably take weeks or months to track everyone down and then the interviews would likely have to be done over the phone.
The first interviewee was a tailor and Ashaki spoke to him in his place of business, a tiny shack containing two old manual Singer sewing machines at the side of the road. The interview was conducted in the Susu language (as all of them were) but the questionnaire itself was in French and by watching Ashaki fill them out I could understand most of what was going on.
A large crowd of children gathered while the interview was going on though they were far more interested in me than in the questions and answers. The entourage was also with us and we crowded the poor tailor so that he probably felt he was being interrogated rather than interviewed. Ashaki commented at one point that such an entourage of officials was not a good thing since people might be reluctant to speak honestly in their presence but in the end I don't think it made much difference.
Over the next five hours we walked around Gagnan and interviewed members of the remaining eighteen different households. The interviews took place inside the front rooms of houses, on porches, under trees, around cooking fires, and leaning against walls. We sat on whatever chairs, benches, and stools the families could produce. Most were less than stable and sitting and staying upright took some care and effort.
The houses were made of brick with corrugated tin roofs and were larger than I expected. From the outside a casual observer might even have assumed a certain level of prosperity. But they were essentially empty shells and even those shells were falling into ruin with great gaps apparent everywhere. Dirt and debris had accumulated in the corners. Some had a bare light bulb here and there but as I knew from my comparative luxury at the Buffet de la Gare such appliances were more for show than anything else.
There was of course no running water and as I learned through the questionnaire this neighborhood did not even have a pump and got their water from a river a five kilometre walk away. There was also an acute shortage of toilets and most of the families we spoke to had to use the latrine of a better off neighbor. There was no system of garbage collection at all (as in Coyah it was simply swept into piles and set on fire) and poor drainage so that during Guinea's rainy season the neighborhood became a garbage filled swamp. (Every single respondent chose "tres sale" to describe Gagnan when the rains came.)
Most of the income earners were tailors, masons, or drivers. Ashaki had found that in Labe where a survey had already been completed people refused outright to answer questions about their monthly income. Now she asked how much they spent in a day and used that figure to calculate an approximate income. Most replied that they required around 2,500 3,000 francs a day for their household. From that figure Ashaki calculated a monthly income of around 100,000 200,000 francs or between fifty and one hundred US dollars.
The evening brought an interesting counterpoint to the day's work. The team assembled in the Buffet's courtyard (me making hot chocolate for everybody on my camping stove) and examined the questionnaires that the others had completed. We were sitting on whatever chairs, cushions, stools, and benches that could be moved from the rooms. A staff member of the hotel brought over a bench to be used as a table but it fell apart when he put it down and no matter how much he scrubbed he could not remove the dirt and grime.
Questionnaires and papers kept sliding off laps and knees and landing on the dirty ground. They held up the papers to the light of the single bulb that was over a doorway, straining to read. The electricity turned on and off at random giving them thirty- and forty-second windows of opportunity to do their work. And it's hardly a significant point but I did note an irony in the behavior of this dedicated group of environmental experts who passionately argued development theory long into the night. The garbage they themselves produced was simply tossed onto the ground till it formed a circle of debris around them. Each morning the hotel staff sweep up this garbage and I assume bring it somewhere and set it on fire.
Because of my sick days and my time with the environmentalists the section of Kindia that makes up my world has been growing almost slower than my world in Conakry did. In fact I haven't even had my bicycle out since I arrived. But I have been deepening my knowledge of the neighborhood around my hotel.
On one occasion I found Phd and Blue Shirt fiddling under the hood of the Mazda. As men are supposed to do I stuck my head under the hood as well though what I saw meant very little to me. The problem was the carburettor. The engine was consuming far too much gas a serious thing when gas is such an expensive luxury.
Luckily Blue Shirt had a friend at the garage up the street, the one which had made such an impression on me. We went there together in the Mazda and an hour later we emerged, they with a purring engine and I with a transformed vision of the garage. To my eyes it was still chaos and confusion but it was chaos and confusion that suited the circumstances and got results.
The building itself used to be a cinema and it still read "Cinema Arabe" across the front. What was once a very steep driveway and parking area was now a very steep and congested work and storage area. It was a precarious situation since all arriving cars first went down this steep incline and these cars were not in the best repair, nor as in our case, driven by the most able of drivers. I sucked in my breath as Phd drifted through the narrow gap between parked cars. He went straight for the back corner of a car with a dozen men in it, on it, and under it. The collision was narrowly averted when some of the young boys who roamed around saw what was about to happen and shouted and beat on our hood.
To an extent these young boys were the circulating blood of the garage, without whom nothing would happen. Their job was to do exactly what young boys do best and naturally roam around. As they roamed they carried and handed out the one set of garage tools to all the different mechanics who might be working on a dozen vehicles simultaneously. Tools not being used were dispatched to a central location where the owner of the garage kept an eye on them and monitored the work.
The boys also served as stock boys and were sent on errands to various places around Kindia to track down spare parts. The garage also had mountains of bits and pieces that had been taken from cars over the years and boys could be seen everywhere rummaging through these piles looking for that one spring, nut, bolt, screw, or washer that someone needed to eke a few more miles out of the wrecks they were repairing. And finally, the boys served ably as substitutes for all the tools the garage did not have such as clamps. Any mechanic needing something held in place had as many willing hands as he could use.
Who was who, who did what, what they charged for work, and how everyone got paid would be impossible for me to say even if I had a week to study the place. The sheer number of people was extraordinary and as I saw very necessary. Cars in Guinea even when not in the garage had with incredible frequency to be pushed to be started. Starters were expensive and with so many unemployed bodies around they were luxuries that could be dispensed with. As I watched, the car with which we had nearly collided was ready for a test and therefore had to be pushed up the steep driveway to the street where it would then be brought to speed and the clutch engaged. Fully eighteen men and boys put their backs into it and inched this behemoth up the incline. Blue Shirt was sitting in a chair directly in the path of this car should the pushers falter and lose control. I pointed this out to him with a laugh. The pushers saw my gesture and waved to me as if to say if I was so worried why didn't I come help them push?
The repair to the Mazda was a simple one costing only 3000 francs for a replacement part and no charge for the labour just a small tip, what Phd called "cigarette money."
Another occasion found me walking around the market. I had my usual response of feeling totally out of place and lost. Everywhere I looked there were piles of items whose identity and purpose I couldn't even guess at. Much of it was obviously food but little was anything I would ever know what to do with.
Under one roof was a vast area dedicated to nothing but colorful cloth. The women selling it were wearing outfits made of the same vibrant colors and the riot of shade and pattern made me think of a fantasy jungle populated only with birds, butterflies, and flowers.
On another street I witnessed a scene so classically chaotic that it made even the Guineans stop, stare, and laugh. A group of men were transporting the body of an old car on a kind of wheelbarrow. But the car and wheelbarrow matched up in such a way that the car had to be wheeled along not lengthwise but sideways and this through narrow market roads. It was a tight squeeze indeed. What made the Guineans laugh was not just the difficulties the men encountered nor the surprise on the faces of the market sellers who suddenly had a car in their lap but the comical way the car bobbed and floated along, much higher than any car had a right to be. It put me in mind of cars being carried downstream by floodwaters, a thing we see on so many television disaster programs.
I proved once again that I'm an idiot when I continued my walk out of the market and a couple hundred meters down the Telimele road. Groups of men asked me, "Where are you going?"
"Nowhere," I replied flippantly. I hated the way in other countries I seemed to always be challenged about my movements. Where I was going was my business, not theirs.
But on the way back I looked more carefully and saw I had been walking through a transportation hub. All the vehicles were taxis or buses for hire and the men were not being nosy but simply trying to help me locate a bus or taxi to my destination. Only a fote they probably concluded would walk around a bus station not wanting to go anywhere. ("Where was this boy's mother? Why is he… ")
The cavalcade of idiocy went up a notch a short time later when I noticed a large crowd at a street corner and more people running to join them. Never one to rush to the scene of an emergency I walked on. But at the next corner I saw more people. I thought that if this were part of the same crowd of spectators there must be something of considerable interest going on. I sauntered up and joined them just in time for everyone to fall to their knees for the two p.m. prayers.
Tags: Blue Shirt, Canada, Cinema Arabe, guinea, Guinea Bike Trip