Home » All, Guinea Bike Trip, Travel
Guinea 013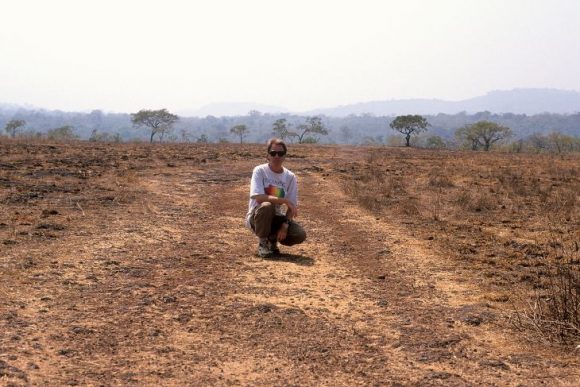 Thursday, December 21 9:21 a.m.
I did eventually find the mysterious SPG that sold newspapers. I walked down the main road quite a distance looking for the letters SPG and popping into all the stores that in the West could be expected to sell papers. Most places treated me with disinterested brusqueness. I was about to give up when I saw a large sign for the Societe Prive Gardinage. A private gardening society that sold newspapers? It appeared so. At least there were about half a dozen men sitting under shade trees reading newspapers and a man stood on the road selling them to passing cars. I bought a copy of each of the four papers he had and pored over them back at La Vina for news of the rebels.
Each paper had four or five articles on the rebel attacks at Guekedou and Kissidougou but they left me little wiser than before. The papers all seemed to favor eyewitness accounts but then failed to put them in context or paint the big picture. One man described how he went to Kissidougou to look for some relatives but found the town deserted. Food and transport were difficult to find. But it wasn't very informative. No paper even attempted to give any numbers or facts that might say how many rebel soldiers there were, where they attacked, who they attacked, or even why they attacked. The sole thing I learned was that this man Foufana did not suddenly appear just now. He made his first appearance back in September. I also learned that the name Foufana is an alias and no one knows his real identity. One paper called him a ghost, a man of mystery.
Amongst the Guineans I speak with I still find the odd combination of a willingness to predict the worst while seeming unconcerned, like Sundyata who talks about Mamou being overrun with rebel soldiers but then doesn't advise me to avoid the place. Instead he recommends that I just get there before the rebels do. It's all very odd. My sole source of somewhat clear information continues to be the BBC's World Service. They didn't add much to my sum total of knowledge but did say that two to three hundred people had been killed in the attacks. But even through their reporting I have no mental picture at all of the situation. I don't even know what form the attacks took. Did the rebels just shoot up a couple of towns and disappear? Did they encounter any resistance from the Guinean army? These are things I'd like to know before I point my front wheel in their direction.
Tags: Guinea Bike Trip, La Vina, Societe Prive Gardinage, SPG