Home » All, Green Island Trip, Taiwan
Green Island 001 – Train to Taidong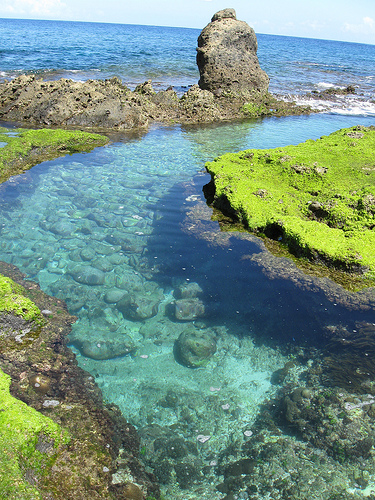 Saturday October 2, 2010
Taidong
Getting up yesterday morning to catch a 6:45 train left me really tired. I spent all of yesterday in a total daze. I couldn't do anything.
The train trip, therefore, wasn't that great. I was too tired to sleep, too tired to read, and of course there was no one to talk to. That's a weird thing about traveling around Taiwan. I guess it makes sense, but it always takes me by surprise. I associate traveling with meeting new people, but in Taiwan that almost never happens. The chances of having a seatmate that you could talk to even if you spoke a common language is pretty slim. In this case, my seatmate was a 90-year-old woman who instantly closed the window curtains, so I was even deprived of the view of the ocean.
Departure wasn't great. I guess the timing of the 6:45 train is perfect for students and local commuters. It's a long-distance train, but hundreds of people crowded onto it just to get from local station to local station. Most of these were students with heavy knapsacks who made a habit of clouting me over the head. A student was occupying my seat and I had to kick him out to get my seat.
The weather was fantastic though. No complaints there, and the views of the mountains were spectacular. I would have been very excited about that if I hadn't seen that same view many times already. I spent pretty much the entire 5-hour trip from Taipei to Taitung listening to Adam Corolla's podcast. He always comes up first on my Shuffle because his name starts with an A. One podcast was different from the others. He interviewed Ken Burns, the documentary dude, and it was a serious and interesting podcast – very different from his usual rants.
Things did not go well when I arrived in Taidong. The plan was to rent a scooter and drive down the coast and through Kenting National Park to Kenting. Even if it had worked out, I'm not sure that it would have been a good trip. I was too tired to enjoy anything. The better plan would have been to spend the night in a hotel in Taidong and leave the next morning when I was rested. I didn't do that, however, because I didn't think it would make any difference.
Ironically, I ended up spending the night in a hotel in Taidong anyway, and I have woken up totally refreshed. I feel like a new man. The problem was that they wouldn't rent me a scooter. I went back to the same scooter shop I rented from the last time I was here, and they just flapped their hands at me in a common Taiwanese way. That's what they did last time, too. I knew they were sending me away because I was a foreigner. However, I had a Taiwanese driver's license. So they rented one to me in the end after I strongly insisted. I thought the same thing would happen this time, but it turns out my driver's license expired yesterday. I knew it was expiring, but I didn't think it would be a problem. There was nothing I could do about it anyway. I did everything the legal way, and I had gone to the motor license bureau to renew my license for another year. However, they wouldn't do it. They would only renew it until the date my ARC expired – which was yesterday.
I argued with the scooter dudes a little bit and I played dumb, but it was no good. They were actually quite rude. They just flapped their hands at me and then ignored me.
There were a couple of other scooter shops there and I went to all of them. They all went over my driver's license carefully and they all saw the new expiry date on the back and refused to rent to me. That threw a serious kink in my plans. The funny thing is that I'm pretty sure Lonely Planet caused the problem. I've rented scooters in other places and haven't needed a license. But this particular set of scooter shops in Taidong is marked in Lonely Planet as the place where you go to rent scooters. It is marked on the map of the city along with the hotels and train station etc. I remember the last time I was here, there was a foreign woman going from shop to shop. She was obviously being rejected because she didn't have a Taiwanese license, and I'm willing to bet that there was a Lonely Planet in her backpack. I bet that lots of people have come to these shops because of the Lonely Planet reference, and there have been problems, and now those guys simply don't want to rent to foreigners.
Once I was rejected by all the scooter shops, I was stuck. It wasn't possible to get to Kenting by bus directly. I'd have to take a bus to Khaohsiung and then take another bus from there – a long and pointless journey that would take a whole day. Besides, it wasn't Kenting that attracted me per se. It was the journey to Kenting through the mountains.
I walked around for a few minutes thinking things over and I decided to abandon my trip to Kenting. Luckily, there is a good alternative: Green Island. A few months ago I went to Lanyu Island. The ferry to Lanyu leaves from Taidong, and there is another island called Green Island. It is smaller and closer than Lanyu and perhaps less interesting, but it is still a beautiful island with lots to see. It was once used by the KMT as a prison island during the White Terror of the 1950s. The prisons are still there and you can go look at them. I don't think they are open for tours, but you can look in the windows and that sort of thing.
With that decision made, I checked into a hotel and I got the hotel clerk to call the Green Star Ferry and book me a place on the ferry for the next morning and returning on Monday. I had a feeling that there would be a problem, but they had places available and I got a reservation. I think I could have gone that very afternoon, and perhaps I should have, but I was too tired to even think about it. Besides, it was quite hot and I'd end up spending all that time in the brutal sun at the harbor and on the boat and then arrive on the island as it was getting dark.
I spent the night in the same hotel as last time. It's as basic as it gets in Taiwan, but very comfortable with a private bathroom, TV, air conditioning, hot water for coffee etc. It's a good deal at NT$600/night. That's about $20 Canadian. Once I had my room, I pretty much collapsed. I was exhausted. I watched a bad movie on the TV, read a book, and then went to sleep. I woke up feeling like the world wasn't such a bad place anymore. Amazing what a bit of sleep can do for you. I had a good cup of coffee at 7-11 and then packed up and hopped in a taxi for the harbor. Every time I'm faced with one of these transportation issues, it makes me wish I had a bicycle. I had to take a taxi from the train station to downtown Taidong. That cost NT$220. A taxi to the harbor cost another NT$220. I'll have to take another taxi to the train station later. That's already NT$660.
I'm at the harbor now. It's 8:30 and the ferry leaves at 9:00. The ferry ticket cost NT$900 round trip. I think it takes about an hour to get to the island. I still have one big concern, and that is finding a place to stay on the island. I have a suspicion that there won't be anything available. That's a big problem in Taiwan. Everything is always booked up. If that's the case, I'll have to just get on a boat and come back to Taidong this afternoon. That will be a drag. I'm also worried that the hotels will be expensive even if I can find one. Green Island is much more developed than Lanyu and I don't think going there will be much of an adventure. But I'm going to try to make the best of it.
Tags: Green Island Trip, Lonely Planet, NT, scooter, train