Home » All, Malaysia
Extending Tourist Visa in Kuala Lumpur, Malaysia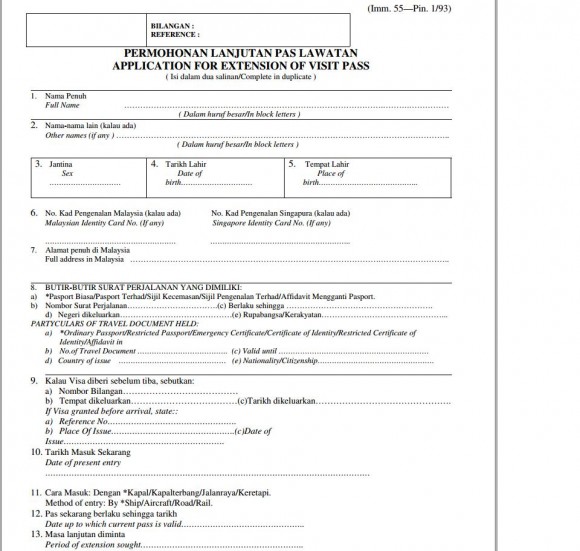 (Note: I'm not an expert in this field. This post is only about my personal experience of extending a visitor's visa in Kuala Lumpur. I was given a 90-day visitor's pass at the airport when I arrived, and I went to the immigration office in Kuala Lumpur to apply for an extension. I was given a 60-day extension. It cost 100 ringgits (about $23 US) and required a full day to process. An alternative is to take the bus to Singapore and then return to Malaysia by bus getting a new 90-day visitor's pass at the border crossing. That will cost you more in the end since you have to pay for two bus fares and a night or two of accommodation in Singapore, but it is relatively straightforward.)
There was some confusion when I checked for information online about extending a tourist visa in Kuala Lumpur, so I thought I'd put down a note or two about my experiences doing this. First of all, there was confusion about where to go. Most online resources pointed me toward the immigration headquarters south of Kuala Lumpur in the city of Putrajaya. However, I learned that there is an immigration office in Kuala Lumpur as well. It is located in a government building just around the corner from the large Publika shopping mall complex in Solaris Dutamas, Sri Hartamas. That is where I went.
Here is the full address:
Kompleks Kementerian Dalam Negeri WP Kuala Lumpur
69, Jalan Sri Hartamas 1
50480 Kuala Lumpur
Wilayah Persekutuan Kuala Lumpur
Just put "Kompleks Kementerian Dalam Negeri" into Google Maps and it will pop right up. The easiest way to get there would be by taxi. All taxi drivers are very familiar with the Publika shopping complex. Tell your driver to take you there. The government building is a short three or four minute walk from the main entrance to Publika. There is also a regular bus to Publika. This is bus B115. You can take this bus from the Pasar Seni LRT station. B115's route begins and ends at the Pasar Seni LRT station, so you can take the bus to Publika and then ride it back to Pasar Seni after you are done. It costs 1 ringgit.
The government building is quite a large one and very hard to miss once you get to the right corner. You can see photos of it on the Street View in Google Maps. It's not exactly obvious how you get into the building, but if you wander around long enough, you'll find the main entrance or some smaller entrance. Oddly enough, there are very few signs in English in this building. I say it's odd because pretty much everyone in the country speaks English and you find good English signs almost everywhere. But the one place where you really need English signs and would expect to find them – at immigration – there are almost none. So you can't really just go inside and follow the signs to the immigration offices (unless you can read Malay). And once you do find the immigration offices (up on the second floor), there are no English signs to help you figure out the process to follow and which of the 38 "kaunters" to begin with. However, it really isn't a problem. Everyone there speaks English and you can just ask people where to go and what to do next. I've found the Malaysian people to be exceedingly friendly and helpful, and I had no trouble getting to the large immigration section in this building and then finding out what to do once I was there.
In my case (the procedure could easily change over time, of course), I was told to go to "kaunter" 24 first. This is where you are issued the appropriate forms for what you want to do. I presented my passport and told them I wished to extend my visa. I should point out that, technically, I did not have a visa. I had simply arrived at the airport and gotten a stamp in my passport. They call this a Short Term Social Visit Pass. For all intents and purposes, it is a tourist visa, but they don't call it that. It is a "Social Visit Pass."
I was given a simple form to fill out. You can see this form or download a copy here. I was also asked for a copy of a confirmed airline ticket out of Malaysia, a photocopy of my passport's information page, and a photocopy of the Social Visit Pass stamp in my passport. There are plenty of photocopy shops down on the first floor if you need to make copies. They appeared to be serious about the need for some kind of proof of an onward flight. The printed itinerary for my flight was put on the very top of the pile when all the papers were stapled together. I was given a number (a number I won't soon forget – 5088) and told to wait for my number to appear on one of the many computer monitors with instructions about where to take my papers.
It soon became apparent that I had chosen the wrong day to do this, for their computer system was giving them trouble and everything was taking much longer than usual. There were notices on windows apologizing for the delay. I ended up sitting in my hard metal chair staring at the computer monitors for a total of eight hours as I waited for my magic number of 5088 to appear. It took about two hours for me to be given just the opportunity to hand in my documents to start the process. Then I waited for five hours until I was told to go to counter 9 and pay my 100 ringgits (this was for a 60-day extension). Then I waited for a final excruciating hour for number 5088 to be called one last time so that I could pick up my passport. This waiting time included an hour when all the Malaysian employees went to lunch and all 38 counters sat empty while we waited. (I guess the important business of government grinds to a halt when stomachs start to rumble.) As things turned out, despite having to wait from 8:30 in the morning until 4:30 in the afternoon, I was one of the lucky ones. I got my passport back just under the wire before they closed for the day. Many of the people around me (who had waited just as long) never did get their passports and were told to return the next day.
And that's about it for the experience. I believe most visitors wishing to stay longer in Malaysia simply take a train or bus to Singapore and get a new (and free) social visit pass at the border on their return. It makes a lot of sense to do a visa run like that. However, it is also possible to extend your social visit pass as I did. I imagine that under normal circumstances, the process could be completed in a morning – hand in your document first thing in the morning and have your passport returned before lunch. It was only my bad luck that their computers were giving problems and it took an entire day.
Update: As John pointed out in a comment below, it might be necessary for some people to make the trip to immigration headquarters in Putrajaya to apply for an extension. They told John that since he had arrived overland from Thailand, they could not process his extension application at the Kuala Lumpur office. He needed to go to the Immigration Department Malaysia headquarters in Putrajaya. I had arrived by plane, so I guess this didn't apply to me.
Tags: Kompleks Kementerian Dalam Negeri, Malaysia, Social Visit Pass, Solaris Dutamas, tourist visa, visa extension, Wilayah Persekutuan Kuala Lumpur