Home » All, Legazpi, Philippines, Philippines Bike Trip 2013
Dorm Mates and Lignon Hill in Legazpi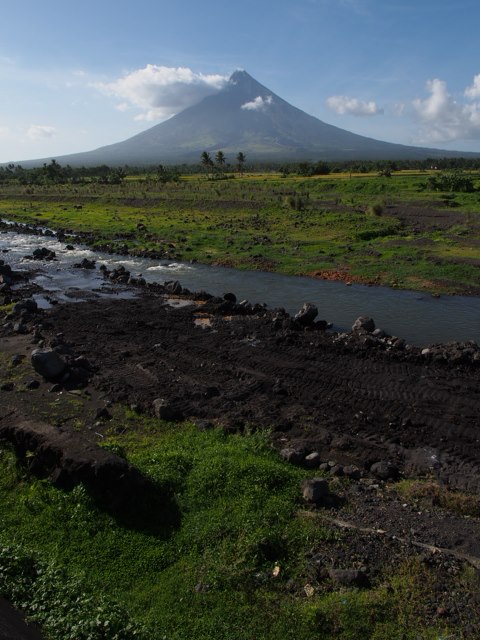 Wednesday April 3, 2013
8:00 a.m. Mayon Backpackers Hostel in Legazpi, Philippines
I am at my word processor with a cup of coffee by my side a bit later than on other mornings. There are a couple of reasons for that – reasons which also account for my red eyes, fatigue, and very sore throat.
I was feeling very chatty yesterday morning, and I whiled away a lot of time chatting with various people that were hanging out at the hostel and coming and going. I feel like a veteran hostel dweller having been here for a couple of nights in a row. Most people come and go very quickly at this place. Other than the whale sharks at Donsol and the imposing Mayon Volcano, there are no other big attractions to hold the attention of the average western backpacker. People (people that are much more energetic than I have ever been or ever will be) will arrive in the evening, check in, and then embark on a flurry of mad preparations and negotiations and research. The next day, they are up early and gone to Donsol or gone up the volcano. They return late at night and pack up and leave the next morning for their next destination. Palawan seems to still be a very popular choice – and the town of El Nido on Palawan in particular. Many people are flying from Legazpi to Manilla and then on to Puerta Princessa, where they will catch a bus to El Nido. I've never been able to move with such purpose. A good example is the group of young men that were trying the other night to arrange the volcano hike. They were at the hostel late last night when I returned from the festival, and I got a bit of their story. I was exhausted just listening to it.
They had gone to Donsol for the day to go out on a whale shark boat trip. That involved waking up very early in the hostel and taking a jeepney or a series of tricycles to the bus station. There, they had to wait for an hour or two while the van filled up, all the while fending off the attempts of the Filipino drivers to charge them more. Then came the drive to Donsol and then the further arrangements to go out on the boat. They said they had a good time snorkeling and seeing the scenery. However, they didn't encounter any whale sharks. When they finished their boat tour, they were told that there were no more buses back to Legazpi. There was a lot of discussion about the various ways they could get back – all involving very high prices and private vans and the rest of it. They were lost in that murky world where a foreign visitor has no idea if they are being lied to and taken advantage of or not. They finally managed to put together some kind of transportation and they got back to the Legazpi bus station fairly late in the evening. Then they had to get more transportation back to the hostel. The next day (today) they had plans to get up at the crack of dawn and make an assault on Mayon Volcano. They didn't, in the end, hire a guide, so they aren't going to attempt the full crater climb. They are going to try to get to the volcano on their own and then climb as high as they can – possibly to Camp 2 – before turning around and making their way back to Legazpi and the hostel. THEN, in the morning, they are leaving to fly to Palawan. They will be arriving in the late afternoon in Puerto Princesa and then taking a night bus up to El Nido, where they plan to spend three days. I'm lost in admiration for anyone with that much energy.
Hendrik, the fellow from Norway, was also hanging out in the common area. He was spending a lot of time on the computer trying to arrange accommodation with a private room at another hotel in Legazpi. Understandly, sleeping in the dorm was not appealing to him. He has the money, I think, to stay in a regular hotel, so it makes sense for him to do so. I'm continuing to sleep in the dorm partially out of economy but mainly out of laziness. I dislike moving once I've settled into a place, and this hostel does offer a fair number of advantages. I will be on my own out there in the wilds of the Philippines soon enough, so I don't mind soaking up some hostel atmosphere with lots of people coming and going.
There was a newcomer at the hostel – a young woman from England named Jess. She and I found we had a large number of interests in common, and we whiled away the rest of the morning and some of the afternoon in chatting. She was in the middle of a year at school in Japan, and we nattered on about the differences between Japan and Korea and Taiwan. I believe she has a 3-week break from university, and she is spending it in the Philippines. I'm not sure about all the places she's been, but she had just been to Dumaguette and the island of Siquijor. She loved both of those places. I don't think Legazpi is living up to her expectations. She came, like most people do, to go to Donsol to swim with the whale sharks and perhaps do a bit of climing on the volcano. But there are no whale sharks to be seen, and the volcano climb seems a bit much. And beyond those two things, there seemed to be no other big-ticket items in Legazpi.
We eventually talked ourselves out to an extent, and I got on my bike for a trip to Lignon Hill. This hill sits just north of the airport, and according to my sources, it offers a beautiful view of Legazpi, the volcano and the ocean. I have a fairly good map of Legazpi, and I plotted my course along Rizal Street and I quickly ran into the biggest jeepney traffic jam I have ever seen. There is something about a traffic jam of jeepneys that is more imposing than any other type of traffic jam. Cars seem more mobile and you can see over cars. Jeepneys, even when they are moving, still seem immobile. They are big boxes of metal that just sit there. Put hundreds of them in a row in gridlock, and THAT is a traffic jam. I don't know if this traffic jam was common for that part of Rizal Street, but I don't think it is. The problem was that this part of Rizal Street was lined with universities and colleges and it was graduation day. Every school was holding its graduation ceremony and that led to the traffic jam. I saw hundreds and hundreds of students with graduation gowns and graduation caps on in the courtyards of every school. I'd probably still be stuck in that traffic jam today except that with my bike, I was able to slither between some of the jeepneys and occasionally walk my bike down the sidewalk to leap frog past the worst of the congestion. That way, I made it to the corner where I needed to turn right to head toward the hill.
I worked my way around and then north of the airport – checking my map at every corner – and I soon found myself at the base of Lignon Hill. I'm used to people being surprised at my being on my bike and constantly telling me this or that can't be done. I generally have a breezy attitude that I can do anything on my bike. In this case, I was wrong, and I soon gave up trying to actually ride my bike up the steep road on Lignon Hill. I'm not saying it couldn't be done. If I got up out of the seat and pedaled hard, I still could have made it up, but I didn't see the point. I just got off the bike and pushed it slowly to the top, stopping often to enjoy the views.
The hill had been turned into a somewhat gaudy tourist attraction. I have a general sense that the Filipinos excel at this. They can gaudy a place up with the best of them. Therefore, Lignon Hill, which could probably have existed happily as a scenic lookout point and nothing more, had been turned into some strange adventure mountain with zip lines, rappelling, mountain biking, and a dozen other activities advertised. There was also a round building with about a dozen shops sellilng souvenir T-shirts and other curios. All that hoopla hardly seemed necessary for a humble hill. Plus, the only functioning attraction that I saw consisted of the zip lines. They appeared to be working and Filipinos went zipping past at quite a furious rate – some of them just sitting in the harness and others screaming "Yahoo!" and "Woohoo!" at the tops of their lungs. It seems that the zip lines were set up in stages and you zip down the hill in fits and starts.
The views from the top of the hill were as advertised and I stayed there for a while taking in the scenery of Legazpi and the volcano and the ocean. Just as I started to leave, the clouds parted and I got a clear view of the volcano's peak and I snapped a few pictures.
I chose a circuitous route back into Legazpi so that I could see more of the city. Honestly, I needn't have bothered. I did manage to get a very nice perspective on the volcano at one point – one with farmer's fields in the foreground – but beyond that my route took in little more than a massive amount of brutal traffic – jeepneys, tricycles, and monstrous trucks. It was essentially a tour of an industrial wasteland with dinosaur-like trucks thundering in all directions. I can only hope that further afield in the Philippines, the traffic is not always like this.
I found Jess in the common area at the hostel, and I asked her if she was interested in going to the festival grounds for dinner later. She was interested, and we set off at about 6:30 or something like that. We went to the same restaurant I had eaten at the night before, and had a very good meal and a great conversation. We talked about a hundred different topics all through the dinner and a couple bottles of beer. Then I ordered a complete second meal and we talked all through that. Then we went for a stroll around the festival grounds. A band was playing on a stage – loud but good music. Lots of people were out having a drink and a meal. We stumbled across an art display and a blues band inside City Hall (while looking for a bathroom). We passed dozens of stalls and booths with everyone enticing us in to have a drink or a meal: "Sir! Sir! Sir! Drinks, sir!" We finally settled on a booth that had been designed to look like a pirate ship. How can you resist a pirate ship? It was far enough from the stage that we could still hear the music but weren't overwhelmed by it, and over another bottle of beer, we continued talking. I had a great time and probably could have talked for hours more except I nearly lost my voice. My throat is quite sore this morning.
There was some controversy in the dorm last night. Jess and I were informed that four people had arrived and would be in the dorm with us that night. Jess ended up in a bit of confrontation with these people because she didn't want to use the air conditioner. The air conditioner is right above her bed. So that bed becomes extremely cold. However the control is also right there. So she could turn it off if she wanted. She and I had actually talked about it the night before, and I already knew that she preferred to sleep when it is hot. She doesn't like cold. I'm the exact opposite. I will blast the air conditioner non-stop if I can. But I didn't worry about it. Figured I'd survive, and I also thought the other four people would overrule Jess at some point and turn on the air conditioner. Turns out that Jess is one tough cookie and she stood her ground. She might have been more accommodating, but these four people whoever they are – I never did even see them – were fairly rude and they came into the room well after midnight and turned on the lights and started banging things around and talking loudly. This annoyed Jess, and rightfully so, so she dug in her heels about the air conditioner and refused to turn it on. There was a big fight about this and they tried to get her to move to another bed, which she refused to do. I have vague memories of hearing loud voices and that sort of thing, but I had my earplugs in and my eyeshade on and didn't really pay attention.
These four people got up this morning to a lot of noise. They went in and out of the room dozens of times and banged the door shut each time. Door slammers always puzzle me. Do they go through their entire life slamming doors never realizing how annoying that is for other people? In this case, I wondered if they were doing it on purpose to get back at Jess.
The end result is that I'm not at my best today. I was also quite hot during the night, and I didn't sleep well because of it. The beer I'd had also affected my sleep, and my eyes are a bit red and sore this morning. The good news is that I didn't have even a whisper of a headache. In Taiwan, I was getting a bad headache after just one bottle of beer. I couldn't drink anything anymore. I had no idea what was going on, but I hoped it was related to stress and lifestyle. Here I am in the Philippines and I had a lot of beer last night and sailed through it just fine – no headache, no hangover, nothing.
Tags: bike, Legazpi, Lignon Hill, Philippines Bike Trip 2013