Home » All, Philippines, Philippines Bike Trip 2013, Super Typhoon Yolanda
Day 36 Super Typhoon Yolanda – Odd Encounters in Seawall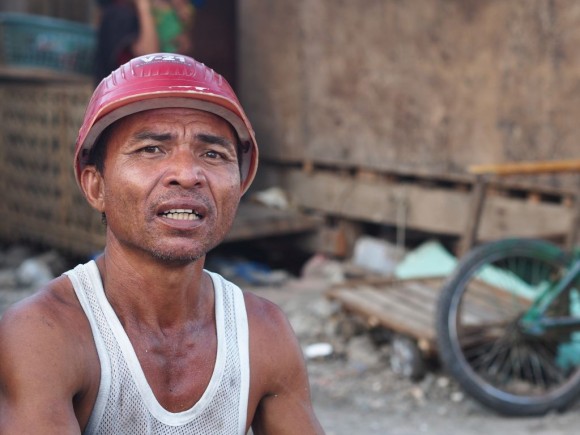 It's already the 13th of December, perilously close to Christmas. I was thinking that since it is so close, I might as well stay here in Tacloban for Christmas.  In a strange twist, the typhoon has meant that I now know more people in the city of Tacloban than in most places on the planet. I already have two invitations to spend Christmas with families. I'm certain Mark's family and Liv's family would make four.
I went to the navy ship again yesterday. That was more of a step backwards than anything else. The guys at the gangway shack said their commanders would have a meeting in three or four days, and they would then learn if they were going to Manila or to Cebu. I didn't even know that going to Manila was an option. So the navy ship is now even less of a possibility.On the positive side, I saw that the post office was trying to open. In fact, it was "open" in the sense that its doors were open and employees there there. Unfortunately, they could offer no services. I had the good luck to be talking to the guy who is in charge of the parcels division. He said that their tariff sheets were all washed away in the flood, and so he wouldn't even know what to charge me for a small parcel let alone be able to weigh the parcel and other things. He was a very nice man and I chatted with him for a while. He also lived in the San Jose area and his house had been washed away in the typhoon storm surge. He also lost his car. The positive side to that (the thing to be "glad about") was that he could now live in the empty garage with his family. I can't imagine how uncomfortable that would be. He also has a lot of trouble making the commute to work without his car. I asked him about savings, and he said that he had some savings in the bank. Other people I've spoken to had no money saved up and essentially had nothing once the typhoon had finished with them. Therefore, this idea of "loss of livelihood" is no joke when talking about disasters in the developing parts of the world. The livelihood goes from day to day and they need it every single day or they simply don't eat.
After I left the navy ship, I saw a large crowd of people gathered on the shore of the harbor. I asked around and got the very garbled story that three men had tried to steal a generator from Jollibee. They had been discovered and the police chased them. They dove into the water to try to get away and the police opened fire. Two of the men were killed and their bodies recovered. The third was also killed, I was told, but they hadn't been able to find his body. And people were looking for it. The whole story sounded like everything I hear in the Philippines: distorted, inaccurate, and exaggerated. It was a weird story partially because there were large numbers of children out paddling around in the water on makeshift rafts made from old refrigerators. And these were the ones apparently searching for the third body. If this story was true, wouldn't the Coast Guard or the Pulis be out there in their boats? What are children in refrigerators doing out there? Still, something had happened. A large crowd like that doesn't gather for no reason. And later on, while taking pictures at the fish market building, a man asked me to help him find his brother. It was also very confusing because the man said it would only take fifteen minutes and that his brother was the one who was shot in the water. I had no idea what he expected me to do – jump into the water and paddle around inside my own refrigerator? I never know what is going on.An hour or so later while leaving the Anibong area, I came across another crowd of people. Lots of people were encouraging me to take a picture, and the crowd parted to reveal a body covered in sheets and towels lying on the pavement. An older woman was crouched beside the body and crying silently, her eyes red and inflamed. A man told me that the person – the body – had been strangled. Was this a murder? Was it a man or a woman? The body had a woman's shape, but it seemed too large to be a woman. I walked away once more not having any idea what had happened.While on my photo walkabout, I learned that the first section of the neighborhood on the coast beyond the market was not considered part of Anibong. People said it was called Seawall. Anibong began probably on the other side of the bridge across the river.My goal was to take pictures of people, and I was reasonably successful in that. I was using the 45mm lens and that gave me a tight field of view. Therefore, I ended up with largely a series of portraits, and it wouldn't be clear from them that these people had anything to do with Typhoon Yolanda. Quite a few people know my name now, and I'm recognized everywhere I go. I had one interesting encounter with the man always wearing a red helmet – a kind of construction helmet. He proudly showed me his house and said it was made entirely of refrigerators. He had taken the metal sheets on the outside of refrigerators and hammered them flat and nailed them to the wooden frame of his house. The entire outer walls and roof consisted of these refrigerator parts. The door and window coverings were from a Coca Cola vending machine. The man said that he worked at a refrigerator plant, and so he knew all about refrigerators.
And that was about it for the day. I made my way back to the pension house as the sun was setting. I made spaghetti for dinner and then collapsed into bed and then into sleep. It was a long and somewhat uncomfortable night. Not because of mosquitoes this time but because it was so hot. For some strange reason, there is no air flow at all at night. During the day, a breeze picks up, but at night the hot air just hangs there and doesn't move. I sweat a lot and have to make frequent trips to the bathroom to dowse my body with cooling water. This constant moisture has made my sheets rather stinky again, and I have to wash them.
1:00 p.m.
I went for breakfast at a local carenderia, and then I stopped by Mark's place to charge up my camera batteries. Unfortunately, the generator business had been moved to a market somewhere. I left my batteries there with Mark's urging. He said that he would get them charged when the generator was brought back to the house.
Dulce was there lounging on the sofa and looking her usual self. I was told yesterday that she was leaving and that this new woman was replacing her as a maid. She was supposed to be leaving today, and I tried to say goodbye. However, as always, everything I thought I knew wasn't true at all. She wasn't going anywhere today. Mark said that his mother won't let her leave until she gets a replacement. I had understood the new maid was her replacement, but I guess not. Dulce wanted to go home – to Samar, though she is originally from Davao – and she would send a replacement from there. Mark's mother was worried that she would just not bother and would not send anyone and would not come back.
This puzzled me because I didn't see that it made any difference. Dulce wasn't a slave or a prisoner. Couldn't she just leave – quit her job and leave – if she wanted to? I tried to ask about that, but I got no answers that made any sense. Dulce didn't seem to mind anyway, and she relaxed on the sofa, busy texting away on her cell phone.  She greeted me cheerfully, and said goodbye with a big smile.
My plan was to ride my bike around and continue to test it. I thought I might even ride as far as Tanauan (finally). But first, I rode up to City Hall to see what was going on. Up there, I saw the Amazonian women who had been handing out stuffed animals and face masks at the Astrodome. I stopped to chat with them, and I ended up telling them some of my story of my experience of the typhoon. They said they had been here four days after the typhoon. I was surprised to hear that. While chatting with them, they told me that there was going to be a concert at City Hall at 3 p.m. I don't care that much about concerts, but it might be interesting to see the whole scene, and I made up my mind to stick around in Tacloban and go to the concert later.
I returned to the pension house and have been hanging out here ever since. The owners of the pension house were present physically and vocally. They got the generator running briefly and did some kind of test of the fire alarm system. I guess proving that the fire alarm works is a first step towards opening for business again.
Tags: City Hall, Coca Cola, fire, Philippines Bike Trip 2013, Super Typhoon Yolanda, Tacloban, typhoon