Home » All, Legazpi to Matnog, Philippines, Philippines Bike Trip 2013
Coast Road Paradise – Cycling from Sorsogon to Bulusan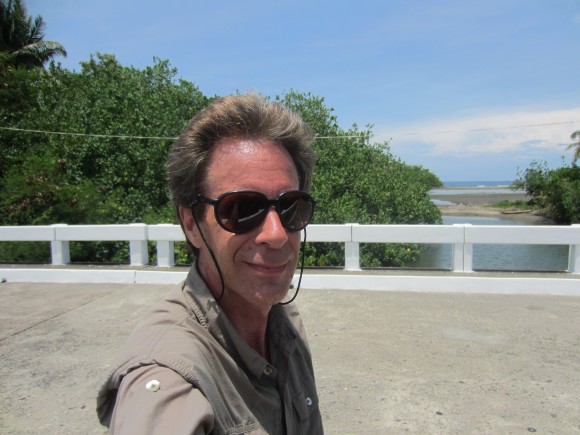 I'm very happy to report that my next day of cycling – tough as it was, and it was very tough – was far more pleasant than my first. It was different because I quickly managed to turn off the main highway and follow a coastal road. Following the coast road means covering a lot more distance and going up and down steep hills as opposed to staying on the main highway, but the difference is more than worth it.
I turned off the main highway and instantly breathed a huge sigh of relief. The monster trucks and demon buses nearly vanished and I was cycling down a relatively quite road through villages and rice fields. Even here, there were buses and trucks, but they passed infrequently, and I relaxed into the day. The road went to the coast at a bustling little place called Gubat. There were a few beach resorts near here, but I didn't stop to check them out. Then the road turned south passing along the coast – beautiful ocean on the left and green rice fields to the right stretching to low hills and palm trees and then climbing up and up to the Bulusan Volcano. It was an idyllic scene and I found the word "Wow" coming out of my mouth again and again as I was presented with the next beautiful pastoral scene.
For a long time, the terrain was completely flat and I cycled along easily just enjoying the scenery. A few Filipino cyclists were going in the other direction and I stopped to chat with them. They were weekend-warrior types with full Lycra gear and helmets. They asked me the usual questions and gave me the usual advice about how I should travel and what I should do. I guess they're being helpful, but it started to get to me and I began heading off their questions or just ignoring them and asking my own questions in turn. After a while, I started joking with them, and that worked out even better. Rather than try to answer the questions honestly or deal with their many objections about my trip – that it's too far, that I should have a companion, that it's too hot, that I have too much luggage, that I should wear a helmet, that I should get married – I made a joke. When they shook their heads at my many bags, I told them that I need all these bags for my money. This bag was filed with gold. That bag was filled with diamonds. And this big one at the back is filled with money. Most of the people I told this to actually believed me at first. Their eyes widened and they asked me to open the bags so they could see the gold and diamonds. I felt bad after that, and I started to wonder if this particular joke was a good idea. I did not want to encourage the idea that there was a cyclist out there with bags full of gold and diamonds and money. I'd end up with a gun pointed at my head one night.
When people shook their heads at me, saddened by my tragic lack of a companion, I stopped trying to defend myself. Instead, I turned the objection around and agreed with them. I suggested that they could be my companion. They have a bicycle, right? They could come with me. It would be great! Despite my excitement, no one took me up on this offer and I ended the day just as lacking in companions as I started it.
A third objection – that my destination was too far away – I dealt with by changing my destination. From my map and distance markers, I knew which town was the very next one up the road, and when people asked me where I was going, I would give them the name of that town. These places would be close enough that people did not respond with cries of "Too far! Impossible!" They simply nodded and stayed silent, though I did wonder what they thought I could possibly be doing in that town. I was pretty sure they just assumed I was visiting someone there.
There was a series of nice little towns along the coast. I stopped in a friendly place called Barcelona for lunch. It was only shortly after eleven o'clock, but I had come to realize that lunch time in the Philippines is a bit earlier than in the West. Eleven-thirty is a better time to look for lunch than twelve-thirty, and one-thirty just might be too late. I found a big market in full swing in Barcelona and at the very back, a nice little eatery with seating. They had no vegetable dishes of any kind, but it was the best I could come up with. I got a big order of rice plus two meat dishes – a chicken dish and then something that translated as "blood meat." This blood meat was a bit strong in the flavor department, but a cyclist generally finds nothing to be beyond the pale. We need food and we devour what is put in front of us.
An ongoing and embarrassing problem continues to be one of sweat. I don't know if it is just the heat or a combination of the heat and my "high tec" clothing, but I sweat like I have a sprinkler system installed in my skin. My clothing soaks through very fast and I quickly am as wet as if I'd just climbed out of a swimming pool. The sweating does not turn off once I stop cycling. It goes on and on and it even increases once I start to eat so that I sat there in this eatery with my clothes soaked through and water running off my face and limbs as if I was my own personal rain cloud. I felt silly sitting there in a puddle of my own creation while all the Filipinos around me were dry as can be. I keep thinking that this clothing I bought in Taiwan is causing half this problem. I think it is just too hot. It is supposed to "breathe", but I don't think it does. The only advantage to it is that it dries quickly. So I can rinse it out at night and hang it up and it will be dry in the morning. However, there is no big advantage to that if it is then soaked with sweat before I even finish loading my pannier bags on the bike.
My plan was to ride to a town called Bulusan and then continue down the coast to Santa Magdalena and then on to Matnog. Many people warned me that the coast road beyond Bulusan was unpaved and was extremely rough. After my experiences on Catanduanes, I could guess what that meant, and I had my doubts about my plan. But I figured it would be an adventure. The alternative took me to Irosin on the main road, and I did not want to face that traffic again.
Unfortunately for my plans, I was tripped up by the near total lack of road signs. I found I had missed the turn-off to the coast road and it was too late to turn back considering the massive amount of climbing I had done. By accident, I had ended up on the road going from Bulusan to Irosin at the national road, and this road went alongside the Bulusan Volcano, and this meant a lot of climbing. I went up and up and up. It was a hard climb and I looked at all my heavy bags with loathing. I was carrying even more weight than normal because I brought with me my Dromeday bag of filtered water. I had filled up all my water bottles, but I didn't want to waste all that extra water, and I packed my Dromedary bag inside a pannier bag. Water is about the heaviest thing you can carry, and I had a lot of it.
Things started to look pretty grim after a while. I didn't think I had much left in the gas tank to continue the climb and I had no idea what lay ahead of me once I got to the main road to Matnog. Then the cycling gods smiled on me and I found myself at a turn-off to Bulusan Volcano Natural Park. A sign said it was 1.7 kilometers to this park, and people at the intersection told me that it was possible to camp at this park. Local informants are never reliable, but I thought it was worth the risk to cycle that 1.7 kilometers. If it was possible to camp there, I would definitely stay the night. I had my tent and camping gear with me. Might as well use it. Unfortunately, I am a bit of an idiot and I had forgotten to check the fridge when I left from Legazpi. So I had left without packing up any food. I'd even left behind a beautiful small stuff sack with my coffee and creamer inside it. I kicked myself endlessly for the stupid loss of that stuff sack. It's the kind of lightweight bag that you can't easily replace. By the time I realized I'd left it behind, it was far too late to go back for it.
There were two sari-sari stores at the intersection, and I tried to buy some food from them, but they had nothing at all. To my irritation, they seemed quite proud of this fact. I asked after noodles and things like that, but they said they had "nothing". And they smiled and laughed as if this was the greatest thing ever. For a cyclist without any packed food and hoping to camp nearby for the night, the fact that they ran a store that stocked "nothing" was not the greatest thing ever. It was annoying at the very least. I decided that I could just ride the 1.7 kilometers to this park and then see what was there. If I decided to camp there, I coudl then leave my gear behind and go back to the main road and keep cycling till I found a store with some food.
The road to the park was extremely steep and I quickly found I couldn't ride anymore. I got off the bike, and, absolutely drenched with sweat (it was dripping off the tail of my shirt like a leaky faucet and leaving a trail behind me on the road), I pushed my bike along the road to the park. Things didn't look good at first. The park seemed to be a day park – a place where you pay twenty pesos entrance fee so that you can look at the lake and maybe take out a paddle boat. I really didn't want to be rejected, but I got up the courage to ask them about the possibility of camping. I assumed they would say no, but to my surprise and delight, they said that they had a camping area and a canteen where I could buy noodles and that sort of thing.
Tags: bike, Bulusan Volcano, eatery, Legazpi to Matnog, pannier bags, Philippines Bike Trip 2013