Home » All, Malaysia
Chap Goh Mei! Firecrackers, Temple Offerings, Lion Dances – Celebrating the End of CNY in Malaysia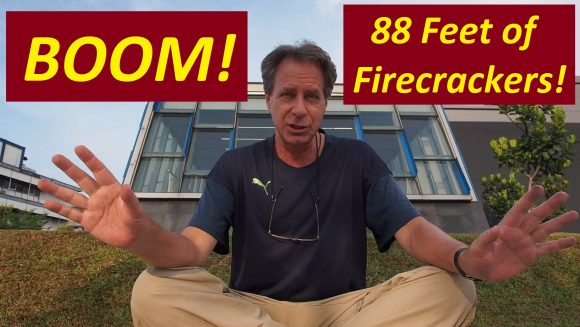 Chinese New Year is a long and elaborate holiday. In fact, it lasts for 15 days, and the final day has lots of names. It's known as Chap Goh Mei. It's also the Lantern Festival. AND it's Chinese Valentine's Day. There are super-loud firecrackers, exciting lion dances, extensive temple offerings and rituals, PLUS Mandarin Oranges to find your one true love. What is a traveler to do on such an important day in Kuala Lumpur, Malaysia?
Me, I did what I always do. I made some vague plans, went for a walk, and hoped to have small adventures along the way. And it worked out very well. My first stop was the 130-year-old Guandi Temple, dedicated to the God of War. From there, I roamed Chinatown and stumbled across quite an astonishing lion dance topped off with 88-foot strings of fireworks (2 of them!). That's 176 feet of the loudest fireworks you can imagine. My morning ended there, as does this video.
In the afternoon, I went to the Suria KLCC mall to take in the Petronas Towers (the tallest twin towers in the world and once the tallest buildings in the world) and another lion dance. My time at KLCC and the Petronas Twin Towers is in the next video. There was one Chinese New Year Chap Goh Mei tradition I did not experience – the search for one's true love with Mandarin oranges. But that leaves this tourist with something to do next year.