Home » All, Legazpi, Philippines, Philippines Bike Trip 2013
Changing Money, Getting Water, and Finding the Post Office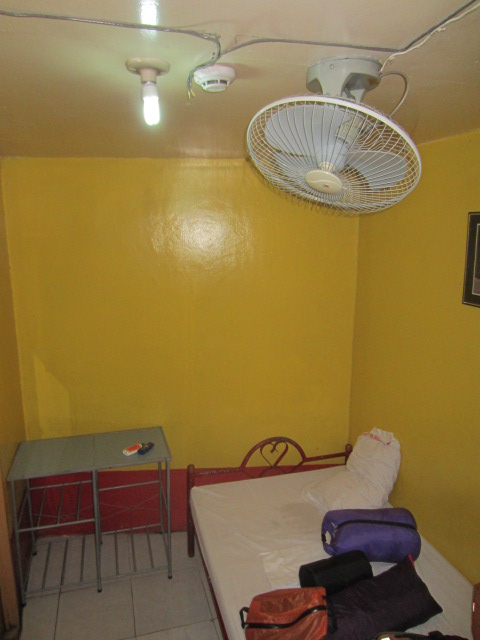 Tuesday April 9, 2013
7:00 a.m. Legazpi, Philippines
It's funny how the little things affect one's life. I'm thinking in terms of living and traveling in a relatively poor country. For example, I'm inside this little canteen in Legazpi and having a cup of coffee. A pleasant experience. However, the table is plastic and the chairs are plastic. They all wobble and aren't very secure. The table is also poorly designed so that you can't get your knees and legs under it. I end up pushed far away from the table and having to lean over. I get tired from sitting that way. Just the little things. And every place I've been in Legazpi has the same kind of uncomfortable plastic furniture and crowded conditions. It adds up during the course of the day and leads to exhaustion – at least on my part.
I spent a large part of Sunday going over my luggage and trying to impose some sort of logic on it. I'm hoping to make my luggage load lighter, but I also don't want to swing too far in the other direction. I left Taiwan with the idea of bringing everything that might be useful. Now I want to travel lighter, but I also don't want to go crazy and send away stuff that I might end up wanting later on.
Anyway, I was much more severe this time and with the effect of this heat and the crowding I saw how much nicer it would be to have a lighter load. I spent a long time doing that. Then when I woke up on Monday morning, I continued the process. I was helped along by the knowledge that I have to move to a new hotel. I could feel the hostel staff out there wishing I would leave so that they could get into my room and clean it. But checkout time wasn't until 11 in the morning, and I wanted to make full use of that time.
By the time I was done, I had an immense amount of stuff set aside to be shipped back to Canada – a ridiculous amount of stuff. I'm known for traveling heavy, but this was ridiculous even for me. Luckily for me, some previous tenants at the hostel had all purchased hiking boots for an attempt at climbing the volcano. They had left behind two large shoeboxes behind, and I had squirreled those away the moment I arrived in that room. I'm rather passionate about boxes and containers. I can never resist stockpiling them…
I put all the items I felt were unnecessary into those boxes and then I put all the extra clothes I had into a bag. I also had removed a pot and a kettle from my cookset. I have the full Trangia set, which includes two cooking pots and one kettle. I am very fond of the kettle and the Trangia in general, but in my short time in the Philippines I've started to wonder if cooking over my stove at all might be just a fantasy. When there is inexpensive and good food on every block in a little neighborhood canteen, I know that I would never cook. I literally haven't cooked in years and years – not even in Taiwan, where I didn't have a kitchen – so how would I find myself cooking on the road in this heat? Unlikely. And the times when I have used my cookset, I found having the kettle wonderful. I could boil water for coffee while cooking something else in a pot. But that was always in situations of cool weather and leisure. So far in the Philippines, I am in full survival mode, and I don't see much chance of my luxuriating over a stove and enjoying a cup of coffee. And if that does happen, well, I can always cook out of just one pot. That's the idea anyway.
I took my two shoeboxes, the bag of clothes, and the pots and put them all into a large duffle bag that I have with me. When I picked it up, I found that it was nearly as heavy as a full backpack would have been. So somehow I had ended up with a complete backpack of extra weight. Pretty silly, but par for the course for me. The biggest struggle and yet the easiest was when I was faced with my camera lenses. I love all the lenses I brought with me, but at the moment I barely have the energy and time and inclincation to use even one lens. As I said, I'm still in survival mode. So if I can hardly use one lens, why have six? If I could go back in time, I would certainly have planned and prepared for this trip very differently. But that goes without saying.
I was much happier with my set of luggage once I had weeded out all the extra gear. It didn't seem so unreasonably heavy anymore nor so bulky. There was some extra room inside some of the bags and nothing was packed very tightly. I hadn't even packed that carefully, and there was still extra space. I even managed to put my pair of shoes inside one of the pannier bags. The big bulky items that remain are my tent and sleeping bag.
Of course, my packing labors are far from over. A big problem – and another mistake I made – is my clothing. I bought this high-tech clothing – shirts and pants, and they are simply not comfortable at all. And I get very hot in it. I'll have to eventually switch over to cotton shorts and cotton shirts. This stuff is awful. Even sitting down and typing like this, I start sweating. And the material is so thin that it soaks through with sweat instantly. Sure, it dries fast, but it also gets wet really fast and I end up looking like a wet cat within seconds of getting dressed. It's kind of ridiculous. Of course, I had mountains of good cotton shorts in Taiwan and mountains of cotton T-shirts – none of which I brought with me.
My plan was to store my extra gear at the hostel and deal with it later. I figure I'll go on a short bike ride and see how things go. Then I'll return to Legazpi and make a final decision on what to keep and what to send away. Unfortunately, I don't have the option of just dumping this stuff. It's far too valuable for that, and I'll have to ship it somewhere for storage – probably to my brother's home in Canada. He has been kind enough to give me storage space in the crawl space under his house.
I set off on my bicycle at about 11:30 to find a new place to stay. I asked Aljon for some help, but he didn't have much to offer. This is part of an odd pattern I've noticed on most of my travels. It's almost a cliché in travel books and that sort of thing that you can get good information from local people. However, I find that not to be true at all. If you want to find out something about a country you are in, the local people are notoriously poor informants. In fact, foreigners are often much more likely to have the information you need. I've already approached lots of local people in Legazpi asking for information about many things, and I pretty much never got a useful reply. Aljon's lack of knowledge about other hotels being a case in point. Despite actually working full time in a hotel that caters to foreigners, he knew nothing about other hotels in Legazpi. The best he could come up with is a place called Angelina, which he said was just down the street. I tracked down the Angelina and found it wasn't suitable. It was a real hotel with rooms from 2,000 to 3,000 pesos. In any event, they were fully booked. The manager said that there was a conference of doctors coming to town. Perhaps that is why the Mayon Backpackers Hostel is full, too.
I had passed lots of hotels on my travels around Legazpi, and I figured I might as well start with the nearest and simplest option. This was the JY Tourist Inn & Dormitory. JY seems to be a bit of a thing in Legazpi. They have at least two large stores plus this hotel. I had checked out JY on a previous day, and at least their prices were right. They had a couple of fan-only rooms for 250 pesos.
JY is an interesting place. They seem to own this one huge building and they have their store and the hotel in it. The front desk of the hotel is rather inaccessible to a person on a bicycle, and I had to roll my bicycle down a narrow hallway past the entrance to the store to get there. A very pretty and very friendly woman was at the desk, and she showed me a fan-only room. I assumed that at that price it would not have a bathroom, but it did have its own bathroom. There was nothing particularly good about the room except for the price. There were no windows at all. It was quite small. The bathroom was pretty beat up. Of course there was no toilet seat on the toilet. The toilet didn't flush. You had to use a bucket to flush it. And though I wouldn't call the room dirty, I wouldn't call it clean either. It was, in fact, a fairly typical room for this part of the world at that price. When you pay $6, you don't expect to get very much in the Philippines.
On the positive side, it had a powerful rotating ceiling fan, a big bed with a clean sheet, and lots of water pressure in the bathroom. In a way, I felt rather at home. I've spent a lot of nights in rooms just like that, and I felt comfortable there. There was even a TV in the room – a very old one with a terrible picture. A crazy thing though was that the TV was broken in such a way that it would automatically run through its programming feature every time you turned it on. So before you could watch anything on TV, you had to sit through five minutes of it searching the cable airwaves and locating all the available channels. If you turn the TV off, it has to do the programming all over again.
The JY was clearly a step down from the Mayon Backpackers Hostel. However, the JY was run more professionally. The women were friendly for one thing. And they were helpful. And they had a system in place for registering a guest. I was asked to fill out a small form and then pay in advance. They completed the form and then issued me a receipt. It just felt natural and normal and somewhat professional.
Once I had the room, I went back to the Backpackers and loaded up my bike with the rest of my luggage. It was so much easier to ride now that I'd lightened the load. I felt much better about it. It was still a full touring load, however, and I could feel the weight. Plus getting all the bags up to my new room at JY wasn't easy. It's been a long time since I had to do that – unhooking all the bags and then carrying them up to a hotel room. The woman at the front desk told me that I could carry my bike up to the second floor for security. That was good news. I was worried about that. In fact, I ended up just bringing the bike right inside the room. It's a tight fit, but it does fit and I like having the bike right there.
Once I was settled in the room, I had a couple of other errands to run. For one thing, I needed to find the post office and see what was involved in shipping a box to somewhere. It took some wandering around downtown to find the post office. I missed it the first few times. No idea how. I laughed when I finally did see it, because it was huge. I was pleased when I saw the post office. It was big and airy and open and there was almost no one inside. I was expecting chaos, but it was quiet and pleasant. The woman at the counter spoke good English and I got all the information I needed. The bad news is that it is more expensive than I expected to ship things to Canada – even by surface mail. The first kilogram costs 1,244 pesos ($30) and each additional kilogram costs 512 pesos ($12). So a 10-kg box could cost as much as $150 to ship to Canada. It's odd that the shipping charges in Taiwan are so much more reasonable. I shipped 16-kilogram boxes from Taiwan and it cost only $40. I also asked about shipping to Taiwan, and since Taiwan is so much closer, it's cheaper, but still not cheap. A 10-kig box to Taiwan would cost about $50. After getting these prices, it occurred to me that it would almost be cheaper to book a flight and bring the stuff as luggage!
The more difficult errand was changing money. I know that everyone uses ATMs these days, and I am all set up to do that. However, I did bring some US cash, and I wanted to change that first. Unfortunately, that turned out to be nearly impossible. I went into six different banks, and I was told at each bank that they cannot accept US dollars and they don't exchange money. In fact, they don't offer any banking services at all unless you have an account with them. I felt this was a bit weird. One thing I noticed upon riding around Legazpi is the large number of banks. There are more banks here than there are 7-11s in Taipei, and that's saying something. Yet, with all those banks and the huge amount of advertising for tourism, they simply will not change money – not even crisp new 100-dollar bills. The days when cash was king are gone.
I persevered, though, and a VP at one bank told me that there was a money changer at the Pacific Mall. Getting to talk to the VP was an interesting experience. Actually, just going to a bank is an interesting experience. For one thing, you have to deal with the presence of armed guards. That's normal for the Philippines of course, but it does take some getting used to. At one bank, there were six guards at the door, and their weaponry ranged from vicious-looking and shiny pump-action shotguns to handheld machine guns – Uzis or something like that. Those weapons were in addition to their handguns and other things on their belts. Every bank also had signs on the door instructing customers to please comply with their security arrangements and leave any and all firearms at the door. It really strikes home when you see a sign that simply assumes that people are showing up with their own weapons and have to be reminded to leave them outside the bank. I try to imagine someone in Canada actually going to a bank with a gun in their knapsack. It's a different world.
The reaction of the guards to me was somewhat complicated. On the one hand, they treated me well because I am a foreigner. But I also have this giant and weird pannier bag that I bring with me everywhere. This bag always causes problems because it has so many pockets and compartments. The guards want to look inside it, but just looking inside the main compartment doesn't tell you very much. To truly search it would take quite a while! Most guards kind of gave up. They don't put their hands inside bags. They all have these small wooden sticks and they use that to poke and prod inside the bags of customers. Not sure if the sticks can also be used to whack people over the head. Don't think so. They're too light, I think.
Once I got inside the banks, I was taken aback by how crowded they were. It could have been because it was lunchtime and lots of tellers had closed for lunch. Or maybe it was just normal for so many people to be waiting. I pictured myself spending hours just to get to the front of the line, but that never happened. I put a puzzled expression on my face and in every bank, a guard came up to talk to me. I explained what I wanted – to change money – and they would tell me to go to an office or to a desk where a manager or even a VP was sitting. They treated me like an important customer – getting out a chair and making room for me and all that. Perhaps they thought that despite my bedraggled state – shorts and sandals and wet shirt – I was a big-time industrialist and investor. I presented my request – to change my crisp US cash into pesos – and I was told each time that it was impossible. I got a bit annoyed by the sixth bank, and I tried to take the bank employees to task a little bit. Legazpi is a big tourist center. They have 9 planes a day landing for people to explore the area and have a holiday. Foreigners come from all over the world to swim with whale sharks at Donsol. So it strikes me as illogical that it is then impossible to change money. Isn't the whole point of tourism to bring money into the country? Well, I had money burning a hole in my pannier bag, and no one wanted it. Of course, this really doesn't matter. Everyone uses ATMs now. I just haven't adapted yet.
I was pretty tired of chasing down banks by this point, but I thought since I had come this far, I might as well try to find a money changer at the mall. I rode back downtown and made my way to the Pacific Mall. I had no choice here but to lock up my bike in a public area. Each time I do that, I feel like I'm seeing my bike for the last time.
The Pacific Mall was much like the LCC Mall – very big and well stocked and also very crowded. It was noisy and gaudy and kind of crazy inside – not what I'd call a relaxing shopping atmosphere. I really missed the food courts at the malls in Taiwan. The food court at the Pacific Mall offered nothing but fast food junk – pizza and hamburgers and fried chicken.
It took me a while to find the money changer, but I found it up on the second or third floor. It was a big and bright and clean office with an armed guard at the door. I don't know how the exchange rate compared to the real one, but I imagine it would still work out since by changing cash, I don't have to pay any ATM fees or service charges.
The process was relatively painless. I had to fill out two forms with all of my personal details. I signed the form, and the woman informed me that I had to sign it two more times. They needed at least three signatures – one on top of the other – to make sure that I was legit. They also needed a copy of my passport and they had to enter the serial number of every bill into the computer to check if it was flagged as counterfeit or some such thing. Luckily there was a chair I could sit on and I could do all of this in comfort. My only request of them was that I get small bills. I didn't want 1,000-peso notes, as they are hard to change. But they wouldn't do it. I find that is always the way. Companies in general can pile all kinds of requirements and demands on their customers, and we have no choice but to comply. But requests from customers are generally ignored. We individuals are a powerless bunch in this world.
Changing that money had a strong affect on me psychologically. It goes almost without saying that this little bike trip of mine is an odd beast. I'm here with a touring bicycle and I don't really know why I'm here or even if I really want to go traveling like this. It feels almost like this bike touring thing is something from my past. Of course, it is too early to say for sure. I haven't even done any bike touring yet. I haven't even left from Legazpi. However, changing the money made me realize that whatever happens, this trip is going to cost me money. And I might as well get something of value for my money. In the last couple of years in Taiwan, I started to value money in a way that I never had before. It's valuable stuff, and I don't want to waste it. It's one thing to sit in comfort with a good job in a nice apartment and calculate how much you can spend over X number of months. But handing over my $500 and getting my 20,500 pesos in return was hard to do. $500 is a lot of money. I don't want to waste it. Perhaps I can add to my many mistakes on this trip just coming to the Philippines to begin with. The Philippines is not a new place for me, and I now think of it as a place to go for great and relaxing holidays on the beach – snorkeling and island-hopping. Bike touring might not give a lot of return for money for me. I might have been better off going to someplace new – anyplace new. Still, it might be okay. The idea in coming here was that it would be somewhat easier because I am familiar with it and everyone speaks English. And this has proven to be true. It has been great to be able to do all these things in English – like getting information from the post office. And it is relatively modern here in that there are Internet cafes and – surprisingly – really good bike shops. And getting food is really easy when everyone speaks English. So it has been a soft landing from that point of view.
In this vein, I should mention another small adventure I had yesterday. I was quite spoiled at the Backpackers hostel in that there was filtered water available all the time, and I just filled up my water bottles whenever I needed to. After I'd moved to JY, I wasn't sure about how to get water. I have a water filter, but I wasn't sure that even filtering water from the tap would make it safe to drink. I was nervous about that because no one here drinks tap or well water anymore. This water-filtering thing is big business now and everyone gets purified water delivered in big containers.
After I had settled into my room at JY, I grabbed my 10-liter water bag and went out to see if I could find a place to fill it with water. I started at the front desk of JY. The poor woman there wanted to help me, but she really had no idea how to process what was going on. She had never seen anything like my water bag. She seemed delighted with it but also very puzzled. She was so focused on the bag that she never really got around to thinking about how I could fill that bag with filtered water. My idea was that I could just go to one of the water purification places and have them fill it for me. I hadn't seen anyone else bringing their own containers to these places. They generally deliver the standard big blue canteens or round water bottles. But it seemed like it could be possible. However, the woman at JY had no information to offer me. This is another example of how local informants often come up short. The problem is that they live here permanently. They live differently from how a traveler lives. She would know how to get water delivered in big jugs to an apartment or house. But beyond that, she was no help.
I went out onto the street with my water bag, and I ended up actually talking to a bunch of nurses. I mentioned that there are lots of banks in Legazpi. Second to banks in number are hospitals and health clinics. They seem to be everywhere. I've noticed that there are a large number of diabetes clinics and even dialysis clinics. These services are being advertised everywhere just like any other product for sale.
A large hospital and training center is right across the road from JY, and it was outside this hospital that I ran into three men in white hospital uniforms. I approached them and asked them what they thought about the water supply at the town pumps. I was wondering if that water could be filtered and made safe to drink. These three men reacted with horror at the idea. They said that water was very bad and I shouldn't drink it. I don't know if they were right or not. I see lots of people pumping water at these wells, and I'm sure some of them drink it if not most of them. And if I filtered it, perhaps it would be okay.
These men argued against it. They said that I should get water from one of the refilling stations – the water purification companies. Unfortunately, they couldn't tell me how to do that. They, just like the woman at JY, just had water delivered to their homes. They had no idea if I could just show up and have my own container filled up. I was still on my own.
I went walking down the street and eventually I came to one of these water refilling stations. A man lounging out front actually shouted out "Hey, Joe!" when he saw me, and I popped over to have a chat. At first, I didn't think I would be successful. They were producing hundreds and thousands of gallons of purified water per day, but the only containers I saw were the regulation containers that everyone used. There were no lineups of people carrying their own containers.
I showed them my bag and asked them if they could fill it for me. There was some confusion and some discussion, but in the end they decided that they could do it. I told them that the bag held 10 liters of water and they told me it would cost 20 pesos (fifty cents US). I was very impressed with the operation once they set about doing it. The man didn't just fill the bag. He brought it over to a big sink and he cleaned it thoroughly both inside and out. And then he brought it over to the filling station and quickly filled it. I gave him my 20 pesos and I was off down the street carrying my big bag of water – much to the amusement of everyone around me. If these refilling stations are present all around the Philippines, then getting clean water should rarely be a problem. I assume also that water from village wells – once run through my filter – would be safe to drink. Or at least sort of safe.
And that about brings me to the end of the day's adventures. I was quite tired and exhausted from the heat and the noise of the jeepneys after all my running around, and I didn't even have the energy to go out for dinner. I grabbed a semi-cold can of beer from the JY store and brought that up to my room. Once the door closed, I never left it. I lay there listening to podcasts and watching the fan turn round and round.
The idea was to ride my bike up the coast today on an experimental run to Tabaco and then take a ferry to Catanduanes. I may not end up doing that. I feel more in the mood to hang out and explore Legazpi. Or more to the point, I already feel too overwhelmed by the sun and heat to step outside let alone ride my bike.
Perhaps I can just make a day trip of it to Tabaco and scout things out. I checked online yesterday, and the information there was that the ferries leave early in the morning. So even I went there by bike today, I wouldn't be able to take the ferry. I'd have to spend the night and then take the ferry in the morning. That might be okay. I've had breakfast and coffee and I've been writing for a while, and it is only 9:30 in the morning. I like the idea of being on the road first thing in the morning, and I've missed that window, but there is still enough time to make the trip to Tobaco – with the assumption that there will be a place to stay when I get there. The idea of staying in my tent still seems completely overwhelming. Too hot for that. And too complicated.
I also have to make some kind of decision about what is going to happen after the Philippines. One idea was to ride my bike to Zamboanga on Mindanao and then take a ferry from there to Malaysian Borneo and then another ferry to Indonesian Borneo and then on to Sulawesi. Not sure how I feel about that plan right now. It seems like it could be expensive and difficult. That's a mental problem I have right now. I'm finding that now that I'm on the road, I'm really reluctant to spend the money to stay on the road. Perhaps I'd have been better off just going to another country and looking for a job right away. Of course, I've invested a fair amount of money just getting ready for this bike trip. It would be a shame not to do some cycling after all that.
Not surprisingly – or very surprisingly – I find myself somewhat lonely. I guess I got used to the easy social life I had in Taiwan. I miss that now.
Tags: bike, bike touring, JY, Legazpi, Philippines Bike Trip 2013, Taiwan