Home » All, JOURNAL: Blog Blog, Malaysia, Myanmar
JOURNAL: Best Mode of Transportation In Myanmar?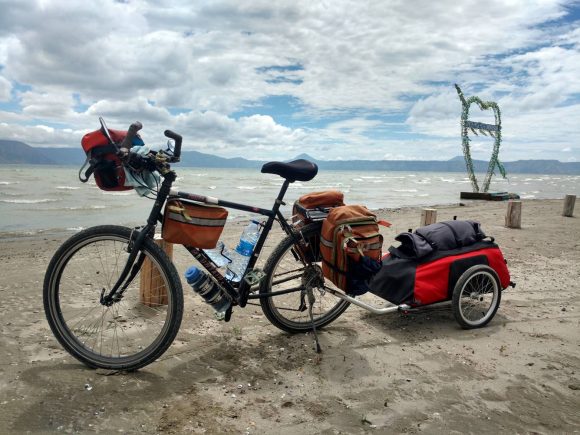 Saturday July 27, 2019
7:15 a.m. Room 2, Grocer's Inn
Kuala Lumpur, Malaysia
This is my last day and night at the Grocer's Inn. I'm finally moving back to my regular hostel to be reunited with my bicycle and all my gear. That signals the end of my arrival in Kuala Lumpur and the beginning of getting serious about returning to Myanmar.
I wrote a lot yesterday about the importance of planning this trip and seeing more of Myanmar's famous places. One thing that became clear, however, is how important transportation suddenly becomes. I kept transportation at a super-minimum on my first trip because I spent so much time in Yangon. Basically, I walked in Yangon and that's it. Then I took one train to get me from Yangon to Bagan and then one boat to get me from Bagan to Mandalay. In Bagan, I rented e-bikes. Other than a taxi or a tuktuk to get to my hotel here and there, that's it. But as soon as I start making a long list of places I want to see, the question of how I'm going to get to these places becomes important. When it comes to traveling from city to city, I hope to take as many trains and boats as possible. That shouldn't be a big problem. The real problem is when I am in those cities and want to explore the local area. In my normal life, I deal with that pretty simply – I ride a bike. But at the moment, I have no plans to bring my bike to Myanmar. And I don't like tuktuks and taxis. I despise the hassling over price.
Given all of that, what is my alternative? I could rent a bicycle in some cities, but they are usually old and small and difficult to ride, and they break down all the time. I recently saw a travel video from two guys in Myanmar, and they talked about all the times their rental bicycles broke down as they rode around. I would find that supremely annoying when I've got one of the great bicycles of all time in storage in Kuala Lumpur. I could take local transportation in the form of buses. But I don't think there is very much useful local transportation in places like Mandalay, for example. I don't remember even seeing a bus. And those could only get you to places inside city limits and it would take forever. I would miss the chance to simply go exploring everywhere I want and outside the city limits. In some places, such as Pha An, I think it is common for foreigners to rent motorized scooters, but that's probably pretty rare elsewhere.
I think it must be obvious by this point where this train of thought is going: Should I bring my bicycle to Myanmar? It's an interesting question. I rejected traveling from city to city by bicycle before simply because of the restrictions on where foreigners can stay at night. I did a bit of research on this, and many of the restrictions are being lifted, but a lot remain in place, and it's confusing. And I think even when a restriction has been officially lifted, this decree may not have filtered down to the local police, so you'd still get in trouble and be forced to move on. Plus, I felt the short 28-day visa would make bike touring difficult. However, there is still the option of simply bringing a bicycle for transportation inside the cities. That would solve so many problems.
Just think of a city like Mandalay. With my own bicycle, I could go anywhere I wanted, and visiting the old capital cities would be so much easier. And I could go exploring on my own much farther afield. The same thing for Yangon. The problems would arise when it comes to going long distances between cities. Then the bicycle becomes luggage and must be carried. Thinking back to my one train trip and boat trip in Mandalay, it might be possible. I think it would have been possible to bring the bicycle onto the boat. And there was definitely enough room on the train, but I don't know what the rules are. It's an interesting idea, though.
By the time the dust settles on this idea, I'll probably end up rejecting it. There are simply too many unknowns and associated expenses. And there is the question of getting the bicycle to Myanmar on the plane to begin with. I would have to do the usual thing of taking the bike apart and boxing it up and paying all the extra fees. Then I'd have to reassemble it at the airport in Yangon and somehow figure out a way to do it all over again when I fly back to Kuala Lumpur. By the time I finished with all that, I think I would be pulling out my hair and regretting my decision. A nice folding bike would be cool. Were I a rich man, I'd simply pick up a folding bike and take it with me. I'll have to give this some thought, but I think I'll eventually decide that bringing a bike to Myanmar is a fun idea best left as just an idea.
As I write about the costs of bringing my touring bike to Myanmar, it occurs to me that once I add up all those costs, it might equal the price of just buying a local bike in the country. That might be an interesting option. I could buy a bike in Yangon and just bring it with me everywhere I go and then leave it behind when I'm done.
Sunday, July 28, 2019
3:45 a.m. Room 2, Grocer's Inn
Kuala Lumpur, Malaysia
It's even earlier than normal this morning. My eyes popped open at 3 a.m., and even though I knew I hadn't gotten enough sleep, I found it impossible to drift back into slumber. I just lay there for so long that it started to feel silly. I figured that if I was awake and my mind was racing, I might as well be fully awake, having a cup of coffee, and typing on my computer. So here I am.
I'm moving to a new guest house today, but that won't be until checkout time at noon. I figure I might as well take advantage of the air conditioning in this room and stay as long as possible. My new room is cheaper, but that is largely because it does not have air conditioning. To be honest, I don't mind that. Sometimes I sleep poorly because of air conditioning. I find it difficult to dial it in to the right temperature and I'm constantly adjusting it. And a hot room with a fan can actually lead to better sleep patterns for me.
I don't have much to write about today because I didn't do much yesterday or the day before that didn't involve just sitting on the computer. I worked all day on videos and other things related to videos. A big project was to take all of my recent videos and put links to them on my blog. As with everything to do with computers, it took a lot longer to do that than you'd think. With all the steps involved, simply creating a blog entry for one video takes about fifteen minutes. So I could do about four videos per hour. And I had a backlog of nearly forty videos that I hadn't bothered to link to my blog. So that one simple task took about ten hours to accomplish. That's crazy.
I also did a little bit of research into some new gear that I have my eye on. The biggest item at the moment is a wireless microphone from Rode. A few months ago, Rode released a brand new wireless microphone rig that is far smaller than anything else on the market. Plus, they priced it reasonably at around $200 US. That's a lot of money for a microphone, but it is cheap compared to the other wireless microphones on the market. Normally, a wireless microphone would make no sense for simple vlogging. They're simply too big and cumbersome. But the new Rode Wireless Go is small enough to be a viable alternative. I've been relatively happy with my lavalier microphone, but it has caused some problems. In a way, the $200 Rode Wireless Go can be seen as a smart purchase because it might end up saving me the cost of a brand new camera. The reason for that is that despite being very careful, I'd still sometimes forget that I had a lavalier microphone wire attached to the GoPro. So I'd put the GoPro down somewhere – on a chair or on a table – and then I'd walk away. But the wire would pull the GoPro and nearly send it crashing to the floor. The wire also threatened to get caught in so many things. I had a few close calls, and I can see the lavalier microphone eventually destroying the GoPro. So the wireless system might end up saving money in the long run.
And, of course, a wireless system has all kinds of potential advantages. I call them potential advantages because I'm not sure I would ever actually take advantage of them. But with a wireless mic, I wouldn't be tethered to the camera. I could put it down and walk away from it – even hundreds of feet away – and keep recording both video and sound. If I were sitting at a table with someone, I could put the GoPro down on the table on a tripod across the table from both of us and keep recording with the two of us in frame. I could hand the camera to someone else and have them aim it at me while I keep talking. I couldn't do any of that with a lavalier microphone. I could walk into a big room – like at a museum – and mount my camera somewhere and then walk away from it and just keep recording while having the entire room in the frame. I could do all kinds of things.
Anyway, to be honest, I've already made up my mind. I'm 99% sure I'm going to buy a set. In fact, I almost bought a set while I was in Yangon. To my amazement, I found one in a camera store there. I hesitated, though, because any purchase in Yangon did not come with a guarantee. Plus, the first shipment of the Rode Wireless Go had a problem with the wind screen. They did not attach to the microphone firmly enough and would fall off easily. Rode fixed this problem in the later shipments, and I couldn't tell if the version in Yangon was the new one or the old with the wind screen problem.
I would also like to buy some kind of mounting system for the GoPro that will allow me to mount it on the handlebars of a bicycle or a scooter. I don't know what kind of mount will work best for that, so I have to do some research and figure out what my options are. And while I am in Kuala Lumpur, I would also like to pick up one of the Ulanzi V2 cases for the GoPro. This case is specially designed as a convenient way to use the GoPro with the big, bulky audio adapter. It has a compartment at the bottom that the audio adapter slides into. From what I can tell, it isn't perfect. It seems to me that there isn't quite enough room for the cable to naturally plug into the GoPro. It seems to be such a tight fit that the cable has to bend and it will put pressure on the USB connection. But it is a better method than simply letting the adapter hang down and dangle, which is what I have to do. Astonishingly, this Ulanzi V2 case also has a cold shoe mount on the top, and that would be ideal for the Rode Wireless Go. Since I will be in Kuala Lumpur for a while, I can order one of these cases online and have it shipped to me. As with many of the things I often want to buy, you can't find these Ulanzi products in stores. They are almost exclusively available online.
I just did a bit more research on this Ulanzi V2 cage, and it appears that it has gotten even better. I'm astonished. The newest version actually has a tripod mount on the bottom instead of the standard GoPro mount. And that is awesome. Unfortunately, this newest version is only available from overseas, and it takes a lot longer to have it shipped to Malaysia. That always seems to happen to me. Everything I want to buy is usually very difficult to buy.
Another interesting twist is that when I look into all these products that I want to buy, I turn first to YouTube videos. I find that seeing the product and seeing someone physically handle it helps a lot in understanding whether the product is any good and exactly how it functions. But YouTube videos – especially product reviews – can be supremely frustrating. In a way, watching these videos is good training for someone like me that wants to make their own videos. It helps drive home lessons in all the things NOT to do. They do so many dumb things. I think when you make your own videos, you don't see the problems. The videos seem fine. But when you watch another person's, you see the mistakes and the poor choices, and then you realize you are doing the same thing, and you can correct them. I guess this is normal human nature, right? It's easier to see faults in other people rather than in yourself.
I appear to have a lot of shopping to do while I am in Kuala Lumpur. And that is normal for me. KL has become a shopping epicenter for me. It seems like that is 90% of what I do here. On my shopping list, I already have the super-expensive Rode Wireless Go. And then I added the Ulanzi V2 Pro. I also need new sandals. Mine are falling apart. I need a GoPro mount for bicycle handlebars. I could also use a backpack for my return trip to Myanmar (assuming I don't bring my bicycle). My duffel bag was a bit of a hassle, to be honest. A backpack would be better, especially since I plan on doing a lot of actual traveling around this time. I could probably get away with a cheap backpack.
And I think that is all I am going to write this morning. I have quite a few things I need to do and things to read and things to think about today, so I need to get started.