Home » Alishan Trip, All, Taiwan
Alishan 002 – The Giant Trees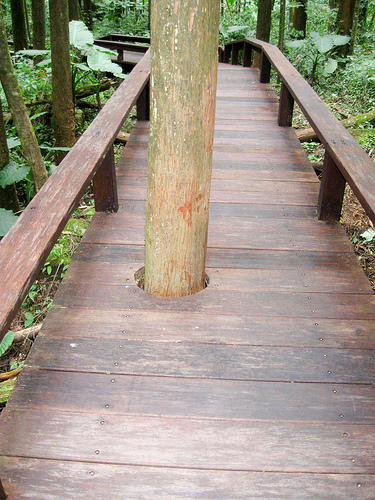 Saturday July 3, 2010
After my rejection of the Fancylake breakfast, I got a biendang and then went for a stroll through the trails up above Fenqihu. I marveled again at all the work that went into building them. They really were beautiful trails. Each one was only a kilometer or two long, but they took me through quiet forests of bamboo, past giant trees, and over small streams. It was cool and pleasant with birdsong to keep me company and spider webs to keep me entertained and on my toes. One trail went past an old Japanese shrine. Another was a recreation of a Japanese system of logs in the ground to facilitate dragging sleds filled with wood.
After my walk, I showered at the Fancylake, packed up, and hopped on my scooter for the short drive down to the Catholic hostel. It took a while to find the sister, but she gave me the grand tour and pointed out where everything was before showing me to my perfect little room. A few minutes later, I was on my scooter and driving the 5 kilometers back to the main road en route to Alishan.
Despite all my reading, Alishan Forest Recreation Area remained something of a mystery. I didn't know what I would find when I got there. I was going simply on faith that it would be worth the effort. The drive itself was spectacular and took me through beautiful and dramatic mountain landscapes. The sun was out and the sky was blue with white clouds. There was almost no traffic on the road and driving was a pleasure. There were none of the motorcycle clubs or the race car drivers or the insane truck drivers that make driving around Taipei such a challenge. I was surprised to see that there weren't even any cyclists on the road. The mountain roads around Taipei were always filled with them.
Alishan was 25 kilometers along the main road from where I rejoined it, and I arrived in a very comfortable amount of time. Like Fenqihu and almost every single place I've been in Taiwan, Alishan had real charm, but it took some time to get past the weirdness and find it.
The weirdness in this case was the entrance. When you arrive at Alishan, you essentially arrive at a complex parking lot surrounded by a bewildering array of hotels and restaurants and other buildings. I had to pay NT$200 for my ticket at the gate. After that, I simply wasn't sure where to go or what to do. I knew that Alishan was a National Forest Scenic Area, but beyond that it was a mystery. All I could do was keep driving around to find the limits. I was in the park, but where, exactly, was the park? I kept driving down the roads until I saw another gate with a road and people and vehicles going along it. I drove up to that gate keeping my speed nice and low. Sure enough, the men at the gate told me that I couldn't go through there. It was a walking area only. I think I can be forgiven the misunderstanding because it really was just a road like any other and lots of vehicles were going through it. There were some people on foot, but they were dodging the traffic just like pedestrians everywhere in Taiwan.
It turns out that all those vehicles had official business and had permits to drive inside the park itself. They were either tour buses or vehicles connected to the hotels that were inside the park. I didn't know that there were hotels inside the park at all.
I parked my scooter and then walked back to the gate. It felt a bit odd. There were maps everywhere in the park, and yet I always had the feeling that I didn't know where I was. It also felt odd that I had to walk so far just to get to… Well, I didn't even know where it was I supposed to get to. There didn't seem to be a center to the park, a starting point, or an ending point. I had a map with a lot of trails, roads, railroad tracks, and sights, but I couldn't quite put them together in my head.
In the end, it didn't matter much. There was no way to get my bearings, so I just stopped trying. And there was a good map at nearly every corner, so even though I never got a good sense of the park overall, I always knew what little bit of it I was in, and I made my way around with little difficulty.
The park was more interesting than I expected, and that was almost entirely because of the giant trees. I saw on my map that there was a Giant Trees Trail (1) and a Giant Trees Trail (2), and by stopping at every corner and checking my map again, I slowly made my way to that area. I'm used to things being a little bit overblown in Taiwan – things are "famous" that really aren't famous and that sort of thing. In this case, the giant trees lived up to their reputation. They were cedar trees, and the biggest and oldest ones on the two trails were numbered with little plagues giving their basic stats. The oldest of the trees were around 2,000 years old. Most were about 900 years old. And all of them were massive. They were the kinds of trees that make an impression. It's a cliché, but when I stood in front of one of the 2,000-year-old trees, I couldn't help but reflect on how much had happened around the world while that tree just stood there growing and growing and growing. And being of the modern generation, I also couldn't help but picture them coming to life and hurling boulders at castle walls a la Lord of the Rings.
After I saw the giant trees, I continued around the park on the Travel Trail. My map had lines of many different colors, and according to the legend the different colors represented Car Roads, Convenient Roads, Travel Trail, Woods Trail, Sunrise Viewing Trail, DueiGao Trail, and Tashan Pathway. There was no way to really know what the difference was between all of these, and I simply made my way around as best I could, absorbing the atmosphere and enjoying the cool air.
I ran into another foreigner, a young fellow from Germany, and he mentioned that a train was running to the last station, Jhushan Station, at 2:00 p.m. I thought that if I were near a station, I would hop on the train, but I didn't know if that was possible. I really didn't know what the deal was with the train. I knew that it wasn't running from Chiayi to Alishan, but apparently it was running in the area right around Alishan. But I didn't know where it started or stopped or how one got a ticket. I decided eventually not to bother. It was getting later in the afternoon and clouds were starting to move in. I'd been hiking around Alishan for over 4 hours, and I felt I'd seen enough. I'd have taken the train if I thought there were great views, but with the clouds, it looked like there wouldn't be much to see up there.
It began to rain a little bit as I left from Alishan. It wasn't raining enough for the rain gear, but it was getting pretty cold, and I put on my rain gear to stay warm. There were no great stories to attach to the day, but it had been a great day nonetheless. Alishan National Forest Recreation Area and the Giant Trees were definitely worth seeing. I like to think of those Giant Trees still out there and thinking deep thoughts. The night that I went on the firefly tour, the guide told us that fireflies lived only for two weeks. That seemed a desperately short time compared to our lives, and I said as much to one of my tour companions. Then I reflected that our lives must seem equally short to the giant trees, at least if they don't get cut down by loggers.
I guess that is one side to Alishan that I haven't mentioned – the logging. Seeing those giant trees made me wonder how many more of them there were that the Japanese cut down. Did they cut down trees as big as the giants? Or did they cut down only smaller ones? Certainly all through the park there were huge tree stumps – the remains of giants whose lives were cut short by axes and saws. They were as impressive in their own way as the still-standing trees. A few of them had their own plaques and their own names, the most memorable of which was the pig emerging into the light.[slickr-flickr tag="Alishan Trip Blog 2″ sort="date" items="50″ type="galleria" orientation="portrait" align="center"]
Tags: Alishan Trip