Home » All, JOURNAL: Blog Blog, North Sumatra Bike Trip 2018
01- Riding from Tuktuk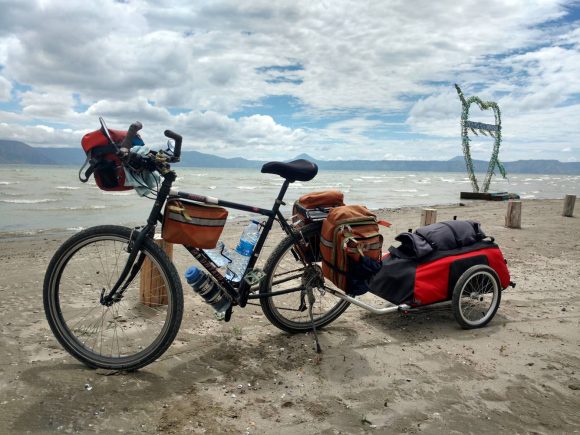 Yesterday was my first day of real cycling in a very long time, and it shows this morning. (I rode from Tuktuk to Pangururan on the other side of Samosir Island.) I'd forgotten, for example, that prickly heat is a big problem. It developed overnight, and I found myself unable to sleep. And this was at a time when I desperately needed the sleep.
Social media has also turned out to be a problem. When I arrived at my destination for the night, instead of unpacking, getting organized, and then going to sleep early as I usually do, I found myself uploading pictures to Instagram and playing around with a new app called Polar Steps. That kept me up and awake much longer than normal, and I'm paying the price this morning, particularly since the prickly heat would not allow me to sleep.
In other circumstances, I would probably stay here in Pangururan for another day and night just to ease back into the cycling rhythm. However, I don't really have the time for that. Plus, this hotel is not a good value. The room is costing me 200,000 rupiah per night. That's striking me as a very bad contrast with my lovely room in Tuktuk that cost a quarter of that at 50,000 per night. And it's true that this room provides a couple of benefits. It is significantly larger, for example, has a very large bed, and it has its own bathroom. Unfortunately, I don't need any of those things. I'd rather have a single bed in a room one third the size with a shared bathroom and pay 75,000 a night.
Adding insult to injury, despite paying $20 Canadian per night for this room (which is a lot in Southeast Asia), there are a lot of problems. There is no fan. The light in the bathroom doesn't work at all, which means it is nearly pitch black in there. There is no hot water (which my 50,000 a night room in Tuktuk came with). There isn't even a shower hose or shower head. The bathroom just has a large plastic garbage pail with a plastic ladle. And there is a large hole in the side of the plastic pail, so it is impossible to fill it up. The water just drains out. So every time I go into the bathroom, there is no water waiting for me. Finally, there is a long tear in the netting over the door, so plenty of mosquitoes got in during the night.
These are all things that one wouldn't normally complain about. They are par for the course in budget hotels. The difference is that this isn't a budget hotel. It is a real hotel with a real price. My 200,000 rupiah-a-night room is their cheapest room – the Ekonomi level. Beyond that, their prices increase to 500,000 a night. I suppose that reflects the location. Lake Toba is one of the major tourist attractions in Indonesia, and that drives prices higher. Even so, it seems overpriced. I often wonder how Indonesians deal with these inflated prices. Most of the hotels where Indonesians stay cost this much, and I wonder how they manage to pay those prices. My guess – and it is a solid guess based on evidence – is that they simply put a large number of people in each room, and the price is cut into fractions per person. You don't generally see an Indonesian staying at a hotel by themselves. Only crazy foreigners like me do that.
I looked for a better option in this town, but I wasn't able to find one. I even checked extensively on the Internet before I got here, but there was little information. I arrived pretty late in the day. (At least it was late for me, as I usually like to arrive at places long before the sun sets.) In this case, I was racing the setting sun, and I wasn't feeling totally relaxed as I began my search for a place to stay.
When I reached the outskirts of the town, I found myself stuck behind a large truck that was causing a bit of a traffic jam. While I waited for it to clear, an Indonesian man running a tiny food cart struck up a conversation in English. He asked me the usual questions, and then he asked me where I was going and where I was going to stay. I told him I didn't know where I would stay, and he was shocked. He actually said, "Why don't you know?"
This kind of thing happens a lot, since Indonesians have ways of doing things and knowing things that aren't available to us dumb foreigners. And they usually can't see things from my point of view. Not speaking Indonesian, knowing no one in this town, unable to get any information, I had no choice but to simply ride into town on my bike and then look around for a place to stay. That is the normal pattern for us dumb foreigners. In fact, I was pushed to my limits just figuring out what the name of this town was. And typing that name into Google isn't going to help much in terms of accommodation unless you are hoping to visit a hot springs hotel.
I asked my new informant about cheap places to stay in Pangururan, and he responded with the usual strong optimism: "There are many!" he said. But, of course, when I pressed him for details such as names and locations, he came up rather blank. The best he could do was point in different directions and say that I should go there and there. At one point, he seemed to be saying that I could stay at his shop. But I think that was just a misunderstanding. It turned out that what he was really saying was that he was bringing his food cart into town to set up for the night, and I should visit him at his usual corner.
In an odd twist, his cart – which was welded to a motorcycle – was pulled along by a second motorcycle and a thick piece of rope. It appeared that the motorcycle his food cart was attached to did not work anymore. When I arrived in Pangururan proper, I saw this man setting up his cart on his corner. I stopped to chat with him, and then it became clear that his invitation was not to stay with him but just to visit and sit and chat and perhaps have some food.
Now that he was at an intersection he was able to point in more definite directions, and he sent me down one road towards a peningapan, which is what they call budget hotels here. Perhaps it translates more towards the concept of an inn as opposed to a hotel. I did find a building with a sign that read peningapan, but, as is often the case, there was no one there. There was a door leading to a type of lobby, and I went inside, but there was no one there. I searched around and asked the neighbors and did all the usual things, but to no avail. If there were budget rooms available there, I would never know about them. I wasn't too disappointed as it looked like a difficult place to stay. The lobby and the attached rooms were just empty concrete shells filled with garbage and debris. Beyond that, there was a very narrow and very high staircase leading upwards. If there were rooms, they were sure to be just as old and dirty and at the top of several flights of dangerous stairs. It would be no picnic getting my touring gear up those stairs.
I eventually left this place and turned down the main road toward downtown. To my delight, I instantly stumbled across another peningapan, and this one was much more promising. To reach it, I had to cycle down a narrow alley (a tunnel actually) between buildings, and then I found myself in a central courtyard with hotel rooms on all side. Having a room down on the main floor is always a bonus for a cyclist. It makes it easy to unpack your luggage, bring it inside and then wheel your bike inside.
Even better, a young boy in attendance realized that I was a tourist looking for a room, and he went off in search of the manager for me. The manger eventually appeared, and after wiping his hands dry with a towel (he explained that he had been washing his clothes), he shook my hand and spoke to me in English. The good news was that he had rooms available, and they were in that courtyard on the ground floor. The bad news was that they were extremely dirty, extremely hot, extremely ramshackle, bug-filled, and the price was 200,000 rupiah.
I'm fairly certain that these are the real prices for these hotel rooms. They weren't invented prices for the foreign tourist. Most of the hotels I've encountered in Indonesia are regulated as far as prices go. By law, they have to have their prices listed at the front desk, and they are the same for everyone. The fact that they are the real prices doesn't, however, help me understand them. Based on what I know about the economy of Sumatra and what other things cost, 200,000 rupiah for a room like that seems outrageous. I don't understand how Indonesians could pay them or why they would. I fell into that category myself, and I told the friendly manager that I would look around town at the other options, and if I wanted a room at his place, I would return. I was sad to leave because all the omens were positive at this place. The people were friendly (and actually present), this man spoke clear English, and the rooms were on the ground floor. However, if I paid 200,000 rupiah for a room like that, I would feel like a fool.
The next option was one of the few places that I had found information about online. This was the venerable Wisata Hotel right downtown. I had had this place in the back of mind the entire time. Quite often these old hotels are good value. They have been around long enough to have been built with some character and yet their prices would have come down over the years. I found the hotel without any problem. As it turned out, it did not have any character at all. It looked rather like a standard office building with flat, square walls filled with monotonous large square windows. Worse, the doors were locked with signs reading "Tutup", which means closed.
It was looking like I had no choice but to return to the friendly but dirty and overpriced peningapan. But I still had some hope, and I decided to just ride around town and see if I stumbled across anything else. And it was this decision that led me to a small road with a sign for the Tiga Besar Hotel. I'm not sure of the exact translation, but that means something like "The Big Three" or "The Top Three." The top three what I didn't know.
I got a very good reception and a very good vibe from this hotel. It was a real hotel with a large and professional lobby area and a large restaurant. They had WiFi (though, as always, I forgot to get the password and went without the entire night). And they had a lot of guests that showed up in fancy vehicles. There was staff running about watering plants and doing other hotel-type things. And two friendly women greeted me with a smile and a friendly laugh, and, of course, eventually asked for selfies. One of the women barely came up to my waist in height. I never did see the pictures they took, but based on their laughter, we must have looked like quite the sight together.
I wasn't entirely pleased when I saw the list of room prices and saw that the cheapest was 200,000 rupiah. But I decided to take it. This was, after all, my first night on the road for this trip to Banda Aceh, and having a large room and my own bathroom (however ramshackle) would be nice. I had seen a sign for WiFi, and there was talk of an included breakfast. All in all, if 200,000 was the cheapest going rate in this town, I wasn't going to do much better than this. It certainly seemed a much better value than the courtyard peningapan I saw earlier. I decided to take the room, and I quickly checked in, paid them, and moved my gear inside.
My first task, as always, was to get drinking water for the night and the next day. I had seen a few water purification places around town. Like a dummy, I had forgotten to make a clear note about their location, but I thought I could find one. I set off on my bike with my 10-liter Dromedary bag. I took the leisurely route and rode along the edge of the water and took some pictures and checked out the town. And to my delight, I quickly stumbled across a water purification shop. No one was there, but a friendly neighbor tracked down the owner for me, and in a short time, my water bag was bursting. These places are designed to fill and deliver large 19-liter bottles of water, so they often have no idea what to do when I show up with my own container. Sometimes they send me away. Sometimes they charge me an outrageous price. And sometimes, as happened here, the owner waves off my attempt to pay, and gives me the water for free. It's a small amount of water for them, after all. It's also an irregular amount, and they can't be bothered to figure out how much to charge me.
Once I had my water needs covered, I settled into my room and began unpacking and getting organized and settled in for the night. Considering that I am looking at a climb of 1,300 meters today, I should have gone to bed early, but I got absorbed in looking at the pictures of the day, and I found myself still awake and on my computer at 11 p.m. And that meant I didn't get much sleep, especially since prickly heat kicked in.
The first day had been quite pleasant, though. The distance from Tuktuk to Pangururan was only about 45 kilometers, and I took my time and explored many of the little side roads I came across, particularly when they went down to the edge of the lake. I spent some time at four or five pleasant beaches, and I stopped at dozens of other places to take pictures.
As always, I was a bit taken aback when I set off in the morning and discovered how much my various bags weighed once they are all fully packed. My brain set about its usual routine of thinking about the gear I was carrying and wondering how I can lighten it. My gear was organized in a new way, too. I had the Cyclone IV trailer plus two small pannier bags (my original two Arkel front pannier bags). The idea with this set-up was to have essential items in the pannier bags, and I would be able to access them easily throughout the day. And this was supposed to open up enough room in the trailer that I could put all my camping equipment (sleeping bag, sleeping pad, mosquito net, sleeping sheet, and tent) in the trailer instead of piling it up on the rear rack of the bike.
That worked to a certain extent, but I found the trailer was too full. I like to have some extra empty space to play with, but the trailer was full to bursting. So I took out the sleeping bag, and I put that on top of the rear rack. This worked to an extent as well, but it bothered me for a few reasons. For one, I wanted to keep as much weight off the bike as possible. I found with the two pannier bags and the sleeping bag, the rear of my bike was actually pretty heavy. The whole point of the trailer was to keep the bike light, so that seemed dumb. It also contributed to the bike feeling top heavy, which creates a tendency for the bike to fall over when parked on its kickstand. One of the advantages of a trailer is to prevent this, so by piling stuff up on the rear rack, I was defeating that advantage. Finally, having the sleeping bag on top of the rear rack made it more difficult and awkward to unhook and remove the two pannier bags. So, by strapping some camping equipment to the top of the rear pannier rack, I had nullified three of the big advantages provided by using a trailer. That's pretty dumb strategy.
I eventually decided to try putting the sleeping bag on top of the trailer. And that worked out much better. So I will likely try some version of that in the future, putting either my sleeping bag or my tent on top of the trailer. Maybe I can put both of them there, and that will open up a lot of space inside the trailer itself. It's a great solution, actually, since my camping gear is always inside waterproof stuff sacks and they don't need the added protection of being inside the trailer. They are the last things to be packed when camping, so it's convenient to just toss them on top of the loaded trailer. And they aren't super-obvious objects for theft. So being outside the lock of the trailer doesn't matter that much. I wouldn't feel too nervous about having them strapped to the trailer while I popped inside a store. If a thief grabbed a bag, he'd be making off with a sleeping bag and mosquito net. I'd hate to lose them, but it wouldn't be the end of the world.
There is no question though, that, as always, I feel like I am carrying too much stuff. It's a constant mental and physical struggle.
Tags: bike tour, Cyclone IV, Indonesia, Lake Toba, Pangururan, Radical Design, Samosir, Sumatra, trailer, Tuktuk